If you're interested in buying a Sheepadoodle puppy in Ohio, you're in the right place. Sheepadoodles are one of the hottest trending Doodle dog breeds due to their multi-color coats and friendly temperaments. In addition, they typically have a coat that doesn't shed hair and is hypoallergenic.
In this article, we'll look at the top Sheepadoodle breeders in Ohio and what you should ask a breeder before purchasing a puppy. Whether you're a first-time dog owner or a seasoned dog owner, a Sheepadoodle is an excellent choice. However, you will need to do significant research on each breeder to make sure you're getting a healthy and happy puppy. We're here to help you!
Other articles you will like: Sheepadoodle vs Goldendoodle and Labradoodle Breeders in Ohio.
1. Grace Wood Farms Sheepadoodles Ohio
Grace Wood Farm is owned by Luke and Brittney Stasi who are loving and caring individuals. Aside from standard Sheepadoodles, the couple breeds mini Sheepadoodles and Poochons. They have 2 locations that serve the North Ohio and South Carolina communities.
The couple is very keen on the parent dogs' health and safe breeding practices. They provide a safe and clean physical environment for the mamas to whelp and the Sheepadoodle puppies to grow. They also provide a lot of attention, care, and mental stimulation.
These Sheepadoodle breeders in Ohio also provide a 1-year health guarantee with a strict policy to never sell your Sheepadoodle. If life takes a turn, they require the owners to return the Sheepadoodles to Grace Wood Farm or pay a $5,000 fine. They don't want any of their Sheepadoodles to end up in a shelter or rescue when they can rehome them.
The duo doesn't ship their Sheepadoodle puppies. If you require shipping, they will give recommendations for ground and air transport. However, you will be responsible to arrange and pay for the transportation service.
The breeders' price of a standard Sheepadoodle puppy for sale in Ohio is $3250. A mini Sheepadoodle will cost you $3550. The couple will begin breeding micro Sheepadoodles for sale in Ohio in late 2021. A micro Sheepadoodle puppy will cost you $4000. Please contact this breeder if you're interested in one of their puppies.
Sheepadoodle Breeder Contact Details:
2. Angel Breeze Sheepadoodle Puppies
Angel Breeze Sheepadoodles Puppies has been breeding puppies since 2003. They have connected dog lovers like yourself with their Doodle puppies in 39 states and in Canada. The husband-wife team lives in the gorgeous rolling hills of Coshocton County, Ohio, where they breed Sheepadoodles and Bernedoodles. For what it's worth, they are one of the oldest Sheepadoodle breeders in Ohio we could find.
Their facility in Southeast Ohio is climate controlled, with doggy doors that allow the dogs unlimited access to a large fenced yard. The parent dogs and puppies have access to the best care possible and keep current on all vaccinations.
This Sheepadoodle breeder urges interested adopters to subscribe to their email list to get a notification when their waitlist is open. Email subscribers typically get top priority before the couple opens up to the public.
If you're interested in adopting an adult Sheepadoodle or retired dog, you can with the breeder and see if they have any available. A Sheepadoodle puppy for sale from this breeder will cost you $3800.
Sheepadoodle Breeder Contact Details:
3. Sweet Sheepadoodles Ohio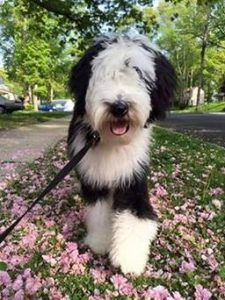 Sweet Sheepadoodles began with the founder's desire for an Old English Sheepdog. Sheryl, the founder, always wanted and loved to have a dog of this breed. However, she couldn't stand the breed's coat care issues and wanted a dog that was also hypoallergenic.
After months of research, she landed on Sheepadoodle puppies. After waiting a year, she brought home Maddy – the original muse for Sweet Sheepadoodles – home in 2011. Maddy was everything Sheryl could ask for in a dog and more.
Years later, Sheryl ventured into breeding Sheepadoodles after much research and mentorship. Today, Sheryl breeds F1 standard Sheepadoodle puppies in Ohio. Her Sheepadoodles are black with white markings on the muzzle, collar, chest, stomach, feet, and legs. You can expect to pay $2,500+ for one of their Sheepadoodle puppies from this breeder.
Sheepadoodle Breeder Contact Details:
4. Crown Hill Sheepadoodles Ohio
When you buy from Crown Hill Sheepadoodles, the breeder assures you will get a healthy and family raised Sheepadoodle that will be the perfect addition to your family.
Before breeding Sheepadoodles, the breeder raised standard Poodles over many years and marveled at their intelligence and gentle nature. When the breeder ventured into breeding, Sheepadoodles were an obvious choice. The breed's balance of the best of the Poodle and Shepherd was a match made for Crown Hill Sheepadoodles.
The breeder has 4 female dogs and 1 dad dog with spaced-out litters throughout the year. The average wait time for one of their Sheepadoodle puppies in Ohio is usually 7 to 8 months.
One of their Sheepadoodles for sale in Ohio will cost $2800. The breeder encourages new or returning Sheepadoodle owners to pick the puppies from her home. If you cannot, you will need to arrange for shipping.
Sheepadoodle Breeder Contact Details:
5. Brewer's Goldendoodles & Sheepadoodles
Brewer's Goldendoodles & Sheepadoodles is a home-based breeder in Southeastern Ohio. Andrea, the founder, begun the breeding program in 2001. The program's aim was to produce even-tempered Goldendoodles for families in the US.
In 2014, Andrea expanded her breeding program to include Sheepadoodles. Similar to many breeders on this list, she chose structurally, genetically, and emotionally sound dogs who would make excellent parents. Many of the parent dogs live in guardian families where they are loved and treated like family.
Andrea prices her Sheepadoodles for sale in Ohio at $2800 plus sales tax on a spay and neuter contract. The F1 and F1B Sheepadoodles come in mini, medium, and standard sizes. Aside from Sheepadoodles and Goldendoodles, Andrea also breeds Bernedoodles. 
Sheepadoodle Breeder Contact Details:
6. CuddleDoo's Sheepadoodles OH
CuddleDoo's have been breeding Sheepadoodles for the past 3 years. They pride themselves on raising elite Sheepadoodles that are loved, healthy, and will make a great companion for your family.
Their Sheepadoodles come in two sizes: micro-mini and mini puppies. The price range starts at $3500 for black and white coat colors and $4000 for Merle Parti coat Sheepadoodles. Air shipping is available at $500. However, the breeder recommends you to pick your puppy in person if you live near Sugarcreek, Ohio. Aside from Sheepadoodles, the breeder also has Portidoodles.
Sheepadoodle Breeder Contact Details:
Questions to Ask a Sheepadoodle Breeder
Here are some questions you can ask any potential Sheepadoodle breeder in Ohio. Before you put down your deposit for one of these dogs, you should make sure that you can find someone who can you trust. Remember, Sheepadoodles are a 10+ year investment so you want to get a healthy and happy dog.
1. How long have you been breeding Sheepadoodles?
Aside from knowing the breeder's years of experience, ask what their experience of breeding Sheepadoodles has been. Many breeders started a while back breeding purebred dogs and have recently switched to Sheepadoodles because they are a trending Doodle breed.
2. Can I see your breeding dogs?
This is best done in person. The key is to check the dogs' health condition, their living conditions, and the breeder's interaction with the dogs. For the puppies – ask a breeder to send video clips. If you pay attention, you will notice a lot of small details. This also helps ensure that you aren't getting scammed.
3. How are the Sheepadoodle puppies handled?
Ideally, your future Sheepadoodle puppy should be handled by people from all walks of life to ensure they are relaxed and friendly around different people. If they are not being handled or exposed to different situations, it might be difficult to train the puppy later on. Socialization is extremely important for puppies.
More Information About Sheepadoodle Puppies in Ohio
The US Army developed the Sheepadoodle in the 1960s as a military police dog to get the best of the Shepherds and Poodles hardy traits. The breed is not recognized by American Kennel Club (AKC) because it's a crossbreed but is registered with the American Canines Hybrid Club (ACHC).
The Sheepadoodle is loved for its friendly nature, calm temperament, and ease of training. It comes in black, gray, or black and white coat colors. The Sheepadoodle comes in three main sizes: mini, medium, and standard. If you live in an apartment, a mini Sheepadoodle is a good choice. If you have a yard, a bigger Sheepadoodle will fit right in.
A Sheepadoodle has a lifespan of 12 to 15 years. You can expect to spend an average of $2000 to $4500 to purchase a Sheepadoodle puppy in Ohio. The costs of adopting a puppy, however, runs a lot lower. Annual expenses to maintain a Sheepadoodle can run from $1000+.
Conclusion for Sheepadoodle Breeders in Ohio
Choosing the perfect dog breed for your family is half the battle. Finding a great breeder is the other slice of pie. Before buying a Sheepadoodle who will solely rely on you for the next 12 to 15 years, take time and research widely and deeply. Our list of the best Sheepadoodle breeders in Ohio should help you with your search!  All the best as you search for your forever puppy.
Check out these other articles:
Garrett loves animals and is a huge advocate for all Doodle dog breeds. He owns his own Goldendoodle named Kona. In addition, he volunteers at the Humane Society of Silicon Valley, where he fosters dogs and helps animals. Garrett enjoys writing about Doodles and believes that dogs can teach humans more about how to live than humans can teach a dog.
Why Trust We Love Doodles?
At We Love Doodles, we're a team of writers, veterinarians, and puppy trainers that love dogs. Our team of qualified experts researches and provides reliable information on a wide range of dog topics. Our reviews are based on customer feedback, hands-on testing, and in-depth analysis. We are fully transparent and honest to our community of dog owners and future owners.