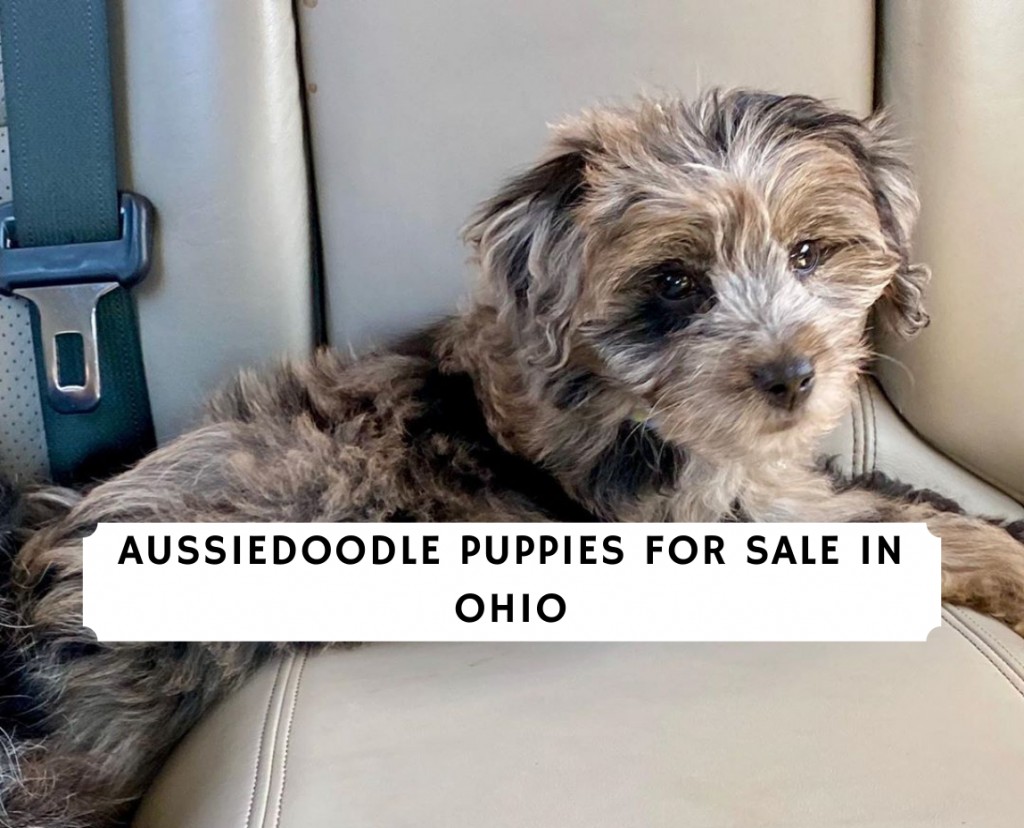 Aussiedoodles are intelligent and energetic designer Doodles. They are typically blessed with non-allergenic and low-shedding coats. These friendly Doodles have lots of love to give and will bond with you in any activity.
Aussiedoodle puppies for sale in Ohio have become extremely popular. As we were doing our own research, we saw several puppy mills and backyard breeders that aren't health or genetic testing their Aussiedoodles. In addition, they keep their puppies in kennels and don't socialize them much prior to going to their forever homes.
Here are the top 5 Aussiedoodle breeders in Ohio. These breeders are very knowledgeable on the Aussiedoodle breed and go to great lengths to ensure your Aussiedoodle puppy is healthy, of ideal temperament, and will be a great addition to your home. We always recommend that you interview any potential breeder and request to see their dogs in-person.
Other articles you will like: How Much Does an Aussiedoodle Cost? and Aussiedoodle Coat Colors.
1. Hidden Haven Aussiedoodles Ohio
Hidden Haven Aussiedoodles in Ohio specializes in F1, F1b, and F2 Mini Aussiedoodles. If you're not familiar with what these letters and numbers mean, we highly suggest you read our guide on Aussiedoodle Generations. Hidden Haven Aussiedoodles breed and raise their Aussiedoodle puppies on their 32-acre farm in West Central Ohio. Their breeding stock also lives in their home as family pets and are loved like they are children.
The breeding dogs are AKC registered and cleared for any health and genetic disorders. If you would like to check out their breeding dogs, you can easily do so on their website before a physical visit. They have uploaded all the information you will need from health tests conducted, AKC registration numbers, lineage, and other information. You can tell this Aussiedoodle breeder in Ohio is organized and cares for their dogs.
The breeder also regularly updates their new and upcoming puppy litters. Their Aussiedoodle puppy reservation lists usually fill up fast so you might wait a bit longer but it's worth it in the end. At 4 weeks old, the breeder starts their Aussiedoodle puppies in Ohio on a deworming schedule prior to going to their forever home. The puppies will also receive 1 to 2 puppy vaccinations shots before leaving for your home.
Each of their Aussiedoodle puppies for sale in Ohio comes with a 2-year health guarantee and lifetime support. If for any reason you can no longer care for your Aussiedoodle then they will happily take them back. They are currently focused on breeder mini Aussiedoodle puppies in Ohio.
Aussiedoodle Breeder Contact Information:
2. Doncie Doodles Ohio
Doncie Doodles Ohio breeds and raises their doodles in rural Batavia, Ohio. They specialize in F1, F1b, F2, F2b, and multi-generational Aussiedoodle puppies. Their Aussiedoodles come in 3 sizes: mini, medium, and standard.
All their breeding dogs are AKC or CKC registered and love to run on the breeder's 8-acre farm. The moms and dads undergo genetic and health tests to ensure their offspring is healthy and will be a great addition to any home.
Before the Aussiedoodle puppies leave for their forever home, they are started on potty and crate training and are microchipped. In addition to this, their Aussiedoodle puppies in Ohio also receive 2 sets of shots and a complete puppy physical.
Doncie Doodles Ohio regularly updates their website with current information on upcoming litters. They also post information about the moms and dads to give you a general idea of the lineage of the puppies.
They are open Mondays to Fridays and respond to inquiries within 48 hours. If you're interested in other designer doodles like Bernedoodles or Saint Bernedoodles you can also check them out from this breeder.
Aussiedoodle Breeder Contact Information:
3. Family Aussies OH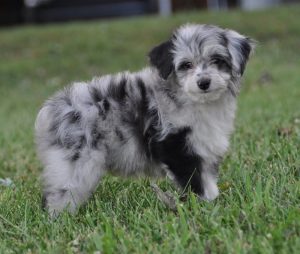 Family Aussies specialize in breeding Australian Shepherds and Aussiedoodles. They only breed miniature Aussiedoodle puppies in Ohio and their breeding dogs are registered with AKC. To produce an Aussiedoodle puppy, this breeder carefully selects the parent dogs based on genetics, health, and temperament to ensure the offspring is ideal for future Aussiedoodle parents like you.
The puppies are socialized with adults and children and come with a 2-year health guarantee. This Aussiedoodle breeder in Ohio has a smooth application process that takes less than 10 minutes. To book a puppy, Family Aussies require a small deposit.
You can view their current Aussiedoodle puppies for sale in Ohio on their website and contact them for any questions you might have. They are open to answering questions and take great lengths to ensure you understand every step of the process.
Generally, the cost of their Aussiedoodle puppies starts at $800. They have various shipping options for interested customers who live in far-away states from Ohio.
Aussiedoodle Breeder Contact Information:
4. My Home Puppies Ohio
My Home Puppies is a USDA-licensed breeder in the beautiful rolling hills of Eastern Holmes County, Ohio. They have been in the dog breeding business for over 10 years and work with other licensed breeders to bring you a happy and healthy Aussiedoodle.
All their dog breeding stock is AKC and CKC registered which means they adhere to the purebred standard. They breed their dogs as pets in their home where they are loved and adored. You can check out all the information about their mother and father dogs on their website.
Their Aussiedoodles come as mini or medium-sized puppies. They are socialized and introduced to basic training to help them adjust well in your home. All their Aussiedoodles puppies in Ohio come with a 1-year health guarantee, lifetime support, and micro-chip enrollment forms.
Generally, their Aussiedoodles for sale in Ohio range from $2200 to $3000. A non-refundable deposit of $206 is required to book a slot on the waiting list. The deposit can be transferred to a future litter if there's a genetic or health issue with your chosen Aussiedoodle.
My Home Puppies Ohio offers nationwide shipping and responds to inquiries within 48 hours. You can use the contact form on their website or the phone number listed below. Please note their phone number is a landline and cannot receive text messages.
Aussiedoodle Breeder Contact Information:
5. Hackney Hills Poodles and Doodles OH
Hackney Hills Poodles and Doodles specializes in Aussiedoodles, Great DaNoodles, Bernedoodles, Standard Poodles, and Newfypoos. They specialize in medium and standard F1 Aussiedoodles. Their breeding dogs are AKC registered and cleared for all health disorders.
All their puppies are treated like family and receive lots of socialization before they leave for their forever home. Their Aussiedoodle puppies in Ohio come with a 2-year health warranty and lifetime support.
Hackney Hills Poodles and Doodles are open Mondays through Fridays. They usually respond to inquiries within 72 hours.
Aussiedoodle Breeder Contact Information:
Frequently Asked Questions About Aussiedoodle Puppies in Ohio
1. How active are Aussiedoodles?
Aussiedoodles take after their parent breed, Australian Shepherds when it comes to activity and energy levels. Australian Shepherds are very high-energy dogs that require a lot of physical and mental stimulation. Generally, your Aussiedoodle will require daily exercise of about 1.5 hours. If you're an active person, an Aussiedoodle is a great choice. If you're a couch potato, an Aussiedoodle will not be a great fit.
2. How big will my Aussiedoodle get?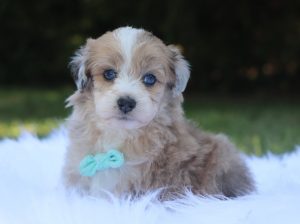 Aussiedoodles vary in appearance similar to many Doodles. Their full-grown weight and height, however, depend on the parent dog sizes used during cross-breeding. That is why you will see a breeder list their upcoming or past litter sizes as mini, medium, or standard Aussiedoodles puppies in Ohio.
A mini Aussiedoodle weighs between 10 and 15 pounds and stands at 10 inches or fewer at the shoulder. Mini Aussiedoodles are usually full-grown by the time they clock 7.5 to 11 months of age.
A medium Aussiedoodle weighs 15 to 45 pounds and stands between 10 and 15 inches at the shoulder. This Aussiedoodle size is full-grown at 11 to 13 months.
Last but not least, a Standard Aussiedoodle puppy in Ohio weighs 45 to 70 pounds, and stands at 15+ inches at the shoulder. It is full-grown at 12.5 to 16 months of age.
3. What is the best way to train my Aussiedoodle?
Aussiedoodles are intelligent, eager to please, and easily trainable. They usually respond well to positive reinforcement. When your Aussiedoodle does something you like, you can reward them with praise, play, or treats. This will teach your Aussiedoodle what you like and don't like.
As a general rule of thumb, when your Aussiedoodle comes to your home in Ohio, plan for them to be trained, and immediately begin socializing them with your family and friends.
Conclusion for Aussiedoodle Puppies for Sale in Ohio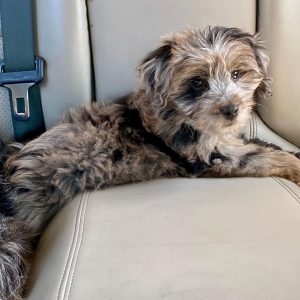 Aussiedoodles make great pets for any home even those with small kids. They are loyal and affectionate companions who will bring you tons of laughter and joy. However, there were tons of Aussiedoodle puppies for sale in Ohio that weren't coming from reputable breeders. We suggest you find a breeder that you can trust, cares for their dogs, socializes them, and doing genetic testing. We hope this list helps you get closer to bringing your future Aussiedoodle pup home.
Check out these other articles:
Garrett loves animals and is a huge advocate for all Doodle dog breeds. He owns his own Goldendoodle named Kona. In addition, he volunteers at the Humane Society of Silicon Valley, where he fosters dogs and helps animals. Garrett enjoys writing about Doodles and believes that dogs can teach humans more about how to live than humans can teach a dog.
Why Trust We Love Doodles?
At We Love Doodles, we're a team of writers, veterinarians, and puppy trainers that love dogs. Our team of qualified experts researches and provides reliable information on a wide range of dog topics. Our reviews are based on customer feedback, hands-on testing, and in-depth analysis. We are fully transparent and honest to our community of dog owners and future owners.