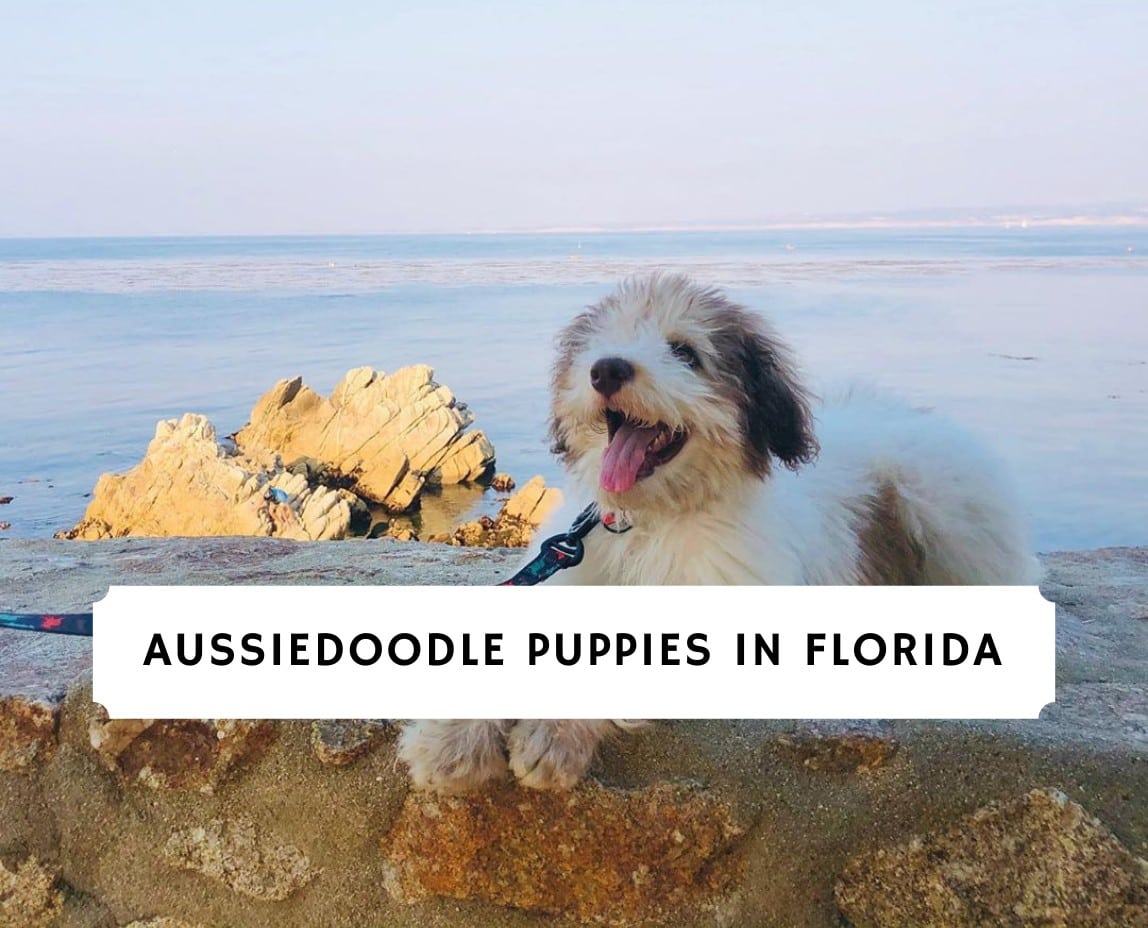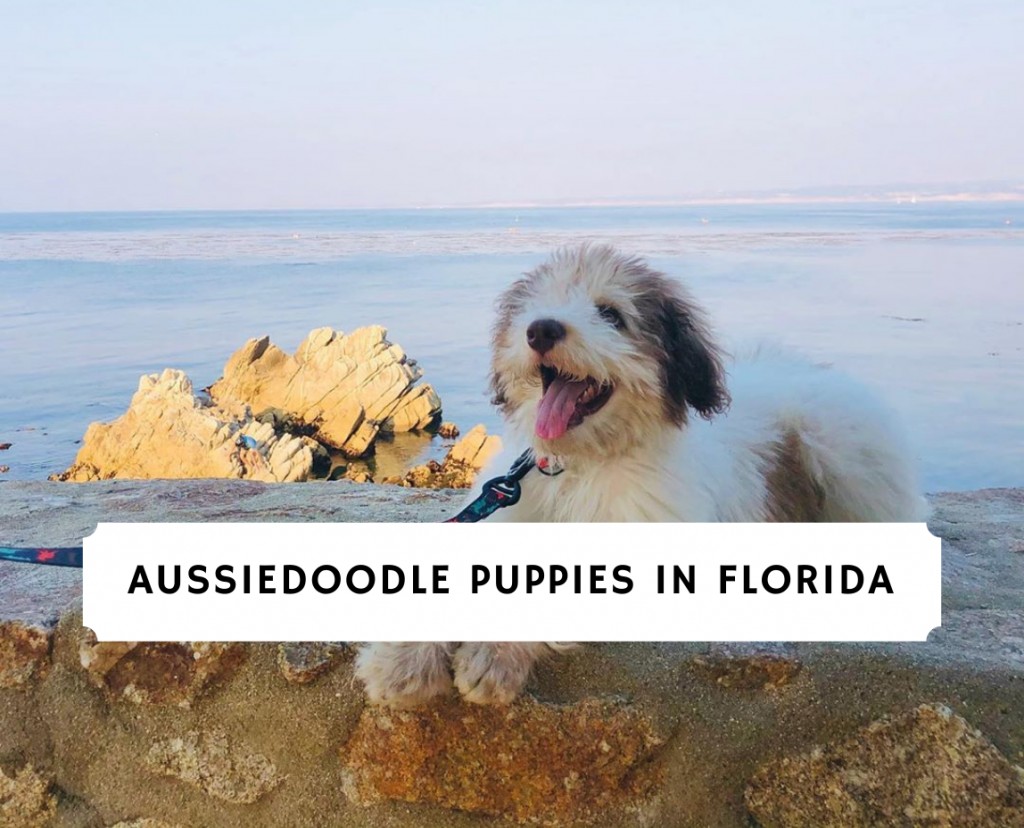 Aussiedoodles are one of the fastest-growing Doodle dog breeds. As a mix between the Australian Shepherd and the Poodle, this dog will have tons of energy and want to live an active lifestyle. In addition, since the Aussiedoodle inherits genetic traits from the Poodle they are mostly nonshedding and hypoallergic. This is great news for people who hate vacuuming and may have pet allergies. In addition to their beautiful merle coat colors, Aussiedoodle puppies for sale in Florida have been growing.
However, not all Aussiedoodle breeders in Florida are the same. We spotted several puppy mills and backyard breeders that are selling their Aussiedoodles cheaply with no healthy or genetic testing. This is risky, because you may end up purchasing a puppy with genetic health issues which would cost you more in medical bills later down the line.
If you're looking for reputable Aussiedoodle puppies in Florida, look no further. We have extensively researched and compiled a list of the top 5 Aussiedoodle breeders and breeder groups that go beyond the call to ensure that each puppy bred is of the highest standards and will be an excellent addition to your home.
Other articles you might like: How much does an Aussiedoodle cost? and Best Aussiedoodle Haircut Types.
1. Pecan Place Aussiedoodles Florida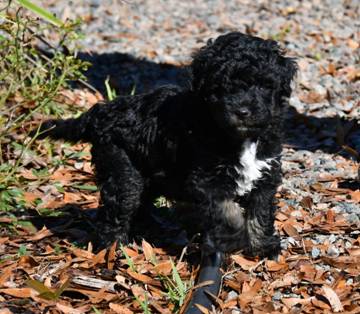 If you've lived in Florida long enough, you might know or have heard about Pecan Place Aussiedoodles. This exemplary Aussiedoodle breeder combines more than 40 years of dog breeding experience to help individuals like you and families find the perfect life-long mini Aussiedoodle match.
All their miniature Aussiedoodle puppies in Florida are Multi-generations which means that you are assured non-shedding and mild temperament traits. The Aussiedoodle puppies are from 5th to 9th generational pure Aussiedoodles. Generally, multi-gen Aussiedoodles are backcrossed to a Poodle which almost always ensures that they don't shed and have hypoallergenic features. Most pet owners prefer an Aussiedoodle with more Poodle genetics.
This Aussiedoodle breeder doesn't take any puppy reservations until they have a bred two dogs together. The breeder has a web page dedicated to planned breedings that you can easily monitor a certain litter or a specific time frame. The page is regularly updated and projected litters posted.
Pecan Place Aussiedoodles Florida encourages interested future pet parents like you to watch the page for 4 to 8 weeks before you are ready for your new family member. Once you've settled on one of their Aussiedoodle puppies, you can place a $350 deposit fee.
Generally, this breeder's Aussiedoodles range from $1550 to $2000. Various shipping options are available whether you're in another state or another country. You can contact them for more details if that is the case.
Aussiedoodle Breeder Contact Information:
2. Juniper Crossing Farms Florida
Juniper Crossing Farms is an Aussiedoodle breeder in southwest Gadsden County, Florida. Their Aussiedoodles come in 3 sizes: miniature, medium, and standard. Juniper's adult dogs live in a family environment and are cleared for all health and genetic issues. This helps to ensure that your Aussiedoodle puppy won't inherit any type of known medical issue.
Juniper Crossing Farms posts all their dams and sires on their website and social media pages. You can go through their current breeding dogs and the health records posted. They also have pictures of their current and past litters to give you an idea of the size and coat colors of their Aussiedoodle puppies in Florida.
Each of their puppies comes with a lifetime free replacement puppy guarantee and a 2-year hip guarantee against genetic, moderate, or severe hip dysplasia and retinal eye disease. In addition to this, the puppy comes with a CKC registration form, microchipped, dews did, and lifetime support. Honestly, you can rest assured that you will be getting a healthy and happy puppy from this breeder.
Their application process is quite long and thorough. If you decide to buy from this breeder, you might want to set aside 30 minutes to fill in the questionnaire. They will ask you all types of questions to verify that you are fully capable of taking care of one of their Aussiedoodles for their entire lifespan. If you're not able to care for a dog, they won't sell you one of their puppies. They truly care where their Aussiedoodle puppies in Florida are going.
To reserve a puppy, you will need to put down $250 as a deposit. This breeder is willing to ship their puppies to wherever in Florida or nearby states you may live in. Aside from Aussiedoodles, Juniper Crossing Farms also breeds Bernedoodles, Australian Mountain Doodles, and a variety of sheep and goat breeds.
Aussiedoodle Breeder Contact Information:
3. Hollyz Doodles Florida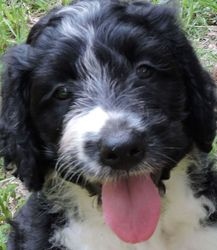 Hollyz Doodles is run by passionate and experienced doodle breeders, Holly and Gary Bryant. The duo breeds a variety of doodles such as Aussiedoodles, Labradoodles, Goldendoodles, and Poodles in their 10-acre ranch in Chiefland, Florida.
Their aim is to breed high-quality dogs and ensure that your Doodle is a perfect match for you or your family. All their adult dogs are CKC registered and cleared for health and genetic conditions prior to breeding. 
Their Aussiedoodle puppies in Florida come in standard size and with a variety of coat colors such as merle, parti spotted, apricot, red, cream, black, and cream. Depending on the color, an Aussiedoodle puppy will range between $1800 and $2000. To hold a particular puppy, you must put down a deposit which is usually a percentage of the puppy cost.
Each of their Aussiedoodle puppies comes with a 2-year health guarantee, micro-chipped, CKC registered, and current on all age-appropriate vaccinations. Due to the USDA licensing requirements, this breeder cannot ship any puppy sight unseen. This simply means you must physically inspect the puppy before shipping. If you can't be able to do so, you can assign a friend or relative to act as your representative.
Aussiedoodle Breeder Contact Information:
4. Petland Florida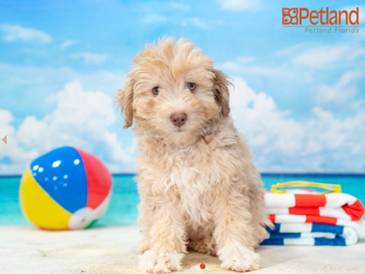 Petland Florida has been in the business of connecting individuals like you and families to new pets since 1967. Petland Florida is not your average pet store. They coordinate with ethical breeders to find high-quality, well-bred Aussiedoodle puppies in Florida to sell in their store. This is perfect for individuals or families that don't want to deal with a private breeder but want the assurance of quality and accountability.
Each Aussiedoodle puppy comes with 3 generations pedigree, a comprehensive 3-year warranty, health certificate, pre-activated microchip, and lifetime support. We typically don't recommend pet stores and we ask that you do your own due diligence. Try to figure out the breeder's practices, how much they socialized the puppy, and verify that they aren't a puppy mill.
Petland Florida also has financing options available if you'd like a little help in bringing your Aussiedoodle puppy home. They are open Monday to Sundays from 10:00 am to 9:00 pm.
Aussiedoodle Breeder Contact Information:
5. Happy Tail Puppies
Happy Tail Puppies is a group of breeders that specialize in breeding and raising Aussiedoodles and other dog breeds. The breeders are all USDA licensed and inspected. They also only sell mini Aussiedoodle puppies in Florida.
Their adult dogs are AKC/CKC/ACA registered and receive wellness checks from their veterinarian on a weekly basis. In addition, all their puppies are born and raised in their homes and monitored on a daily basis. The puppies are exposed to a variety of noises, sounds, and are well socialized before leaving for their forever home.
The breeder encourages interested future pet parents to have a meet and greet before adoption. They like to show you their breeding facilities and build a relationship with any prospective buyer. Their Aussiedoodle puppies in Florida from this breeder will cost you between $995 to $4000.
Aussiedoodle Breeder Contact Information:
61. Creekside Puppy Adoptions
Creekside Puppy Adoptions ison our list because they truly care about the health of their puppies. All of their Aussiedoodles are socialized with both adults and children from a young age so they will have great temperaments. Additionally, all of their Aussiedoodles will come up to date on their vaccinations, microchipped, dewormed, and have gone through a veterinarian health check.
The owner's name is Clint and he is an avid puppy lover and passionate about Aussiedoodles. Even if you don't buy a puppy from him, he will happily talk to you about the breed. He typically raises toy and miniature Aussiedoodles puppies that will weigh between 10 and 15 pounds. This is the perfect weight if you're looking for a smaller-sized Aussiedoodle that doesn't need a large house and backyard. The generation of their Aussiedoodles is typically F1, which means they will be 50% Poodle and 50% Australian Shepherd.
If you want the beautiful coat of an Australian Shepherd, but don't want the shedding, we highly suggest that you check out Creekside Puppy Adoption for an Aussiedoodle puppy. Their dogs come in several colors including merle, black/white, and brown/white. We personally think they are some of the most beautiful-looking Aussiedoodles. We highly recommend that you contact Clint today.
Aussiedoodle Breeder Contact Information:
Common Questions about Aussiedoodle Puppies in Florida

1. Why are some Aussiedoodle puppies more expensive than others?
A puppy's price is dependent on a lot of factors such as estimated adult size, coat coloring, and age. Certain coat colors might be harder to get or in high demand thus a premium is charged. If you're looking for an Aussiedoodle breeder in Florida within a certain price range always shop around to check prices. There are tons of breeders with different pricing and some come with financing for a little help.
2. What if an Aussiedoodle is not right for our family?
Bringing an Aussiedoodle puppy into your home is a big adjustment to your lifestyle. We recommend you do your research, take time to analyze why you want an Aussiedoodle puppy, and what kind of adjustments you are willing to make for your new puppy. Aussiedoodle puppies are very active dog breeds so we suggest that you live an active lifestyle.
We urge you to please consider this carefully as many times, returning a dog means it ends up in the pound, rescue, homeless, abandoned, or abused. Your puppy didn't ask to be brought into this world and you agreed to care for them. Sometimes, though, things happen and we understand that financial situations, health, or living conditions change. In that case, we recommend you speak to your Aussiedoodle breeder in Florida because most of them will gladly take back any dog they sold and rehome them.
3. What is the best way to get an Aussiedoodle adjusted to my home?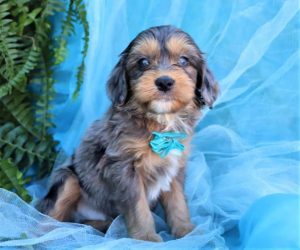 Bringing your Aussiedoodle home will be a joy unmatched. While it's irresistible to introduce them to your friends and let the kids see or play with them, we recommend you take it one step at a time.
Your new Aussiedoodle will be leaving their mommy and littermates to join your family which is stressful for little puppies. For the first week, let your Aussiedoodle puppy explore and rest. We recommend you limit playtimes and avoid placing your Aussiedoodle puppy in confined areas as this can increase stress.
Conclusion for Aussiedoodle Puppies in Florida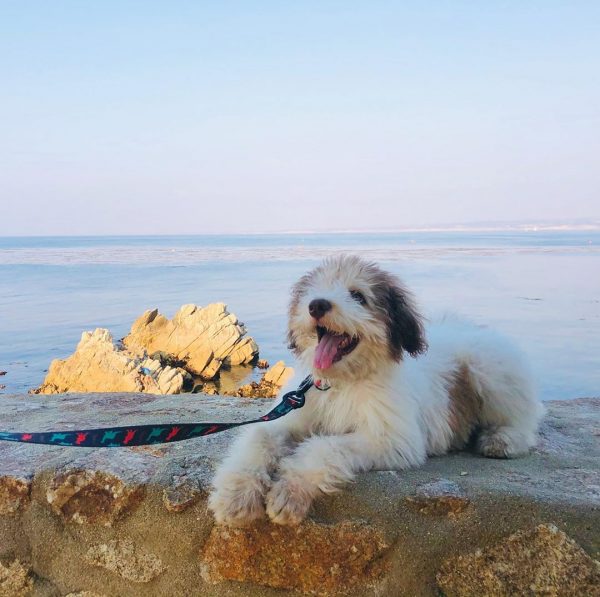 We hope this list brought you a little closer to bringing an Aussiedoodle puppy to your home in Florida. In general, Aussiedoodles puppies are growing in popularity and there aren't many reputable breeders in the state of Florida. We ask that you always do your research, visit their breeding facility, ask for health tests, and verify genetic testing. This helps ensure that you will get a healthy and happy Aussiedoodle puppy in Florida.
If you'd like to adopt an Aussiedoodle rescue, check out our top 5 picks for Aussiedoodle rescues for adoption.
Check out these other articles:
Garrett loves animals and is a huge advocate for all Doodle dog breeds. He owns his own Goldendoodle named Kona. In addition, he volunteers at the Humane Society of Silicon Valley, where he fosters dogs and helps animals. Garrett enjoys writing about Doodles and believes that dogs can teach humans more about how to live than humans can teach a dog.
Why Trust We Love Doodles?
At We Love Doodles, we're a team of writers, veterinarians, and puppy trainers that love dogs. Our team of qualified experts researches and provides reliable information on a wide range of dog topics. Our reviews are based on customer feedback, hands-on testing, and in-depth analysis. We are fully transparent and honest to our community of dog owners and future owners.