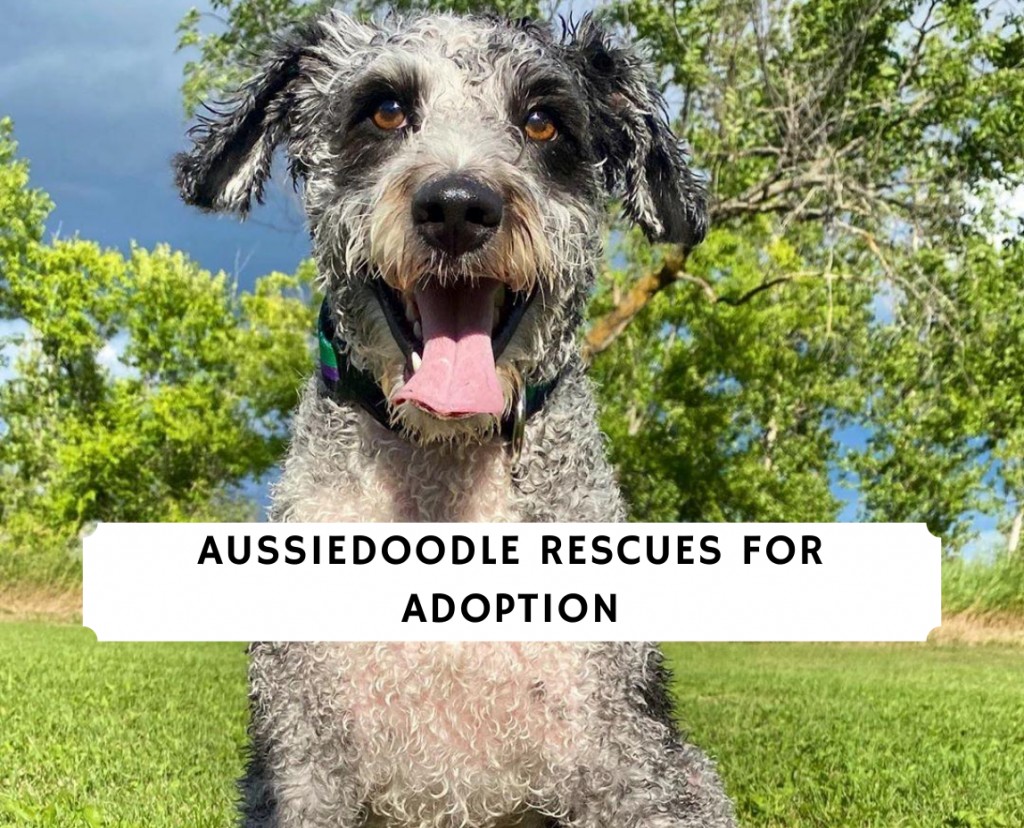 The Aussiedoodle, popularly known as Aussie-poo, is one of the relatively new designer dog breeds in the United States. The cross between an Australian Shepherd and the Poodle combines the best of both worlds in a cute ball of playfulness.
Although this breed is not recognized by the AKC because it a crossbred, it doesn't stop potential or current dog owners from purchasing them from breeders. Adopting and raising an Aussiedoodle, whether it's a rescue or bred dog, is a huge responsibility. 
Getting an Aussiedoodle is like getting a very hyper child and you're in it for the long run since they typically live over 10 years. With the rising cases of stray, abandoned, and homeless dogs – it is important to raise this awareness as many of the dogs in shelters and rescues are surrendered because their owners did not anticipate how much it would cost mentally, physically, financially, socially, and emotionally to raise a dog.
Please take the time to learn about Aussiedoodles before adopting one. You will save yourself and the Aussiedoodle the heartache. Stray animals outnumber homeless people by 5 to 1 in the United States. Don't rush and have your Aussiedoodle turn into a statistic. The Aussiedoodle is an extremely active dog breed and owners who can't keep up with them will put them in a rescue or shelter to be adopted.
If you've set your heart on getting an Aussiedoodle, we've created a list of the top 5 Aussiedoodle Rescues that you can reach out and start to expand your pet ownership journey. Since the Aussiedoodle is a relatively new dog breed, there aren't any specific Aussiepoo resues. You'll have to find an Australian Shepherd or Doodle rescue.
1. Aussie And Me Animal Rescue (Florida)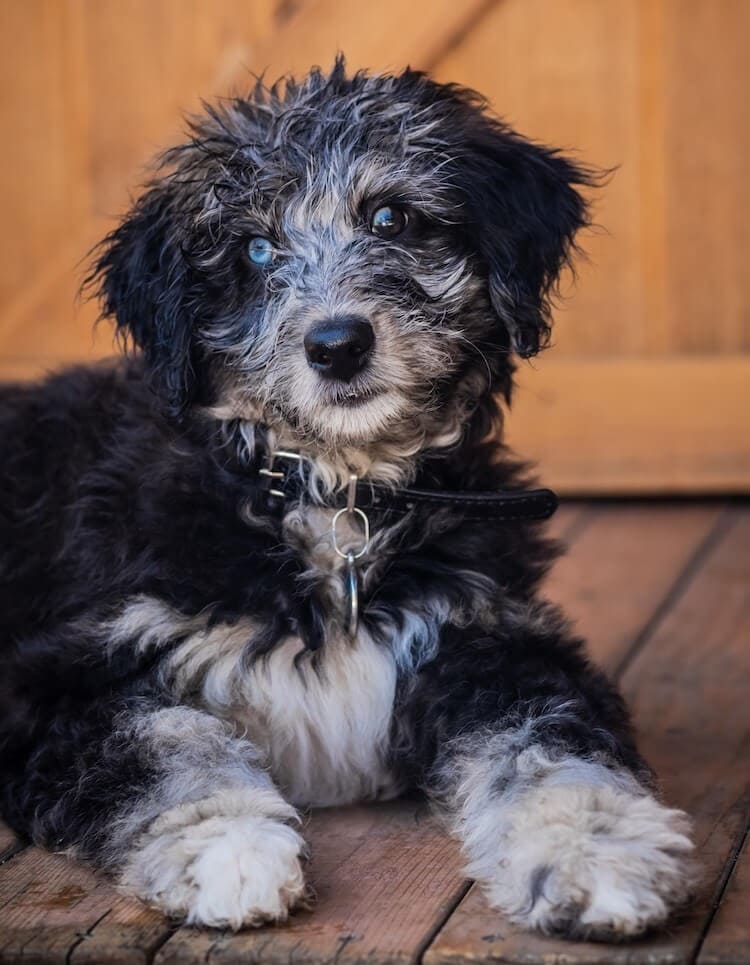 Aussie And Me Animal Rescue is a family-run organization dedicated to rescuing homeless and high-risk dogs from shelters. Most of their Aussidedoodle dogs come from owners who can't take care of them anymore. They work with foster homes, local veterinarians, volunteers, trainers, and boarding facilities to ensure every rescued Aussie gets all the care they deserve.
Aside from rescuing dogs, Aussie and Me Animal rescue also educates the community on responsible pet ownership including the importance of good nutrition, positive behavior training, and spaying/neutering.
All rescued Aussiedoodles are placed into private foster homes before they leave for their lifetime home. When at the foster homes, the dogs are treated as members of the family and receive excellent medical care to ensure they will have a better life than the one they have been dealt with.
Aussie And Me Animal Rescue has some of the best dogs around and not just Aussiedoodles. Aside from rescuing Aussies and Aussie mixes such as Aussiedoodles, they also open their doors to all dogs across the United States.
To adopt an Aussiedoodle from this rescue you will need to be above 18 years old, ready to enroll your puppy in puppy training class within 30 days of adoption, have a maximum of 2 dogs at home, and zero puppies.
In addition to this, the Aussiedoodle rescue doesn't permit any placement in families or individuals that live in apartments, townhomes, or condos.
While this is a good place to start when looking for rescued Aussiedoodle puppies, please keep in mind you might not be able to find a puppy all the time. There's a high demand for Aussiedoodles and not as many people are surrendering them to rescues.
Aussiedoodles Rescue and Adoption Details:
2. Aussie Rescue & Placement (Utah)
Aussie Rescue & Placement is a volunteer-run organization that is dedicated to rescuing Australian Shepherds and all Aussie mixes and placing them in loving and permanent homes. The organization was founded in 1992 by 3 friends who wanted to do more for homeless and abandoned Aussies.
The majority of their Aussiedoodle rescues are young adults or adults. From time to time, Aussiedoodle rescue puppies do appear in batches but they are not common. In addition, the rescues also tend to be more male than female. Sometimes you'll see senior Aussiedoodles put on the streets by puppy mills or backyard breeders when they can't breed anymore.
All the Aussiedoodles are spayed and neutered, up-to-date on vaccinations, and cleared for parasites. Adoption fees start at $300.
Aussiedoodles Rescue and Adoption Details:
3. New Spirit 4 Aussie Rescue (All States)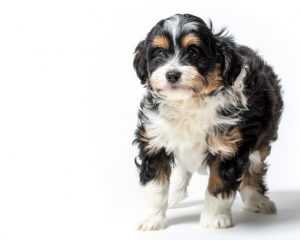 New Spirit 4 Aussie Rescue is an all-volunteer rescue that is dedicated to helping Australian Shepherds and all Aussie mixes such as Aussiedoodles across the United States and Canada. So far, they have rescued 3500 dogs including several Aussiedoodles.
Their rescues mostly come from high-kill shelters and surrendered dogs. To adopt from New Spirit 4 Aussie, you will need to have verifiable references, especially from a veterinarian and be open for a home visit. This is to get a good sense of which type of dog breed will suit you and any pets you may have. They will make sure that you are going to be able to care for the life of a dog before they will adopt you one.
Their adoption fees start at $200 for dogs above 10 years old and $300 for dogs under 10 years. Their Aussiedoodle dogs will have basic shots done, worming, spay and neuter, and heartworm testing. If your chosen puppy cannot be altered before adoption, you will need to pay an additional $50. This is a refundable fee that is returned once you spay/neuter your puppy in the future.
Aussiedoodles Rescue and Adoption Details:
4. Lone Star Aussie Rescue (Texas / Oklahoma)
Lone Star Aussie Rescue was established in 2017 to assist Australian Shepherds and Aussie mixes in need. The rescue was born out of a need to save the large population of Aussies at risk of euthanasia in Texas. Texas is one of the worst states in terms of stray dogs and euthanized dogs per year.
All of Lone Star's rescue dogs are housed in foster homes in Texas and Oklahoma. As of 2020, Lone Star doesn't have a central facility to house the pets but the fosters are always willing to set up a meet & greet.
If you're in the Texas and Oklahoma areas, you're in luck. Lone Star only processes local adoptions to ensure home visits and meet-and-greet sessions run with ease and efficiency. They have rescued several Aussiedoodles as well as other Aussie breeds.
Adoption fees start at $150 for senior dogs, $275 for adults, and $325 for puppies under 12 months. It's a great rescue to inquire about an Aussiedoodle if you're in Texas or Oklahoma.
Aussiedoodles Rescue and Adoption Details:
5. Aussie and Friends Rescue (Arizona)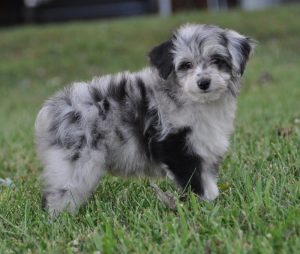 Aussie and Friends Rescue is a volunteer-run organization in Arizona dedicated to giving Aussies and Aussie mixes, like the Aussiedoodle, a second chance. Many of the Aussiedoodles are rescued from shelters and surrendered by owners.
Once the dogs come into their care, Aussie and Friends Rescue ensures they get the proper checkup and clearance. The dogs are spayed/neutered, microchipped, and kept up-to-date with vaccinations. The dogs are then placed in loving foster homes as they await their lifetime homes.
If you live around Arizona and want to adopt or rescue an Aussiedoodle, reach out to them. They are one of the best Aussiedoodle rescues in that area.
Aussiedoodles Rescue and Adoption Details:
What You Need to Know Before Adopting an Aussiedoodle
Adopting an Aussiedoodle is a unique process for everyone, whether this is your first time or tenth time adopting a dog. Every rescue dog including an Aussiedoodle comes with its own set of challenges and perks that cannot be wished away.
Before starting the adoption process, here are a few things to always keep in mind.
1. Many Aussiedoodles don't end up in rescues because they are bad.
According to the ASPCA, many of the dogs in shelters or rescues are healthy and adoptable dogs. Some of the common reasons why an Aussiedoodle may end up in a rescue include; housing restrictions, relocation, financial strain, and even death of the owner. Very few dogs end up in rescues due to behavioral problems.
2. An Aussiedoodle from a rescue needs time to adjust
Your home will be a new environment for an Aussiedoodle. They may appear shy or anxious for the first couple of days or weeks. This doesn't mean that there's something wrong with the Aussiedoodle. Adopted dogs need time to adapt to their new environment.
3. Your Aussiedoodle will need training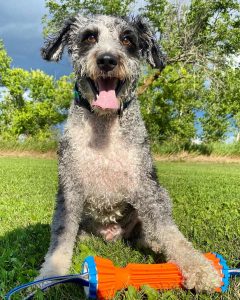 Many shelters or rescues may not have extensive information on the history of the dog and the extent to which the dog was or wasn't trained. When you adopt the dog, it is your job to train your new Aussiedoodle on what it can do, what isn't allowed, and what you expect. Although this will take time, you and your new Aussiedoodle will enjoy the benefit of a beautiful friendship.
Aussiedoodles come two of the smartest dog breeds on the planet so it shouldn't be too difficult to train them. However, an adopted Aussiedoodle may not even be potty trained so you will have to start from ground zero. 
4. Your Aussiedoodle will not know what you've done for them
One of the many reasons people adopt is to be a hero or do the dogs a favor. While you are helping in the fight against a no-kill nation, an Aussiedoodle will not know that. Please don't expect the dog to show its gratitude or appreciation. To them, you are a new person in their life who they will eventually get attached to and grow to love.
These problems may be present or occur later. While many rescues check and treat all their Aussiedoodle rescues for underlying and present health conditions, if something occurs after the adoption – it will become your responsibility. We recommend you consider getting pet insurance to cover any vet bills.
Conclusion for Aussiedoodle Rescues for Adoption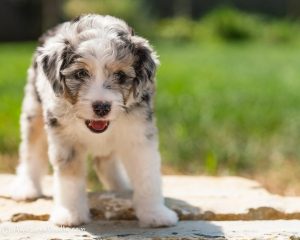 Adopting an Aussiedoodle is worth it if you're in it for the long run. Take your time, ask the rescues all the questions you need to be answered, and have a meet & greet. You also should understand that rescuing and adopting an Aussiedoodle isn't easy because they are in high demand and not many people are surrendering this dog type. We hope this information helps you as you start or expand your pet ownership journey. We hope that you enjoyed our article on the best Aussiedoodle rescues around the United States.
Garrett loves animals and is a huge advocate for all Doodle dog breeds. He owns his own Goldendoodle named Kona. In addition, he volunteers at the Humane Society of Silicon Valley, where he fosters dogs and helps animals. Garrett enjoys writing about Doodles and believes that dogs can teach humans more about how to live than humans can teach a dog.
Why Trust We Love Doodles?
At We Love Doodles, we're a team of writers, veterinarians, and puppy trainers that love dogs. Our team of qualified experts researches and provides reliable information on a wide range of dog topics. Our reviews are based on customer feedback, hands-on testing, and in-depth analysis. We are fully transparent and honest to our community of dog owners and future owners.