When pets are part of the family, it can be tricky to find a place where they feel safe and comfortable while you're at work or on vacation. Luckily for owners in Cincinnati, there are many dog daycares facilities that cater specifically to dogs' needs. The best pet-day care facilities provide plenty of activity and social interaction for dogs.
Ultimately, it's going to be a hard decision for you to choose with daycare to drop your dog off at. There are several small dog daycares in Cincinnati as well larger more established brands that you will see across the nation. We've done our research to help you decide between 6 dog daycares in Cinncinati.
Other articles you would like: Dog Daycares in Columbus and Golden Retriever Rescues in Ohio.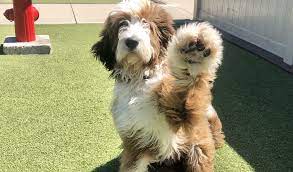 The owner of A Dogs Life Daycare and Boarding facility adores animals, and she had the concept for A Dog's Life while thinking about how she could be present with them all of the time. A Dog's Life was established with the aim of offering a secure environment for dogs where they may be adored and cared for while attending daycare or boarding at our facility.
A Dogs Life Daycare is a great place where you can leave your furry family member while you go to work and he/she will receive a lot of attention from their dog-loving staff. Additionally, every dog in A Dog's Life is treated as if he or she is one of her own children, a member of the pack, and part of her family.
With their entertaining games, they will make sure your dog gets rid of all of its bottled-up energy. Chasing their fuzzy friends is one of the things that your dog can do.
Our dog-friendly community includes numerous amenities for your four-legged companion to enjoy, including a pool, a ball launcher, and an enormous yard where they can sunbathe. We really like this dog daycare in Cincinnati, Ohio, and the prices are reasonable for the area.
Cincinnati Dog Daycare Information:
Address: 5004 Salem Rd, Cincinnati, OH 45230
Telephone: (615) 233-3647
Happy Paws doggie daycare center in Cincinnati has four major areas of activity. Three interior rooms are divided into groups based on size and disposition, while a huge outside space is utilized on days when the weather permits.
Their entire premises are completely washed down, with a cutting-edge ventilation system that exchanges 100% fresh outdoor air every ten minutes, 24 hours a day. Happy Paws staff strive to provide a great experience for their four-legged guests.
Puppies benefit from our positive reinforcement and love-based strategies for stimulating their brains. Staff members are on hand to ensure that your pet is securely engaged in the play areas and their playgroups with agility equipment, toys, planned activities, and continuous canine contact to keep them intellectually stimulated. The smells, games, and interactions with others can all help your pet's brain juices flow.
At the conclusion of a fantastic and fun-packed day, your dog will be delighted! Happy Paws offers seven-day-a-week care for dogs. Their daycare center provides year-round indoor and outdoor play areas for dogs of all species and sizes. Playgroups are based on each dogs' size, age, and personality.
Cincinnati Dog Daycare Information:
Address: 6125 Cleves Warsaw Pike, Cincinnati, OH 45233
Telephone: (513) 941-7292
Dog Day, Every Day! doggie daycare provides a safe and secure environment for dogs to follow their natural proclivity, which is something like that of a pack animal. Dogs indulge in sniffing, wrestling, chewing, and slobbering when they are alone or playing together. It promotes good socialization skills and dog language (dog manners) by allowing them to establish their own pecking order, which is necessary for a dog's well-being.
Dogs enjoy the scent of fresh air in all conditions. They spend their days napping in the sun in the summer and rolling in the snow in the winter.
Their wide-open play spaces are ideal for high-energy stimulation and tranquil play. They provide an outdoor play area, a puppy corner, and a senior dog area.
This dog daycare also utilizes a variety of positive reinforcement techniques to encourage the dogs not to engage in undesirable activities and redirect their attention in a constructive manner. Their experienced staff are constantly on the lookout for any unacceptable behavior and respond appropriately.
Every Day! provides dog spa services, which is a nice touch. Spa Services are offered while dogs are at daycare, which is convenient. Dogs can get baths and nail trimmings (which include filing to a smooth finish) throughout the course of their stay, saving their parents the trouble of taking them to the salon.
Cincinnati Dog Daycare Information:
Address: 4790 Dues Dr, Cincinnati, OH 45246
Telephone: (513) 860-3647
TailWaggers Doggy Daycare provides a safe and enjoyable environment for your dog to play in and interact with other tail-wagging pals at their doggie daycare center.
The facility is divided into spaces for small and big dogs, both of which are conveniently accessible. The dogs are always under the care of a trained professional who is always on hand to oversee doggie activities. Your tail-wagging family member can play inside and outside all day long!
Their two indoor play areas separate the bigger and extremely active furry friends from the smaller canine companions at TailWaggers Doggy DayCare — and there's always room for the senior dogs, and more sedentary clients to relax and play.
The two large outdoor play areas are composed of concrete and pea gravel, making them safe and entertaining for the dogs to run and play on. The play area has bridges, games, balls, and other things to keep your dog occupied while they wait for you to pick them up from doggie daycare.
Family member, loyal friend, companion, and confidant. Unconditional love is something only dogs can give to us. It's no surprise that we are compelled to do all we can to repay them for the same amount of love and care.
TailWaggers Doggy Daycare is a fantastic animal care facility that provides second-to-none dog care services in a fun, safe, and clean environment. Our services are tailored to meet the demands of any pet parent, whether it's doggie daycare for exercise and socialization or house boarding for a weekend getaway.
Cincinnati Dog Daycare Information:
Address: 4528 Summerside Rd, Cincinnati, OH 45245
Telephone: (513) 843-4340
Buddy Boarding Farm is a one-of-a-kind boarding business located in the beautiful countryside. For your dogs' enjoyment, their facility is an 8-acre fenced enclosure where your furry family member can roam, relax, and play.
Dogs are all over the farm, having a great time all day long! Group walks, doggie pools on hot days of summer, rest in the shade, pursue humans on mini 4-wheelers, get plenty of personal one-on-one attention, watch movies and snuggle inside – all for free!
This Cincinnati dog daycare does not charge for playtime, socialization, treats, or care since these things are critical to a dog's health and are therefore included in the overall price. You'll notice that several other dog daycares in Ohio will charge these features as an add-on.
In the Buddy Boarding Farmhouse or Barnhouse, your dog will take naps and play in their own large private space (both equipped with heat and air cooling to maximize comfort).
The owner's Nick and Carly are vibrant, young, active individuals who adore all animals! Both have studied and obtained a certificate in Canine Training and Obedience in 2012 to enhance their understanding of canine care and handling.
They both yearned to establish a destination where people might leave their fur children without feeling nervous, unsure, or concerned about them while they were gone. To put it another way, Buddy Boarding Farm was established! Now humans may take pleasure in knowing that their fur-kiddos are staying at a location that feels like home.
Dogs are family members, after all, and should be cared for as such – regardless of where they are! If you're looking for an independently owned and operated dog daycare in Cincinnati, this should be a top choice.
Cincinnati Dog Daycare Information:
Address: 8359 Batavia Rd, Cincinnati, OH 45244
Telephone: (513) 384-5739
Red Dog Pet Resort is extremely pleased to provide a genuine one-of-a-kind daycare service in Cincinnati. Every day, the pet visitors enjoy a fun, pleasant, and secure environment. Their program allows your dog to socialize while exercising under the watchful eye of their highly educated personnel.
Pets have their own play areas, managed by Pet Care specialists. Dogs are chosen to daycare groups based on their size, disposition, and playing style to ensure that all pet guests have a pleasant experience.
They provide both indoor and outdoor dog daycare. All year, the daycare dogs have access to the covered outside spaces.
Swimming is a lot of fun for pets (if you let them!). Swimming can provide your dog with joy, relaxation, and exercise. This choice is best suited for dogs who simply want to enjoy being in the water. Dogs in the same household may swim together for additional enjoyment!
Take advantage of this opportunity to have your dog unwind during unsupervised private Fun Swim splash time or Fitness Swim for him. Warm water exercise is particularly beneficial for arthritis treatment and improves flexibility, endurance, weight loss, relaxation, confidence building, and athletic health in general.
Fridays are special for the pet parents with a dog in Daycare or Day Stay. This choice allows them to go out for the evening without having to worry about picking up their dog at the standard lobby closing time.
Cincinnati Dog Daycare Information:
Address: 5081 Madison Rd, Cincinnati, OH 45227
Telephone: (513) 733-3647
Conclusion for Dog Daycares in Cincinnati
If you're looking for a great place to leave your puppy while you're at work, check out one of these top dog daycare facilities in Cincinnati. Your furry friend will love playing with other dogs all day long! We've chosen several different dog daycares for your to choose from that offer different types of amenities for your puppy. We hope that you were able to make a decision!
Other articles you would like:
Garrett loves animals and is a huge advocate for all Doodle dog breeds. He owns his own Goldendoodle named Kona. In addition, he volunteers at the Humane Society of Silicon Valley, where he fosters dogs and helps animals. Garrett enjoys writing about Doodles and believes that dogs can teach humans more about how to live than humans can teach a dog.
Why Trust We Love Doodles?
At We Love Doodles, we're a team of writers, veterinarians, and puppy trainers that love dogs. Our team of qualified experts researches and provides reliable information on a wide range of dog topics. Our reviews are based on customer feedback, hands-on testing, and in-depth analysis. We are fully transparent and honest to our community of dog owners and future owners.