Golden Retrievers are one of the most popular dog breeds in the world. Their beautiful coats, sweet temperaments, and friendly personalities make them highly sought after dog breeds by first-time owners and experienced dog owners alike. This high demand results in a large number of Golden Retriever breeders working to satisfy the need for puppies. However, not every Golden Retriever gets to live a happy life.
Despite their winning looks and personalities, many of these dogs end up in shelters as adults and may suffer long waits for a new home. For this reason, many breed-specific rescue shelters exist in every state whose goal is to find homes for dogs in need. We found the 4 best Golden Retriever rescues in Ohio to help you find a dog.
We will preface this article by saying that adopting a Golden Retriever from a rescue or shelter is quite difficult. You'll need to pass home screenings, identity verifications, and plan to care for the entire life of the Golden Retriever. In addition, there is also a high demand of people wanting to rescue Golden Retrievers in Ohio due to Covid and work from home situations.
Other articles you might like: Best Dog Rescues in Ohio and Best Goldendoodle Breeders in Ohio.
1. Golden Treasures Golden Retriever Rescue Ohio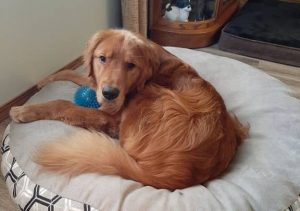 Located in Bath, Ohio, Golden Treasures was founded in 2004 by two experienced dog rescuers. Golden Treasures is entirely operated by volunteers, proving that the organization is powered solely by the love of its volunteers and patrons. To date, they have helped many dogs find homes and has cemented its reputation as a true hero of the Golden Retriever breed.
The rescue's mission is to ensure the welfare of the Golden Retriever breed around the state of Ohio. This can mean anything from providing advice, resources, assistance to veterinarians, taking in strays or dogs in crisis, or removing puppies from dangerous situations. Golden Treasures provides each dog with a full veterinary exam upon retrieval, including any necessary procedures, and spays and neuters each dog.
They put their lives on hold for the Golden Retrievers they rescue throughout Ohio by going above and beyond the normal requirements of their jobs. Golden Treasures' volunteers and owners have made it their mission to rescue dogs from euthanasia, provide obedience lessons,  behavioral intervention, and more to ensure that every dog is given a chance at a happy life.
The organization's Golden Retriever adoption process is pretty rigorous. Golden Treasures requires a veterinarian contact, a home visit, and an interview before the preliminary meeting with a dog.
Their adoption fees are tiered to encourage the adoption of older dogs first, as older dogs are often passed for puppies in shelters. The rescue also allows foster applications, making it possible for those who are interested in helping to lend a hand, even if they can't commit to a full-time volunteer position.
Golden Retriever Rescue Contact Details
2. Golden Retriever Rescue Resource (GRRR)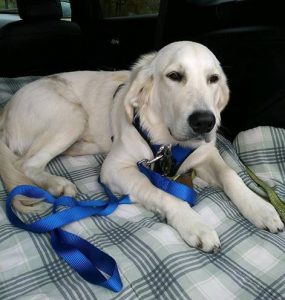 Golden Retriever Rescue Resource (GRRR) was established in 2003 as a response to a high volume of abandoned Golden Retrievers and Retriever mixes in the area. The rescue serves Ohio and Michigan and is based in Waterville, Ohio. GRRR is a nonprofit organization, relying on volunteers and donations to place dogs in need with loving families.
GRRR's program focuses on placing Golden Retrievers in happy, healthy, permanent homes. Their foster care program ensures that dogs receive the love and attention they deserve while waiting for their forever families. They offer resources for information about the Golden Retriever dog breed and proper dog ownership, offer behavioral training assistance, and host adoption events regularly.
The adoption policies for this organization are extremely strict in order to ensure the absolute best experience for their dogs. Those looking to adopt are required to sign a contract stating that they will adhere to the rescue's guidelines. Some of these guidelines call for a fenced yard, a collar to be worn at all times, at least one obedience class to be taken with the dog post-adoption, and guaranteed shelter from the elements. In addition, the rescued Golden Retriever must have access to food and water at all times.
This Golden Retriever rescue in Ohio also requires that the dog be returned if the adopter can no longer care for them. While these rules may sound like common sense, making them contract requirements forces the potential adopter to take the dog and its welfare seriously, weeding out those who just want a pet for the time being. This helps to ensure a happy and permanent home for the Golden Retriever.
Golden Retriever Rescue Contact Details
3. Golden Retrievers in Need Rescue Service (GRIN)
Golden Retrievers in Need Rescue Service (GRIN) was established in 1992 by volunteers who noticed Folden Retrievers were being surrendered to shelters and euthanized at a high volume. GRIN doesn't sugarcoat the reality of the pet and breeding industry: more pets than not are homeless, and most of those homeless pets will be euthanized by the shelters they ultimately end up in.
As their site says, 25% of these pets are purebred, an issue that grows daily with the overwhelming demand for purebred animals and the booming dog breeding industry. The Golden Retriever rescue's mission is to find homes for as many of these animals as possible in an attempt to fight these tragic statistics throughout Ohio.
GRIN purposely networks with breed experts and enthusiasts to reach out to those looking for purebred Golden Retriever in order to connect them with dogs in need and sway them from choosing breeders. The organization is focused on extensive care for each dog they rescue, including behavioral rehabilitation, medical care, and post-adoption follow-up.
GRIN cites that their average cost to rescue and take care of one of their Golden Retrievers is $1,200, which is paid for by its generous donors and members. The organization is run by volunteers and encourages those who cannot volunteer full-time or adopt to foster a Golden Retriever.
Like most rescues, GRIN requires that Golden Retriever adopters have a fenced yard, a veterinary contact, an interview, and a home visit to qualify for adoption. They host several adoption events a year with the intent of finding the perfect home for every dog in their care.
GRIN has rescued and adopted out over 3,600 dogs in happy homes since their inception, proving them to be a powerhouse organization for the animals they serve and protect. They are not currently accepting new applications but will allow interested families to be placed on a waiting list.
Golden Retriever Rescue Contact Details
4. Golden Retriever Rescue and Adoption of Needy Dogs (GRRAND)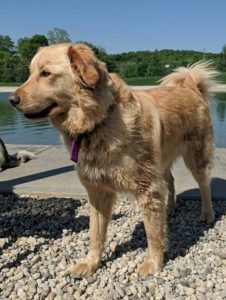 Golden Retriever Rescue and Adoption of Needy Dogs (GRRAND) was founded in 1994 by members of the Greater Louisville Golden Retriever Club. They noticed that there was a need for a rescue group for Golden Retrievers in Ohio and Kentucky, and thus, GRRAND was born.
Originally a group connecting dogs in shelters with adoption resources and potential families, GRRAND has held and cared for dogs awaiting adoption or foster homes in its own kennels for the past 4 years. Since its beginnings, GRRAND has rehomed almost 5,000 dogs many of which are Golden Retrievers. Though the rescue is technically based in Kentucky, they primarily serve Ohio.
GRRAND takes on all medical expenses and behavioral training for dogs under its care. In addition, the organization receives donations for dogs whose medical issues are critical and those whose lives are coming to end, ensuring comfort for these animals. The rescue is also extremely focused on educating potential pet owners about issues facing many of the dogs they take in.
GRRAND and its fellow Golden Retriever rescues are focused on a movement based in Turkey to save Golden Retrievers who are released into the streets as adults to fend for themselves. GRRAND educates its patrons about this and other issues facing dogs worldwide by providing updates on their website, proving their love for dogs knows no bounds.
As with most other shelters and rescues, GRRAND requires a fenced yard, home visit, vet contact, and interview before adoption. The organization hosts various adoption events in its large service area, which spans north Kentucky and most of Ohio. GRRAND opened its doors in 2014 to other breeds, allowing them to help countless non-golden dogs in the Ohio area.
Golden Retriever Rescue Contact Details
Why Do People Put Golden Retrievers up for Adoption in Ohio?
Though goldens are a beautiful and friendly breed that gets along with most people, here are some reasons why they may be put up for adoption:
1. Golden Retrievers can be needy.
Goldens are extremely affectionate dogs who need a lot of attention. Those who leave their Golden Retrievers home alone often may find that their house is a bit of a mess when they return since this dog breed can have destructive tendencies when left alone. This dog breed tends to get bored easily if not physically and mentally stimulated. This causes many first-time pet owners to ultimately put their Golden Retriever in an adoption or rescue throughout Ohio. 
2. Golden Retrievers shed like crazy and need lots of grooming.
This breed is known for its beautiful coat, but those who have pet allergies or can't stand dog hair won't be happy that their furniture and clothes have a semi-permanent coat of hair constantly. The Golden Retrievers long coats also require lots of maintenance and grooming which can be expensive and time-consuming. Many first-time dog owners don't truly understand the maintenance requirements of a Golden Retriever and thus, they end up in a rescue.
3. Golden Retrievers are large dogs.
While Golden Retrievers aren't the largest dog breed, many adopt them as puppies because they are adorable little balls of fluff. Those little fluff balls quickly grow into large and energetic dogs that require more room and attention than many dog owners realize. For those who live in a small apartment or a house with no yard, this gets old fast. Please make sure that you have an adequate amount of living space before buying a Golden Retriever from a breeder.
4. Golden Retrievers need a LOT of exercise.
Similarly to the last point, Golden Retrievers are hyper-energetic dogs who love to run and play. Originally bred for hunting, these dogs are at home running around outdoors, which means they need a lot of room to run at home. Unfortunately, living in a city or a small home with little to no yard isn't just annoying for the owner whose dog won't leave them alone – it's unfair to the dog who just wants to play! Thus, those who don't live an active lifestyle often put their Golden Retriever up for adoption in Ohio.
5. Their owner has passed away.
This is an unfortunate but not uncommon occurrence. Sometimes, a dog owner dies and there is no one to take in their beloved pet. In this instance, the dog must be surrendered to a shelter or rescue in the hopes that it will find a loving family. In addition, dog owners oftentimes get sick and can no longer care for a dog.
Conclusion for Best Golden Retriever Rescues in Ohio
Golden Retrievers are a lifelong commitment. They live anywhere from 10 to 16 years and require lots of care, attention, and love. Getting a dog should be a serious decision that takes this into account. Giving up a Golden Retriever should be a situation that no one wants to be in and reserved for only the direst circumstances.
Fortunately, there are Golden Retriever rescues in Ohio that are dedicated to rehoming dogs in need and placing them with loving families who will provide them with everything they need for a long, happy, healthy life. These organizations are dedicated to the wellbeing of Golden Retrievers and should be celebrated for their compassion and service. Thus, if you're looking to rescue or adopt a Golden Retriever in Ohio, you should contact one of these organizations.
Other articles you might like:
Garrett loves animals and is a huge advocate for all Doodle dog breeds. He owns his own Goldendoodle named Kona. In addition, he volunteers at the Humane Society of Silicon Valley, where he fosters dogs and helps animals. Garrett enjoys writing about Doodles and believes that dogs can teach humans more about how to live than humans can teach a dog.
Why Trust We Love Doodles?
At We Love Doodles, we're a team of writers, veterinarians, and puppy trainers that love dogs. Our team of qualified experts researches and provides reliable information on a wide range of dog topics. Our reviews are based on customer feedback, hands-on testing, and in-depth analysis. We are fully transparent and honest to our community of dog owners and future owners.