It is important to find a daycare that your dog can call a second home so that you can relax and focus on your day, whether you are at the office, or you are taking some much-needed vacation time. Houston, Texas, has no shortage of excellent daycares, but we have narrowed it down to just 6 of the best, saving you the hassle of research. So you can stop scrolling through Google and simply read ahead for your dog's future home away from home.
Each daycare facility has a qualified and loving staff, trained in all things dog, guaranteeing your dog some safe play while you are away. We also looked at a variety of other factors, some of them including, playtime, area safety, customized doggy care, and extra amenities. There is an option for every size and shape of a puppy, and some brilliant boarding options for your dog to cozy up at night.
Today, we've researched the best dog daycares in Houston to help you find a place to drop off your puppy during the day!
Other articles you would like: Best Dog Rescues in Houston and Golden Retriever Breeders in Houston.
1. Wag'nWorld Houston
First on the list of the best dog daycares in Houston is Wag'nWorld. Wag'nWorld certainly has the wag factor that every dog is looking for, with a pristine outdoor adventure park filled with climbing ladders, tunnels, and slides, your dog will be swept away. A lot of energy and thought has gone into designing a space worthy of your dog, and they will have the chance to make new friends, and play all day at Wag'n World.
When it comes to group play, they separate dogs into 3 groups, based on size, temperament and age, ensuring safety and making sure that each dog is within their comfort zone. Days at Wag'n World consist of group play, ball games, and loving attention from their caring staff, with much needed downtime in between. They also have boarding options and grooming facilities, if your puppy needs a much needed scrub.
24/7 surveillance cameras give you the chance to watch your dog frolicking with friends, and bring a smile to your day. Check out their website for a first hand look at their facilities as words could never do it justice. Give your dog some much needed play with friends at Wag'n World. As they say "you're winning when they're wagging."
Dog Daycares Information:
2. Happy Snoutz Pet Resort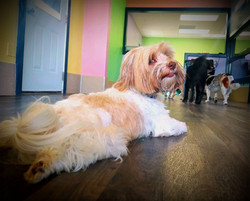 Happy Snoutz understand the stress that your pet feels when you are working to pay their bills, so they specialize in giving specialize in caring for and providing a safe space for your dog every single day. If your dog is small or medium sized, they can relax and play for the day at this peaceful daycare.
They can enjoy cage-free all day play at Happy Snoutz, giving your pet the chance to socialize with friends in their large lovable space, filled with toys. They guarantee constant care and attention, so you focus on your day without worrying about your puppy.
If you're planning a trip out of town, then plan aheads because their warm comfortable kennels, calm relaxing music and soft color changing lights create an atmosphere of relaxation for your dog to sleep through the night. They encourage you to bring a piece of home, whether it's a snack or a toy, to create that homey feeling for your puppy pal.
Your dog can wash away a week of rolling around in the mud with their professional grooming services, where they use non-toxic oatmeal infused shampoo and conditioner. Snazzy right! Also, follow their blog for recent updates on your favorite doggy daycare.
Dog Daycares Information:
3. Super Paws: Dog Boarding & Daycare
Super Paws is a jack of all trades and offers a service for everyone. From the usual daycare, boarding and grooming, to a super taxi service and personalized photo and video updates. They have you in mind whilst they care for your dog, and understand that text updates and taxi services go a long way to giving you the peace of mind and time you need to de stress during your day.
Your dog will have the chance to socialize with their furry friends in their large outdoor areas and climate controlled indoor facility. Let's hope your dog has plenty of practice playing tug of war, so that they can show off to their friends at Super Paws. Sometimes your dog needs some TLC, and they have your back, offering a range of grooming services, so your dog can walk with confidence around the block.
They also offer super movie cuddles, if your dog loves to lounge and relax alongside the attention of their loving humans. Be sure to check out @hellvbon on instagram for a look at their cartoon dog artwork, especially if your home could use a little decor.
Dog Daycares Information:
For more check out: Best Dog Daycares in Jersey City and Best Dog Daycares in Lexington
4. PatioGate Pet Resort Houston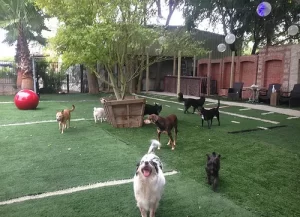 PatioGate Pet Resort takes the natural vibe to a whole new level. Boasting 3 large play parks, beautiful trees surround the premises, providing a picturesque landscape. The canopies also provide some much-needed shade during those hot Texas months. Their turf area is a safe space for your puppies and cushioning for their joints, creating an all round healthy experience.
They will treat your puppy like a family member as your dog runs, plays, and naps with their new friends. They divide their dogs into groups based on size and temperament to ensure compatibility and safety throughout their stay. They believe that your puppy should be happy whether they are coming or going, and the attentive and loving staff keeps the spirits high at PatioGate.
Don't forget their luxurious boarding options too. Large indoor play rooms, luxury suites, and airy sleeping nooks, what's not to like? They recommend a slightly larger than normal meal for your puppy, as their day is full of play. So, after a long day of work for you, and a hard day of play for your puppy, you can snuggle up on the sofa together, content that you've both got the most out of your day.
Dog Daycares Information:
5. The Best Little Dog House in Texas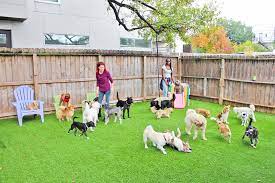 If your dog is 35lbs and under then this is the best place for your dog to meet some like-minded and even like-sized friends. They focus on creating a fun, stress free environment for your puppy to thrive, and the social atmosphere allows your dogs to have the physical and mental stimulation that they need for a happy and healthy life.
Their outdoor space is filled with chairs, paddling pools, and a tiny slide, so that your excitable dog can get their daily dose of adrenaline, or simply lounge in the sun with friends. For a fee, they will also train your dog to be the best version of themselves.
With an emphasis on positive reinforcement, they will often train your dog in stimulating environments to mirror the world outside of daycare. Also, just like karate, they will receive different colored collars based on their training level so you can watch your dog progress throughout the ranks.
If grooming and boarding services are what you're looking for then The Best Little Dog House in Texas has your back. They can enjoy some cage free sleep under the attentive eye of their staff, and different spa packages based on your puppy's need. They also host birthday parties for your puppy so they can have some fun with their friends on their special day. Just make sure to use their grooming services beforehand so that they are looking and feeling their best.
Dog Daycares Information:
6. Houston Bark Park and Daycare
Last on the list of dog daycares in Houston is Houston Bark Park and Daycare. With two fabulous locations, Houston Bark Park is your dog's equivalent to an amusement park. Their giant outdoor play area is the home of splash pads and bubble cannons to entertain and drench your dog, patent pending cold plates to cool your dogs during those hot humid days, and canopies with misting systems to cool your dog. Houston Bark Park is quite literally a dog haven.
They divide your puppies into 4 play groups according to size and temperament to promote a safe space for your puppy, where they can form bonds for life. They are also proud to say that they know each dog on an individual level, so that your dog can enjoy the companionship of both puppies and humans alike.
Take advantage of their grooming services, including De shed treatments if you're fed up with hovering up the fur in your house. Also, your dog can stay the night in their comfortable suites if you are away for the evening. Catch your dog on their live cameras throughout their day to stay involved in your canine friend's life.
Dog Daycares Information:
Conclusion For The Best Dog Daycares in Houston
We can say with certainty that your dog will receive the loving attention, socialization and relaxation that they deserve at each of these daycares, for a special day all around. If your dog is looking for some like-sized friends or wants to roll around in bubbles for the day, then there is a place for you. You can't go wrong with these 6 dog daycares in Houston. All we can say now is, best of luck to your puppy as they join their new home away from home.
You will also like:
Garrett loves animals and is a huge advocate for all Doodle dog breeds. He owns his own Goldendoodle named Kona. In addition, he volunteers at the Humane Society of Silicon Valley, where he fosters dogs and helps animals. Garrett enjoys writing about Doodles and believes that dogs can teach humans more about how to live than humans can teach a dog.
Why Trust We Love Doodles?
At We Love Doodles, we're a team of writers, veterinarians, and puppy trainers that love dogs. Our team of qualified experts researches and provides reliable information on a wide range of dog topics. Our reviews are based on customer feedback, hands-on testing, and in-depth analysis. We are fully transparent and honest to our community of dog owners and future owners.