Here's what you need to know if you're searching for Golden Retriever breeders in Houston. In 2020, the Golden Retriever was ranked the 4th most popular dog breed in the United States by the American Kennel Club.
Why is that? The dogs are friendly, loving, loyal, trainable, and relatively easy to care for. Golden Retrievers make excellent service dogs, and they'll be best friends to the young people in your home.
Do you live in Houston, Texas? Are you in search of a Golden Retriever to call your own? We've got you covered. We've put together a list of the best Golden Retriever breeders in the Houston area.
Before scrolling down this list of Golden Retriever breeders in Houston, check out these recommendations: Best Golden Retriever Rescues in Houston and Best Dog Rescues in Houston.
Golden Retriever Puppies For Sale in Houston
These kennels are reputable businesses – not puppy mills – and most dogs on this list come with a health guarantee. Always do your research. We've compiled this list based on both personal experience and Retriever-owner reviews. If possible, you should visit the kennel and ensure that puppies are well-loved and cared for before being placed in their fever homes.
Golden Retriever Product Recommendations: Best No-Spill Dog Bowls and Best Pet Hair-Resistant Bedding.
1. PuppySpot's Golden Retrievers For Houston, Texas
Since you're searching for Golden Retriever breeders in Houston, then we highly recommend checking out PuppySpot. People often struggle to find the perfect Golden Retriever puppy, which is why we recommend PuppySpot.
PuppySpot is a reputable platform where you find scroll through countless Golden Retriever puppies for sale. After your purchase, your Golden Retriever will be safely shipped to your home in Houston.
Golden Retriever breeders on this platform are all strictly screened by the team of PuppySpot for both parties to have a safe and ethical transaction. So, before you continue on your search for a Golden Retriever breeder in Houston, check out the link below.
PuppySpot Details
2. Watermark Retrievers
The first of the top Golden Retriever breeders in Houston is Watermark Retrievers. Based in Houston, the Watermark team has been raising Goldens since 1975.
With that much experience, you can feel confident that the puppy you adopt will be a great family pet, service dog, or companion. In addition, Watermark Retrievers are trained for service, hunting, field trials, show dogs, and, simply, pets.
If you have a specific preference, contact breeder Mary Tatum before placing a deposit. As is the case with most breeders, Tatum wants to ensure that puppies and families are matched appropriately.
Your Golden Retriever puppy will arrive at your home entirely up to date with vaccinations and deworming treatments. Deposit amounts and cost of adoption may vary depending upon the dog's characteristics. Be sure to check with the Watermark website regularly for upcoming and new litter information.
Watermark Retrievers Details
3. Briarcrest Golden Retrievers

The next of the top breeders in Houston is Briarcrest Golden Retrievers. This kennel, located in Houston, specializes in Goldens and has been in the business of showing, training, and breeding the dogs for almost a decade.
Briarcrest puppies are raised in the breeder's family home and career socialized with humans and other animals. All dogs are checked by a vet and will be up to date with vaccinations when it's time to come home with you. Your dog will also have limited AKC registration papers, but they're sold as pets and not for breeding.
Expect to be interviewed by Briarcrest Golden Retrievers before being permitted to place a deposit on a puppy. Dogs are matched to families based on temperament, so you must be honest about your puppy's future living situation.
Briarcrest Golden Retrievers Details
4. Golden Rule Retrievers
Buffalo, Texas, is just a couple of hours drive from Houston – worth the travel time when you find that Golden you've been looking for all your life. Golden Rule Retrievers are raised in a family home on a family homestead complete with forests, ponds, and air-conditioned accommodations.
The puppies at Golden Rule even have a pirate ship to play in – in short. So you can feel confident that your dog has been raised in a fun and social environment. You can expect to pay at least $2,500 for your puppy, though add-ons are available.
For instance, you may choose to have your puppy AKC registered, microchipped, or fully trained. Contact Golden Rule Retrievers for full deposit and pricing information. You will need to complete an application before placing a $750 deposit for your dog.
There is usually a waitlist, so be sure to contact Golden Rule as soon as you decide to adopt from the kennel. Puppies are placed in order of deposit unless you are requesting a service dog.
Be sure to carefully read the information about the puppy selection process on the Golden Rule website. Your deposit is non-refundable, though it may be transferred to another litter if necessary.
Golden Rule Retrievers Details
5. Weatherby Goldens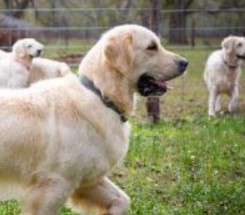 The last breeder on our list of Golden Retriever breeders in Houston is Weatherby Goldens, located in Rosharon, Texas. Rosharon is a quick thirty-minute drive from Houston, so your new puppy will be your next-door neighbor as it grows for the first few weeks.
Your Weatherby puppy will be used on 15 acres with plenty of room to run. There are plenty of places to explore on the property and plenty of human and animal friends to help with your puppy's socialization.
Golden Retrievers from Weatherby Goldens will be vet checked and current on vaccinations when you pick them up. You'll be required to bring your dog to the vet within 72 hours of pickup to comply with the adoption contract.
Before you place a deposit on your Golden Retriever puppy, you'll need to fill out an application. The Weatherby team wants to know where their baby will be going, so prepare to tell them about your housing, your outdoor space, and your family. The deposit for your puppy is $500, and the total cost can be discussed with the breeders at Weatherby Goldens.
Weatherby Goldens Details
Conclusion For The "Best Golden Retriever Breeders in Houston"
Adding a new family member is no small decision. Thankfully, Golden Retrievers are easy to care for and make fast friends with just about anyone.
Whether you're searching for a service dog or a companion for your toddler, a Golden Retriever makes the perfect pet. It's important to adopt your Golden Retriever from a reputable breeder.
Puppy mills and disreputable breeders can produce puppies that are ill-socialized and unhealthy. Do your research and interview breeders just as they interview you. Then, when you find a breeder you feel comfortable with, it's time to take the next step to adopt your new forever friend.
For more articles with mentions of the Golden Retriever, you can check out:
You can learn more about the Golden Retriever dog breed by watching "What's It Like Owning a Golden Retriever" down below: