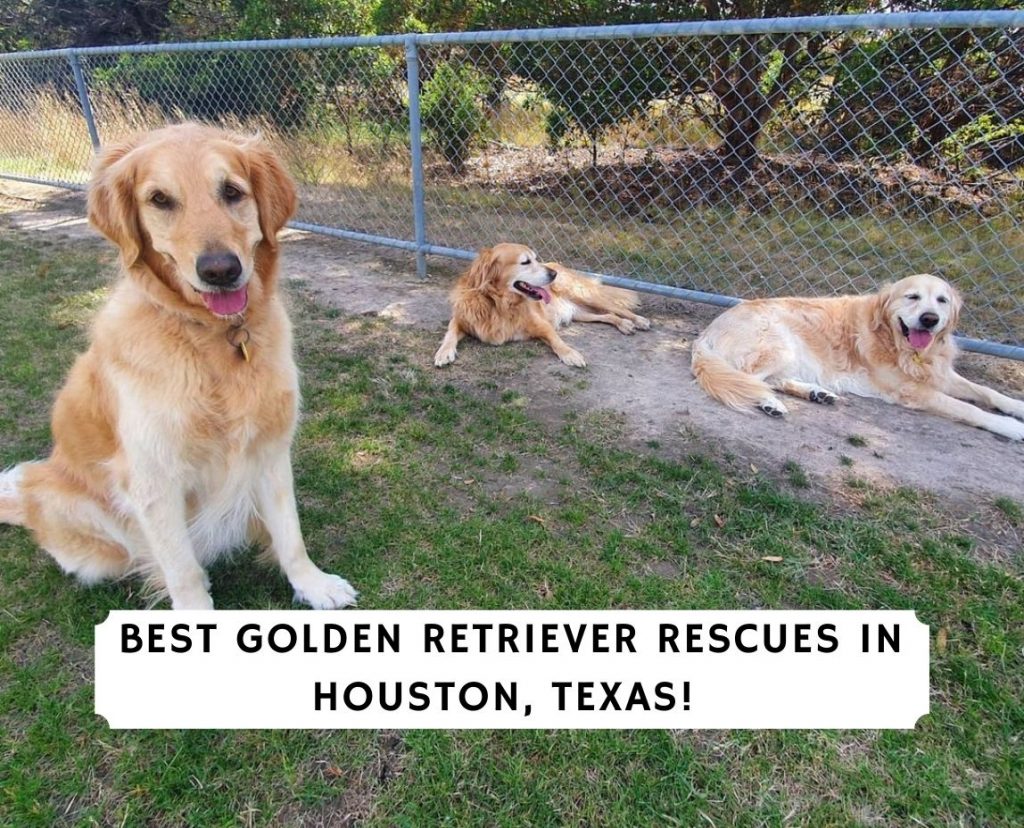 Have you decided to rescue a Golden Retriever in Houston and don't know where to start? The Golden Retriever is the perfect fit for most families due to its mild temperament and easygoing personality!
Golden Retrievers are one of the most friendly, intelligent, and loyal dog breeds around. These dogs are incredibly eager to please, making them an easy breed to train. They are kind and loving to their families which makes them good around children of all ages.
For those of you living in Houston, Texas, who have decided that a Golden Retriever is the right dog for you, below, you can find a list of resources that will help you find the best Golden Retriever rescues in Houston, Texas.
Check out these other articles: French Bulldog Rescues in Texas and Doodle Rescues in Texas.
If you live in Houston and are looking to adopt a Golden Retriever, the Golden Retriever Rescue of Houston is a great place to start. The Golden Retriever Rescue of Houston is an entirely volunteer-run non-profit organization that focuses on saving and rehoming Golden Retrievers in the Houston area. Texas has some of the highest rates of euthanasia and they didn't want any Golden to get left behind.
All dogs in the care of the Golden Retriever Rescue of Houston are housed in their foster homes. There is no physical location for this organization, so a network of foster houses are where they assess dogs for behavior. This allows the Golden Retrievers to live in a loving home until they can get adopted out.
The volunteers living with these dogs decide what kind of home will be compatible with the dog's personality, helping the organization find the best matches for their rescued Golden Retrievers. Each dog receives a medical exam when it is brought into the care of the organization. Any medical problems receive treatment while the dog is in the foster home. If there are chronic medical problems, the dog will begin taking medication until it is fully healthy.
Each Golden Retriever rescue in Houston is spayed or neutered and started on heartworm prevention before being adopted out. These policies ensure that each dog is healthy and ready for a new life in its forever home.
If you are interested in a dog from the Golden Retriever Rescue of Houston, you will have to follow an adoption process outlined on their website. First, you will submit an adoption application that includes a $20 application fee.
You will have to undergo a home and family visit where the dog will be introduced to any people or animals living in your household. If you want to adopt a dog from the Golden Retriever Rescue of Houston, you must have a fenced in backyard and agree never to leave your dog outside when you are not home. This is because Golden Retrievers are not meant to be outdoor dogs.
If you are deemed the right fit for the dog, you will have to pay an adoption fee. This fee is $400 for dogs under eight years old and $200 for dogs over eight years old. These fees help the organization with the costs of maintaining the dogs' health and wellness in their care.
During adoption, you will sign a contract stating that you will not sell or give your dog away. If you cannot care for your dog anymore, you will have to bring it back to the organization. This ensures that the dog will always be in a loving home and not left in a shelter.
So, if you live in Houston and are looking for a new addition to your family, the Golden Retriever Rescue of Houston is a great place to start!
Golden Retriever Rescue Information
The Golden Beginnings Golden Retriever Rescue (GBGRR) is a non-profit organization located in Houston, Texas. The mission of the GBGRR is to rescue and rehabilitate Golden Retrievers that have been misplaced, abused, or neglected.
This organization focuses on statewide rescues and making sure no Golden Retrievers "slip through the cracks". They have many foster homes across Texas to provide shelter to any Golden Retriever rescue in need, regardless of the area.
Each dog in the care of GBGRR lives in a foster home for at least 14 days. This allows foster families to assess any health or behavioral problems that need to be addressed before adoption.
Some things to consider before adopting from GBGRR are that they do not adopt to families with children under the age of 5, anyone who is still in college, anyone who is under the age of 21, anyone living in an apartment or townhouse, and anyone living in a house without a fenced-in yard. These rules are in place for the benefit of the dogs.
If you meet these requirements and are ready to apply for a Golden Retriever of your own, you can fill out an adoption application on the website. Each application has a $25 non-refundable fee. If the GBGRR chooses you to adopt one of the available dogs, please note that dogs under the age of 8 years old have an adoption fee of $400, and any dog over the age of 8 years old has an adoption fee of $200.
These fees go to help with the medical and housing needs of current foster dogs in their care. Additionally, you will sign a contract stating that you will return the dog to the care of GBGRR if you can no longer take care of it then you have to agree not to sell your Golden or give it away to another family member. This agreement ensures that dogs do not end up in unsuitable homes or back in another rescue.
So if you live in Houston, Texas, and are looking to adopt a Golden Retriever, the Golden Beginnings Golden Retriever Rescue is a great place to look for your new best friend.
Golden Retriever Rescue Information
Address: P.O. Box 19848, Houston, TX 77224-9848
Email: info@gbgrr.org
Telephone: 281-480-4942
Other Houston Dog Shelters and Rescues
If you have decided to add a Golden Retriever to your family, you can always check these Houston animal shelters. Although these shelters are not exclusive to Golden Retriever rescues, you can sometimes find them here. Some people surrender their Golden Retrievers to general animal shelters because they are unaware of Golden Retriever specific shelters in Houston.
Houston Humane Society
This organization accepts all types of animals and focuses on providing the highest quality of life to all animals in their care.
Houston SPCA
This national organization focuses on giving a voice to voiceless animals throughout the United States.
Friends For Life
This organization is a no-kill shelter that focuses on providing help and homes for all animals regardless of age, breed, or condition.
Houston Pets Alive!
This organization saves dogs and cats from euthanasia lists and provides them with loving forever homes.
Why Do People Put Golden Retrievers Up For Adoption?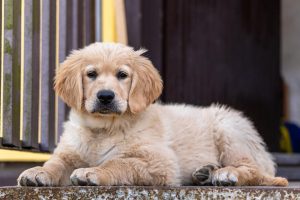 Golden Retrievers are incredibly loving and affectionate dogs. Sometimes, they can be needy and clingy which some owners may not like. This caring nature also makes Golden Retrievers unsuitable for living as an outdoor dog; these dogs thrive on attention and love. Some people cannot provide their Golden Retriever with the attention it needs, so they surrender it to a shelter.
As found in all dog breeds, Golden Retrievers are predisposed to specific ailments and diseases. For example, it is common for Golden Retrievers to develop hip dysplasia as they age. Owners may surrender their dogs if they can not cover medical costs.
Although Golden Retrievers are incredibly loving dogs, sometimes they suffer from abuse and neglect. These dogs are rescued by organizations and rehabilitated until they are ready to trust again. There are several other reasons why Golden Retrievers are surrendered, but these are some of the most common situations.
Conclusions For Golden Retriever Rescues in Houston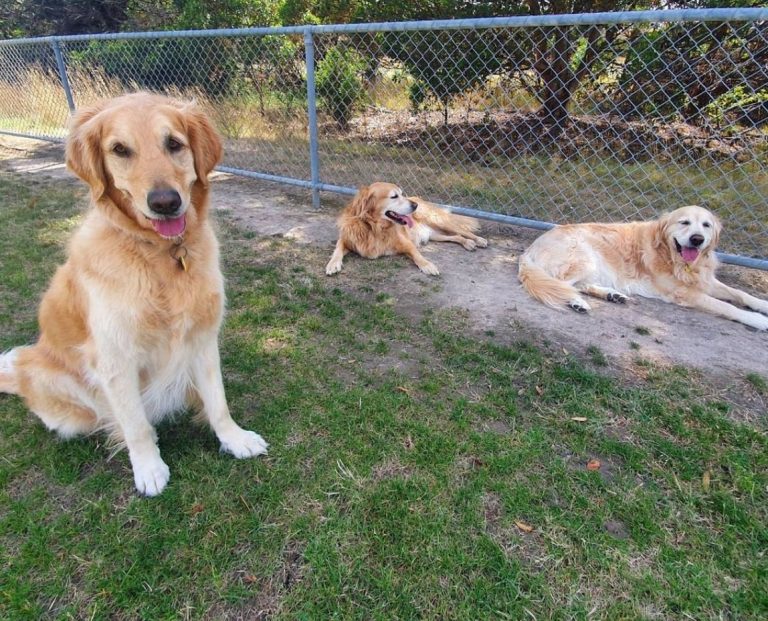 Hopefully, after learning about Golden Retrievers rescues you have a good understanding if these are the dogs for you. If you live in Houston and think that a Golden Retriever rescue would be a great fit for your home, contact one of these shelters, and get started on adding one of these beautiful dogs to your family!
Other articles you would like:
Garrett loves animals and is a huge advocate for all Doodle dog breeds. He owns his own Goldendoodle named Kona. In addition, he volunteers at the Humane Society of Silicon Valley, where he fosters dogs and helps animals. Garrett enjoys writing about Doodles and believes that dogs can teach humans more about how to live than humans can teach a dog.
Why Trust We Love Doodles?
At We Love Doodles, we're a team of writers, veterinarians, and puppy trainers that love dogs. Our team of qualified experts researches and provides reliable information on a wide range of dog topics. Our reviews are based on customer feedback, hands-on testing, and in-depth analysis. We are fully transparent and honest to our community of dog owners and future owners.