Originally from Scotland, the Golden Retriever is an excellent dog and an extremely popular choice for many households in the United States. Goldens are popular for their beautiful golden appearance and excellent characteristics. Additionally, Golden Retrievers enjoy hunting, fieldwork, obedience, competitive events, and search and rescue.
However, many Golden Retrievers end up in shelters or rescues in Michigan because of the lack of preparation, financial complications, or life events get in the way. If you're considering adopting from a rescue/shelter, here are the top 5 Golden Retriever Rescues in Michigan.
Keep in mind that very few rescues are breed-specific to Golden Retrievers. We have listed these rescues and added in a couple of shelters/rescues you're also likely to find Golden Retrievers. This dog breed is in high demand and typically Golden Retrievers in Michigan will get adopted out quickly. Rescuing a dog is extremely fulfilling because you're saving a dog's life and giving them a second chance.
Other articles you would like: Best Dog Rescues in Michigan and Doodle Rescues in Michigan.
1. Great Lakes Golden Retriever Rescue Michigan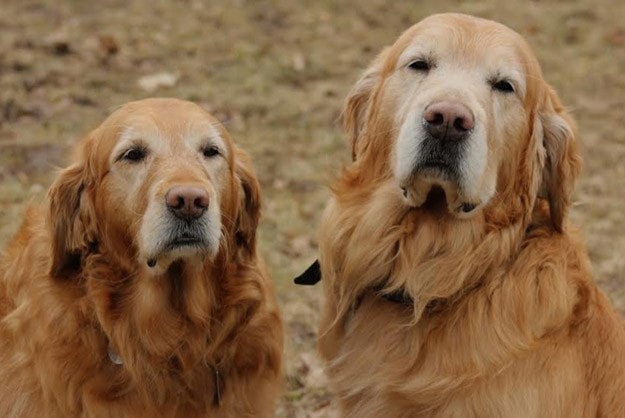 Great Lakes Golden Retriever Rescue specializes in giving Golden Retrievers a second chance at life. They work hard to find the perfect match for their dogs and the families that adopt from their rescue in Grand Rapid, Michigan.
Their Golden Retrievers come from shelters, dog rescues, and owner surrenders. When they take in a Golden Retriever rescue, they conduct thorough vetting and behavioral training. The rescue doesn't have a dedicated facility in Michigan, but instead, they place their Golden Retriever rescues in foster homes across the state as the dogs await their perfect match.
Similar to many dog rescues in Michigan, they pre-qualify interested adopters before starting the adoption process. Pre-qualification is straightforward and quite easy. You will need to fill an online application form on the 1st to 3rd day of any month. If you submit it on other dates, the rescue will automatically reject them. You will then wait for them to process your application before you get a Golden Retriever.
The rescue adopts to families throughout Michigan, Ohio, Illinois, Indiana, and Wisconsin. They don't have a waiting list and give preference to approved applicants. Most of their rescue Golden Retrievers are above 7 months of age.
If you're looking for a Golden Retriever puppy under 6 months of age, you might not have much luck with this rescue. Typically, many Golden Retriever rescues in Michigan don't have puppies unless it's an abandoned litter. The adoption fee for a dog range from $200 to $500 depending on the rescue Golden Retriever's age. The younger the dog, the higher it is priced.
Golden Retriever Rescue Details:
For the past 20 years, Golden Retriever Rescue of Michigan has rescued, cared for, and found suitable homes for over 3,000 Golden Retrievers. The rescue takes in homeless, abandoned, and stray Golden Retrievers throughout the state. Most of their Golden Retrievers come from shelters and are owner surrenders.
They are also committed to educating the public on responsible dog ownership. They regularly teach the importance of proper diet, exercise, population control, caregiving, and regular veterinarian checks. Typically, the owners who surrender their Golden Retrievers are the ones who weren't prepared for pet ownership.
The rescue's adoption fee ranges from $100 to $500, depending on the Goldens age. If you're looking for a Golden Retriever rescue puppy in Michigan, this rescue is worth checking out. They occasionally have puppies for adoption.
Golden Retriever Rescue Details:
3. Michele's Rescue Michigan
Founded in 1997, Michele's Rescue is a no-kill rescue that takes in and adopts out all-breed dogs across the United States. Most of their dogs are in line to be "put down". The dog rescue helps them find loving forever homes and treats them the best way possible.
Michelle's Dog Rescue takes time to provide all the medical and health issues that a dog has. They vaccinate the dogs, treat them for fleas and parasites, perform heartworm test, get them microchip, and spay/neuter them.
Their Golden Retriever adoption fees in Michigan range from $85 to $350 depending on the dog's age. Even though Michele's rescue takes in all breed dogs, you might be able to find a Golden Retriever to adopt. However, Golden Retriever's get adopted out quickly from all-breed dog rescues.
Golden Retriever Rescue Details:
4. Humane Society of West Michigan
The Humane Society of West Michigan traces its roots to 1883 in Kent County, Michigan. Residents organized themselves to rescue homeless, abused, and neglected animals and build the first shelter in 1944.
They are in partnership with over 300 community volunteers and have adopted out over 10,000 animals since 2016 which is a huge amount of animals. This dog rescues adoption fees range from $195 for adult dogs to $300 for puppies under 5 months. They waive the fees for senior dogs. Despite the fact that they rescue and adopt all dog breeds, you can sometimes find Golden Retrievers and Golden Retriever mixed breeds here.
Golden Retriever Rescue Details:
5. Michigan Animal Rescue League
Michigan Animal Rescue League has existed for over 60 years. They are one of southeast Michigan's established shelters and dog rescues. Their mission is to provide the best quality of life to animals through rescue, medical, adoption, education, and outreach.
Although Michigan Animal Rescue is an all-breed shelter, they have a considerable number of Golden Retrievers in their care. You can call or check before starting the adoption process. The adoption process takes up to 5 days to review your application. Adoption fees stand at $200 per Golden Retriever.
Golden Retriever Rescue Details:
Why Do People Put Golden Retrievers for Adoption in Michigan

While they are beautiful to look at, the Golden retriever isn't for everyone. There are many Golden Retrievers for adoption throughout the state of Michigan. If you're considering one of these dogs, here is what you will need to know:
Your Golden Retriever will need space to move. Goldens are medium-large dog breeds that love being with their families and running about outdoors. That being said, your Golden Retriever rescue will need an apartment large enough to host this active dog or a yard where they can freely move.
Golden Retrievers shed. Your Golden Retriever will shed throughout the year, with more shedding in spring and autumn. The easiest way to maintain this is to brush your Golden Retriever every 3 to 5 times weekly. You will also need to invest in a powerful vacuum cleaner to remove the mess from the sofa and carpets. If you have allergy sensitivities, you might want to consider hypoallergenic breeds such as Goldendoodles.
It's not ideal to leave your Golden Retriever alone for 5+ hours. Golden Retrievers are social dogs and create strong bonds with their humans. They are gentle and naturally gravitate towards being around humans. Leaving your Golden Retriever can generate separation anxiety, destructive behavior (in some cases), and even depression. Hiring a pet walker or taking your Golden Retriever to daycare can help if you really need to leave.
Your Golden Retriever will not be a couch potato. Golden Retrievers have lots of energy that they need to burn off. An hour or two of daily exercise will help control their energy levels. There are tons of activities you and your Golden Retriever can do such as running, hiking, swimming, playing in the park, and many more. When you get your Golden Retriever, you might need to enroll them in obedience training.
Prepare for chew toys. Golden Retrievers love to chew, even if it's your shoe. You'll need to have lots of chew toys for your Golden to fight boredom.
Your Golden Retriever might be stubborn. Similar to any dog, there are physical and psychological limits as to what they can do and not do. If you notice your dog unable to do something, don't force it. Consider monitoring them closely and adjusting activities according to your dog's limitations.
Golden Retriever's medical conditions. When a rescue or shelter takes in a Golden Retriever in Michigan, a lot of times they don't have the dog's extensive medical history. They are working with what they have. Many rescues/shelters conduct veterinary checks, offer medical care, and update the dog's vaccination records. That being said, you will need to work with your veterinarian to ensure your Golden Retriever is healthy and lives a long life. Golden Retrievers are prone to hip dysplasia and skin conditions. Canine hip dysplasia occurs when the ball and socket of a joint don't develop properly. It causes discomfort and pain, making your Golden Retriever lethargic. Golden Retrievers may develop bunny hop that usually changes how they walk. Symptoms of canine hip dysplasia include trouble standing, changing in how the Golden retriever runs, trouble standing or climbing stairs.
Conclusion for Golden Retriever Rescues in Michigan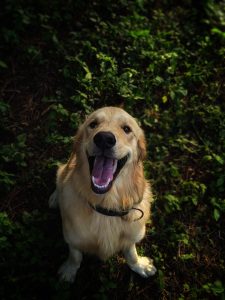 Loyal, trustworthy, friendly, and loving are just a few words to describe the Golden Retriever. There are many Golden Retrievers and mixes that would be the perfect companion for you or your family in local rescues in Michigan. Most of these Golden Retrievers are healthy and just need a second chance in life to be loved in a wonderful family. If you're not sure whether to adopt a Golden Retriever, check out volunteering or fostering options in your area.
We compiled a list of the 5 best Golden Retriever rescues in Michigan to help you find your next dog. Best of luck finding your next dog.
Other articles you will like:
Garrett loves animals and is a huge advocate for all Doodle dog breeds. He owns his own Goldendoodle named Kona. In addition, he volunteers at the Humane Society of Silicon Valley, where he fosters dogs and helps animals. Garrett enjoys writing about Doodles and believes that dogs can teach humans more about how to live than humans can teach a dog.
Why Trust We Love Doodles?
At We Love Doodles, we're a team of writers, veterinarians, and puppy trainers that love dogs. Our team of qualified experts researches and provides reliable information on a wide range of dog topics. Our reviews are based on customer feedback, hands-on testing, and in-depth analysis. We are fully transparent and honest to our community of dog owners and future owners.