Golden Retrievers are one of the most popular dogs in the world. In fact, the American Kennel Club lists them as the 3rd most popular dog breed in the United States. This oftentimes leads to overbreeding to meet the high demand. In addition, when puppy mills and backyard breeders retire Golden Retrievers they often times end up at rescues or shelters. It's a sad and unfortunate situation for any dog lover.
Luckily, there are Golden Retriever rescues in Colorado that help prevent this breed from getting euthanized or ending up on the streets. Typically, rescue organizations will help provide medical treatments, a temporary foster home, and find a family to adopt out the Golden Retriever too. These Golden Retriever adoption organizations are a savior to this dog breed and they find them a loving forever home.
Golden Retriever Rescues in Colorado
Rescues provide a perfect opportunity to adopt a dog to give him or her another shot at life. If you're looking for a Golden Retriever in the Colorado area, you've got a variety of options to choose from in finding the dog that's right for you. As you continue your search, be sure to do your own research in getting to know the staff, the availability of dogs, and whether they have a dog that you're looking for.
To help you move forward in adopting your Golden Retriever, you can read a brief description about each rescue organization, ways to get involved, and about the adoption process when you're ready to take the next step. You'll also find contact information about each Golden Retriever rescue to reach out to them in order to learn more.
1. Golden Retriever Freedom Rescue Colorado
Since opening in 2001, the team at Golden Retriever Freedom Rescue Colorado has transformed the lives of over 3,800 dogs – many of these Golden Retrievers. By placing them with forever homes that are full of love and care, these Golden Retrievers have found a new chance at life.
As a non-profit organization, they rely on volunteers, donations, and support from their community in order to continue their work of serving dogs in need.
In addition to adopting dogs, you can also get involved in supporting the work of Golden Retriever Freedom Rescue. You can donate online or support their partners to provide them the resources they need. In addition, you can also become a volunteer in caring for the dogs that come in, help coordinate visits and other events, and support with administrative tasks.
When placing Golden Retrievers in families, the team is intentional about finding the right match for the right family. With several interviews and questions, your family can be confident the Golden Retriever you adopt is right for you. If they don't think you're a good match for one of their current Golden Retrievers in Colorado then they will keep looking.
Prior to adoption, each dog is placed in a foster care home environment where the team can assess the dog's temperament and personality in order to provide a quality match. This approach also provides a non-kennel environment to support the health and well-being of the dog.
If you're interested in moving forward in adopting a dog from Golden Retriever Freedom Rescue Colorado, you can start with completing an application. This application shares helpful information about your family and lifestyle as well as expresses your commitment to caring for a Golden Retriever. You'll also be invited to do a phone interview and home visit to ensure the well-being of all parties involved. Due to the popularity of the breed, there may be a waiting list to be placed with your Golden Retriever.
Golden Retriever Rescue Details
Location: Denver, Colorado
Email: staff@grfr.org
Phone: 303-749-8499
2. Golden Retriever Rescue of the Rockies
As a home-based rescue operation, Golden Retrievers are rehabilitated and placed with families for a new opportunity in life. In 1996, founder Laura Terroux sought a way to save Golden Retrievers in need. Since then, this organization rescues and re-homes about 300 Golden Retrievers every single year!
With their growth, they've kept their focus and attention on serving the needs of their dogs they encounter. While most dogs are kept at a home called Phoebe's Place, some dogs may need to be placed in a foster home environment around Colorado.
In addition to rescuing dogs, Golden Retriever Rescue of the Rockies also helps to facilitate the surrendering of dogs when owners are unable to care for them. Following the surrender, dogs are cared for and taken to the vet as they transition into a new family environment.
If you're interested in adopting a dog, your first step is to complete your application. Following approval, you'll be able to schedule appointments and meet your Golden Retriever of choice. In addition to helping match you and your family with the right dog, Golden Retriever Rescue of the Rockies also helps provide additional resources and insights to help you in this transition of welcoming home a Golden Retriever.
Their website shares articles and resources on everything from adopting a puppy to traveling with dogs to determining the costs involved with owning a dog. Their intentional application and placement process as well as these supportive resources can provide the confidence and encouragement you want when adopting a dog. This Golden Retriever rescue is located in Arvada, Colorado.
Golden Retriever Rescue Details
Address: 15350 W 72nd Ave, Arvada, CO 80007
Email: info@goldenrescue.com
Phone: 303-279-2400
3. Retriever Rescue of Colorado
Your lifestyle is unique and the team at Retriever Rescue of Colorado is dedicated to finding the dog that fits you best. They have dogs that fit into a variety of lifestyles so you can be sure to be placed with one that's right for you. After all, they want both you and the dog to be the perfect match and live a happy life.
Once you've completed your application and have familiarized yourself with the process, you'll be invited to a phone interview and home visit to ensure you and your family are a good fit for a Golden Retriever rescue in Colorado. Once those steps are completed, you'll be matched with your new family member and be able to meet and adopt from the dog's foster home.
On their website, you can view available dogs and fall in love with the breed even more. They also share a wide range of resources about adopting a dog and taking care of a Golden Retriever once he or she is in your home. Their newsletter also shares regular updates and information about the organization and caring for dogs.
Golden Retriever Rescue Details
Why should you rescue or adopt a Golden Retriever in Colorado?
When you think of a loyal, friendly, and trustworthy companion, a Golden Retriever is one of the first dog breeds that come to mind. With its intelligent and devoted personality, they make great additions to any family in Colorado.
As a large to a medium-sized dog breed, Golden Retrievers are considered very active and enjoy being outside and playing with their family. This strong work ethic and dedication also makes them great guide dogs, emotion support animals, and search-and-rescue dogs. If you're looking for a dog that will stand by your side no matter what, a Golden Retriever can be perfect for you.
Their size makes them great companions without becoming overwhelming. Their frame gets up to 21-24 inches tall, and they can weigh between 55-75 pounds. Their agility and agreeable personality makes them great for both cuddling and running. You can also hike with them around the mountain terrain in Colorado.
Their beautiful and thick coats are fairly easy to care for, with only seasonal shedding. As a sporting breed, the Golden Retriever requires regular exercise to help them reach their full potential. They make great partners for running and biking. With an eagerness to please, Golden Retrievers are also easily trained and highly obedient. This personality trait makes them great options for families with small children.
What is a Golden Retriever Rescue for Adoption?
The Golden Retriever is known for being loyal and trustworthy. Unfortunately, some owners of Golden Retrievers or other life circumstances can be less than trustworthy. As a result, these dogs can end up being homeless and abandoned. They're either left to fend for themselves on the streets as strays or are placed in cages in less-than-ideal shelters.
A Golden Retriever rescue shelter takes a different approach than letting them roam alone. These operations are committed to the rescue, rehabilitation, and re-homing of Golden Retrievers. They most often provide needed medical care to meet an immediate need or prevent further complications that the Golden Retriever may be facing.
Through the intentional work of the staff and volunteers at these shelters, dogs are given a second chance at life and families are able to welcome in a new friend.
With a rescue that's specific for Golden Retrievers, the staff is often better equipped to provide insight and information about the specific breed's temperament and personality. Many of the volunteers also have Golden Retrievers or are familiar with dogs as they provide helpful insight as you adopt your own dog.
As choosing a breeder isn't always the best option for everyone, rescues can provide an amazing opportunity for families to save a dog's life. This is mainly because Golden Retriever rescues are already grown-up adults over the age of 2 years old. They have passed their puppy dog phase and make great companions! 
Conclusion for Golden Retriever Rescues in Colorado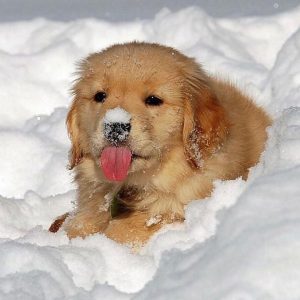 Golden Retrievers rescues are known for being friendly, loyal, and active companions for life. Unfortunately, some Golden Retrievers are placed in situations where they're left on their own and struggle to make it in life. By choosing to support a rescue and adopt a dog from them, you're providing a dog another shot at life. Not only that, but you'll also transform your family by adding a new furry friend that will stick with you for life.
If you're looking to add a Golden Retriever rescue to your home in the Colorado area, finding a shelter or rescue that has what you're looking for can be a great option.
Using lists like these that share some of the top Golden Retriever rescue organizations in Colorado, you can get on your way to welcoming in a new family friend who deserves another chance. If you find an organization that sparks your interest, get started with an application and move forward in expanding your family with a Golden Retriever.
Other articles you might like:
Garrett loves animals and is a huge advocate for all Doodle dog breeds. He owns his own Goldendoodle named Kona. In addition, he volunteers at the Humane Society of Silicon Valley, where he fosters dogs and helps animals. Garrett enjoys writing about Doodles and believes that dogs can teach humans more about how to live than humans can teach a dog.
Why Trust We Love Doodles?
At We Love Doodles, we're a team of writers, veterinarians, and puppy trainers that love dogs. Our team of qualified experts researches and provides reliable information on a wide range of dog topics. Our reviews are based on customer feedback, hands-on testing, and in-depth analysis. We are fully transparent and honest to our community of dog owners and future owners.