If you're in the market for a little more love in your life, adopting a pet is one of the best ways to add more joy into your world and save a dog's life. By adopting or rescuing, you not only prevent euthanasia, but you also open up more space in at a dog rescue for other canines to be saved.
Dog rescues in Massachusetts are brimming with tons of dogs with different dog breeds and personalities. Whether you're looking for a doodle or a German Shepherd, a laid back or an energetic dog, you can find your perfect dog in one of the following rescues. Plus, it will be a lot cheaper than purchasing a purebred dog. We hope that you enjoy our list of the best dog rescue in Massachusetts as we have selected 10 great shelters!
1. Forever Home Dog Rescue Massachusetts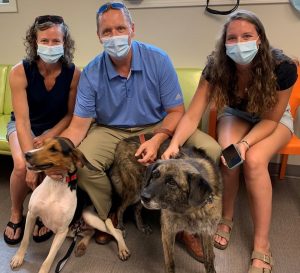 Forever Home Dog Rescue is a volunteer-run group that rescues homeless and unwanted dogs from abusive situations and high-kill shelters. Their goal is to find loving homes for the dogs they rescue around the Medford, Massachusetts area.
Most of their dogs come from the southern states where the current laws don't favor animal rights and many dogs are put down via euthanasia. Unwanted, stray, or abandoned dogs undergo euthanization after 3 days in a southern shelter because of limited room capacity.
In 2009, they began taking in local dogs through the Pets in Limbo Out There program to re-home local pets displaced by the current economy. They also have a rescue fund to pay for veterinary fees for dogs who are turned away by other rescues because of injuries.
All of their dogs live in their network of foster homes in New England and the South. The dogs range from 12-week old puppies to big dogs of all sizes.
Adoption fees range from $350 to $475 and include transport, spay/neuter procedures, quarantine charges, and all necessary veterinarian fees. They are highly reputable dog rescue in Massachusetts that isn't looking to profit from each dog.
If you adopt from the South or Northeast, they have a 4-week trial period. If the dog doesn't fit in well within the period, they move them to foster care and give a refund of the adoption fee minus $100.
Dog Rescue and Adoption Details:
2. Great Dog Rescue New England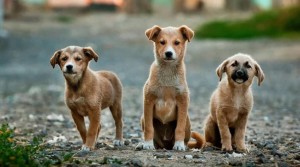 Great Dog Rescue England is an all-breed, volunteer-run group based in Massachusetts. Since 2003, they have rescued and connected over 13,000 homeless and abandoned dogs with their forever loving pet parents.
Every month, tons of their Southern Great dogs ride north to their loving forever and foster homes. Once they reach Woburn, they receive a vet check and are quarantined for 48 hours as per state regulations.
Most of their Southern adoptions are long distance. They facilitate these types of adoptions via an exchange of pictures, videos, and information about the dog. They usually arrange for the adopter to speak to the dog's foster parents.
If the dog is in a New England foster home, they arrange a pre-adoption meeting where the adopter and the dog get to know each other better.
Their adoption fees start at $495 for adult dogs and $550 for puppies younger than 6 months. This is a great dog rescue in Massachusetts if you're looking to adopt.
Dog Rescue and Adoption Details:
3. Save a Dog Rescue in Massachusetts
Save a Dog Rescue is an all-breed, all-volunteer dog rescue in Sudbury, Massachusetts. Shirley Moore and her husband, David Bernier, founded Save a Dog in response to the devastating effects that dogs go through in a kennel life.
To save these dogs, they began fostering and building a network of foster parents who could open their homes and hearts to dogs from local and big-city shelters.
Since 1999, they have saved thousands of dogs' lives and re-homed them in loving lifetime homes.
Their adoption fees start at $300 for senior dogs (9 years and above), $425 for adult dogs (1 year and older), $450 for adolescent dogs (7-11 months), and $550 for puppies below 6 months. Definitely reach out to this dog rescue in Massachusetts if you're located in the Sudbury area.
Dog Rescue and Adoption Details:
4. Worcester Animal Rescue League
Worcester Animal Rescue League was founded in 1912 by a group of horse welfare advocates. Since then, they have expanded and grown to protect, love, and care for dogs and cats in Central Massachusetts. 
Through their rescue program, they work with several organizations to take in stray, abused, abandoned, and neglected dogs when space is available. The rescued dogs receive a vet's clearance from their hometown and are socialized through foster programs before they come to Worcester.
Through Worcester Animal Rescue, the dogs find happy, healthy, and loving lifetime homes.
Dog Rescue and Adoption Details:
5. Northeast Animal Shelter
Northeast Animal Shelter is one of the largest no-kill, non-profit dog rescues in New England, Massachusetts. The shelter is about 30 minutes north of Boston, Massachusetts, and is accessible to all of New England.
When a dog arrives at their facility in Salem, they receive the best care and their staff begins a search for the best match. The dogs are spayed/neutered, wormed, and inoculated at the right age. Depending on the dog's needs, they also receive obedience training, grooming, and special diets.
Their adoption fees start at $150 for senior dogs, $325 for mature dogs, $350 for unaltered dogs, $450 for altered adult dogs, $450 for unaltered puppies and teen dogs, and $550 for altered puppies and teen dogs. They are a very reasonable dog rescue in Massachusetts and have great customer support.
Dog Rescue and Adoption Details:
6. Small Paws Rescue in Massachusetts
Small Paws Rescue is the largest Bichon breed rescue in the U.S., with over 700 volunteers and over 6500 members in 27 countries. In the past 20 years, they have rescued over 15,000 Bichons from shelters and from owners who can no longer take care of them.
They have a team in every state across the U.S., including Massachusetts. All adoption and rescue inquiries go through the assigned team leader who facilitates the process. The Massachusetts team leader is Joanne Raus and her details are listed below.
Adoption fees start at $200 for dogs older than 8 years and $250 for dogs under 8 years. They do not ship their Bichons to adopters. Adopters have to pick up their new family member.
Dog Rescue and Adoption Details:
7. Mutt Rescue in Massachusetts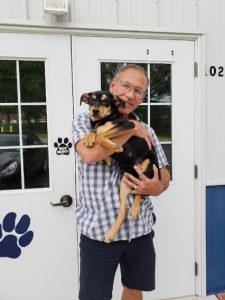 Mutt Rescue is a non-profit rescue that rescues needy animals from abusive situations and high-kill shelters. Mutt Rescue is the brainchild of Lori Jerusik, a passionate and trained dog lover and specialist.
Lori has worked tirelessly to have a home for the homeless dogs and cats she rescues. Recently, she secured and now owns a building in Chicopee that has a 48-hour isolation room, a quarantine room, and shelter.
Lori is all about animals and under her, Mutt Rescue has provided dogs and cats with the individual tender care they require before moving on to their forever homes.
This is one of the rescues in Massachusetts that goes above and beyond for their animals with a special kind of love.
Dog Rescue and Adoption Details:
8. Paws New England Massachusetts
Paws New England started in 2005 with a search for a lost dog. One of the co-founders, Traci Wood, checked out a shelter in Tipton County for the lost dog and left the shelter a changed person.
She vowed to bring awareness to the tons of dogs in shelters across the US that are never adopted and get euthanized. Besides this, she also made it her mission to rescue as many dogs as she could with her friends who are now co-founders of Paws New England.
Paws News England charges a small fee for all adoptions to offset the rescue and rehabilitation cost to save more lives
Dog Rescue and Adoption Details:
9. PittieLove Rescue in MA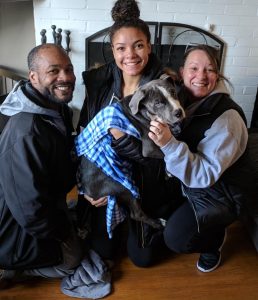 PittieLove Rescue is an all-volunteer, foster-home based rescue dedicated to rescuing and the adoption of pit bull-type dogs. They realized early on that the biggest challenge that pit bulls face is a lack of commitment. Many new owners are not committed to taking care of the dog for 12-14 years. As a result, they give up their pit bulls which leave the dogs in a state of limbo. 
This is why PittieLove Rescue, compared to other rescues in MA, have stricter requirements. They require adopters to be above 21 and own their own homes.
If you're interested in a pit bull adoption, check them out. Their adoption donation includes spay/neuter, testing for heartworm and tick-borne diseases, vaccinations, and microchip. 
Dog Rescue and Adoption Details:
10. Baypath Humane Society of Hopkinton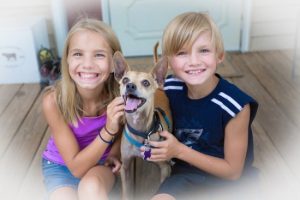 Baypath Humane Society was formed in 1977 by a group of Hopkinton residents. This was in response to the high number of stray dogs in Hopkinton being sold to labs for experiments in the 1970s.
Today, Baypath Human Society has grown to provide shelter, human care, and treatment for unwanted and stray dogs and cats. They take in all breeds and are open for adoptions every day, except Tuesdays, from 11:30 am to 4:30 pm.
They require adopters to be homeowners and be 21 years or older to adopt. Their adoption fees start at $300 for Seniors, $400 for adults, $450 for adolescents, and $500 for puppies younger than 6 months.
Their adoption fees include age-appropriate vaccines, spay/neuter, a microchip, and a Martingale collar.
Dog Rescue and Adoption Details:
Conclusion for Dog Rescues in Massachusetts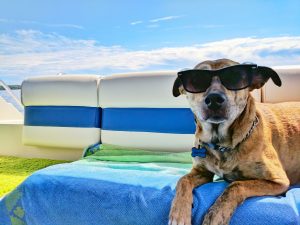 There are many wonderful dogs in Massachusetts looking for their forever families. If you are interested in adopting, reach out to the organizations on the list, and browse through their websites. If you feel a special connection to one or five, go for it. Your new best buddy is waiting to meet you.
Garrett loves animals and is a huge advocate for all Doodle dog breeds. He owns his own Goldendoodle named Kona. In addition, he volunteers at the Humane Society of Silicon Valley, where he fosters dogs and helps animals. Garrett enjoys writing about Doodles and believes that dogs can teach humans more about how to live than humans can teach a dog.
Why Trust We Love Doodles?
At We Love Doodles, we're a team of writers, veterinarians, and puppy trainers that love dogs. Our team of qualified experts researches and provides reliable information on a wide range of dog topics. Our reviews are based on customer feedback, hands-on testing, and in-depth analysis. We are fully transparent and honest to our community of dog owners and future owners.