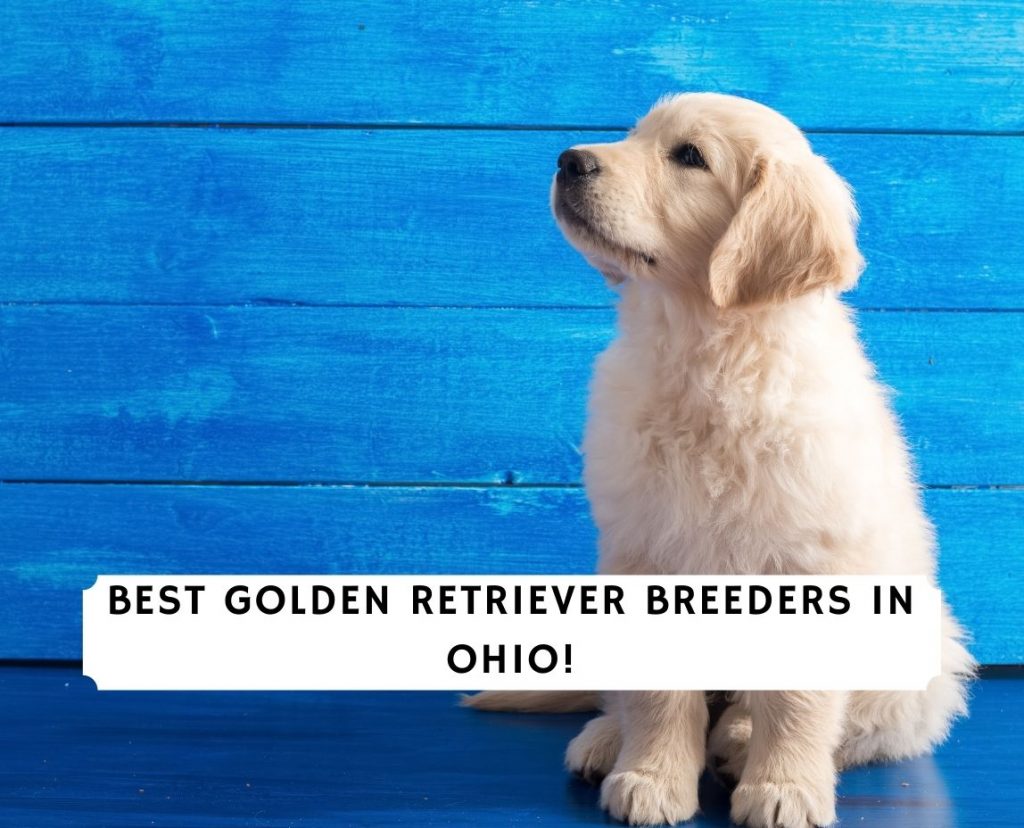 Golden Retrievers are often considered as the all-American family dog. With their friendly temperament and personality, Golden Retrievers are almost always included in the country's ten most popular dogs. If you're planning to raise this beautiful dog breed, this guide will help you find the best Golden Retriever breeders in Ohio.
Check out these other articles: Golden Retriever Rescues in Ohio and Poodle Breeders in Ohio.
Golden Retriever Puppies For Sale in Ohio
We are big advocates of rescuing dogs, but if there are no Golden Retriever rescues available near you, then getting your puppy from a breeder is the next best thing to do. However, you want to avoid puppy mills and backyard breeders who are just looking for a quick profit and don't care about their puppies' health or well-being.
In general, you want to find a breeder who is health testing, socializing, and has time to answer all your questions. Here's our list of Golden Retriever breeders in Ohio, and hopefully, it helps you narrow down some options.
1. My Golden Retriever Puppies
The first on the list of Golden Retriever breeders in Ohio is My Golden Retriever Puppies. What started as a family partnership between the Rivers and the Kauffmans to breed Golden Retrievers has come a long way. Today, they are bigger and have established a name for themselves in Ohio and across the country. Every involved breeder of this kennel is committed to ensuring that all breedings are carefully planned so the puppies are healthy and sociable. My Golden Retriever Puppies wants their dogs to be the epitome of the breed and conform to the purebred standard.
They are driven by their motivation of wanting all their Golden Retriever puppies to transition seamlessly to their forever homes. My Golden Retriever Puppies understands the value of family, and every dog in their case becomes part of their extended families too. They are firm believers that everyone should grow up with a Golden Retriever puppy. That's why all their dogs are spoiled with love and affection and are comfortable around children. Additionally, all of their Golden Retriever puppies for sale in Ohio are checked and examined by a licensed veterinarian, provided vaccinations, and are up to date on dewormings.
Interested puppy parents can set an appointment so you can meet the Golden puppies and check the breeder's premises. They stand by their puppies' authenticity and quality health, which is why all adopted dogs come with a 12-month genetic health guarantee. The prices of their Golden Retriever puppies in Ohio vary depending on their parentage. Price ranges are from $1,500 to $3,495. 
My Golden Retriever Puppies Details
2. Buschur's Dream Golden Retrievers Ohio
The Golden Retriever dogs in this kennel are not bred unless they have ticked-off a comprehensive health checklist. They need to have excellent elbows, eyes, and hips. Additionally, the breeder looks into the puppy's DNA health in the hopes of getting that ideal match to avoid all hereditary and genetic diseases. Shortly after birth, the puppies of Buschur's Dream Golden Retrievers are handled daily and played with to start with their socialization. All their Golden Retriever puppies in Ohio are all vet-checked, and age-appropriate vaccinations and examinations are done.
What makes this breeder stand out is they want you to be involved in the process of picking your new family fur-member. Every pup is evaluated for temperament, agility, and even physical capability so that it can be a perfect match for you and your preference. All the breeder puppies come with a 2-year health guarantee, and each pup costs $2,000. There is a safe deposit of $200 that can be settled via Paypal. For further information or if you have any questions, feel free to get with the breeder:
Buschur's Dream Golden Retrievers Details
3. Feo Farm Kennels
Last on the list of Golden Retriever breeders in Ohio is Feo Farm Kennels. This family-owned family got every household member plus some to ensure that they breed and raise their AKC Golden Retrievers the best way possible. Feo Farm Kennels started breeder in 2009, and they have other puppies aside from the Golden Retrievers if you're interested. New parents fall in love with their puppy's loyalty and easy-going spirit. They want other families to experience the joys of having a Golden Retriever at their own homes.
The Golden Retriever puppies for sale in Ohio from this breeder for $1,700 plus tax, and once the puppy is 8-weeks old, they can separate it with the mom, so this is an ideal time to get your new dog. You can be assured that any puppy on this farm is updated with their deworming. You will also be given a record of the vaccinations that were given to them. All their Golden Retriever puppies in Ohio have also completed their vet exams and are already microchipped.
As a bonus, your puppy also comes with a full bag of their current dog food and a 6-day supply of NuVet Immune support tablets. This is very considerate on the owner's part, and it helps your puppy transition to your new home. Bring home a Feo Farm Kennels Golden Retriever today. 
Feo Farm Kennels Details
More Information About Golden Retriever Puppies
Golden Retrievers, compared to other breeds, are slower in maturity. They keep their playful and silly personality up until the age of 3-4 years old. This trait can sometimes be annoying to new dog parents, but these dogs love to play. This breed was created to retrieve ducks and other waterfowls for hunters. Since Golden Retrievers were bred to work, these dogs are considered to be very active. They also enjoy competing in various dog sports.
This breed is gentle and friendly with kids, but they can be just as boisterous as a kid. Growing up to 21-24 inches tall at the shoulder and weighing 55-75 pounds, Golden Retrievers might knock down some toddlers accidentally, so you should always monitor them around kids. When a Golden Retriever is tired, it is on its best behavior, so you should try to exercise them a lot. Golden Retrievers are also considered the fourth smartest dog and are usually trained to be therapy dogs and guide dogs. Some are even employed in Search and Rescue operations. They are highly trainable, and they listen and follow directions very well.
Being a family dog, Golden Retrievers puppies like being involved with a human pack. This dog likes being everywhere and anywhere with his family, and they don't do well left alone. If you or your household don't have the time or are not willing to have a dog indoors and thoroughly involved in your activities, then this dog breed is not for you. Keep in mind that you can't rely on Golden Retrievers to be watchdogs. Yes, they might bark at a stranger but might end up wagging their tails and flashing that well-loved Golden smile.
If you think and know that a Golden Retriever is a perfect fit for you, your family dynamics, and your life, then don't waste any more time. Get with some of the trusted Golden Retriever Breeders in Ohio. Also, be sure to check your local animal shelter and rescue center. If you can adopt, it's definitely a better decision.
Golden Retriever Fact Sheet
Personality
The hallmark of this breed is its sweetness and peaceful nature. They are bred to be with people and to work hand in hand with their human families. Golden Retrievers are very loyal, and they always aim to please their human owners. They are hard-wired with a pleasing personality and a great disposition, but like all dogs, they too must be adequately trained so they can bring out their positive heritage.
Nutrition
Golden Retriever puppies love to eat, and most new dog parents give them human food as treats. It is common for a Golden to be eating some fries and chips with their humans. However, what they need is a high-quality dog food that is appropriate for their age. Commercial dog food should be sufficient to help them meet their daily nutritional needs. This breed quickly becomes overweight, so make sure that you keep a close eye on your best bud's calorie consumption. Treats are acceptable so long as they are given in moderation. Do not be fooled by their adorable face and golden smile.
Grooming
Their yellowish, golden, and brown coat is one of their best features. It sets them apart and makes the name Golden Retriever more fitting. Unfortunately, shedding is going to be a challenge for pet parents. They shed their water-repellant and thick double coat at least twice a year, and they also shed moderately continuously. Brushing your dog's coat once to twice a week with a slicker brush should remove the dead hair before it starts falling and sticking in the sofa, bed, carpet, and other furniture. When your buddy is heavily shedding, you have to make this brushing a daily session.
Giving your dog extra baths helps loosen their dead skin and helps keep them clean. Like with all other dogs, make sure that your Golden Retriever's nails are clean. Regularly check your pet's ears too.
Exercise
Golden Retriever puppies love their exercise, and they need plenty of physical stimulation daily. You can depend on your pet to be with you on long runs, bike rides, hunting, and hiking. Golden Retrievers who lack exercise and are just left idle can become lethargic and some even aggressive.
Training
Golden Retrievers are easy to train. They respond well to directions and positive reinforcement. Exposing them to socialization early paired with puppy training can give them a stronger foundation. Introducing them to other animals, people, and children early will make them more sociable and comfortable in the environment they live in. Additionally, you can benefit from obedience training because it will make your relationship with your dog stronger and founded on trust.
It is crucial to be consistent in training, so any bad habits and behaviors can be corrected early on. By nature, Goldens are outgoing and are eager to learn and please you. Take advantage of these characteristics to have an excellent canine friend.
Health
If there is another adjective to describe Golden Retrievers, it is healthy. They will dedicate all their 10-12 years and sometimes even a few years longer to you. You can have a longer relationship with your dog so long as proper nutrition, exercise, hygiene, and other needs are met.
However, keep an eye out for specific health conditions that they are prone to, like elbow and hip dysplasia, heart diseases like subvalvular aortic stenosis, and eye conditions like pigmentary uveitis, juvenile cataracts, and progressive retinal atrophy. It is highly recommended that you get the following health tests done for your Golden Retriever: Hip and Elbow Evaluation, Cardiac Exam, Neuronal Ceroid Lipofuscinosis 10 (NCL10) Ophthalmologist Evaluation.
Conclusion For Golden Retriever Breeders in Ohio
Golden Retrievers are a top family dog for several reasons. They have such a huge heart, and they are relatively easy to maintain. Growing up with this breed is such a joy because you can form strong bonds with a loyal companion pet. Be sure to purchase a puppy from reputable breeders who know the breed and who can give you support after the adoption. Never settle for anyone who just sells for a profit. We hope this guide will help you bring home a furry friend from this list of Golden Retriever breeders in Ohio!
If traveling is too far, we have recommendations from other states similar to this list of Golden Retriever breeders in Ohio:
For more information about the Golden Retriever, watch "Golden Retriever Pros and Cons" from Cocker Spaniel World down below:
Garrett loves animals and is a huge advocate for all Doodle dog breeds. He owns his own Goldendoodle named Kona. In addition, he volunteers at the Humane Society of Silicon Valley, where he fosters dogs and helps animals. Garrett enjoys writing about Doodles and believes that dogs can teach humans more about how to live than humans can teach a dog.
Why Trust We Love Doodles?
At We Love Doodles, we're a team of writers, veterinarians, and puppy trainers that love dogs. Our team of qualified experts researches and provides reliable information on a wide range of dog topics. Our reviews are based on customer feedback, hands-on testing, and in-depth analysis. We are fully transparent and honest to our community of dog owners and future owners.