If you're searching for Golden Retriever breeders in New York, then you've come to the right place. Golden Retrievers, with their personable, friendly, eager to please personalities are ranked the third most popular dog breed out of the 197 breeds acknowledged by the AKC (American Kennel Club). You'll find tons of Golden Retriever puppies for sale in New York, but not all of them come from reputable breeders. We've done a lot of the research for you so you can narrow down your list of potential breeders.
Related Article You Will like: Best Golden Retriever Rescues
Golden Retriever Puppies For Sale in New York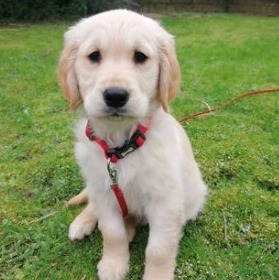 When you find a purebred Golden Retriever puppy at a reputable, quality breeder, you can expect to pay anywhere from $1000 – $2,500, sometimes more. We have listed several breeders in New York that we found reputable. It's recommended that you ask breeders about health tests done on the parents, and verify results on the OFA website for hip evaluation, elbow evaluation, cardiac exam, ophthalmologist evaluation, and Neuronal Ceroid Lipofuscinosis.
Additionally, always do your best to not support puppy mills or backyard breeders. When possible, always visit the Golden Retriever breeders in person and check out their breeding operations.
Golden Retriever puppies in New York have become so popular that you will almost certainly have to wait several months for a litter. We highly recommend PuppySpot because they shorten your wait time to get a puppy because they are a network of highly reputable dog breeders.
With zero-tolerance for puppy mills, PuppySpot accepts fewer than 10 percent of all Golden Retriever applicants. They screen all breeders to verify they are ethical, licensed, and registered. Additionally, they provide a health guarantee for each puppy sold and will even safely transport your Golden Retriever puppy to New York.
We bought one of our puppies from PuppySpot and had a good experience. You are able to choose a Golden Retriever puppy based on their coat color, size, age, and gender. This allows you to easily pick your ideal dog and get it transported to New York. We highly recommend you check them out if you don't want to research and screen a ton of breeders. They save you a ton of time searching for your next puppy.
Golden Retriever Breeder Information
2. Famn Damily Farm New York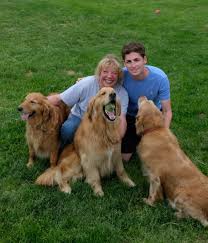 Temperament, health, and happiness are the utmost important goals as well as customer service and satisfaction when undertaking the breeding of Golden Retrievers at American Kennel Certified (AKC) Famn Damily Farm. The breeders at the family-operated Famn Damily Farm, led by Melodie Hammond, have almost two decades of accomplishing these breeding goals and being able to provide Golden Retriever puppies in New York that are backed by many rave reviews from a multitude of happy families.
All these proud reviews can be viewed on their website, Google, Yelp, and Facebook page. From Famn Damily Farm, all families will receive Golden Retriever puppies that have been socialized with human, cat, and dog interactions. Additionally, their puppies are raised per veterinarian recommendations which includes documented vet visits provided in their health records, and have had the freedom to begin a happy existence on a farm where they have space to roam, swim and engage in "dog-activities" (no cages to be found).
The farm is also registered with the New York State Department of Agriculture so they receive routine inspections to verify correct treatment and raising of their Golden Retrievers. Included in the purchase of your puppy from Famn Damily Farm is an AKC registration application, an eight-week health certificate, a health guarantee with a thorough veterinary examination, copies of the sire and dam's pedigrees, and health records, as well as eight-week shots and worming.
What is also a more important inclusion in your purchase of a pup from this breeder is the ability and requirement to meet them. The owners have a vast amount of knowledge about this breed and a dog that is going to bring joy to your home for years to come. Feel free to contact them with any questions.
Golden Retriever Breeder Information
3. River Valley Goldens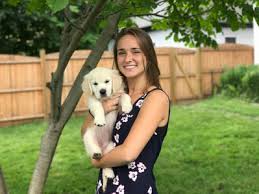 In upstate New York, 17 private acres are home to gorgeous AKC-registered English Cream Golden Retrievers joyously loving life and prancing around freely. Not too familiar with English Cream Golden Retrievers, also known as White European Retrievers? They are of English origin and are basically a much paler Golden Retriever. Maintaining the same temperament as typical Golden Retrievers, English Cream Retrievers are a bit smaller in height ranging between 20-22 inches instead of 21.5-24 inches, and are still prone to the same health conditions as their darker counterparts.
They also can't get enough of the water! You will see this with the English Cream Retrievers at River Valley during duck training which you can view videos of on their website. Making it easy for potential owners to go through the ownership process is a priority for River Valley Goldens. On their website one can click on "Steps 2 Own" and all information is simply laid out in a step-by-step process.
Expect to get on their waitlist with a $250 deposit. When the Golden Retriever puppies in New York are born and confirmation of an available puppy is made, 50 percent of the purchase price of the puppy will be required.
At six weeks old, the last half of the payment is required although this half can be refunded if you decide against bringing the puppy home for whatever reason. You get to take your Golden Retriever puppy home with you at eight weeks along with AKC litter registration papers, records of immunizations, and a Raising Goldens brochure that will provide all the necessary information needed for the successful raising of your new cuddly furball. Click on the website and look up the next planned litters to reserve your spot on the waitlist today.
Golden Retriever Breeder Information
Location: Oxford Rd., Norwich, New York 13815
Website: River Valley Goldens
Telephone: 607-244-2621
Email: markfazio77@gmail.com
4. Maplemoon Kennel
Retired Veterinarian Tech Marian Hiemstra is the proud owner of Maplemoon Kennel which is now in its sixth generation of breeding intelligent, loveable, healthy, and even-tempered Golden Retrievers in Walton, New York. With all of her knowledge in animal care and breeding, Marian is ready and willing to spend as much time as needed with prospective new puppy parents to make sure they are secure and comfortable with their decision on buying a Golden from her breeding stock.
Even after you have taken your Golden Retriever puppy home she stays connected with you if ever any questions or concerns may arise. Puppies here at Maplemoon are allowed to be quite interactive and social with other dogs and humans alike to learn and grow into well-adjusted companions. They even have plenty of space to run and play as well as swim. Beautiful pictures of her breeding stock are available for your viewing pleasure along with pictures of past puppies and Maplemoon's family tree.
Testimonials from very satisfied puppy parents back up Marian's great breeding program she uses to produce a wonderful specimen of Golden Retriever. Make sure you don't miss out on a Maplemoon puppy. Contact the team as soon as possible to get on their very limited waitlist.
Golden Retriever Breeder Information
Location: 203 Left Pines Brook Rd, Walton, New York, 13856
Telephone: 516-567-0622
Email: maplemoonkennel@frontiernet.ne
5. Gotta Be Golden Retrievers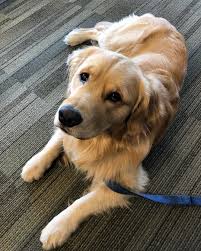 As a very reputable breeder, Kathy Hearn, owner of Gotta Be Goldens, has a slew of notable achievements that back her breeding program and fuel her love of breeding obedient, healthy, and versatile Golden Retrievers. Her memberships include Golden Retriever Club of America and Genesee Valley Kennel Club where she has served many positions and gained understanding and experience with the handling, training, and raising of this breed of dog.
Just by looking over the wealth of information on Gotta Be Golden Retrievers' website, you feel confident in Kathy's abilities as a breeder and the quality of puppy you will receive from her. Click on "education" and you'll see that she has compiled a lot of what you need to know on the caretaking of your Golden. Read up on when to spay/neuter your pup and be aware that the guarantees in your contract will be rendered null and void if the agreed-upon age of spay/neuter is not precisely followed.
You can also find suggestions on products that will assist your Golden Retriever puppy is growing properly into a happy adult. Gotta Be Goldens spends quality time with all puppies from the moment the litters are born to provide them with the best care and love necessary to solidify beginning foundations that will filter into the rest of their lives. They utilize an "early neurological stimulation using Bio Sensor Program" to help their puppies more easily transition into their new homes when the time comes.
At Gotta Be Golden Retrievers they provide you with any information needed for purchasing your puppy so there are no surprises. You can read the full contract that must be signed and agreed upon before taking home your new addition. You can view all of the breeding dogs in the family and see pictures of their past litters. High expectations are had for families looking to buy from this breeder as these puppies are family to them and they only want them to be placed in homes that will treat them with the same love and respect.
To guarantee your spot on the waiting list $500 will be required; the deposit is non-refundable. Pricing will be set once Golden Retriever puppies arrive but know you will be paying for high quality with this breeder. You must fill out their online questionnaire and "Puppy Fee" form to get onto the waitlist.
Golden Retriever Breeder Information
Location: 5848 Lanson Road, Ontario, New York 14519
Telephone: 585-729-7200
Email: Kathyhearn@gmail.com
6. Hilltop Golden Retriever NY
Situated on a 50-acre property, Hilltop Golden Retriever is owned by a husband and wife team who have veterinary and animal science backgrounds. With this intelligence backing their breeding operation, they raise Golden Retrievers with beautiful traits that have satisfied many families who have received one of their puppies. Constant monitoring and performance of health tests as their Golden Retrievers age assures they are happy and in the utmost health.
The parent Golden Retrievers dogs in New York undergo health tests including OFA hip/elbows and/or Penn Hip, genetic tests for degenerative myelopathy, ichthyosis, and muscular dystrophy. Through these tests, they can ensure their breeding stock is top-notch which produces healthy Golden Retriever puppies.
Their Golden Retriever puppies for sale range in colors from light golden to dark red, offering choices that will satisfy all owner preferences. Puppies will arrive at new homes very socialized as they will have had many opportunities, before leaving their litter, to play amongst other dogs, children, and adults too.
They arrive at their new homes with first vaccinations, de-worming, and a vet's bill of health. You can view past litters and puppies all grown up along with current litters available on their website and Facebook page. Studs and females also have their own pages to view so you can see Hilltop's breeding stock. Prices for their Golden Retriever puppies for sale in New York range between $2,000 and $2,900 with a $250 waitlist fee then $250 due at birth. Fees are non-refundable. 
Golden Retriever Breeder Information
More Information About Golden Retriever Puppies in New York
The earliest records of the breed's development date all the way back to 1835 where Lord Tweedmouth of Inverness-Shire, Scotland established Golden Retrievers as sporting, gun, and bird dogs. Yet the Golden Retriever pedigree we know and love today is not only a great sporting dog but has elevated to a breed that is versatile enough to undertake jobs in the fields of guide dogs, search and rescue, hunting companions, competition competitors, and, of course, the ideal family member addition.
The Golden Retriever's inherent qualities include being fun-loving, competent, outgoing, and trustworthy. This demeanor allows their temperament to outshine many breeds of dogs for consideration to be included in families with children and other pets with their feathery tails always joyously greeting whomever they meet. The feathers on their tail, legs, neck, thighs, and underside are one of their well-known physical features along with their smooth, mighty gaits, and famous golden coats.
Golden Retriever coats are water repellent and can range in shades from dark gold, gold, or light gold. Heavy shedding 1-2 times per year will require baths and brushings to maintain their golden coat. Since they are a sporting dog, this means their energy is high and they will warrant daily exercise to keep in physical shape as well as to allow energetic release which will avoid unwanted, destructive behaviors. That being said, puppies should be placed into training programs to rid them of undesired behaviors that could follow them into adulthood.
Obedience classes will also assist with socialization but introducing your Golden Retriever puppy into multiple types of social situations will also help develop them into a well-rounded adult. Golden Retrievers possess a life span of about 10 to 12 years. Additionally, males will reach average heights of 23-24 inches and weigh around 65lbs to 75lbs. A female's height will be in the range of 21.5 to 22.5in with weights in the range of 55lbs to 65lbs.
Conclusion For Golden Retriever Breeders in New York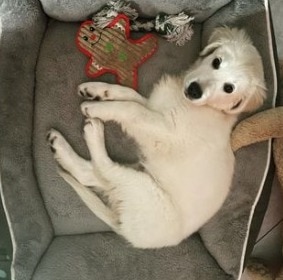 We hope that this guide will help you find a companion from this list of Golden Retriever breeders in New York. By the time you meet your companion, expect to feel all types of positive emotions. The feeling of excitement won't end there. It's the beginning of a new journey for you and you're going to cherish and live through memories that'll engrave into your mind forever. It's time you flip that page in the book to start on a new chapter with your Golden Retriever companion.
Other articles you might like: Labrador Breeders in New York and German Shepherd Breeders in New York.
If you're curious about the Golden Retriever dog breed, watch "5 Things Every Golden Retriever Owner Knows" down below:
Garrett loves animals and is a huge advocate for all Doodle dog breeds. He owns his own Goldendoodle named Kona. In addition, he volunteers at the Humane Society of Silicon Valley, where he fosters dogs and helps animals. Garrett enjoys writing about Doodles and believes that dogs can teach humans more about how to live than humans can teach a dog.
Why Trust We Love Doodles?
At We Love Doodles, we're a team of writers, veterinarians, and puppy trainers that love dogs. Our team of qualified experts researches and provides reliable information on a wide range of dog topics. Our reviews are based on customer feedback, hands-on testing, and in-depth analysis. We are fully transparent and honest to our community of dog owners and future owners.