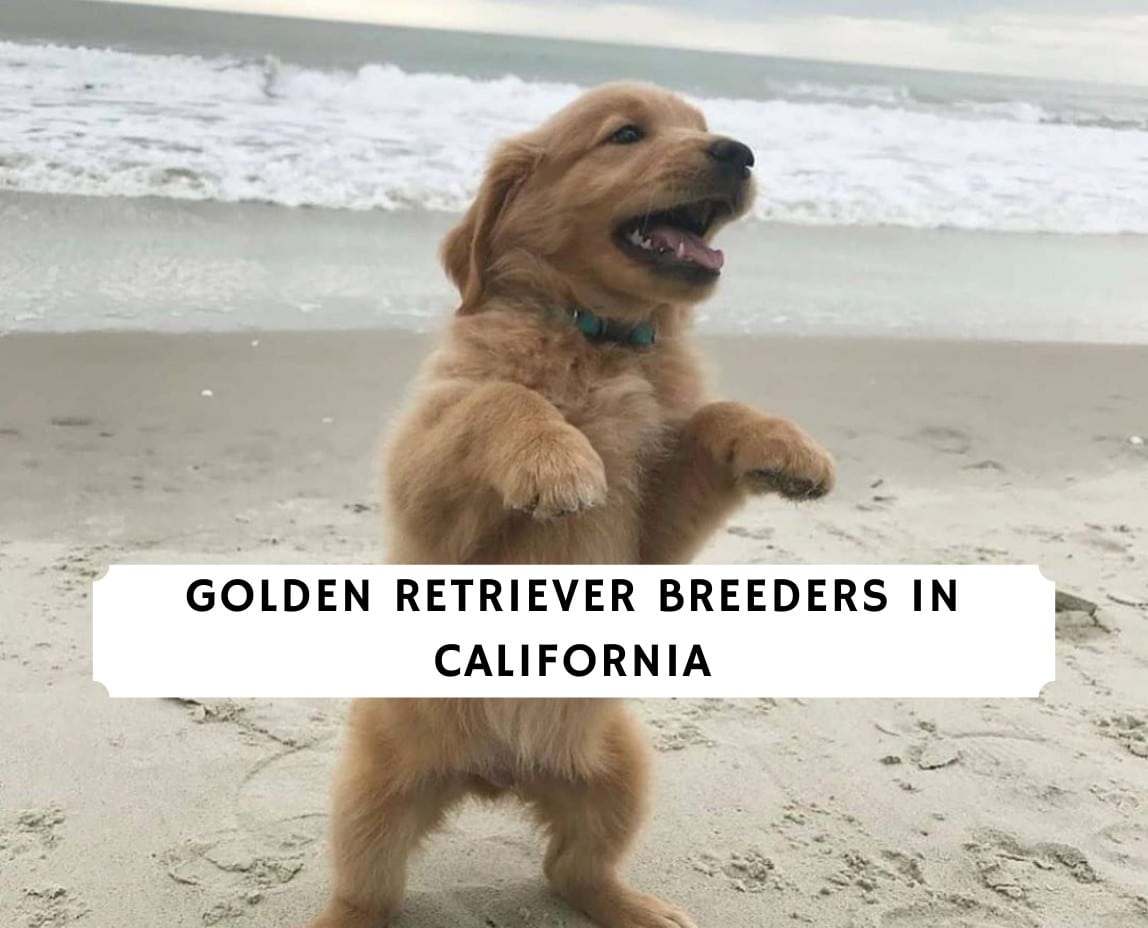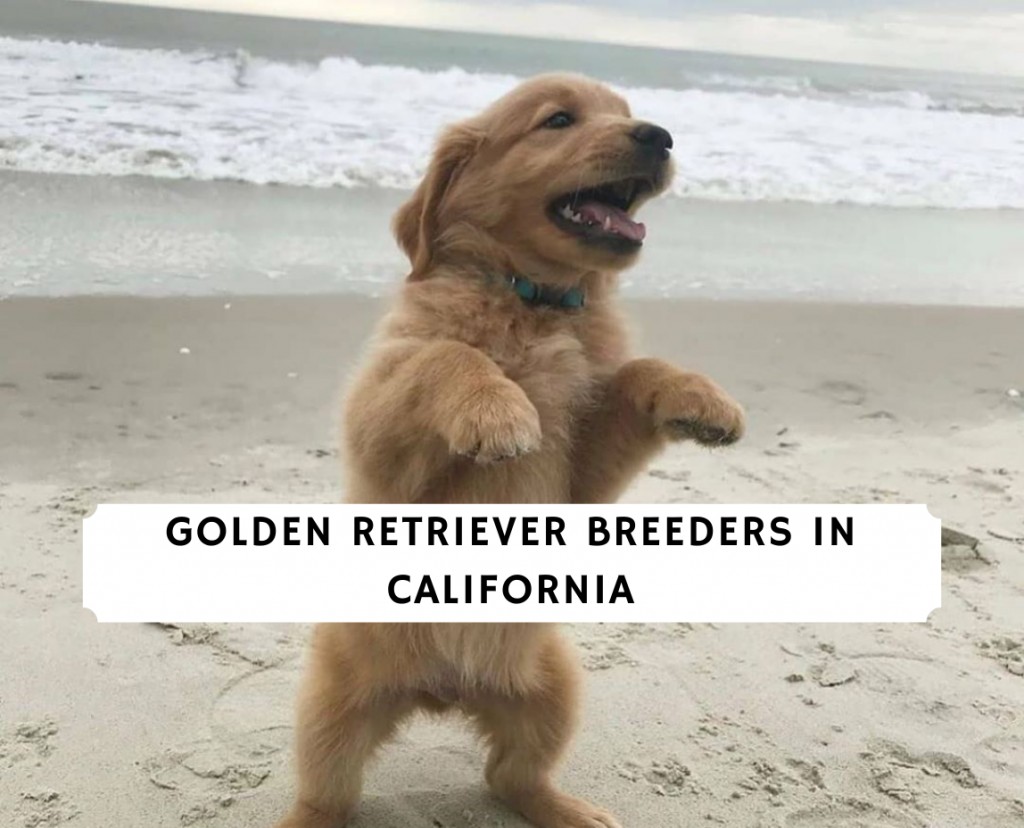 The Golden Retriever has often been known as a great family pet great for a variety of ages and stages of life. While these puppies start out small, they grow into beautiful dogs that weigh between 75-55 pounds and stand 21.5-24 inches tall. With their smooth bright fur and athletic build that begs for activity, the Golden Retriever ranks #3 in popularity according to the American Kennel Club (AKC). However, since this dog breed is so popular, you'll see tons of Golden Retriever puppies for sale in California.
If you're ready to make your next move and bring home a Golden Retriever puppy in California, you've got some options for breeders. We created a list of top Golden Retriever breeders in California to find you find a healthy puppy. We did our own independent research to make sure that these breeders' health tested their dogs, had a positive reputation, and followed the AKC purebred standards.
Other articles you might like: Golden Retriever Breeders in Southern California and Golden Retriever Breeders in Northern California.
1. Golden Meadows Retrievers California
Choose your Golden Retriever from a place of quality and prestige Golden Meadows Retrievers located in Moorpark, California. The puppies at Golden Meadows can make perfect additions to your family and life due to their fun personalities and mild temperaments. From the moment they're born, these Golden Retriever puppies are cared for and loved.
Their dogs are bred in a community with more than 25 years of experience in raising Golden Retrievers. The parent dogs are health and genetic tested to make sure that they don't pass on medical issues to their puppies. Their Golden Retriever puppies in California are trained and well socialized so they're ready for you to bring home.
The team at Golden Meadows is also intentional about selecting the right Golden Retriever puppy for you and your family. Factors like activity level and personalities are taken into account in getting you a Golden Retriever that will fit you and your family. By matching the puppies with your lifestyle preferences, you can be confident that the Golden Retriever puppy you bring home is right for you.
Golden Retriever Breeder Details
2. Classic Heritage Golden Retrievers California
With a passion for Golden Retrievers, the staff at Classic Heritage breeds puppies the fit well into your family. They offer health guarantees on all their puppies and they're dedicated to finding the right home for their dogs.
Since Golden Retrievers are in high demand you'll have to join a waiting list to get your puppy. With a deposit, you can express your interest in a Golden Retriever puppy from Classic Heritage and be ready for their next Golden Retriever litter.
In addition to their helpful staff, Classic Heritage also offers a range of resources and information about raising Golden Retriever puppies in California so you're set to go when you welcome home your new furry friend. This is a Golden Retriever breed that is based out of Northern California.
Golden Retriever Breeder Details
3. Bearden Pack Southern California
Bearden Pack is a family-run business and hobby breeder that sets high standards for their puppies. With attention to care and behavior, their Golden Retriever puppies are often raised to serve as therapy dogs for hospitals or service dogs. In addition, they also make great family friends and will get along with children due to their mild temperament.
With years of experience breeding Golden Retriever puppies in Southern California, the Bearden family gives their dogs so much individual care and attention. Moreover, they use socialization techniques and track their health. Their blog also shares great insight on raising Golden Retrievers and being good pet owners. This Golden Retriever breeder is located in Southern California just east of Los Angeles.
Golden Retriever Breeder Details
4. Chadwick's Goldens Southern California
With a dedication to service and quality, the team at Chadwick's Golden Retrievers breeds puppies your family will love. With years of experience in raising puppies, the team will help you find a Golden Retriever that fits your lifestyle. Their puppies are American Standard Golden Retrievers and hold world-class championships bloodlines according to the AKC purebred standard. They also have European Golden Retrievers.
In addition to breeding services, they also offer helpful resources and information about Golden Retriever puppies as you make the important transition for them into your home. This breeder is located in Southern California.
Golden Retriever Breeder Details
5. Shadow Mountain Goldens Southern California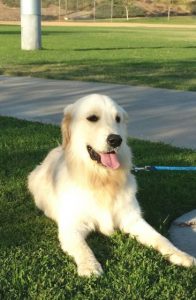 Located in Southern California in Moreno Valley, Shadow Mountain Goldens is a family-owned breeder dedicated to sharing the joy of the Golden Retriever breed. The Werner family runs the business and shares the delight that dogs can bring into each and every lifestyle. With years of experience in raising Golden Retrievers, the Werner family loves to share their enjoyment of dogs.
The Golden Retrievers at Shadow Mountain pass health clearances and have certifications of their health standards accessible for you to view. They hold high standards in both appearance and size in accordance with the AKC purebred standards. With your Golden Retriever puppy, you know that you can expect a healthy dog.
Reserving one of their Golden Retriever puppies is easy to do through their website or by giving them a call. While prices vary based on the litter, typical deposits are around $300. You can pick up your Golden Retriever puppy when they're 8 weeks old.
Golden Retriever Breeder Details
6. Shadalane Golden Retrievers California
The team at Shadalane Golden Retrievers brings a wealth of insight and information to help guide you along in choosing a dog perfect for your family. Their pedigree of Golden Retrievers is of high-quality and comes from a strong generation of champion show dogs.
In partnership with other breeders Golden Retriever breeders in California, Shadalane focuses on breeding purebred show puppies. They have litters through various seasons, so be sure to check with them on their availability before making a reservation.
In addition to breeding services, Shadalane also offers training services and other helpful information you want to know regarding training and raising your new furry friend. She's a great resource if you have any questions about Golden Retrievers.
Golden Retriever Breeder Details
7. Lucky Charm Golden Retriever
Find your new English Cream Golden Retriever at this small hobby farm in Southern California. In their breeding program, they focus on highlighting conformation, health, and temperament. Their dedication and care for each of their Golden Retriever puppies in California provides you confidence in bringing home your new furry friend.
Before sending you home with your Golden Retriever, you have access to health checks and other valuable insights you'll want to know ahead of time. Their breeding practices align with the Kennel Club of England's standards and hold high ethical standards for all their Golden Retrievers.
Along with information about their dogs and breeding, they also have a blog where they share helpful tips and tricks about raising Golden Retrievers. You can learn a lot about training and raising your dog from their website.
Golden Retriever Breeder Details
Choose the Right Golden Retriever For You in California
Whether you're looking for a four-legged friend to keep you company or an addition to your young clan, a Golden Retriever can be a great pet for all stages of life. With several Golden Retriever breeders in California dedicated to creating high-quality puppies, you can bring home a healthy, happy, and well behaved dog.
If you're in the California area, it's easy to find a breeder with Golden Retrievers. Whether it's your first pet as a single person or a family dog your kids will grow up with, these dogs are suitable for a variety of stages.
A breeder is very important in finding a dog or puppy that's healthy and comes with information. If your dog has had any health issues or behavior problems, your breeder should be able to inform you about what to expect. While shelters or dog rescues can be a great option, breeders can also be great paths to finding your next Golden Retriever
In general, when choosing a Golden Retriever breeder in California, you want to make sure they do health tests, have a good reputation, and adhere to the AKC purebred standard. In addition, it's a good idea to tour their facilities and make sure that they are not a puppy mill.
Conclusion for Golden Retriever Breeders in California
Golden Retrievers are active dogs that require a lot of daily activity. Whether going for a run or playing catch in the backyard, these dogs are often full of energy and excitement about life. In addition, these dogs as very friendly and easy to train as they are eager to please their owners. You'll see several Golden Retriever puppies for sale in California, but you want to make sure you purchase one from a reputable breeder. Since Goldens will live for over 10 years, you'll want to make sure they are going to be healthy and happy their entire life.
Check out these other articles: