Purchasing a German Shepherd puppy can be a daunting task. When healthy, German Shepherds tend to live 10+ years which is quite a long duration. However, one of the hardest things to do is find a reputable breeder that will sell you a happy and healthy puppy.
That's why we created a list of the best German Shepherd breeders in New York. We've done our own independent research to help eliminate puppy mills and backyard breeders. Hopefully, we can help you narrow down your choices for your next puppy.
Before we get started, check out these guides filled with recommended products for your German Shepherd puppy!
German Shepherd Puppies For Sale In New York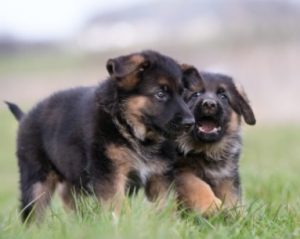 To take a bit of stress out of finding a quality breeder in New York, we have compiled a list for you to start your search from. Always remember to do your homework on the breeder and the German Shepherd breed before you purchase your puppy. Assemble a list of questions to ask the breeder and never feel like you have too many questions, this decision should not be taken lightly.
1. New York Canine
New York Canine is a quality German Shepherd breeder focusing on the working line pedigree of the breed that possesses all of the aforementioned characteristics of the German Shepherd that allow it to live up to that "All-Purpose" label. This is a breeder based out of Middletown, New York.
Owner Jeanette Rix, along with her knowledgeable team of handlers, concentrates on breeding dogs that are socialized and well trained for any environment the puppies are to enter into. Their training program is based upon these four pillars:
Expert Instruction
Establishing a clear training goal
Developing a structured training plan
Getting started
Placing their German Shepherd puppies in the perfect home is at the top of their list which makes them quite willing to assist and educate any interested new owners on the training and responsibilities required to own a purebred German Shepherd. Puppies will only go to approved homes around New York. They offer more information on the breed and puppy ownership under the "Our Puppies" section of their website.
Feel confident that you will receive a top-quality German Shepherd puppy from New York Canine. Their beautiful dogs have been featured in advertisements by Ralph Lauren and Bazaar as well as on television shows such as Elementary and Person of Interest. 
German Shepherd puppies from their breeding lines boast other achievements such as graduations from the police academy. You can research their breeding dogs' pedigrees on the website and view the strong qualities and characteristics that this breeder has chosen to pass along into the puppies they deliver.
New York Canine Details
2. Highlander German Shepherds New York
The Highlander family of German Shepherd puppies has been bred to the highest quality and standards held by the McIntyre family. With over 45 years of experience with German Shepherds that have worked in K9 units, as therapy dogs, search and rescue, drug detection as well as taking their place as the ultimate family companions, they have come to be one of the most reputable German Shepherd breeders in New York.
Overbreeding and selling as many puppies as they can is NOT the goal of this family-run operation. In fact, they allow only 2 litters per year as to not stress the female dogs. Through this method of breeding, they can direct their attention to the individual needs of the puppies.
All their German Shepherd puppies for sale in New York receive the socialization and attention required to grow into well-rounded adult German Shepherds. This being said, know that Highlander German Shepherds sees it as a great responsibility to correctly place their animals with the correct fit.
There is an adoption process that each new owner must go through. Even after selection and placement have occurred the Highlander breeders stay connected as well as offer continuous assistance and guidance to the raising of their dogs throughout their life.
Any new owner can view the breeding couples, connect to links on German Shepherds care and info, as well as subscribe to their YouTube videos all through the Highlander Garman Shepherds' website
Highlander German Shepherds Details
Location: 16 Grants Path, Poughquag, NY 12570
Telephone: (844) 660-3828/ (845) 224-9170
3. Vom Haus Schutz German Shepherds K9
Czech European blood Lines, even temperament, and solid pedigrees are the foundation for the breeding performed here at Vom Haus Schutz German Shepherds K9 based out of Pinebush, New York. With a lifetime connection to the German Shepherd breeds, this family-owned breeder, led by Mary L. Shallenberger, strives to connect new owners with puppies that possess the highest qualities possible of the cherished character aspects that make this breed so popular.
From the Vom Haus Schultz German Shepherds K9 website, you can see the dogs that are coupled for breeding, enjoy some live puppy cameras, read up on proper puppy exercises and training, get inspired by testimonials from others who have bought previous puppies from Mary, see when next litters are expected, and fill out a Puppy reservation and contract form (paid reservations take preference). All their German Shepherd puppies in New York come to their new homes very well socialized with other dogs and humans.
Vom Haus Schutz German Shepherds K9 Details
4. Gale I. Dinces – Superior German Shepherd Dogs NY
Here at Gale I. Dinces German Shepherds, you will discover an unyielding commitment to the continuation of healthy, strong genetics of the German Shepherd breed to produce dogs that could be a show dog, a companion dog, or a sport dog for Schutzhund. This breeder follows what they call a "3-pronged" breeding program which consists of:
Structure and Health
Temperament
Intelligence
There is a wealth of information that can be found through clicking on their "FAQ's" section that will get you up to date on any German Shepherd terms you might need education on. Links can also be found for the associations they are proud members of. Additionally, you can read testimonials of previous buyers of pups to experience their stories with the dogs they acquired through Gale I. Dinces.
From reading those testimonials there seems to be nothing but constant gratitude for the high-quality puppies these families received. You can find this breeder in Harrison, New York.
Gale I. Dinces LLC Superior German Shepherd Dogs Details
Location: 74 Rye Ridge Rd., Harrison, New York
Telephone: (914) 6967-8498 or (914) 649-0485
Email: gdinces@gmail.com
5. Peakes Brook Shepherds New York
Looking for a German Shepherd to work alongside you in your job? Maybe you would like to get into the world of showing dogs and want to show German Shepherds? Or maybe are looking for a loyal companion to become a beloved family guardian? No matter the goal for your German Shepherd, look no further than the outstanding puppies for purchase from Peakes Brook Shepherds.
Peakes Brook Shepherds is a family-owned operation recognized as an AKC Breeder of Merit that was started back in the 1990s. This award alone means that they are a reputable German Shepherd breeder in New York. Though they only have 1 to 2 litters per year, they work to combine the genetics of the chosen breeding couple to enhance the breed of German Shepherds.
Each contract entered into with new owners contains a long-standing relationship with Peakes Brook which guarantees they will always be there for any question or concern throughout the life of one of their puppies. Each German Shepherd puppy arrives home with AKC registration, information on training and socializing pointers, a 4-generation pedigree, vaccine records, and family pictures of their parents with a statement of health from Peakes Brook's Veterinarian.
Search Peakes Brook Shepherds' website for all the necessary information you may need on their breeding dogs and information on how to go about completing their application process for obtaining one of their German Shepherd puppies for sale. They do work on a first-come, first-served basis with a $300 non-refundable deposit so make sure to contact them soon to get on their reservation list.
Peakes Brook Shepherds Details
More Information About German Shepherd Puppies in New York
The German Shepherd was first introduced in Germany in 1899. Though the breed lost a little steam in popularity during wartime with Germany, it quickly regained its title as one of the top breeds in the United States. In 1908 the German Shepherd was recognized as an AKC (American Kennel Club) purebred ranking 2 in 197. Yes, the German Shepherd originally descends from a line of dogs bred to be herding dogs. However, the breed we know and love today, has become an all-purpose dog obtaining highly prized jobs in police and military operations, drug detection, search and rescue, and as service animals. Its most defining attribute is its character traits.
The German Shepherd is immensely renowned for its profound loyalty, confidence, athleticism, playfulness, sensitivity, courageousness, obedience, and exceptional intelligence and trainability. The breed makes an amazing family dog, especially ones with children, due to its great abilities to protect as a guard dog and act as a loyal companion through the strong bonds it creates with its fellow family members.
Due to these strong family ties the dog creates with its loved ones, know that the German Shepherd does not tolerate being alone very well. It is considered to have decently high levels of energy that will require suitable puppy training and obedience courses to establish socialization skills and the development of appropriate mannerisms. Exercise and activity are necessary to keep the dog active and healthy so placing them in an active household is extremely ideal.
German Shepherds' lifespan will average between 9-13 years. The males will weigh anywhere from 66lbs to 88lbs while the females will weigh in between 49lbs to 71lbs. The breed measures in height anywhere from 24 to 26 inches at the shoulder.
As stated earlier, these dogs are incredibly athletic, muscular, and agile. They can reach great speeds clocking up to 30 miles per hour! Color striations can also vary amongst each animal through bicolor, black/tan, black/cream, black/red, black/silver, solid black, gray, white, or sable. Each litter contains about 5-9 pups and, depending on quality in the breeding line, their prices can range from $750-$1200+ in New York.
Conclusion For The Best German Shepherd Breeders in New York
Any dog ownership should not be taken lightly. Looking into buying a German Shepherd puppy in New York is no exception. This dog breed has needs that require nurturing, training, and guidance by their owner to ensure a well-rounded dog that is well behaved in all situations.
Research these needs, educate yourself on the breed, and then find the puppy that is going to bring joy and happiness into your home with each passing day. We hope that you were able to narrow down your list of German Shepherd breeders in New York.
If you're from New York and still deciding on whether to bring home a German Shepherd as a companion or another breed, check out:
For other locations similar to the best German Shepherd breeders in New York, check out:
For more information on the German Shepherd breed, check out this informative video:
Garrett loves animals and is a huge advocate for all Doodle dog breeds. He owns his own Goldendoodle named Kona. In addition, he volunteers at the Humane Society of Silicon Valley, where he fosters dogs and helps animals. Garrett enjoys writing about Doodles and believes that dogs can teach humans more about how to live than humans can teach a dog.
Why Trust We Love Doodles?
At We Love Doodles, we're a team of writers, veterinarians, and puppy trainers that love dogs. Our team of qualified experts researches and provides reliable information on a wide range of dog topics. Our reviews are based on customer feedback, hands-on testing, and in-depth analysis. We are fully transparent and honest to our community of dog owners and future owners.