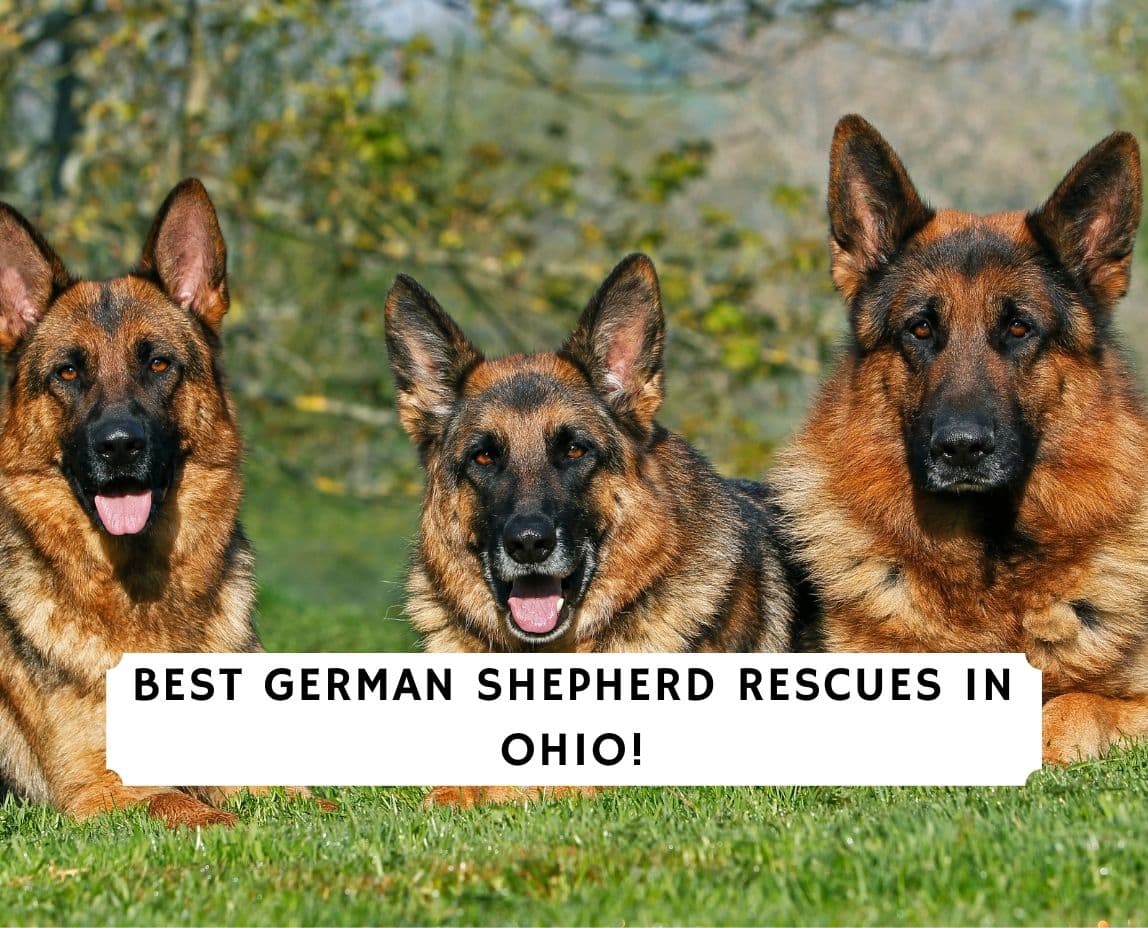 The German Shepherd dog breed is beloved around the world for its intelligence, loyalty, and protective nature. The breed is consistently ranked as one of the top five breeds worldwide because they are great family dogs, working dogs, or service dogs.
Despite their popularity, many German Shepherds end up surrendered to shelters or abandoned for a number of reasons. As a result, breed-specific rescues have been established to ensure safety and proper care for these animals.
These rescues often operate regionally or state-by-state in order to carefully vet potential adopters and foster families. In this article, we'll explore some of the best German Shepherd rescues in Ohio. These are great nonprofit organizations that strive to rehabilitate, foster, and then adopt out German Shepherds.
Other articles you will like: Golden Retriever Rescues in Ohio and Best Dog Rescues in Ohio.
1. Weeping Willow German Shepherd Sanctuary Ohio
Weeping Willow is a no-kill shelter specifically serving the GSD dog breed. Named for the large willow tree on their expansive property, the shelter takes in German Shepherds from kill shelters, homeless dogs, abusive situations, or dogs whose owners have passed away. Weeping Willow's facility sits on two acres of safe, secure land, enabling this larger dog breed to run and play to their heart's content.
The shelter hosts multiple events per year, from fundraisers to public education events to adoption events specifically held for senior dogs in their care. Weeping Willow accepts monetary donations but encourages those with free time to choose to volunteer. This German Shepherd rescue in Ohio addresses the medical issues of every dog brought into their care thanks to monetary donations.
Weeping Willow aims to serve as a primary resource for German Shepherds in their area. They consider themselves a permanent home for those dogs who may not be able to find a home, such as elderly dogs or those with severe medical issues. Temperament testing is provided for each dog to ensure personalized care during their stay at Weeping Willow as well as to hopefully find the perfect forever home for each German Shepherd in Ohio.
German Shepherd Rescue Information
Weeping Willow German Shepherd Dog Sanctuary
Address: 2469 Hewitt Gifford Rd, Lordstown, OH 44481
Phone Number: (330) 898-0090
2. Dogs Hope German Shepherd & All Breed Rescue
Dogs Hope Rescue is unique in that it is not a rescue dog shelter. The organization is a nonprofit rescue organization staffed entirely by two German Shepherd lovers. Dogs Hope connects adoptable dogs with potential owners independently. Their site features an option to list a dog for adoption, allowing the rescue to connect you and your dog to potential adoptive families directly to ensure a perfect fit.
Dogs Hope also connects with local shelters to alert potential adopters of dogs in urgent need of homes, especially those in line for euthanasia. This is a passionate German Shepherd rescue that is not afraid of painting a not-so-pretty picture about alternative rehoming methods for pets. Their website features multiple "must-read" stories urging pet owners to seek reputable rescues as a means of rehoming their dogs rather than websites like Craigslist or Facebook.
They explain that a German Shepherd rescue for rehoming or adoption is always a safer option for a German Shepherd, as rescues subject potential adopters to applications, reference checks, and home visits to ensure safety for pets. This helps prevent the dog from ever ending up in a shelter again.
In addition, Dogs Hope offers multiple avenues of assistance for dog owners and their families, including medical assistance, access to behavioral training resources, and temporary foster placement. This means that they only adopt out healthy and happy German Shepherd rescue dogs.
The rescue is a true labor of love. The owner-operators are avid lovers of the GSD breed and open their homes to fosters when possible. While not a registered charity, the owner-operators accept donations and pay for any necessary expenses using these funds as well as their own personal funds. Their passion for animals shines through in their unfaltering advocacy and sacrifice for the animals they rescue.
German Shepherd Rescue Information
Location: Northeastern Ohio off of Lake Erie
Email: dogshope@dogshope.com
3. Cincinnati Area German Shepherd Rescue
Cincinnati Area GSD Rescue is another small, independently-run rescue service based in Ohio. Located in Hamilton, Cincinnati German Shepherd Rescue's founder operates a no-frills organization with the knowledge they have gained from volunteering with other now-defunct local German Shepherd rescues. Between the owner and a handful of other volunteers, Cincinnati German Shepherd Rescue operates entirely via Facebook, petfinder.com, and email to provide an efficient and convenient experience.
The rescue evaluates dogs upon taking them in for medical and behavioral needs. They do not accept dogs with aggression issues but will connect dogs with these issues to other German Shepherd rescues in Ohio who can help. Prior to adoption, interested families must provide a veterinarian reference, personal references, and must participate in a home visit and interview.
They are most active on Facebook, sharing their available dogs along with information on other needy dogs in their service area. Those working with the rescue do not have a physical facility. They foster their own dogs or recruit well-vetted foster homes for the animals in their care.
Cincinnati GSD rescue focuses on the well-being of all German Shepherd and German Shepherd mixes. They are currently not accepting surrenders but will post a pet on their site in order to help it gain exposure to find a new and loving home.
German Shepherd Rescue Information
Location: Hamilton, OH
Email: saveone@netzero.net
Facebook: Social Media
Petfinder: Link
Why Do People put German Shepherds for Adoption in Ohio?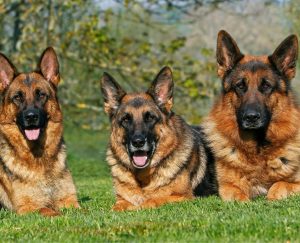 Though German Shepherds are a loyal, intelligent breed, there are several reasons why pet owners decide to surrender them and put them up for adoption. Here are some common reasons why they may be put up for adoption:
1. They wanted a smaller dog.
German Shepherds are large dogs. Adults can be anywhere from 50 to 90 lbs and need lots of exercise and space to run and play. Unfortunately, as with many large breeds, some surrender GSDs after they've grown because they're too large or energetic. New pet owners often times have difficulty controlling large dogs which jeopardizes their family's health and the dog's health.
2. German Shepherds are territorial or aggressive.
While German Shepherds are extremely loyal, this can result in a territorial dog. If their territorial nature goes unchecked, a dog may become aggressive with strangers or anyone outside of its own family.
German Shepherds are best for experienced owners of territorial dog breeds, as they need positive reinforcement and frequent socialization to sustain a more friendly and open personality. Many surrender these dogs after they show even minimal signs of aggression rather than seeking behavioral training.
3. The dog sheds a lot and can be destructive.
If you hate lint, fur, or mess, don't adopt a German Shepherd in Ohio. Their thick coats mean that they shed frequently and require grooming often. This is especially true if a German Shepherd spends a lot of time outdoors, as their thicker fur retains dirt and smells more than other dog breeds with shorter coats.
Owners who are fed up with or cannot keep up with the constant shedding and grooming may surrender their dog. In addition, German Shepherds need a "job" to do or they get bored. A bored GSD can quickly become destructive around the house if they don't have mental and physical stimulation. Owners who are away from home all day and find that their dog destroys things in their absence may also surrender or adopt their German Shepherd to a rescue in Ohio.
4. The breed is prone to a number of serious medical problems.
GSDs are referred to as the Cadillac of Dogs, but not just because of their noble appearance. This breed is prone to several health issues, some quite severe, which require expensive treatment. Like many large breeds, German Shepherds can suffer from canine hip dysplasia and major joint issues, which can disrupt a dog's mobility and even prove fatal.
Other common diseases found in the breed include degenerative myelopathy, perianal fistulas, exocrine pancreatic insufficiency, panosteitis, Von Willebrand's disease, Wobbler's Syndrome, and heart disease.
These dogs are potentially expensive to care for and are therefore a serious lifelong commitment. Owners faced with a potential future of expensive medical bills and intensive care needs may choose to surrender their dog to a breed-specific shelter with the means to provide this care.
5. The dog's owner has passed away.
This is an unfortunate, but not uncommon occurrence. Sometimes, a dog owner dies and there is no one to take in their beloved pet. In this instance, the German Shepherd must be surrendered to a shelter or rescue in the hopes that it will find a loving family.
Surrendering a dog is a situation no pet owner should want to find themselves in. Dogs are members of the family – they love unconditionally, offer silent support, and rely on us for safety and comfort in return.
Conclusion for Best German Shepherd Rescues in Ohio
These German Shepherd rescues in Ohio help dogs who have been separated from their families, or who have never been lucky enough to have a family, find a forever home where they can find the love and support they deserve for the rest of their lives.
These breed-specific rescues are passionate helpers of those without a voice, and they should be revered for the work that they do. Please consider adopting your next pet from a rescue or shelter like the three mentioned in this article. You might just find your new best friend!
Check out these other articles:
Garrett loves animals and is a huge advocate for all Doodle dog breeds. He owns his own Goldendoodle named Kona. In addition, he volunteers at the Humane Society of Silicon Valley, where he fosters dogs and helps animals. Garrett enjoys writing about Doodles and believes that dogs can teach humans more about how to live than humans can teach a dog.
Why Trust We Love Doodles?
At We Love Doodles, we're a team of writers, veterinarians, and puppy trainers that love dogs. Our team of qualified experts researches and provides reliable information on a wide range of dog topics. Our reviews are based on customer feedback, hands-on testing, and in-depth analysis. We are fully transparent and honest to our community of dog owners and future owners.