Before we dive into the best Corgi breeders in New York, you might want to learn a few things about this breed. When it comes to Corgis, be ready to welcome a companion with an outgoing, loud, has an almost human-like personality who is also going to provide you with loyalty, friendship, faithfulness, and fearlessness.
There are 2 types of Corgi breeds: Pembroke Welsh and Cardigan Welsh. Both types are highly intelligent dogs that thrive on daily interactions for socializing, exercise for mental and physical wellness, and reward-based training, especially as a puppy, to develop a well-mannered adult. Over the years, Corgi puppies in New York have gotten extremely popular.
Best Corgi Puppies For Sale in New York
We have done a bit of research here on breeders throughout New York but always suggest you perform your own research as well. Below are the top five Corgi breeders in New York. Ultimately, you want to find someone who you can trust to sell you a happy and healthy puppy. If you're still unsure about choosing a dog breed, you could check out our list of Doodle breeds. For other breeders in New York, check out:
1. Hudson Valley Corgis New York
With the main focus of breeding Pembroke Welsh Corgis for health, these are American Kennel Club Corgi breeders out of Dutchess County, New York. Hudson Valley Corgis is family-owned and operated that will provide you a puppy that has been well socialized in a family setting. Their wish is to help families feel complete with the addition of one of their loyal and purebred Pembroke Welsh Corgis puppies.
Any potential buyer can scroll through Hudson Valley's website to view their female and male breeding dogs while looking at adorable pictures of past and current litters. Also, you can access information on how to prepare for and care for your Corgi puppy once brought home. Hudson Valley Corgis is ready for any questions you may have in the selection and reservation of your new family member so feel free to click on their contact page and fill out the form or give them a ring on the phone.
Hudson Valley Details
2. Vaccarella Corgis NY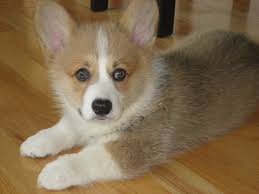 If you are searching for a show quality Pembroke Welsh Corgi, even if you are not interested in showing, that possesses all the optimal characteristics of superb health, temperament, intelligence, friendly personality, and conformation then Vaccarella Corgi is where you need to look. Vaccarella Corgis, located in Cobleskill, New York, will send you home with one of their beautiful puppies that have been raised with a loving approach, human and animal socialization, and a 100% health guarantee.
Click through the pages of their websites to view the parents of the litters and view picture testimonials from past, happy and satisfied clients. View their Facebook page for pictures of their current and past litters to get an idea of the types of Corgi puppies they breed. When you are ready with your questions for them or to inquire about reserving a puppy, you can call, email, or message them through their Facebook page.
Vaccarella Corgis Details
3. Calista Corgis New York
Calista Corgis started to provide beautiful Pembroke Welsh Corgis back in 1997. Their name, Calista, means "the most beautiful" in the Greek language and they have lived up to that name by breeding award-winning champion Corgis. They are proud members of and follow the ethical guidelines set by Pembroke Welsh Corgi Club of America, Pembroke Welsh Corgi Club of the Garden State, and Mayflower Pembroke Welsh Corgi Club. This is by far one of the most reputable Corgi breeders in New York.
Each puppy will come socialized, either OFA or Penn Hip certified with eye testing and genetic blood tests done for breed-specific diseases of Von Willebrand's Disease and Degenerative Myelopathy. You can rest assured that these champion blood-lined Corgi puppies for sale in New York will arrive at you boasting the finest health and temperament qualities possible. Visit their website to obtain all information on their breeding gals and guys, find links to their accredited associations and get information on puppy availability.
Calista Corgis Details
4. Hunter Vale Farm New York
Searching for an American Kennel Club (AKC) Pembroke Welsh Corgi puppy to add to your family environment? At Hunter Vale Farm, you will discover a family-owned, multifaceted farm operation in Berkshire, New York, led by Casey Powell. They offer high quality and purebred Pembroke Welsh Corgis for purchase.
Puppies from this breeder range in color from red to sable to black/tan to tri-color with striking white markings. All their Corgi puppies in New York sold have tested negative for the breed-specific diseases of Von Willebrand's Disease and Degenerative Myelopathy. This helps to ensure that you will be getting a healthy dog that will live a long life.
Hunter Vale Farm Details
5. Stone House Kennel
"Wonderful, knowledgeable, communicative, and friendly" are just some of the positive words used to describe buyers of AKC Cardigan Welsh Corgi puppies from the family-owned Stone House Kennel. Breeding for the past 16 years has allowed Stone House Kennel to produce dogs with pedigrees that include conformation champion lines. All their Corgie puppies will arrive at their new homes socialized with humans and dogs, up-to-date on all vaccinations, and with a contract that contains a health guarantee.
Those wanting to meet the parents of their prospective Corgi puppies can do so as they are available on the farm premises. Please do feel free to ask all the questions necessary of the breeders as they will impart great information and answers to allow you to have what you need to make the right decisions on the correct fit of the puppy into your life and family dynamic.
Stone House Kennel Details
More Information About Corgi Puppies in New York
Starting early on puppyhood with exposure to people, places, and sounds will ensure your Corgi puppy in New York doesn't become skittish, fearful, and shy. Corgis are built long and low to the ground with short powerful legs that keep them speedy and agile at the same time. They were bred as herding dogs with their low stature providing them the ability to nip at cattle heels whilst avoiding being kicked. They also have the ability to perform double duty out on cattle drives because after herding all day they would sit as vigilant guard dogs to protect the flock overnight. This protective quality of theirs makes them an asset as great family guardians.
The kindness characteristic of the Corgi shows in their ability to interact with all ages of people as well as other animals too. Know that weight management is a must with Corgis as they can easily become overweight. Limiting treats and managing diet is stressed by many Corgi breeders in New York. The Cardigan Welsh breed of Corgi is the older of the two breeds hailing from the medieval kingdom of Cardiganshire, Wales. Its AKC popularity rank is 68 out of 197 out of all the purebreds in the world.
Full-grown Corgi puppies weigh between 30lbs-38lbs and average a height between 10.5-12.5 inches with a life span between 12yrs-15yrs. Colors range from all shades of red, black/tan, blue merle, sable, and brindle with or without white flashings spread about. Cardigan Welsh Corgi prices range from $1,200-$1,800+. The Pembroke Welsh breed of Corgi is actually the more popular of the two obtaining an AKC ranking of 13 out of 197 with an origin that can be traced all the way back to 1107 AD.
They are pretty similar to Cardigan Welsh Corgis in their body type attributes and life spans. Their weight can measure up to 30lbs, height ranges between 10"-12" and their life span is around 12yrs-13yrs. Their colors come in red, sable, fawn, black/tan also with or without white flashings splashed about but blue or red merle or brindle is not an accepted color for this breed. Pembroke Welsh Corgi prices range from $1000-$2200.
How can you tell a Pembroke Corgi from a Cardigan Welsh Corgi?
There are two breeds that have distinguishing characteristics to tell the Pembroke apart from the Cardigan. First, take a look at their ears. The Pembroke's ears are pointed while the Cardigans are rounded. Second, move to the back end and notice that the Pembroke's have no tail while the Cardigan's have long fluffy tails.
No matter which of the two breeds you choose, you are going to be rewarded with a confident, playful companion and vigilant watchdog. Finding reputable breeders of Corgis is a must to receive a dog that is properly bred for correct temperament, conformation, and genetics.
Conclusion For The Best Corgi Breeders in New York
Let us conclude with a few pointers on how to go about discovering a reputable Corgi breeder in New York.
Ask about their breeding practices. The earliest a Corgi should be bred is at 2 years old and the oldest would be at 7years old. Really about 2-3 litters per year, per bitch is standard and not considered overbreeding.
The availability of the parents for you to meet should be made available. Being able to see the stock from which your puppy came from will allow you to view visible characteristics the breeders focus their breeding programs.
Ask for OFA eye and hip certificates and any other certificates that are available from genetic blood testing. OFA certificates can be found at OFFA.org
Look into what the breeder includes in their contracts. Do they offer health guarantees for up to 2 years? Do they vaccinate? Do they offer vet health records? Do they offer continued support to you to receive any necessary guidance for the proper upbringing of the dog?
We spoke about the importance of socializing your puppy. Make sure you get yours from a breeder that has socialization practices as part of their breeding program. Purchasing a dog from breeders who leave their litter outside in pens without any interactions may get you a puppy with personality issues.
As with any dogs, Corgi puppies come with responsibilities but if appropriately undertaken will reward you with a loving companion to cherish for years to come. If you're not near these Corgi breeders in New York, there are other states you could check out. We have a list ready:
If you wonder what's it like to own a Corgi, you might want to watch this video down below: