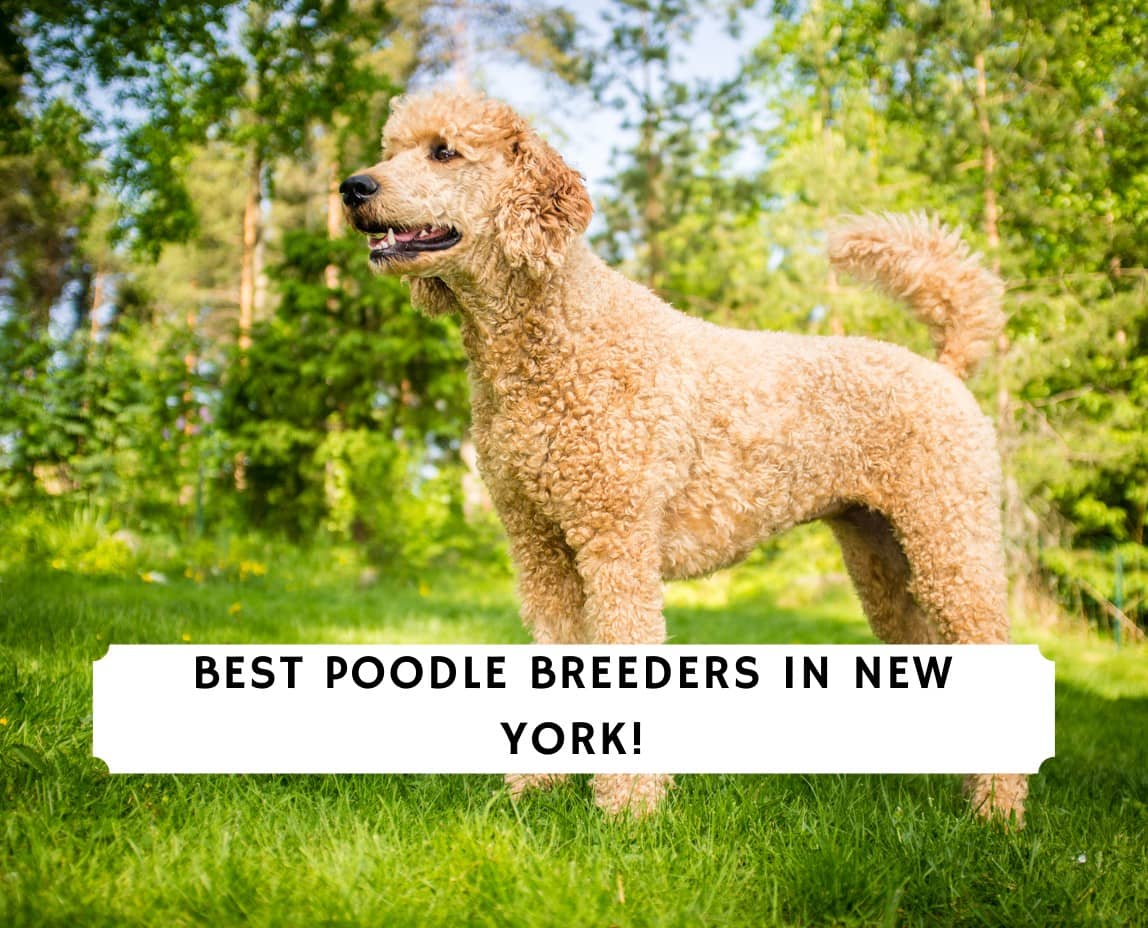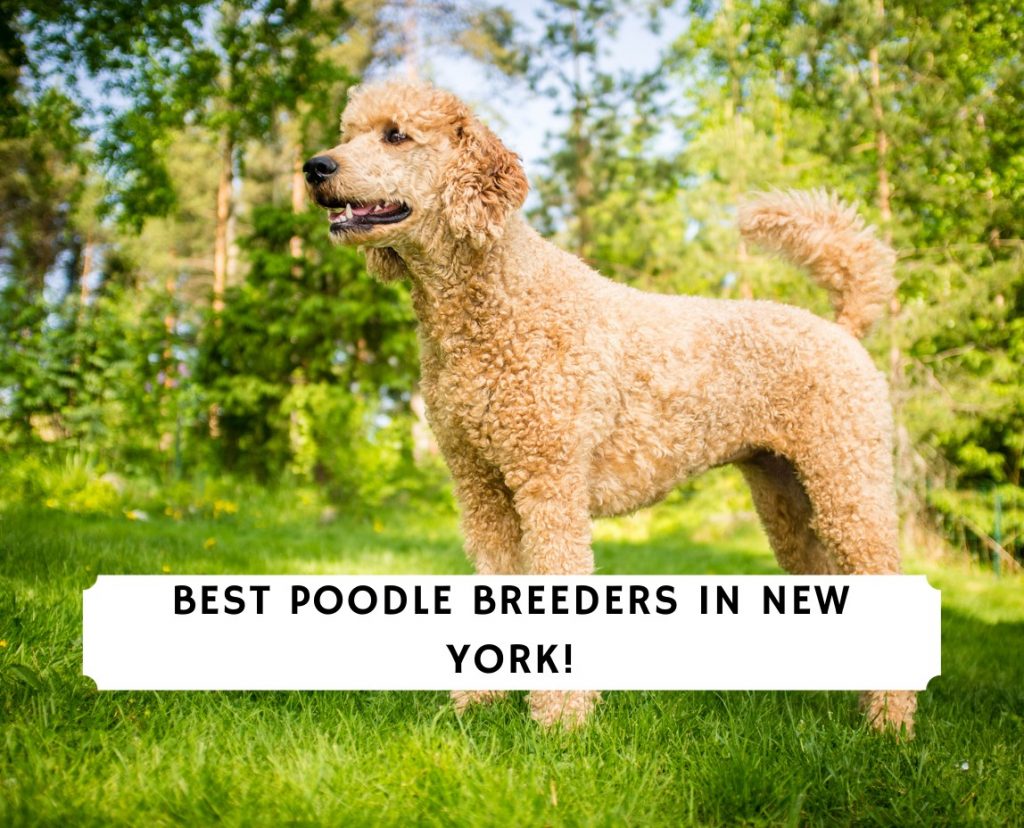 Poodle puppies for sale in New York are growing in popularity mainly due to their nonshedding and hypoallergenic coats. In addition, Poodles are one of the smartest dog breeds in the world and come full of energy. If you're interested in a Poodle then one of the hardest decisions you'll make is finding a reputable breeder.
In order to get a healthy and happy dog, you'll need to do research and find Poodle breeders in New York. Ultimately, you want to find a reputable breeder that health tests, genetic tests, and socialize their Poodle puppies. To help you with your research, we've identified 7 of the best Poodle breeders. Always ask any potential breeder lots of questions about their dogs and develop a relationship before you put a deposit down for a puppy.
Other articles you will like: Best Dog Food for Poodles and Best Clippers for Poodles.
1. Eriand Poodles New York
Eriand Poodles is a small hobby breeder of AKC registered miniature and standard Poodles on Long Island, New York, that has been in business for over twenty years. For what it's worth, she's one of the oldest Poodle breeders in New York on our list.
They raise their Poodle puppies in their home where they strive to produce healthy, happy, and beautiful dogs. To do this, Eriand Poodles are extremely selective when they add parent dogs to their breeding program. They evaluate the dog's temperaments and health as puppies as well as their structure. They only choose the best possible Poodle puppies to enter their breeding program.
Once the dogs are two years old, they are able to complete all of their genetic health testing required to be a breeding dog. Eriand Poodles follows The Poodle Club of America list of recommended tests to make sure they are doing what is best for their dogs as well as the breed as a whole. This helps to ensure that you will get a healthy Poodle puppy in New York free of hereditary issues.
The Poodle puppies are born in their bedroom and are closely monitored for the first few weeks to make sure everyone is healthy and gaining weight. They are then moved to a more local area in the house where they can have a lot of love and new experiences every day. The owner loves helping each puppy develop and prepares them ready for adoption. For full pricing of Eriand Poodles puppies in New York, contact them via their website, email, or by phone.
Poodle Breeder Information
2. Magenta Bay Poodles NY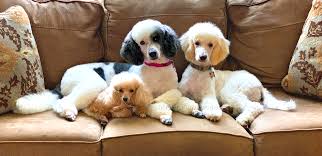 Magenta Bay Poodles NY is a breeder of Moyen and Standard Poodles in Orange County, New York. They are known for their well-bred, healthy, structurally sound, and gorgeous Moyen sized and Standard Poodles with outstanding temperaments.
Their Poodle puppies are from moms who are therapy dogs, support dogs, and obedience class demonstration dogs. The dad dogs are chosen based on equally good health, mental soundness, and a very pleasing personality.
As well as being a Poodle breeder in New York, Magenta Bay Poodles has been a professional dog trainer for nearly 30 years. This helps to ensure that their Poodle puppies in New York are brought up with every advantage and great start toward housetraining, obedience training, and socialization. Puppies are all AKC, CKC, or UKC registered depending on the mother.
All Poodle puppies are home-raised with no kennels or kennel dogs. Magenta Bay dogs are treasured family members and are very used to all normal household noises and goings-on.
The Poodle parents are health-tested to be sure worrying issues are not passed on to puppies. Magenta Bay Poodles NY only uses the best adult dogs with the best temperament in their breeding program. All dogs are raised on the Puppy Culture method with early neurological stimulation. Lastly, all their Poodle puppies in New York come with a health guarantee.
Magenta Bay Poodles NY has an extensive application process including a questionnaire and email and phone conversations. This is to make sure Magenta Bay puppies are going to the best possible homes who will properly care for and love the new additions to their families.
A $500 deposit is required to be put on the waiting list for a Magenta Bay puppy. This deposit does go towards the full price of the puppy. All new Poodle puppies will have had a least one parvo vaccine, a DAPPv combo vaccine, been de-wormed multiple times, and have been seen by a licensed veterinarian shortly before picking up. Magenta Bay does not ship their puppies so you will have to come pick them up from their location.
Magenta Bay Poodles puppies generally range in price from $2,600 to $3,000. Prices may vary depending on litter, color, and gender. For more information contact Magenta Bay via their website.
Poodle Breeder Information
3. RedTeddy Pup New York
RedTeddy Pup is an Ethical and Honest Poodle breeder located in Ancram, New York. RedTeddy produces well-adjusted animals, free of neurosis, or other health problems.
Their Poodle puppies in New York are home-raised in a "pack" with both dog and human socialization. Their puppies are not kept in cages and can begin exploring as soon as their eyes are open.
RedTeddy also makes most of their own dog food called RedTeddy Raw. The main ingredients are locally sourced beef, venison, and antibiotic and hormone-free chicken and turkey. Poodle breeds featured by RedTeddy are Toy Poodles, Small Miniature Poodles, Large Miniature Poodles, Labradoodles, Goldendoodles, and Moyen Poodles.
RedTeddy guarantees that any Poodle puppy in New York adopted is healthy and fit for adoption on the date of ownership transfer. A licensed veterinarian examines the puppy and declares them to be healthy and fit for sale.
They try their best to make sure the Poodle puppy doesn't harbor any ticks, fleas, or any other parasites but their guarantee specifically excludes the presence of common exterior or intestinal parasites. This includes roundworms, tapeworms, giardia, fleas, and ticks. They are routine and common for many young animals.
The puppies are given initial preventative treatments, but these pests can recur and require additional rounds, hence the exclusion. Redteddy allows no puppy returns, exchanges, or refunds other than for health reasons. To adopt a Poodle puppy from RedTeddy Pups, an application must be filled out. This application is to ensure that their Poodle puppies in New York are only going to the best homes possible.
Prices for Red Teddy poodles vary depending on which Poodle breed, gender, color, and size. For full pricing, contact RedTeddy Pups directly.
Poodle Breeder Information
4. Central Park Puppies New York
Central Park Puppies knows the impact that a loving dog can make in life. Backed by over 10 years of dog breeding experience, they have been bringing perfect Poodle puppies to families across New York.
They feature a beautiful selection of Poodle puppies that are ready to be taken into new homes. At Central Park Puppies, a puppy's health is their first priority. Expert veterinarians examine each of their Poodle puppies to confirm that they have zero health issues.
Central Park Puppies provide up to date medical and vaccination records, authentic registration/pedigree papers, and USDA licensed Breeder Information. They also offer free lifetime deworming and free lifetime phone consultation on pet health and training.
Poodle puppies for sale at Central Park Puppies include Toy Poodles which are priced at $3,200, Goldendoodles are priced at $2,800 to $3,600, Cockapoos priced at $3,400, as well as many other breeds. For more information, visit Central Park Puppies website.
Poodle Breeder Information
5. Empire Puppies New York
At Empire Puppies you will find an assortment of the finest puppies for sale from small breeds to large breeds in Flushing, New York. They guarantee 100% satisfaction to customers and always stand by their word.
Poodles breeds featured by Empire Puppies include Cavapoo, Shih-Poo, Pompapoo, Cockapoo, Toy Poodles, and Maltipoos. All of Empire's puppies from New York are from quality and professional breeders. They feed their Poodle puppies with holistic pet food made with natural ingredients only.
Prices vary depending on the dog breed. Visit Empire Puppies website or contact them directly for full pricing and any other information.
Poodle Breeder Information
6. Vanity Pups Boutique NY
Vanity Pups Boutique was established in 2005 in Bayside New York. It has always been a family operation with a focus on serving New York with the best and cutest puppies from private Class-A Breeders.
They are against puppy mills and never supported a kennel that has violations on their USDA inspection reports. Poodle breeds featured by Vanity Pups Boutique include Aussiepoos, Cavapoos, Cockapoos, Goldendoodles, Havapoo, Maltipoo, as well as Standard, Miniature, and Toy Poodle puppies.
Vanity Pups Boutique puppies vary in price depending on breed, color, size, and gender. For full pricing as well as any other information, contact them directly.
Vanity Pups in New York does offer financing to help their puppies find new homes. They do offer other services as well including veterinary care, grooming, daycare, in addition to their adoption center.
Poodle Breeder Information
7. The Left Paw NY
The Left Paw is an award-winning pet store and breeder of many different dog breeds including poodle mixes such as Goldendoodles and Chipoos. The Left Paw is located in New Hyde Park, New York. All of their puppies are microchipped before being adopted.
They also offer financing options to help their puppies find new homes. As well as having puppies for adoption, The Left Paw features a shop for all dog needs including carriers, leashes, toys, and much more.
The Left Paw prices puppies depending on their breed and gender. For specific prices, to set an appointment, or for more information, contact them directly via phone or their website.
Poodle Breeder Information
How to Choose a Poodle Breeder in New York
If you're having trouble deciding between all the different Poodle breeders in New York, there here are some tips:
What size Poodle do you want? Many breeders will only breed a couple of sizes of Poodle. Whether you want a teacup, toy, mini, moyen, or standard Poodle will help decide which breeder you should choose. Analyze your housing space see if you have a yard big enough to house a larger Poodle. Otherwise, you should opt for a smaller size if you live in an apartment or condo.
Does the breeder do health and genetic testing? Always purchase from a Poodle breeder in New York who health and genetic tests their dogs. This is the only way to ensure that you won't get a puppy with hereditary diseases.
Does the Poodle breeder offer a puppy warranty? Most of the reputable Poodle breeders in New York will offer a 1 or 2-year puppy warranty because they believe in the health of their dogs. This is a good sign that you are buying a puppy from a reputable breeder.
Conclusion for Poodle Breeders in New York
Poodle puppies in New York are extremely common. With the growth of designer dog breeds like the Goldendoodle and Labradoodle, the Poodle has become even more popular. With a coat that doesn't shed and is pet allergy-friendly, you'll find tons of Poodle breeders in New York. However, not all Poodle breeders are the same and it's important that you don't support a puppy mill. Always do your research and you can start with some of the recommendations on our list.
Other articles you might like: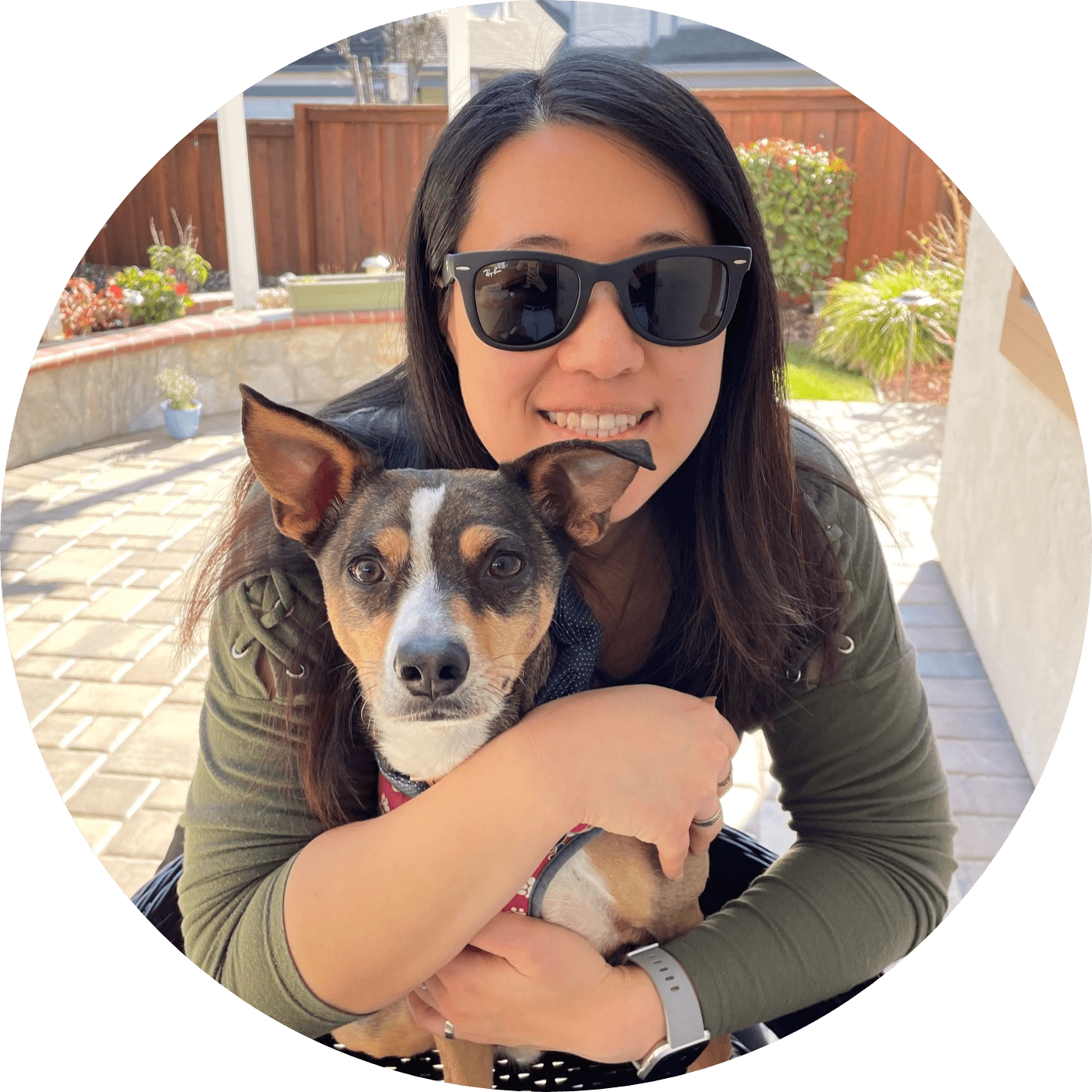 Dr. Sabrina Kong graduated from the Royal Veterinary College in England in 2016 and has been working at a small animal clinic in Northern California since then. She grew up in the Bay Area and got her bachelor's degree from Cal Poly San Luis Obispo. She also became a Certified Canine Rehabilitation Practitioner through a program at the University of Tennessee.
When she isn't in the clinic taking care of her four-legged patients, she enjoys traveling and trying new foods with her friends and her three-legged dog, Apollo. She adopted Apollo from her clinic when he was a puppy with numerous health issues. Dr. Kong truly cares about taking care of animals.