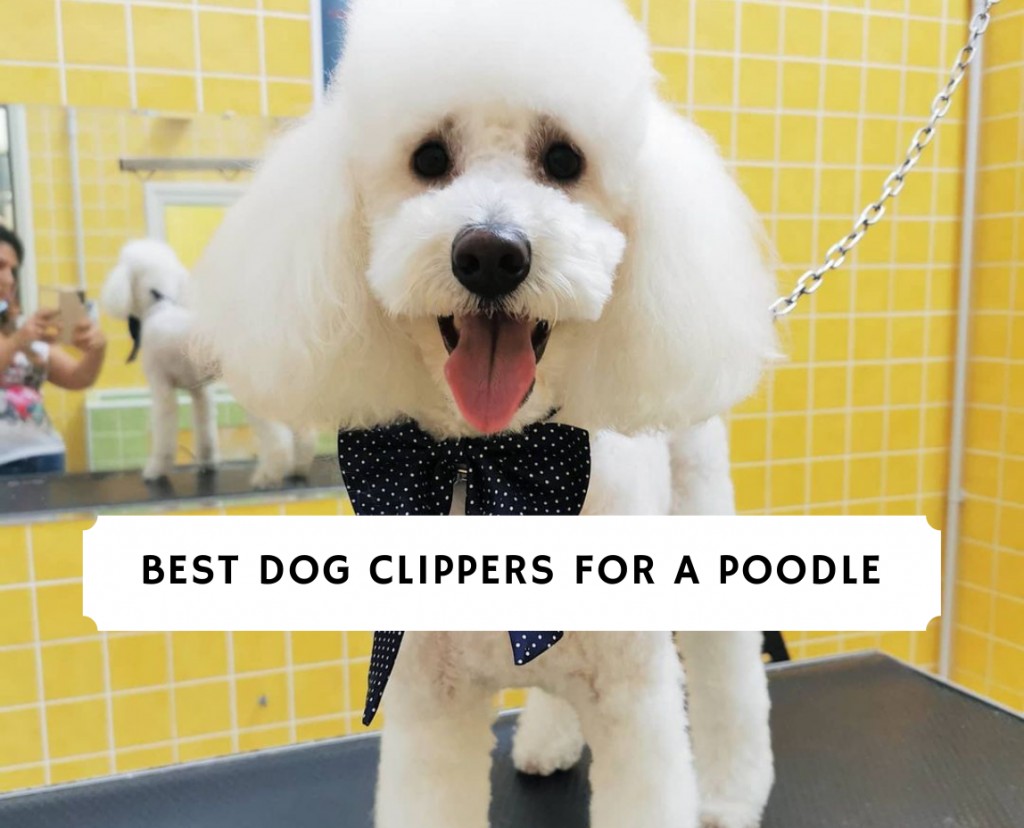 Poodles are such gorgeous dogs due to their hair. However, their coats are full of thick and curly hair which makes them so unique. It's a coat that you simply won't find on many other dogs. Even when you take a look at Poodle crossbreeds, their hair very rarely looks just like the poodle. The Poodles truly have a unique hypoallergenic and nonshedding coat which is why you have to regularly clip their hair.
If you plan to groom Poodles or you have your own Poodle at home, you'll want to learn how to groom their hair on your own which is why you'll need a good pair of dog clippers. Over the course of your dog's life, you'll save lots of money investing in a good pair of dog clippers instead of taking your Poodle to the groomers every 6-12 weeks.
When you're reading a label on dog clippers, they don't usually say "Poodle Clippers" or "Clippers for a Poodle Coat". However, we've tried several clippers that simply won't cut through a Poodles thick and matted coat. We've scoured the markets to find the very best dog clippers for a Poodle and we've narrowed it down to our top 8 picks. We've also tested many of these dog clippers on our Poodle mix to verify that they can cut through their curly hair.
In a rush? Here are the top picks!
The Best Dog Clippers for Poodles Reviewed
Andis is a name that any person who purchases dog clippers is well familiar with. I honestly never heard of Andis before we got our Goldendoodle, but I've done a ton of research on this company. For the price, these are the best Andis clippers for a Poodle for at-home grooming. These dog clippers are designed for the typically at-home groomer and they are highly-rated across the board as well.
The Andis ProClip 2 operates coolly so the heat won't bother your Poodle's skin after 30 minutes of runtime. They are 120-volt clippers and they are very quiet as well so you don't scare or overly stress them the poor Poodle. This clipper handles any type of dog breed and is quite capable of that thick curl your Poodle has.
The blade has a detachable blade design that allows it to come off easily, be cleaned easily, or changed out as needed. This motor operates on a 2-speed capacity so you can speed up or slow down the blade as needed. This is especially useful for thicker coats on the Poodle because you vary your motor speed to cut through mats. In addition, these dog clippers are corded so you don't have to worry about a battery dying. The cord is 14 feet long so you can still move easily if you're close to an electrical plug. If not, you can use an extension cord and groom your Poodle outside.
Another important aspect to consider is that this clipper comes in shatter-proof housing. If you drop them or your Poodle bites them, they can withstand the struggle and you can pick them up and go right back to work! They are simple and effective dog clippers for poodles.
These Wahl professional dog clippers are another really great option. These are professional dog clippers for Poodles and they work for a variety of coats. You can even use them on other animals like cats and horses as well!
This set is rechargeable so you can operate them without the cord or you can plug them in and operate them with the cord. The choice is up to you! You can also choose from 5 different color options if you have a preference. One nice feature about these clippers is they come with a charging stand, cleaning brush, blade oil, and 5 different blade combs so you can adjust to your needs and cut at various lengths. These Wahl dog clippers were our number #1 pick for the best dog clippers for a Poodle because it comes as a set. 
The Wahl Bravura is also easy to function and incredibly lightweight. They don't even weigh a full pound in your hand which is useful when you're grooming your Poodle for hours. They can operate for about 90 minutes from a single charge and they charge in about 60 minutes. If you have more than one dog or need to use these clippers for more than 90 minutes, we suggest that you either get a wired dog clipper or buy a spare battery! Lastly, these dog clippers operate quietly and they don't overheat to make your pet uncomfortable in the process.
These Oster animal grooming clippers are great clippers for a Poodle coat. They can handle any type of thick coat, matted coat, or curly coat with the detachable CryogenX blade that is specific to the Oster animal clippers. The Oster blade is one of the sharpest blades in the market and one of the highest amounts of torque which is great for thick dog hair.
These clippers have a 2-speed switch operation and are versatile to meet your needs. The low speed is still decently fast so you don't feel like you aren't moving at all and it is incredibly quiet while it operates. These dog clippers for Poodles give you ultimate control and precision for your grooming process.
The housing is also extremely durable. It's made with the intention of being chew-proof should your Poodle puppy decide to exact revenge on them. They also hold up against drops and banging around. These clippers can be used with any Oster A5 detachable blades, but the blades are sold separately.
If you're willing to spend the money and want premium dog clippers for Poodles, check out the Excel Andis clippers for Poodles. These rank among the best of the best and they are highly-rated across the board. They will be perfect for grooming your dog and actually save you lots of money in the long run.
These are professional dog clippers for Poodles and you really can't go wrong with them aside from the higher price point. They have a powerful rotary motor that allows you to function on 5 different speed levels. The max SPM is 4,500 which is twice as high as the high setting on some options. The speed helps you cut through any thick dog hair.
The Andis Excel dog clippers were recently updated with a non-slip grip to make them easy to handle. They have a contoured shape so that they fit comfortably into your hand as well. In addition, this comes with a #10 blade but the blade is detachable and you can change it out if needed. Other blade sizes are sold separately.
If you're checking out these dog clippers for Poodles and wondering if there are cheaper options, don't buy them! I've tried several dog clippers that are cheaper than this price point and they won't cut through thick and matted hair. When you're trying to give your dog a haircut, the blade just stops because they handle the dog hair. These clippers from Hansprou are budget-friendly and they are highly-rated across the board as well.
These clippers come in a black or rose gold color. They are easy to use and won't stick in coarse or thick fur. They operate with a power cord and you use a single button to get started. In addition, they operate relatively quietly with low vibration and heat levels.
These have a unique pet cutter blade. It was specially-made for thicker dog hair and has a fine-toothed ceramic head that is sharp but will handle thick and coarse coats. It is sharper and durable than many competitor options, but it isn't as high of quality as the Oster, Andis, and Wahl versions mentioned above.
The blade cannot be changed but you do receive 4 guide combs. The blade can also be adjusted to 5 different levels which should be suitable for any Poodle hair length.
Here is another at-home professional Poodle clipper from Wahl. These dog clippers are designed to work well for any animal (including horse) without spooking them in the process. These are perfect for full haircut clippings and trimming uses.
These are unique in that they have a constant speed control design. This means that while you're working along, the torque and speed remain consistent, allowing you to easily make it through tough spots better. Most other cordless dog clippers slow down as the battery starts to die. Eventually, you won't be able to cut through the thick Poodle hair if the battery starts to die and doesn't have a speed control option.
These can be operated as corded or cordless, making them incredibly versatile. The blade on these clippers is a 5-in-1 blade so you can adjust to the size you need. This is made with professional power that can reach up to 5,500 SPM.
These professional dog clippers for Poodles are another great option from Wahl. This option is nice because it has 5 different color options. They even have little paw prints on the clippers that are fun and eye-catching.
This set of clippers is cordless. There is no ability to work with a cord so you will need to plan for charging if you operate as a professional groomer. I personally wouldn't use these dog clippers if I had multiple dogs or needed a runtime of more than 90 minutes. However, these have a 5-in-1 blade design so you can adjust without having to detach and reattach a blade which is nice.
These are made with a slim design that is lightweight and incredibly comfortable to use. The slim design also makes it easy to work with small dogs or animals and get those hard to reach areas. These clippers do come with an extra rechargeable battery so you will be able to switch out. You also get guide combs, blade oil, and a cleaning brush.
Lastly, we have another option from Oster. This is a professional dog grooming clipper that does quite well in a professional dog grooming shop. They are a heavy-duty model and weigh slightly more than some of the options out there.
This is a simple dog clipper that is low speed but extremely high torque. They operate on a single-speed which is 2,100 SPM. However, torque is the main feature that will determine whether or not a blade will cut through thick fur. Oster has some of the highest levels of torque for their dog clippers.
The housing is also chew-proof and durable which means it won't break if you drop it. These have the traditional Oster detachable CryogenX blade that is incredibly durable and strong. The blade is detachable, but the clippers only come with a single blade. You can easily purchase other A5 blade and change them out as needed. Blade and guide combs are also separate purchases. 
How to Choose Dog Clippers for a Poodle?
As you work to choose a good pair of dog grooming clippers for Poodles, you should know that there are some features you will want to look for in the process. Not every dog clipper is made the same and there are a few things to be aware of.
Not only will you need the right blade sizes but you will also need the right motor functionality and even noise level. We've put together a simple buyer's guide to help you know what to look for as you pick out dog clippers for poodles.
Blade Sizes
First things first, you will want to be sure that you can use the right blade size or setting. Even if the clippers don't necessarily come with the blade you want or need, you should be able to purchase the required blade and use it accordingly. Blade sizes are important because they allow you to cut your Poodle hair to the perfect length.
Be sure to check whether the blades are fixed or detachable. If they are detachable, be sure you can find the right blade that will be compatible with your clipper model. If they are not detachable, look for adjustment sizes and make sure that they will work for you.
The higher the blade number, the closer the shave. For example, if your dog has surgery, the veterinarian will probably use a #40 blade as it cuts pretty much right down to the skin. What blade you need could depend on the cut you are giving your poodle.
The most common blade size used is #10 because it's pretty standard and versatile. It works well for Poodles and will get the job done right! In general, the only good dog clippers that come with extra blades or guide comes are Wahl clippers. If you're looking for Andis or Oster, you'll have to purchase blades or guide combs separately if you don't want a #10 size.
Clipper Operation
Clippers for Poodle coats really need a slightly more powerful motor. After all, you are working your way through a thick coat with coarse and curly hair. Poodle coats can also be susceptible to matting. Here are 3 specific things to consider regarding the operation of your clippers.
How quickly do they run hot?
How noisy are the clippers?
Speed of operation
The torque of the motor
Let's break this down just slightly. Working with clippers for a Poodle coat, you should look for something that will run quite a while before it heats up. Why? Because the type of coat may take extra time to cut and it will be incredibly inconvenient if you have to stop over and over again because the blades are too hot. Poodles won't like the hot blades against their skin so you will have to stop and take breaks if this is the case.
Next, you will want to consider the noise levels of the dog clippers. Dogs tend to be nervous about tools like these and if they are noisy, you might find your Poodle to be uncooperative. Your dog also may not care at all. We recommend going with an option that runs quietly just to be on the safe side.
Lastly, the speed and torque of a motor also makes a difference. In dog clippers, you will see the speed measured in SPM. The higher the SPM, the faster the speed. For Poodles, it's best to go with something that is somewhere in the mid-range since you are working through a thick coat. Something with two-speed or more operation is really ideal because then you can adjust the speed as needed. Torque is usually not displayed, but Oster is a very well known brand for low speed and high torque dog clippers. The benefit of having low speed and high torque dog clippers is that they generally run a lot quieter.
Wired or Cordless Dog Clippers for a Poodle?
When it comes to dog clippers for Poodles, you will notice that you can choose between wired or wireless options. You might even recall that some options allow you to be wired or wireless by choice.
It really is up to you whether you choose to use wired or wireless but there are some things to consider here. We will point out that corded clippers tend to be the more popular choice with Poodles simply because the process can take some time and you don't have to worry about a dead battery in the middle of the process.
On top of that particular consideration, corded models also tend to be tougher and more durable so they are less likely to break or fall apart or even be chewed through.
However, wireless dog clippers are beneficial because you don't have to set up an extension cord and you can groom your Poodle anywhere at any time. However, if you have multiple dogs I would advise against getting a corded model unless you have multiple batteries.
Remember, that it is a matter of preference and you can use whatever you choose!
Conclusion Best Dog Clippers for a Poodle
If you need the best dog clippers for Poodles, you have some really great options here to choose from. No matter what your preferences are, you're bound to find a good option here that will be reliable and meet your needs. Remember, if you opt for a cheaper set of dog clippers the motor will get stuck and you won't be able to cut through Poodle fur. We've tested many different clippers and these are the top 8 picks!
Now, what haircut do you plan to try out first?
Other articles you might like:
Garrett loves animals and is a huge advocate for all Doodle dog breeds. He owns his own Goldendoodle named Kona. In addition, he volunteers at the Humane Society of Silicon Valley, where he fosters dogs and helps animals. Garrett enjoys writing about Doodles and believes that dogs can teach humans more about how to live than humans can teach a dog.
Why Trust We Love Doodles?
At We Love Doodles, we're a team of writers, veterinarians, and puppy trainers that love dogs. Our team of qualified experts researches and provides reliable information on a wide range of dog topics. Our reviews are based on customer feedback, hands-on testing, and in-depth analysis. We are fully transparent and honest to our community of dog owners and future owners.