Do you take your pet to the groomers or do you prefer to do some basic grooming from home? Maybe you do a mixture and you do some light grooming in between your pet's grooming appointments. No matter what your grooming schedule is, it's important to have the right tools for the job which includes the best pet grooming clippers.
If you're going to groom your pet, you need the best pet grooming clippers because it will not only save you time, but it will cut your pet's evenly and make them look nice. You don't necessarily have to run out and purchase a professional pair of clippers, but you certainly want something you know will be reliable and will do a good job with the grooming process.
There are so many different options on the market. It can be incredibly difficult to know just what pair of pet clippers you should use. If we're being honest, they all promise to be the best. The good news is that we've sifted and sorted through almost one hundred pet grooming clipper options to present you with the very best on the market.
We're here to share with you our 7 top picks for the best grooming clippers in one detailed review. We hope you will keep reading to learn all the best information here!
In a Hurry? Check out the top 3 picks:
The 5 Best Grooming Clippers Reviewed
Each of the following reviews will contain a detailed description of the product, letting you know just what makes this pet grooming clipper stand out against the competitors. We will also share a list of the pros and cons of each item. Every review will be totally truthful, sharing the good and the bad of any options here. We don't hide anything bad about a product.
The Andis UltraEdge Super 2 pet grooming clippers are the industry standard when it comes to grooming dogs, horses, cats, or any animal. If you go take your pet to a groomer, chances are that they use an Andis clipper.
Andis is honestly one of the best pet grooming clippers that you can buy. They are a famous brand for a reason because they are low noise, cut through any types of mattes or thick fur, and has a strong two-speed motor that is extremely reliable. If you're going to be grooming your own pet regularly, I highly recommend that you invest in an Andis pet clipper.
One of the best parts of an Andis pet clipper is that they are extremely low noise. If your dog is scared of loud noises or hates vibrating sounds, you're going to want to get a low noise pet clipper. Otherwise, your pet is going to squirm around the whole time and not let you groom them.
The Wahl Professional pet grooming clippers comes from a big brand and is best for any pet like a dog, cat, horse, pig or cattle. It's an extremely lightweight pet grooming clipper that can easily groom the body and is doesn't matter how coarse their fur is.
In addition, unlike the Andis, this the Wahl Professional pet grooming clippers is cordless. Each battery has about a 75-minute run-time and it comes with 2 batteries. This should be plenty of cutting time to groom your pet if you do it on a regular basis.
In addition, these pet clippers are whisper quiet and Wahl has arguably one of the lowest noise clippers that you can buy. This grooming clipper also offers an ergonomic design with sharp blades. Also, this pet clipper has constant speed control and enough torque to cut through fur without making it look patchy. This Wahl is one of the best pet grooming clippers that you can buy.
Hansprou makes a premium-quality pet clipper that is durable and long lasting. They are well worth the cost and are one of the cheapest pet clippers that are high quality. These clippers deliver on all of their promises, every single time.
These clippers are high-powered with a 12-volt design. The blade is a 35-tooth blade, which sets these clippers apart. The clippers are made with the most durable and reliable materials like titanium alloy and with a ceramic blade that you see in most professional grade pet clippers. They are built to last and also very easy and simple to use.
The blade is titanium alloy plus you get a ceramic moving blade. The operation is again low vibration and low noise like most high quality pet grooming clippers. This does come with the multiple attachments, but doesn't include scissors and the cleaning brush like our other options. These clippers also contain a 2-year warranty. They are also corded which means that you probably need an extension cord but won't need to ever charge the battery.
The Oneisall shaver is one best pet grooming clippers for the price. They are very highly rated across the board because the humans and the pets love them. These have a low noise level so you don't have to worry about them spooking your pet with noise. They work well for any pet with hair, including dogs and cats.
This is a complete set that comes with all types of accessories. It's basically anything you might need in one simple package. This includes a comb, scissors, attachments, cleaning brush, and a charging cord. These are rechargeable so they can be used without a cord.
You can easily adjust the blade itself to get it close enough to meet your needs. Additionally, there are 6 guard combs, from 3 mm to 18 mm. This particular one is rose gold but you can also get it in silver as well. The blade is safe and sharp and the unit is made with all durable and reliable materials.
If your pet has long or thick hair, you may need to trim it or thin it first with the provided scissors. The company is up-front and states this in their product advertisement details. This is the only downside of these clippers, however at a cheap price it's well worth the cost.
The Pet Union dog grooming clippers is a set that is well-designed for all pets, including cats and dogs of all sizes. This is a complete set that comes with everything you need. These items include a charging cord, comb, scissors, and attachments.
This set of pet grooming clippers is designed to operate with low noise and low vibration. The idea is that your dog will hopefully not be scared when they see or hear the clippers. The blade is nice and sharp but also safe for clipping. It's a ceramic blade and you can upgrade to stainless steel as well.
The clippers are washable and the charging just uses a USB cord so it's compatible with anything USB for charging purposes. You can charge and then use or use while charging as well. This handheld is ergonomically designed for your comfort. These clippers are safe, simple, and efficient.
There really isn't anything negative to say about these. They certainly aren't professional-grade, but they will do well if you're only going to use them once every couple of months to groom your dog.
If you're looking for a cheaper premium option pet clippers for grooming, look no further and get the Holdog clippers. This set of pet grooming clippers is a professional-style clipper that certainly delivers results. Much like the others, this comes in a full set. The kit includes oil, brush, comb, scissors, attachments, and charging cord.
The blade on this set of clippers is titanium-ceramic, making it both sharp and sturdy. The blade has 33 teeth that will work well through even the thickest and curliest of coats. The clippers have 5 speeds and an LCD display that shows the speed and battery life for you.
These clippers are rechargeable but can also be used with the cord. They are designed to be ergonomic and comfortable for use for you and your pet. Much like the others, these are designed to operate with low noise and vibration levels to help your pet feel at ease.
The Gilmars pet grooming clipper set was designed with professionals in mind. These clippers are meant to be powerful, having been recently redesigned with the most up-to-date powerful clipper motor available. This set of clippers will work for all types of coats and comes with everything you need.
This set includes a charging base, scissors, comb, attachments, charging cord, and cleaning brush. Since these clippers use a charging base, they are designed to have a longer battery-run time between charges. The blades have 33 teeth that are made with titanium-coated stainless steel and are very durable and sharp.
You can work comfortably with multiple speeds and multiple length attachments as well. The set has an LCD display for speed and battery life. The design is meant to be ergonomic and much like the other options, these operate quietly with low vibrations levels.
How to Choose the Best Pet Grooming Clippers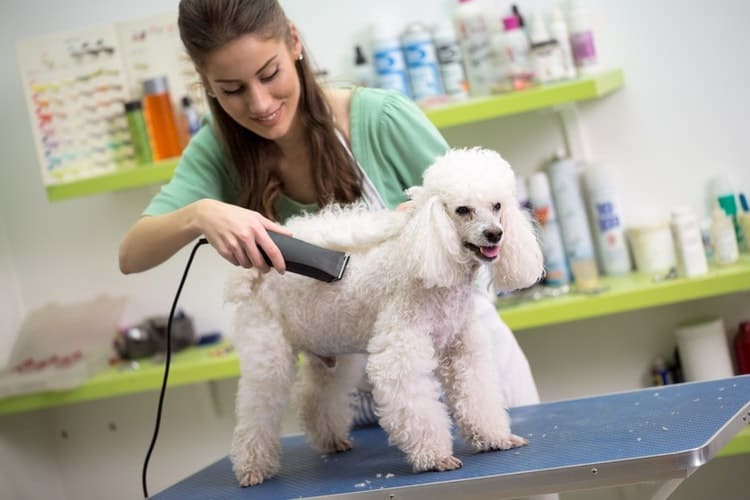 Now that we've shared with you our top picks for pet grooming clippers, it's only fair that we also share with you some guidance on how to choose a pair. There are a few different variables you should consider when choosing pet grooming clippers and we want you to be fully prepared!
Noise and Vibration Levels
One of the most important things to consider is the noise levels and the vibrations of the clippers. Many dogs are scared by the loud noises that typical clippers made and you want to be sure to use an option that won't have your dog cowering in fear. This is mainly because a dog's ear is much more sensitive to lower level noises than a human. Chances are that if you have a loud pet grooming clippers than your dog won't willingly let you groom them.
All of the clipper options we've shared here are designed to operate with low noise and vibration levels. A powerful motor does not mean that the clippers have to be noisy! Technology is advancing very rapidly and there are ways to make pet clippers that are low noise.
Comfort for Use
When you put these clippers in your hand, chances are you will be holding them for quite some time to groom your pet. You want to choose something that will be comfortable to hold and use. An ergonomic design is always best since it will likely take you a couple of hours to groom your animal.
Remember that you will feel the power and vibration while you're using the clippers. You don't want to worry about them slipping out of your hand or getting uncomfortable. Look for something lightweight and comfortably designed.
Charging Options (Wired or Wireless)
This sector is a matter of personal preference. You can purchase rechargeable clippers or you can purchase a corded pair of clippers. Just be sure to pay attention to what you're getting.
For wireless clippers meant for grooming, you will want to consider the battery life and whether or not you can use them while they are charging, just in case. If you have multiple animals that need to be groomed, we recommend that you get a wired grooming clipper.
If you choose a corded or wired grooming clipper option, just be sure you will be able to use them as such. If you get the corded pet grooming clippers than you'll likely have to get an extension cord and you'll have to monitor the cord while you cut your pet.
Pet Clipper Blades
You can purchase and replace blades on most clippers as much as necessary. You will want to be sure that whatever clippers you purchase have a good blade. You don't want it to pull your dog's hair or cause them discomfort.
Ceramic blades are the very best for the job but stainless steel and titanium blades are also great. Be sure that you can purchase replacement blades as needed. Blades are extremely important because you'll something that will easily cut through your pet's thick coat if they happen to get mattes.
Grooming kit
You'll notice that some of the options we listed come as a kit with scissors, a pet clipper, brush, shears, etc. Grooming kits are meant for first-time groomers who will be periodically be grooming their animal. Most of the pet grooming kits that you see online aren't going to be fully professional-grade level, but they are meant to be great for the casual groomer.
Conclusion for Best Pet Grooming Clippers
If you're looking for a replacement pair of grooming clippers or you're in the market for a pair to get started, you're sure to find a good option here. We've found what we believe to be the 7 best pet grooming clippers available and we hope you will agree! Happy grooming!
For some additional inspiration, check out our Labradoodle Grooming Guide or our Cockapoo Grooming Guide. If you need some inspiration on haircut styles, you can also check out the Best Goldendoodle Haircuts Guide.
Garrett loves animals and is a huge advocate for all Doodle dog breeds. He owns his own Goldendoodle named Kona. In addition, he volunteers at the Humane Society of Silicon Valley, where he fosters dogs and helps animals. Garrett enjoys writing about Doodles and believes that dogs can teach humans more about how to live than humans can teach a dog.
Why Trust We Love Doodles?
At We Love Doodles, we're a team of writers, veterinarians, and puppy trainers that love dogs. Our team of qualified experts researches and provides reliable information on a wide range of dog topics. Our reviews are based on customer feedback, hands-on testing, and in-depth analysis. We are fully transparent and honest to our community of dog owners and future owners.