Are you looking for a beautiful, athletic, nonshedding, and well-tempered dog? Well, Poodles can come in all different sizes, but they always have these wonderful characteristics.
If you live in Colorado and are looking for a dog that will hang out at home with you but will also enjoy a good hike, then a Poodle is definitely for you! Below you will find a list of the best Poodle breeders in Colorado. These breeders are here to provide you with the perfect companion, so check them out today and get started on bringing home your new best friend!
In general, we looked for Poodle puppies in Colorado from breeders that health test, genetic test, and offer puppy warranties. We always suggest that you interview any potential breeders with lots of questions about the temperament, size, and personality of their dogs. Try not to purchase a Poodle puppy in Colorado from a puppy mill or backyard breeder or you may end up with an unhealthy puppy.
Other articles you will like: Best Dog Food for Poodles and Best Clippers for Poodles.
If you are looking for a happy and laid-back Standard Poodle in Colorado, then Grace Poodles is a great place to look. They pride themselves on breeding Poodles with great temperaments, high intelligence, and a drive to please. Many of their previous Poodle puppies have even gone on to become service dogs which you can view videos of on their website.
You can view available Poodles puppies for sale in Colorado on their website. This allows you to see which Poodle puppies have already been reserved and which puppies are still waiting for their forever home. This also tells you who the parent dogs are and the price of each puppy.
If you decide to adopt a puppy from Grace Poodles, you will be given a one-year health guarantee to ensure that your new puppy is in good health. Each of their Poodle puppies in Colorado is given a thorough veterinarian examination, de-wormed, and started on vaccinations before adoption. Additionally, when adopting a purebred Poodle, you will be given an American Kennel Club registration application so you can register through this well-known organization.
Parent dogs for each litter are listed with pictures and results of genetic testing. This will prove the health of the parent dogs which means you will get a healthy Poodle puppy. You can also view each parent dog's short description on their website, including temperament and personality. You can even view videos of these dogs! This gives you a good idea of what your new Poodle puppy's personality may be like.
Additionally, on their website, you can view videos of the early training that each Poodle puppy is given. This includes clicker training, barrier training, noise training, and feline desensitization. You can also see the puppies meeting new people to ensure that they are well-socialized before adoption occurs. So, if you are interested in adopting a dog from Grace Poodles, contact them today to reserve your new family member!
Poodle Puppy Details
Size: Standard Poodle Puppies
Poodle Breeder Information
Waggin Tails Poodles is a family-owned breeder near Colorado Springs, Colorado. Located on a ranch, their dogs and puppies can run and play on the family land. Their Poodle puppies in Colorado are well-socialized by being raised in the family home, where they are exposed to children and adults of all ages. They are an American Kennel Club and State certified, inspected, and approved breeding facility.
They specialize in service dog placement, so each puppy is begun on training exercises at three and a half weeks old. Even Poodle puppies that do not go on to be service dogs are given this training at a young age. So, whether you plan on training a service dog or just want a family companion pet, rest assured your puppy will be well on its way to being the best dog.
Each puppy at Waggin Tails Poodles is vet-checked, microchipped, vaccinated, and de-wormed before adoption. Additionally, each of their Poodle puppies in Colorado has its dewclaws removed and their tails docked. You can view available puppies on their website; this shows you a picture of your new pup and who the parent dogs are.
Each parent dog is listed on the website, along with measurements, and color. These parent dogs' measurements can give you a good idea of what size and color your Poodle puppy could grow up to look like. All parent dogs are health tested and registered with the American Kennel Club.
So, if you are interested in adopting a Poodle puppy from Waggin Tails Poodles, you can view their adoption agreement and contact them to get started on adopting your very own loving companion.
Poodle Puppy Details
Size: Standard Poodle Puppies
Poodle Breeder Information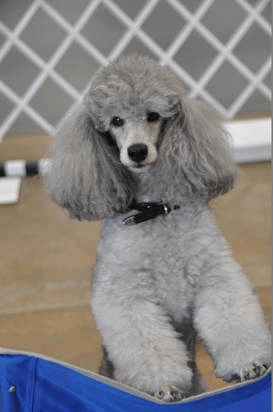 At Beauvoir Poodles, they focus on breeding well-rounded dogs perfect for the competition show ring and family life. They breed intelligent, athletic, and friendly Poodles, so you are guaranteed to find your perfect puppy here.
Beauvoir Poodles believes that parent dogs should be healthy and obedient to give birth to a well-pedigreed puppy. All the parent dogs are health tested and American Kennel Club champions. They have won at least one obedience title in the show ring. To view these parent dogs and their health test results, just go to Beauvoir Poodles website.
If you have any questions about the breed Beauvoir Poodles is more than willing to assist first-time and previous Poodle owners. Because of their focus on Poodles, they are well-versed in appropriate Poodle training, grooming, and health. Feel free to contact them today if you have any questions.
If you are interested in a Poodle puppy in Colorado that is perfect for competitions and a cuddly friend, then contact Beauvoir Poodles, and they can help you find the perfect dog for you!
Poodle Puppy Details
Size: Standard and Miniature Poodle Puppies
Poodle Breeder Information
At Le Harrell's Standard Poodles, the goal is to breed healthy and well-tempered dogs. The Poodles bred at Le Harrell's are intelligent, healthy, athletic, and beautiful. Basically the perfect dogs!
The Poodle puppies at Le Harrell's are raised inside with lots of socialization with people of all ages. This early socialization results in well-tempered and agreeable dogs that transition well to their forever homes.
With many years of training service dogs, each of the Poodles puppies at Le Harrell's begins its life with early neurological stimulation which results in strong minds and bodies. Not every dog at Le Harrell's becomes a service dog, so there are tons of well-trained pups here just waiting to be an amazing family companion.
You can view each parent dog on the company's website. These dogs are health tested for over 150 different genetic diseases to ensure that your Poodle puppy is safe from hereditary diseases. Additionally, each parent dog is tested for color and coat type. They are paired with their most compatible partner to breed the perfect Poodle puppies in Colorado.
Expected litters can be viewed on their website, including their due date. This includes who the parent dogs are and what the expected color of the Poodle puppies are. There is a waiting list that you can view for each specific litter to decide which list to join. Contact them today to get added to the list for one of these beautiful puppies.
Poodle Puppy Details
Size: Standard Poodle Puppies
Poodle Breeder Information
How to Choose a Poodle Breeder in Colorado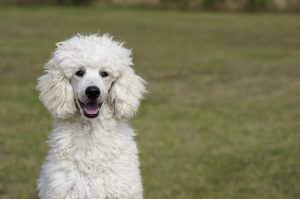 Now that you have viewed some options for Poodle breeders in Colorado, you may feel a little overwhelmed. Don't worry. Here are some things to consider that will help you narrow your search for your perfect Poodle puppy in Colorado.
First, before choosing a breeder, it is important to decide what size of Poodle you want. Poodles are one of the rare breeds that come in all different sizes, so whether you want a small dog or a large dog, you will be able to find a Poodle that fits your preferences. Breeders typically specialize in a certain Poodle size, so deciding on size can help you narrow down which breeders to contact. The typical Poodle sizes are toy, miniature, moyen, and standard.
Another thing to consider when choosing a Poodle breeder is what color of Poodle you want. Breeders cannot guarantee all puppies' coat colors, but knowing what color the parent dogs are can help eliminate some of the breeder options in Colorado.
Lastly, it is essential to arrange travel plans before committing to a breeder. Some breeders will ship Poodle puppies in Colorado to their new homes, but others have strict policies against it.
If there is a breeder you are interested in, make sure to ask what their procedures are like to decide if it is feasible for you to obtain a puppy from them.
Conclusions for Poodle Breeders in Colorado 
Regardless of color or size, if you want an athletic, intelligent, beautiful, and well-behaved dog, then a Poodle is definitely the dog for you. If you live in Colorado, check out the breeders above to get started on welcoming home your new companion! We highly encourage you to visit any Poodle breeder in person to verify they aren't a puppy mill or backyard breeder. This will help ensure that you get a happy and healthy Poodle puppy!
Other articles you might like:
Garrett loves animals and is a huge advocate for all Doodle dog breeds. He owns his own Goldendoodle named Kona. In addition, he volunteers at the Humane Society of Silicon Valley, where he fosters dogs and helps animals. Garrett enjoys writing about Doodles and believes that dogs can teach humans more about how to live than humans can teach a dog.
Why Trust We Love Doodles?
At We Love Doodles, we're a team of writers, veterinarians, and puppy trainers that love dogs. Our team of qualified experts researches and provides reliable information on a wide range of dog topics. Our reviews are based on customer feedback, hands-on testing, and in-depth analysis. We are fully transparent and honest to our community of dog owners and future owners.