If you're in the state of Oregon and looking to add a Poodle of any size into your family, a breeder can help. We will share some of the Poodle breeders in Oregon. You'll find a brief description followed by the contact information of the breeder if you're interested in learning more about adopting one of their puppies.
In general, we only try to put reputable Poodle breeders in Oregon who are health checking, genetic testing, and socializing their puppies immediately after birth. We also look for breeders who are AKC certified and willing to give people tours of their breeding facilities. When selecting Poodle puppies for sale in Oregon, always remember to buy from someone reputable. If you purchase a puppy from a backyard breeder or puppy mill, they may have health issues in the future.
Lastly, we always recommend that you ask any potential Poodle breeder lots of questions about their dogs' personality, temperament, and size. You need to purchase from someone that you can trust will sell you a happy and healthy Poodle puppy in Oregon.
Other articles you will like: Best Dog Food for Poodles and Best Clippers for Poodles.
1. Sauvie Island Poodles Oregon
With a passion for all things Poodles, the team at Sauvie Island Poodles are dedicated to raising quality Poodles and sharing them with other families. The owner comes with years of experience in handling Poodle puppies in Oregon and has vast knowledge in standards for the dog breed. They are also heavily involved in the Poodle Club of America and serve in leadership positions in helping this breed thrive. 
They breed Standard Poodle puppies in Oregon in a variety of coat colors. Their website shares helpful information about the breed and what you can expect in terms of both size and activity of the breed.
With their experience with breed standards, they hold each of their adult Poodles to high expectations in quality and temperament. They also share a variety of helpful resources in selecting the right dog for your family and lifestyle – even if that may not be a Poodle.
Families and individuals who are interested in one of their Poodle puppies in Oregon can connect with Patricia Forsyth, owner of Sauvie Island Poodles, to learn more about their organization and their available puppies and upcoming litters.
Poodle Breeder Details
Location: Portland, Oregon
Email: patforsyth@aol.com
2. NJoy Poodles Oregon
If you're looking for Standard Poodles, NJoy Poodles can help. They raise their Poodle litters on 10 acres of land to help them grow and socialize well. They focus on breeding Poodle puppies in Oregon with quality conformation according to breed standards. With their versatility and positive temperaments, they are passionate about the Poodle breed.
As they only breed one litter a year, it's important to plan ahead if you're interested in a Poodle puppy from NJoy Poodles. Each puppy comes with dew claws and is socialized to be great companion pets. Families who are interested in a Poodle can complete a thorough application and submit a $500 deposit to secure their spot for an upcoming litter.
Poodle Breeder Details
Location: 29107 Fox Hollow Road, Eugene, Oregon 97405
Email: brenda@njoypoodles.com
Phone: 541-345-0057
Website: NJoy Poodle Puppies Oregon
3. Prarie Creek Poodles OR
For Praire Creek Poodles, family is the most important thing. Poodle litters are raised as part of the family on their 10-acre farm with lots of room for dogs to run and play. This setting provides a great environment for their Poodle puppies in Oregon to be raised and socialize before joining their forever family.
Photos of their new puppies are posted online so new families can browse and secure one they've got their eye on. However, keep in mind that these puppies are in high demand and there may be a waiting list to get your own puppy.
Families interested in adopting their own puppy from Prarie Creek can secure their spot with a $300 deposit. They provide contracts that include robust health information and guarantees so you can move forward in the adoption process with confidence.
Poodle Breeder Details
4. Liberty Miniature Poodles Oregon
If you're looking for a Miniature Poodle puppy for sale in Oregon, you can find what you're looking for at Liberty Miniature Poodles. Here, they specialize in Miniature Poodles, particularly with coats of red or apricot. With the high demand for these Poodle puppies, they have a lengthy waiting list. So if you're interested, don't delay.
As a small Poodle breeder in Eagle Point, Oregon, this husband and wife team have two dogs they breed. Their dogs are very involved in their family life and are well socialized prior to going to their forever home. They live in a house with a large yard which provides a great setting for their Poodles and puppies to run around and play. Each of the parent dogs is from championship bloodlines and come with full pedigree and health information.
Families who are interested in a Poodle puppy from Liberty Minature Poodles can complete a puppy application on their website. This in-depth questionnaire helps both you and them move forward in the adoption process with the right dog.
Poodle Breeder Details
5. Canzone Standard Poodle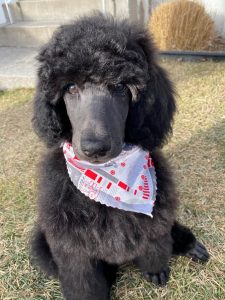 With a focus on quality in both temperament and appearance, the team at Canzone Standard Poodles produces puppies that are sure to delight. Their breeding process is intentional about socialization and getting them adjusted to living around others.
Each of the adult Poodles lives in their own home and is raised in a family setting. You can read all about the adult Poodles on their website so you know what to expect. With the level of exposure their Poodle puppies in Oregon receive as they are raised, they will be comfortable in a variety of settings.
Their Poodle puppies stay with them until nine weeks, and then they are available to be adopted into their forever homes. Each Poodle puppy for sale in Oregon comes with veterinarian checks and relevant vaccinations as needed. They also come with experience in potty training and crate training to make things easier for you. Puppies also come with a health guarantee for genetic issues found in Poodles. 
The team at Canzone Standard Poodles also pride themselves on having show Poodles of high quality and temperaments. With their experience and success, the puppies they breed can be expected to have the same level of quality and care.
Families who are interested in adopting a Poodle puppy from Canzone Standard Poodles can submit a deposit and complete an application to show their interest. They offer various helpful resources in moving forward in the adoption process as they seek to match the right puppy with the right family.
With their dedication to only selling puppies to responsible homes, their application process covers important details in confirming your ability to care for a pet at this time.
Poodle Breeder Details
More Information About Poodle Puppies in Oregon
The Poodle has become a very popular option for a variety of families and lifestyles, especially in the state of Oregon. With their curly coats and intelligent personalities, they continue to bring joy, companionship, and laughter to owners young and small. The AKC even ranks the Poodle breed #7 in popularity out of all 196 ranked purebred dog breeds.
The Poodle may be most commonly known for their curly coats that can be groomed in some fairly interesting ways. Yet beyond their appearance, their smart and friendly personalities make them adored by all.
Poodles also come in a variety of different sizes, including Standard, Miniature, and Toy varieties. This versatility helps you find the right Poodle that fits your family and lifestyle well. They come in several different colors, too, including black, gray, tan, and white.
When it comes to adopting a new Poodle puppy into your family, a breeder can be a great resource. When you choose a breeder, you tend to get greater access to the medical and genetic history of the puppy you want to take home. This helps to ensure that they will healthy long-term.
Poodle breeders in Oregon also help to socialize and start to train the puppy before allowing you to take them home to ensure a smooth and convenient process for both you and your puppy. If you're looking for a puppy where you know exactly where they come from and the level of quality you can expect, adopting a dog from a breeder can be a great way to go.
Conclusion for Poodle Breeders in Oregon
Whether your heart is set on a Poodle or you're still exploring some options, start by exploring some breeders in your area. You'll get a better sense of what the process of adopting a Poodle puppy looks like and ensuring that it's the right fit for you. Once you know you want a Poodle, you can move forward in the adoption process with confidence. Find your perfect Poodle with a breeder in Oregon from our list.
Garrett loves animals and is a huge advocate for all Doodle dog breeds. He owns his own Goldendoodle named Kona. In addition, he volunteers at the Humane Society of Silicon Valley, where he fosters dogs and helps animals. Garrett enjoys writing about Doodles and believes that dogs can teach humans more about how to live than humans can teach a dog.
Why Trust We Love Doodles?
At We Love Doodles, we're a team of writers, veterinarians, and puppy trainers that love dogs. Our team of qualified experts researches and provides reliable information on a wide range of dog topics. Our reviews are based on customer feedback, hands-on testing, and in-depth analysis. We are fully transparent and honest to our community of dog owners and future owners.