If you've ever had the pleasure of owning a Golden Retriever, you're well aware of the remarkable nature of this breed. Golden Retrievers rank among the finest companions any dog lover could hope for.
Although Golden Retrievers come in various sizes and coat colors, there are instances where owners may ponder why their particular dog stands out as notably larger than others of the same breed. So, what is the biggest Golden Retriever?
The magnificent giant breed of Golden Retrievers holds a position of great popularity among dog enthusiasts as the largest of the breed. These dogs embody the beloved Golden breed temperament, exhibit exceptional trainability, and excel in athletic endeavors.
These digs weigh well above the standards and have an exceptional height. Two of the most famous largest retrievers are Kai and Samson: friendly and gigantic dogs, as well as perfect good boys.
Before reading this guide, "How Large Is the Biggest Golden Retriever," check out: How Large Is the Biggest Cockapoo? (2023) and How Large Is the Biggest Rottweiler? (2023).
The Giant Breed Golden Retriever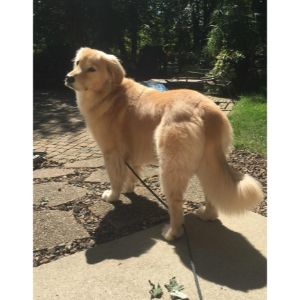 The Golden Retriever breed is renowned for its affectionate, devoted, and playful nature. These dogs also exhibit a wide range of sizes and coat colors.
A giant breed Golden Retriever refers to an individual surpassing the breed's average height and weight. Multiple factors can contribute to a Golden Retriever's size. Sometimes they are born that way! Their limbs may grow longer, and their bones larger than other dogs of the same breed.
It would be helpful to examine the size of your dog's parents. If both parents are significantly larger Golden Retrievers, the likelihood of your dog being giant-sized increases.
However, even if your dog's parents are small, there is still a chance for the puppies to become giant Goldens. One owner shared that their dog weighs 126 lbs., while the father only weighs 88 lbs.
Another owner mentioned that their two female Golden Retriever siblings weigh 90 and 95 lbs. Their parents were only 55 lbs. (female) and 65 lbs. (male)! That serves as proof that puppies can exceed the size of their parents.
Aside from genetics, various non-genetic factors can contribute to a Golden Retriever becoming giant-sized.
One common reason for a significant size difference between Golden Retrievers is simply being overweight — often from overeating, thyroid issues, or lack of exercise.
History of the Giant Golden Retriever
Despite the noticeable size difference, giant Golden Retrievers share the exact historical origins as standard Goldens.
In the 1800s, Golden Retrievers came into being as hunting dogs in Scotland and the United Kingdom, which explains their inherent athleticism. They aimed to excel in swimming, running, retrieving, and hunting.
Giant Goldens possess the same characteristics and temperament as their standard-sized counterparts; they are just more prominent in stature. However, despite their size, they retain their endearing qualities.
Giant Golden Retrievers are known for their immense love, sweetness, calm demeanor, and remarkable ability to make wonderful family pets.
Weight
Giant breed Golden Retrievers are widely recognized for their considerable height and weight, surpassing the standard size of the breed.
Typically, giant Golden Retrievers range between 25 to 34 inches in height and weigh anywhere from 70 to 120 lbs. However, the exact weight and height can vary based on gender, health condition, diet, exercise, and genetics.
Many owners of giant Golden Retrievers have observed that their dogs possess notably long legs and bodies, a distinctive characteristic of the giant breed. One owner even mentioned that their giant Golden Retriever resembled an Irish Wolfhound — a breed known to weigh between 115 to 180 lbs. and reach 32 to 35 inches tall.
The disparity in height and weight between giant Golden Retrievers and the standard breed is evident. Typically, a standard male Golden stands between 23 to 24 inches tall and weighs 65 to 75 lbs. Meanwhile, female standard Goldens are slightly smaller, averaging 21 to 23 inches in height and weighing 55 to 65 lbs.
Suppose you own a giant breed Golden Retriever and have concerns about its weight. In that case, it is advisable to consult a veterinarian to ensure they are not experiencing weight or other health problems.
Giant Golden Retriever Puppies
You may also wonder about the size of a giant Golden Retriever puppy. Standard-sized Golden pups generally weigh around 14 to 16 ounces; however, individual puppies may vary. If your puppy belongs to the giant breed category, it will likely weigh more than this at a young age.
Distinguishing a giant breed Golden puppy from a standard breed one is usually apparent, as the giant breed pup will appear larger even at a very young age.
Around eight weeks old, a standard Golden puppy weighs approximately 10 lbs. For a giant breed Golden, you can expect them to weigh the same or even more while also being longer and taller.
Remember that it takes longer for giant breed Golden Retrievers to reach their full height and weight. Expect your dog to reach full maturity by the age of two.
Furthermore, it's important to note that just because one puppy in a litter is significantly more extensive and will become a giant-sized Golden, it doesn't guarantee that everyone in the litter will be big.
Several Golden Retriever owners have also mentioned instances where one of their dogs from the same litter is significantly larger. At the same time, the other is considerably smaller, showcasing the natural variations in size within a litter.
Personality
Many Golden Retriever owners often assume that giant breed Goldens may possess a different temperament compared to their standard-sized counterparts. However, this assumption is unfounded.
Giant Golden Retrievers maintain the same easygoing, playful, and friendly personalities as their standard-sized counterparts. They are brilliant and obedient, making them outstanding canine companions.
While Golden Retrievers naturally exhibit calmness, intelligence, kindness, and trust, providing early socialization for giant Goldens remains essential.
Early socialization exposes them to various social settings, allowing them to develop comfort and readiness for interactions with humans and other dogs, similar to many other dog breeds.
Given their athletic background, regular exercise is vital for giant Golden Retrievers. Regular physical activity helps them maintain a healthy weight and contributes to overall well-being.
It is crucial to consider whether owning a giant breed Golden Retriever suits you and your family. This breed requires specific living arrangements to maintain their happiness and well-being.
Life Expectancy
It is widely known that smaller dogs tend to have longer lifespans than larger breed dogs, primarily due to the reduced strain on their bodies.
The standard Golden Retriever breed typically has a lifespan of 10 to 12 years. However, giant Golden Retrievers may have shorter lives due to the increased strain on their bodies resulting from their large size.
The size-related challenges giant-breed Golden Retrievers face can significantly impact their life expectancy. Moreover, their size predisposes them to various health issues, including:
Thyroid problems
Cancer (which is prevalent in the Golden breed)
Arthritis
Cataracts
Obesity
Given the considerable size of giant Golden Retrievers, it's crucial to maintain a healthy diet for them. While this breed may require more food than smaller Goldens, avoiding overfeeding them and ensuring they receive a balanced and appropriate diet is essential.
Kai — One of the Biggest Golden Retrievers
While the majority of golden retrievers typically weigh under 75 pounds, there are always some exceptional individuals who break records.
One such case is Kai, a Golden Retriever who gained attention for his staggering weight of 173 pounds when he was initially adopted. However, it's important to note that Kai's excessive weight was not a result of his natural size but rather a dangerous state of being overweight.
Frequently Asked Questions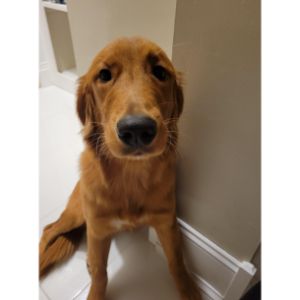 What is the largest Golden Retriever?
The largest recorded Golden Retriever is a dog named "Samson." Samson, who lived in the UK, weighed around 140 pounds (63.5 kilograms) and stood at an impressive height of 6 feet 4 inches (1.93 meters) when measured on his hind legs.

He gained recognition as one of the largest Golden Retrievers documented. However, it's important to note that the size of Golden Retrievers can vary, and individual dogs may differ in size and weight.
Can a Golden Retriever weigh 100 pounds?
Yes, a Golden Retriever can weigh around 100 pounds. While the average weight range for a Golden Retriever is typically between 55 to 75 pounds, there can be variations among individuals within the breed.

Some Golden Retrievers may naturally have a larger build or be heavier, which could result in a weight of around 100 pounds.

However, it's essential to ensure that a dog's weight is within a healthy range and not due to excessive weight gain or obesity, as maintaining a proper weight is essential for their overall well-being. Regular exercise, a balanced diet, and veterinary guidance can help ensure a Golden Retriever stays healthy regardless of size.
Is there a large breed of Golden Retriever?
While there isn't an officially recognized separate breed of "large Golden Retrievers," there can be size variations within the Golden Retriever breed. Some Golden Retrievers may naturally be more extensive, often called "giant" or "big-boned" Golden Retrievers. These larger individuals can exceed the breed's average weight and height range.

It's important to note that the size variation is typically within a reasonable range and not to the extent of being classified as a different breed. These larger Golden Retrievers may have a more robust build, longer limbs, and a heavier weight than the standard-sized Golden Retrievers.

However, regardless of their size, all Golden Retrievers share the same breed characteristics, temperament, and qualities that make them beloved companions.
What are large Golden Retrievers called?
There isn't a specific name or classification for large Golden Retrievers within the breed itself. "large Golden Retrievers" is often used to describe Golden Retrievers that are larger than average or standard-sized individuals.

Sometimes they show up as "giant" or "big-boned" Golden Retrievers. However, it's important to note that these terms are informal and not officially recognized as separate breeds or varieties within the Golden Retriever breed.
Conclusion for "How Large Is the Biggest Golden Retriever"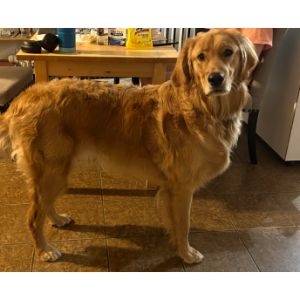 Giant breed Golden Retrievers are a fascinating variation within the Golden Retriever breed. While they exceed the standard size and weight range, they still possess the same lovable temperament and qualities that make Golden Retrievers such wonderful companions.
The size difference can be due to genetics and non-genetic factors, including overweight issues. Despite their larger size, giant Golden Retrievers require the same care, exercise, and socialization as their standard-sized counterparts.
However, it's important to note that their size may predispose them to specific health issues and potentially affect their lifespan. Ultimately, owning a giant breed Golden Retriever requires careful consideration and dedication to their well-being to ensure they lead a happy and healthy life.
If you find this guide, "How Large Is the Biggest Golden Retriever," helpful, check out:
Learn more by watching "Golden Retriever: The Pros & Cons of Owning One" down below: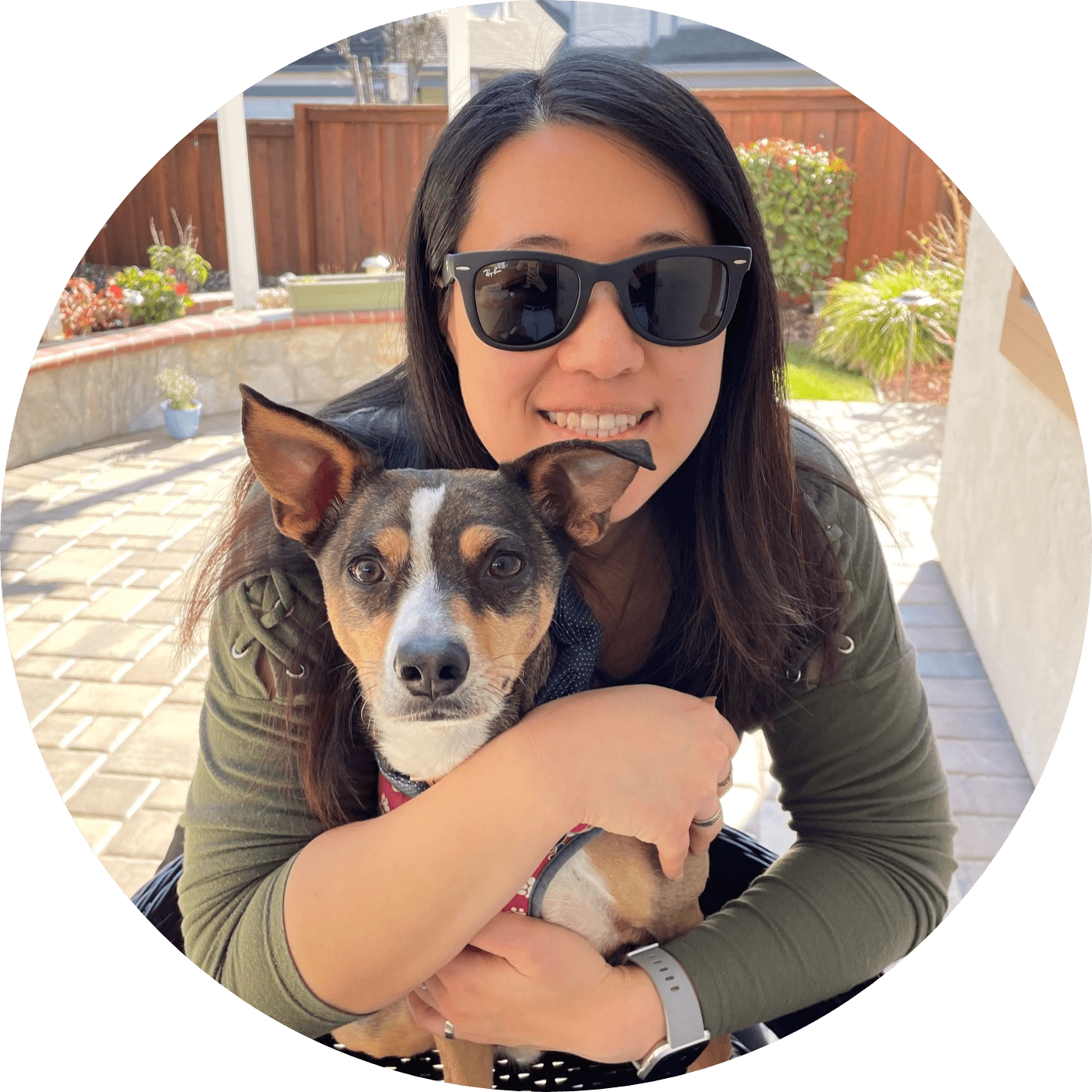 Dr. Sabrina Kong graduated from the Royal Veterinary College in England in 2016 and has been working at a small animal clinic in Northern California since then. She grew up in the Bay Area and got her bachelor's degree from Cal Poly San Luis Obispo. She also became a Certified Canine Rehabilitation Practitioner through a program at the University of Tennessee.
When she isn't in the clinic taking care of her four-legged patients, she enjoys traveling and trying new foods with her friends and her three-legged dog, Apollo. She adopted Apollo from her clinic when he was a puppy with numerous health issues. Dr. Kong truly cares about taking care of animals.