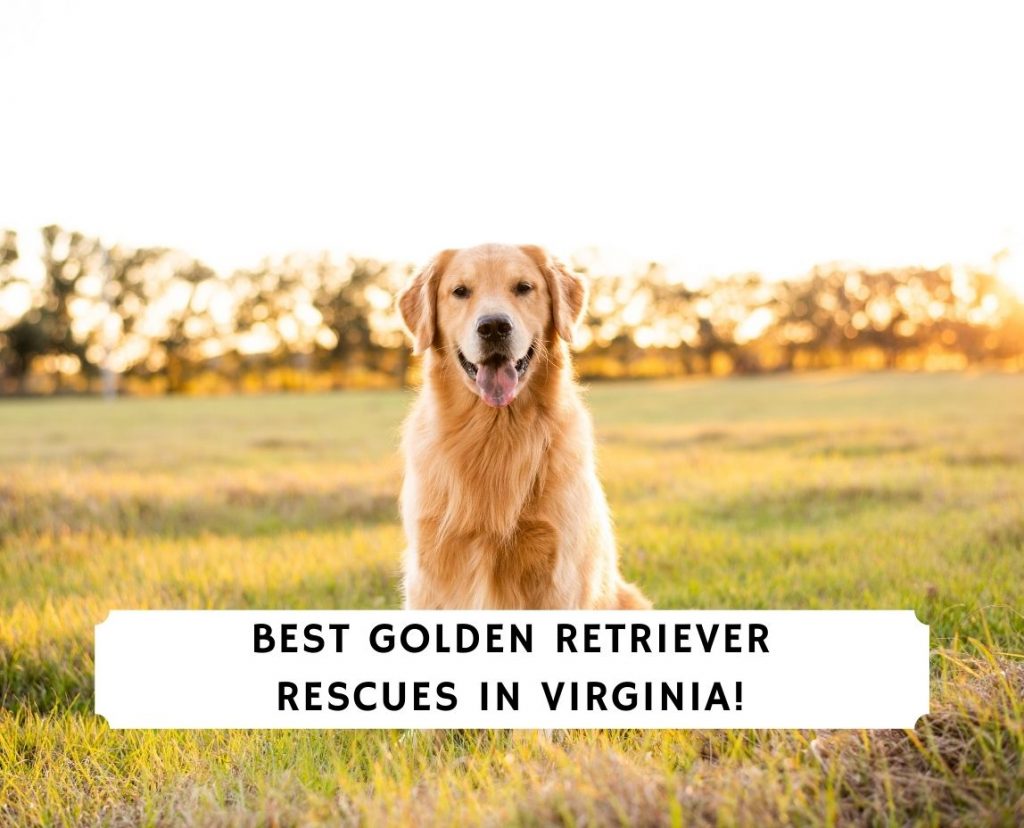 Adopting Golden Retrievers can be rewarding in life because you're saving a dog's life. Nevertheless, it's an important decision with several considerations. Adopting a Golden Retriever demands a long-term commitment and requires the help and support of all family members. Numerous reasons exist for rescuing a Golden Retriever, but the most important one is that you'll give a beautiful and deserving dog a loving home and another chance.
Rescue organizations in Virginia help Golden Retrievers who need a new home. While they typically have minimal information regarding the dogs' medical history or background, they make every attempt throughout their fostering period to evaluate the Golden Retrievers in their care. Moreover, the Golden Retriever rescues in Virginia have qualified vets who assess their dogs and treat their discovered conditions. If you're thinking of adopting a Golden Retriever in Virginia, consider these organizations and know what to expect.
Check out these other articles: 7 Best Golden Retriever Rescues Around the U.S. and Golden Retriever vs Goldendoodle.
1. Golden Retriever Rescue Education And Training (GRREAT)
GRREAT is a not-for-profit organization that's committed to locating a new home for stray, abandoned, and unwanted Golden Retrievers. The organization serves the states of Delaware, Maryland, Virginia, the District of Columbia, and eastern West Virginia.
The staffing at the organization comprises mostly of volunteers and the organization places about 100 Golden Retrievers annually while striving to inform the public on the breed's characteristics and the rewards associated with giving a rescued home a dog.
Most of the dogs that end up here usually come from previous owners although they still collaborate with local shelters and welfare organizations and sometimes get puppies. All their Golden Retriever rescues in Virginia are placed into a foster home and undergo an evaluation of their habits, temperament, medical requirements, and energy level.
Upon rescuing a dog, they spay / neuter them, test them for intestinal parasites, and update vaccinations. Many of the Golden Retriever rescue dogs are less than 5 years old. However, the organization receives puppies aged below one occasionally – typically from abandoned litters.
This Golden Retriever rescue in Virginia depends on donations to cover the costs associated with treating rescued dogs – many of whom come with health needs, requiring instant and costly attention. Besides cash donations, people are welcome to donate dog-related supplies that they provide to the foster families looking after their rescued dogs.
The rescue periodically hosts Adoption Days during which all their dogs are brought to a central location and the rescue invites the public and pre-approved applicants to come and meet the dogs. While only pre-approved applicants are eligible to adopt at such events, they provide a good opportunity to view dogs of different ages, genders, and temperaments.
Golden Retriever Availability
Approved applicants receive a list of available dogs throughout the year. The list will typically comprise of basic information regarding each Golden along with the contact information of the person providing foster care.
The foster home will perform a telephone interview and if both parties agree then they will schedule a meeting to discuss the dog comprehensively. The foster home will then make the final decision per GRREAT's principles and their evaluation of the dog's needs.
Surrendering a Golden Retriever Rescue at GRREAT
If you own a Golden Retriever in Virginia and you can no longer care for them you can surrender your dog at this rescue. To give up your Retriever at this organization, an assistant will interview you to obtain information regarding your Golden, at which time you'll need to sign a legal document for transferring responsibility and dog ownership to the rescue organization.
If possible, you'll need to provide previous health and medical records. Upon signing over the Golden Retriever, you won't have further contact with the dog or the foster home. However, you could still contact the organization to find out how your Golden Retriever is doing.
Golden Retriever Adoption Process
An interested family fills out an application and mails it to the application coordinator. This step takes 1-2 days.
The coordinator will evaluate all applications and acknowledge the receipt of the application. During this phase, the coordinator might request extra information where necessary. The coordinator will then inform the coordinator responsible for home visits that the interested family is prepared for the home visit. GRREAT obtains 1000 applications annually. This step takes from 1-10 days
The visit coordinator will allocate the visit to an available volunteer who'll contact the applicant to schedule time for meeting the entire family. This step will take 1-10 days.
The volunteer will visit the interested applicant in the company of a dog. They'll explain the adoption process through GRREAT and will answer and ask any questions that might arise. This will take 1-2 hours.
Once the visit ends, the volunteer will generate a report using a particular form. The form will indicate the family composition, dog savviness, and environmental details. These details enable a foster home to make a good match. This step will take 1-5 days.
The application coordinator will receive the visit report through mail. Upon reviewing it for completeness, the application coordinator will send it to the adoption coordinator. This will take 1-5 days.
The adoption coordinator will determine whether a match exists by examining the home visit and application. If approval takes place, the adoption coordinator will mail the approval letter and list of available dogs along with the contact information of the foster home.
Golden Retriever Rescue Information
2. Almost Heaven Golden Retriever Rescue and Sanctuary (AHGRRS)
The non-profit organization in West Virginia accepts senior Golden Retriever rescues or those with special needs from owner surrenders, shelters, and other rescue groups. Some of the dogs remain at the rescue until they find a new home while others are there to stay for the rest of their lives.
This Golden Retriever rescue in Virginia doesn't turn away any dog because of health or age. They welcome even sick young dogs who often find placement in foster homes after they obtain any essential medical treatment and undergo an assessment for placement.
The Golden rescue also accepts mixed Golden Retriever breeds provided there's space and the dog appears to be a Golden Retriever with a similar personality. This rescue depends on grants, donations, and fundraising activities to operate. Therefore, they're always accepting food, supplies, and money even if you're not ready to rescue or adopt.
The rescue's goal is to find permanent homes for orphaned Golden Retriever rescues in Virginia of all genders, breeds, and ages. They concentrate on rehoming special needs and senior dogs. Moreover, they offer sanctuary and hospice for those who enter the program but don't find a home.
Although they seek to help as many dogs as possible, they stay true to their mission of accepting every Golden Retriever. Dogs adopted from this rescue undergo spaying/neutering and are updated on vaccinations. The rescue has a minimum adoption fee, which ranges between $275 to $650 based on the breed and age. However, it might charge more for young Golden Retrievers and those graduating from their obedience program.
The dog rescue charges adoption fees to offset expenses incurred upon rescuing a dog. Their priority when placing a dog is finding a home that meets its needs rather than operates on a first-come-first-served basis. It's worth noting that AHGRRS can take a dog back in case an adopter can't care for it any longer.
A selected adopter must be willing to dedicate two weeks for the dog to settle into the new home. This rescue won't place a Golden Retriever rescue in a home where other pets exist if it's not certain the dog will get along with other pets.
Golden Retriever Rescue Information
3. Southeastern Virginia Golden Retriever Rescue – SEVA GRREAT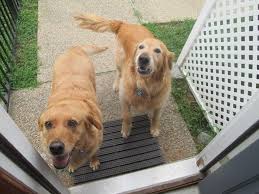 The non-profit organization rescues unwanted and abandoned Golden Retrievers before placing them in approved homes. They also accept dogs from owners who can no longer keep them. The organization obtains funding mostly from volunteers, donations, fundraising, and grants while the adoptive fees help offset the medical expenses.
They have evaluators who interview prospective applicants and conduct home visits to ensure the home is safe. They conduct thorough vetting on every Golden Retriever that comes through their care and don't just rescue dogs. They also educate adoptive families and the public.
Since 1990, the organization has saved over 1,500 Retrievers' lives and each one of them has found beautiful, loving, and permanent homes. The Golden Retriever rescue services Eastern and Central Virginia and can reject any application without disclosing the grounds for denial. Furthermore, they don't function on a first-come-first-served basis. Rather, their main concern is locating the best match for each Golden Retriever and adoptive family so they never end up in a dog rescue or shelter again.
The adoptive process can take from a couple of weeks to a year. The dog rescue believes that all Golden Retrievers deserve an opportunity regardless of their birthplace. As such, they've rescued more than 60 homeless Retrievers from Turkey to date. They're expanding their endeavors in China where this breed is under threat because of a Beijing law that stipulates that a dog that's over 35 cm in height is illegal and can be locked up or put down upon interception by the police.
Before they're shipped to the U.S., the Golden Retriever rescue takes them through vetting, testing, and treatment. They're also vaccinated and microchipped while the rescue obtains the necessary permits.
Golden Retriever Rescue Information
Conclusion for Golden Retriever Rescues in Virginia
Numerous dog rescue groups exist in Virginia, and while some specialize in particular breeds, others rescue mixed breeds of all kinds. Ensure the rescue organization you're dealing with is legitimate and will take the time to locate a suitable adoptive home to match the dog's personality and needs.
A genuine rescue group will need detailed information regarding your dog, medical records, and will issue a receipt for taking your dog. You should equally be in a position to verify the handling of your pet before adoption. We've identified three of the best Golden Retriever Rescues in Virginia. Even though this dog breed is in high demand, it's worth it to at least try and rescue before purchasing from a breeder. Every year, more than 1.5 million animals are euthanized.
Other articles you will like:
Garrett loves animals and is a huge advocate for all Doodle dog breeds. He owns his own Goldendoodle named Kona. In addition, he volunteers at the Humane Society of Silicon Valley, where he fosters dogs and helps animals. Garrett enjoys writing about Doodles and believes that dogs can teach humans more about how to live than humans can teach a dog.
Why Trust We Love Doodles?
At We Love Doodles, we're a team of writers, veterinarians, and puppy trainers that love dogs. Our team of qualified experts researches and provides reliable information on a wide range of dog topics. Our reviews are based on customer feedback, hands-on testing, and in-depth analysis. We are fully transparent and honest to our community of dog owners and future owners.