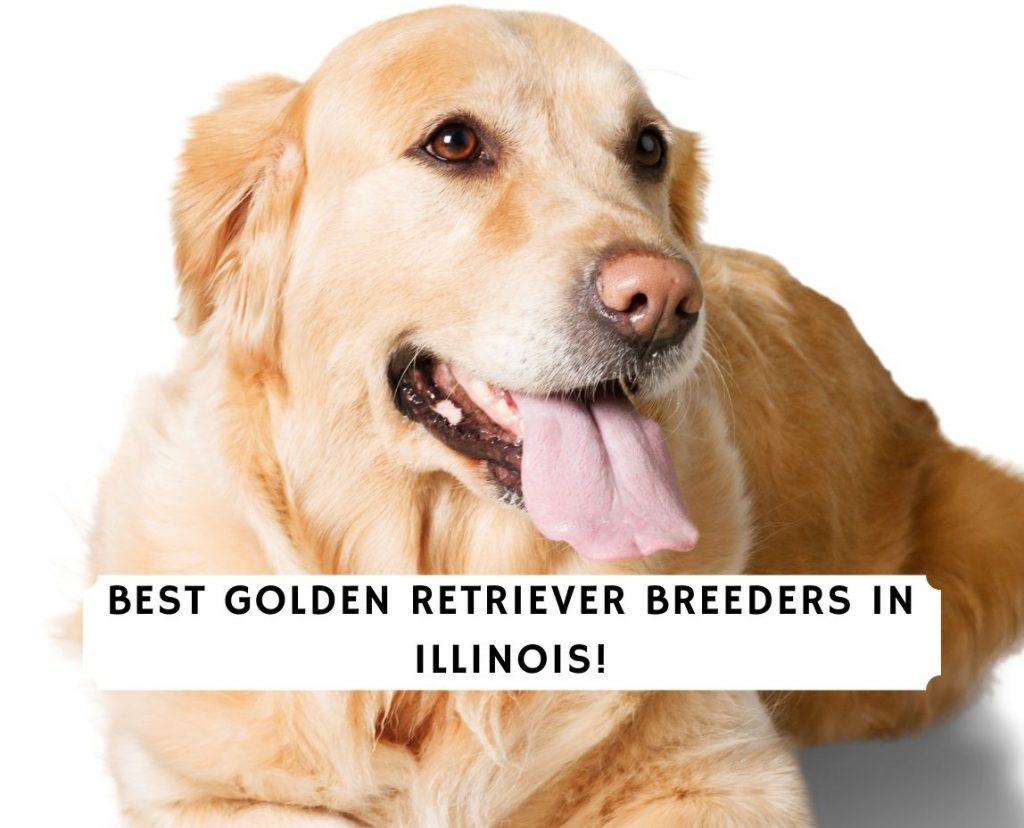 Are you searching for the best Golden Retriever breeders in Illinois? If you love having a companion for the great outdoors or are looking for a canine to encourage your exercise routine, a Golden Retriever could be a great fit for you. This dog breed is known to have an excellent personality and make great companions for anyone who's looking to reignite their youthful energy. In the mid-19th century, Goldens were developed as hunting dogs in Scotland, awarding them their hunting-dog-title. Thanks to the canine's various physical adaptions like their long tails, waterproof fur, and webbed feet, Golden Retrievers even make great swimmers and are suited for rescue operations.
Another trait worthy of mention is their excellent sense of smell, one of the best among all dog breeds, adding to their fitness to be rescue dogs or police helpers. All in all, Golden Retrievers have many excellent traits which are why you'll see so many Golden Retriever puppies for sale in Illinois. We will help your research to find the best breeders.
Other articles you might be interested in: Best Golden Retriever Rescues.
Best Golden Retriever Puppies For Sale in Illinois
If you plan on taking the next step and get this wonderful puppy companion, then you need a great breeder. An ideal breeder would help with the selection process and offer you a healthy and happy dog. For folks in Illinois, here are our top picks for the best Golden Retriever breeders in your state.
1. Sievers Kennels Illinois
With over forty years' experience in dog breeding and grooming, it's little wonder why Sievers Kennels snagged the first place on our breeder's list. Their website slogan, "A friend for life" is sheer proof that Sievers works hard at delivering nothing less than promised.
This wonderful kennel has been in operation since 1975 and has gained 5-of-5 stars credibility in breeding Golden Retrievers and Labradors in the state. Additionally, all of Sievers Kennel's puppies are registered through the United Kennel Club (UKC) or American Kennel Club (AKC) meaning the ancestral line of the dogs is properly tracked and recorded.
Genetic tracking provides valuable information for owners and breeders, as they would be able to make more informed decisions when it comes to matching genes and tracking a puppy's health. When it comes to breeding Golden Retrievers with optimal health, temperament, and trainability, Sievers Kennels is one of the best Golden Retriever breeders in Illinois. You may reach out to them via their online contact address or pay them a visit in Brussels.
Sievers Kennels Details
2. Carriage Hill Goldens IL
Owned by a canine-loving couple, Margie and Don Hanson, Carriage Hill Goldens is yet another great option for Golden Retriever puppies. Even though they are a growing brand, Carriage Hill Goldens takes the health and well-being of their canine pack very seriously. All their Goldens have health clearances on hip and elbow arthritis (a health condition that's quite common in the Golden Retriever breed) from the Orthopedic Foundation for Animals (OFA) and have been cleared of ophthalmological conditions as well.
And unlike many other Golden breeders in Illinois, Carriage Hill provides a dog training program. The weekly and eight-session long training is designed to help teach obedience. This activity encourages responsible pet ownership and helps you better warm up to your canine companion. Should you decide on taking your puppy to pet competitions and shows, Carriage Hill Goldens helps you through the AKC registration process and may help extend and intensify training sessions to improve your puppy's level of sportsmanship.
All in all, if you wish to get a "quality golden for family companions, obedience, and show," Carriage Hill Goldens is the one to call. They are located in Ozark, Illinois.
Carriage Hill Goldens Details
3. Camcon's Golden Acres
The Obermeier family has been running Camcon's Golden Acres since 2004. Even though they don't run a large kennel, these folks do their best in breeding hearty Golden Retrievers and Goldendoodles for family, friendship, and sporting purposes. In a bid to ensure your puppy gets a healthy set of genes, Camron's adult Golden Retrievers are OFA certified for hip and elbow arthritis and undergo routine medical checks to make sure they remain healthy.
Furthermore, to make sure your puppy leaves in good health, all dogs are microchipped and given their first round of shots before leaving. With a social upbringing in a family environment and by training puppies to undergo field activities, Camcon does its best at making sure your Golden Retriever offers a perfect blend of sportsmanship and friendship. All their Golden Retriever puppies in Illinois from past breeds have become great family members, utility dogs, duck hunters, support dogs, and compete in several state championships.
Camcon's Golden Acres strives to offer the very best bloodlines at a fee the average family can afford. They are located in Okawville, Illinois.
Camcon's Golden Acres Details
4. Kingsly Golden Retriever Breeders
Kingsly currently houses several healthy adult Golden Retrievers with outstanding genes. Their adult dogs are in good health, they have excellent scores on hip arthritis and eye tests, remarkable personalities, and impeccable physical qualities.
Before breeding for new Golden Retriever puppies in Springfield, Illinois, each adult dog would be tested for several conditions and the puppies' get a Kennel Club Inbreeding Coefficient Prediction Score. The latter would help breeders make the right decisions about pairing parent dogs' features such as suitability, health, and temperament.
Kingsly ensures that all Golden Retriever puppies for sale in Illinois get vaccinated, dewormed, and exposed to social situations like car rides and outdoor activities to foster interaction. If you'd like a Golden Retriever puppy that displays all these attributes, be sure to reach out to Kingsly for further inquiries.
Kingsly Golden Retriever Details
5. Lakeview Goldens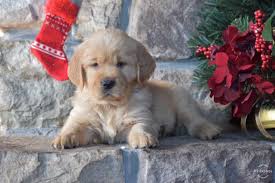 With the way Goldens are bred at Lakeview Goldens, anyone would agree that experience does matter. With over 25 years' experience in breeding Golden Retrievers and a steady record of delivering excellent breeds, Lakeview Goldens shows how important it is to invest in the right breeding kennel. The kennel's adult dogs are housed in large gravel kennels to make sure they remain comfortable no matter the season and are exercised daily on the property's fenced yard (one being a 5-acre yard and the other being 1.5 acres).
This plays a huge part in developing strong, healthy dogs with wonderful personalities. Also, all dogs are vaccinated annually and given a heart-worm preventive once a month. Should you decide to get your Golden Retriever puppy at this kennel, it would be whelped in a clean and sanitary environment with favorable temperatures.
Also, Lakeview Goldens would take extra care of your puppy by ensuring proper feeding and carrying out stimulation exercises to foster the body and mind. In a nutshell, Lakeview Goldens makes an excellent breeding ground for Golden Retrievers. While they aren't located directly in Illinois, they are close by the neighboring state of Wisconsin.
Lakeview Goldens Details
6. Goldridge Golden Retrievers
Goldridge has been in operation as far back as 1981. All Golden Retrievers that pioneered the ancestral line were canines with great personalities that displayed excellent sporting abilities. Several times in the past, dogs from Goldridge Golden Retrievers bagged several awards including companion titles, obedience titles, and other championship awards.
It gets interesting when you find out the kennel is run by the past president of the Chesapeake Golden Retriever club, Joan M. Taylor, who is still a member of the Golden Retriever Club of America. Needless to say, Joan is well experienced in ensuring your Golden Retriever puppy is raised in favorable conditions. With Goldridge, you can be assured that your puppy would be bred and screened for heart/eye diseases. You may check out their current litter list on their website, or reach out via email for further inquiries.
Goldridge Golden Retrievers Details
Conclusion For Golden Retriever Breeders in Illinois
There you have it, your go-to guide for great Golden Retriever breeders in Illinois. There are many reasons to consider getting a Golden Retriever puppy. Their beautiful personalities shine through and can melt even the hardest of hearts. Additionally, their physical advantages and easygoing temperaments make them suited for numerous jobs and activities. Of course, the best way to magnify these beautiful traits in this canine is by contacting the right breeders. Make sure you're well-informed before making a decision. It's not a crime to ask as many questions until you're satisfied. Good luck finding your next puppy!
If you're debating between the Golden Retriever between other dog breeds, you might want to check out other breeders in Illinois:
To learn more about the Golden Retriever dog breed, you might find this video helpful:
Garrett loves animals and is a huge advocate for all Doodle dog breeds. He owns his own Goldendoodle named Kona. In addition, he volunteers at the Humane Society of Silicon Valley, where he fosters dogs and helps animals. Garrett enjoys writing about Doodles and believes that dogs can teach humans more about how to live than humans can teach a dog.
Why Trust We Love Doodles?
At We Love Doodles, we're a team of writers, veterinarians, and puppy trainers that love dogs. Our team of qualified experts researches and provides reliable information on a wide range of dog topics. Our reviews are based on customer feedback, hands-on testing, and in-depth analysis. We are fully transparent and honest to our community of dog owners and future owners.