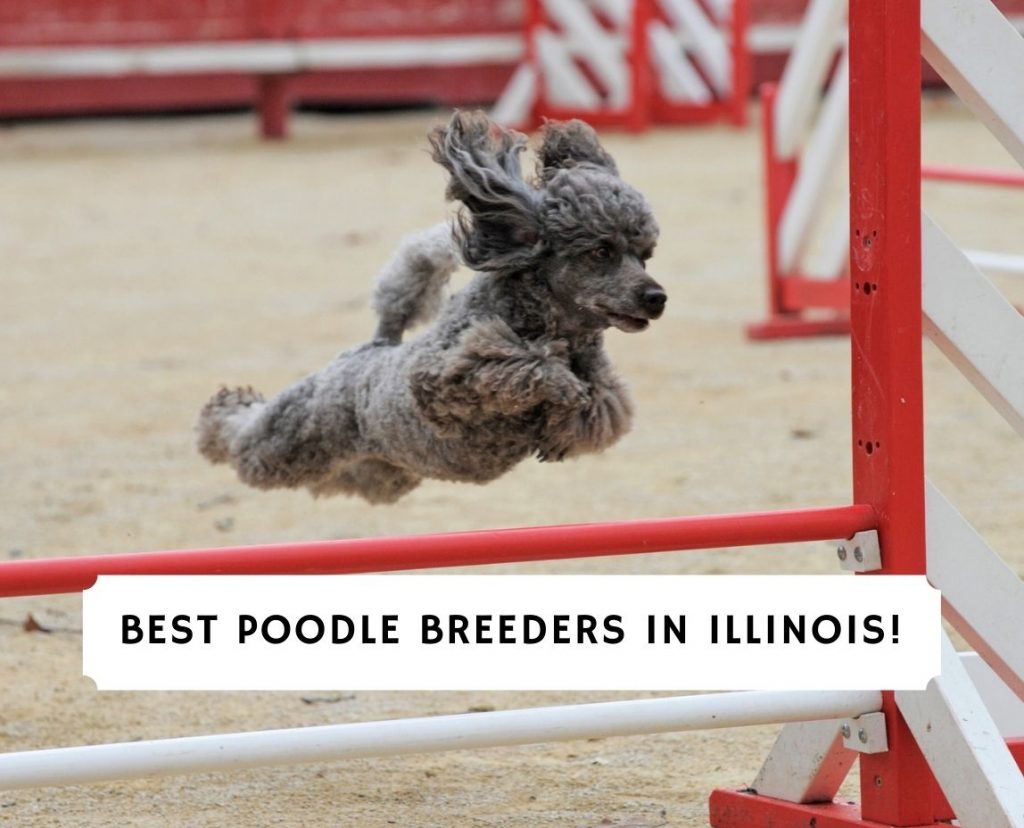 Poodle puppies for sale in Illinois have become extremely popular in the last few years due to their hypoallergenic and nonshedding coats. In addition, they are considered one of the smartest dog breeds in the world. If you're looking for a Poodle puppy then one of the hardest tasks will be to find a reputable breeder.
We've done our own research to find some of the best Poodle breeders in Illinois. We specifically looked for breeders who cared for their puppies, did health checks on the parent dogs, and provided genetic tests. However, it's always important to do your own research as breeding practices change! We hope you find your next Poodle puppy in Illinois!
Other articles you will like: Best Dog Food for Poodles and Poodle vs Labradoodle.
1. Awesome Paws Poodles Illinois
Awesome Paws is a premier Illinois dog breeder specializing in Poodle breeds such as Moyen Poodles, Aussiedoodles, and Bernedoodles. With 25 years of experience, they pride themselves on the quality, temperament, personality, and health of their puppies.  
Their Poodle puppies in Illinois are socialized from Day 1. They are raised in their home with kids, cats, and dogs of all sizes so they will experience new sites and sounds. In addition, the puppies are raised with manners such as no jumping, mouthing, biting, or constant barking.
Each of Awesome Paws' Poodle puppies come with a health guarantee. This guarantee covers a puppy until five years of age against any genetic or congenital disorder that adversely affects the health of the puppy.
In order for the guarantee to be valid, the purchaser must have the puppy examined by a licensed veterinarian within three days of receiving the puppy. Additionally, in the case where the puppy is purchased for breeding, a health certificate should be acquired, and a copy should be forwarded to Awesome Paws within seven business days. If the veterinarian determines that the puppy is not in good health, then you may return the puppy to Awesome Paws for a full refund of the purchase price.
To purchase a Poodle puppy for sale in Illinois from Awesome Paws, a $500 non-refundable deposit is required.  The balance must be paid in full when you pick up the puppy. A puppy application must also be filled out by a potential adopter. This application is to make sure the adopter is a suitable match for one of their Poodle puppies in Illinois. Awesome Paws also verifies your home situation to make sure you are able to care for a puppy.
Prices for Awesome Paws Poodle puppies depends on the exact breed of dog chosen but can range in the amount of $2,500. For more information and exact pricing, contact Awesome Paws via their email or by phone. This is one of the best Poodle breeders in Illinois if you're looking for Moyen or Miniature sizes.
Poodle Breeder Details
2. Natalie's Poodles Illinois
Natalie's Poodles is a responsible breeder of standard Poodles based in rural Harrisburg, Illinois. They are a participant of AKC's Breeder of Merit program.
At Natalie's, they produce and show quality standard Poodles. Each of their Poodle puppies in Illinois has a three-year health guarantee and lifetime support to guard against anything that may happen when the new puppy is adopted. Natalie's Poodles is a breeder that is interested in maximizing their standard Poodles health and improving the breed. Their standard Poodles compete in conformation, obedience. and agility in the show dog world.
They limit themselves to only selectively breeding their Poodles. In addition, they routinely test for all health and genetic issues like thyroid, hips, elbows, eyes, and other disease. The purpose of these tests is to improve the standard Poodle breed and to have healthy, well-rounded Standard Poodle puppies for sale in Illinois.
At Natalie's Poodles, they do not ship their dogs. For full pricing and more information, contact them via their email or by phone.
Poodle Breeder Details
3. Stonewick Poodle Puppies
Stonewick Poodles is a family breeder of Standard, Toy, and Miniature Poodles located just across the Illinois state line in Martinsville, Indiana. They strive to further the Poodle breed by careful breeding for conformation and a confident personality. Stonewick only has a few litters a year as to not stress the parent dogs.
The mothers are beloved pets, either Stonewick owners' personal pets or part of their guardian program. The Poodle puppies are a part of the Stonewick family for life if they are part of the guardian program. The puppies are handled daily and are socialized with the various noises common to a household.
To adopt a Stonewick Poodles puppy, an application must be filled out as well as a deposit of $200 before the new litter is born and an additional deposit of $300 once the litter has been born. All money paid for both the waitlist and deposits goes towards the final balance of your Poodle. Puppies will come with their AKC papers, they will have their tails docked and dewclaws removed, and they will have had their first set of shots.
There Poodle puppies in Illinois will also have had a complete head to toe veterinarian examination before going to their new homes. Stonewick does offer a health guarantee on all of their puppies. Their Poodles puppies for sale vary by size, color, and gender. Contact them directly for full pricing.
Poodle Breeder Details
4. AKA Doodles and Poodles Illinois
Since its inception in 2002, AKA Doodles and Poodles is one of the top recommended breeders in Illinois. They are known for their Poodles, Goldendoodles, Australian Labradoodles, and Labradoodles.
AKA is a family-run Poodle breeder in northern Illinois. Their puppies are raised by their family spanning all age groups, making sure their puppies are well socialized with other dogs as well as humans both old and young.
Many of AKA Doodles and Poodles dogs go on to become therapy dogs and many have officially earned their Therapy Dogs International and Canine Good Citizenship recognitions. All of their dogs are health tested for common breed problems. All their Poodle puppies in Illinois also have a health guarantee as well.
AKA's warranty is for two years after the date of sale against any debilitating congenital defects. They also guarantee the Poodle puppy is in good health, has had its first round of immunizations, has been dewormed, and spayed or neutered at the time the buyer takes possession.
The buyer has three business days to take the puppy to a veterinarian for a health examination. If the Poodle puppy is found to be in poor health, the buyer has the option of returning the puppy to the AKA Doodles and Poodles, at the buyer's cost for a full refund.
Prices for an AKA Doodles and Poodles range in price depending on the exact dog breed. For full pricing and any other information, contact them directly via their website.
Poodle Breeder Details
5. Red Door Poodles Illinois
Red Door Poodles Illinois is a small family run business where their standard-sized Poodles are their spoiled pets. They believe that the first eight weeks of a puppy's life are essential to their development and so spend hours with their Poodle puppies working with them in a safe environment and giving them the foundation to become well-rounded loving family pets.
The Poodle puppies are raised in the middle of Red Door's family kitchen where they are handled daily by adults and children. They are socialized to different people of varying ages and are accustomed to all the different household noises from the very beginning.
Red Door Poodles uses the dog's natural instinct to keep their den clean to start potty training as soon as they are born. This sets their Poodle puppies up for easier potty training when they go to their new adopted homes.
To be placed on Red Door's waiting list, a $200 non-refundable deposit must be paid. Their Poodle puppies will be picked in the order of waitlist deposit received. Once the puppy has been selected, another $300 is then due. Red Door reserves the right to void any transaction and refund the deposit if they feel for any reason the potential adopter might not be suitable for the puppy.
As part of the adoption agreement, the Poodle puppy must be spayed or neutered as soon as the veterinarian recommends it or by 6 months. The adopter must also agree that they will keep the dog as a household pet, provide the dog with adequate food, freshwater, shelter, affection, and medical care upon sickness, disease, or injury.
In addition, you must also agree to an annual health exam and routine vaccinations as recommended by a board-certified veterinarian. The adopter will also provide a regular means of exercise and a collar and identification tag and microchip will be utilized. They really care about the future lives of their Poodle puppies in Illinois.
If an adopter cannot, for any reason, take care of their dog anymore, the dog must be returned to Red Door. The Poodles puppies for sale in Illinois cost $2,000 per dog plus an additional fee for breeding rights.
Poodle Breeder Details
6. Tony Happy Puppies IL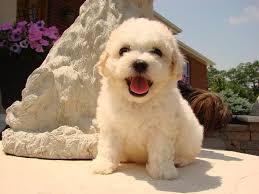 Tony Happy Puppies has over 26 years of experience in dog breeding. They are a family of dog lovers on 4 acres in a country location of Hampshire, Illinois. For what it's worth, they are one of the oldest Poodle breeders in Illinois we could find.
Tony Happy Puppies specializes in toy size Poodles that are non-shedding, and non-allergic. They also have designer dog breeds including Cavapoos, Cockapoos, Yorkipoos, and Maltipoos. They have a state-of-the-art new dog breeding facility and are licensed by the State of Illinois.
Tony Happy Puppies are only shown by appointment. Prices may range depending on the specific breed, color, age, size, and gender. To make an appointment or for more information about their dogs, Tony asks to be contacted via phone or by email.
Poodle Breeder Details
Conclusion for Poodle Breeders in Illinois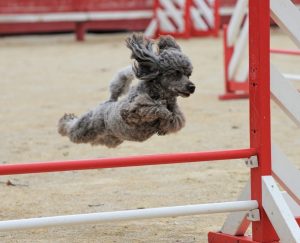 The American Kennel Club (AKC) ranks the Poodle as the 7th most popular dog breed in the world. Thus, it's no surprise that you'll find tons of Poodle breeders in Illinois. However, not all of them are reputable. It's important that you purchase a Poodle puppy from a backyard breeder as they may not be health or genetic testing their dogs. This could result in large medical bills as your puppy grows older. Feel free to reach out to some of the breeders on our list and find one that you trust!
Check out these other articles:
Garrett loves animals and is a huge advocate for all Doodle dog breeds. He owns his own Goldendoodle named Kona. In addition, he volunteers at the Humane Society of Silicon Valley, where he fosters dogs and helps animals. Garrett enjoys writing about Doodles and believes that dogs can teach humans more about how to live than humans can teach a dog.
Why Trust We Love Doodles?
At We Love Doodles, we're a team of writers, veterinarians, and puppy trainers that love dogs. Our team of qualified experts researches and provides reliable information on a wide range of dog topics. Our reviews are based on customer feedback, hands-on testing, and in-depth analysis. We are fully transparent and honest to our community of dog owners and future owners.