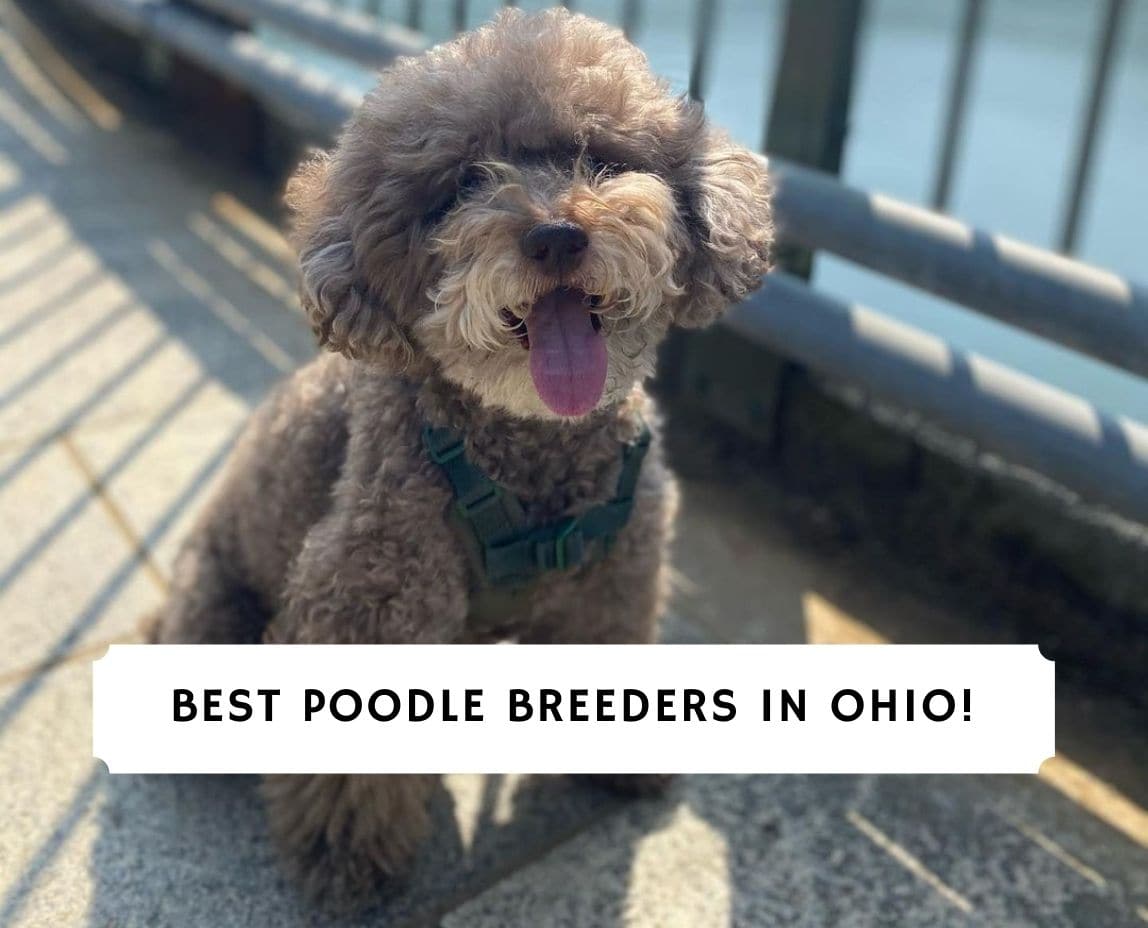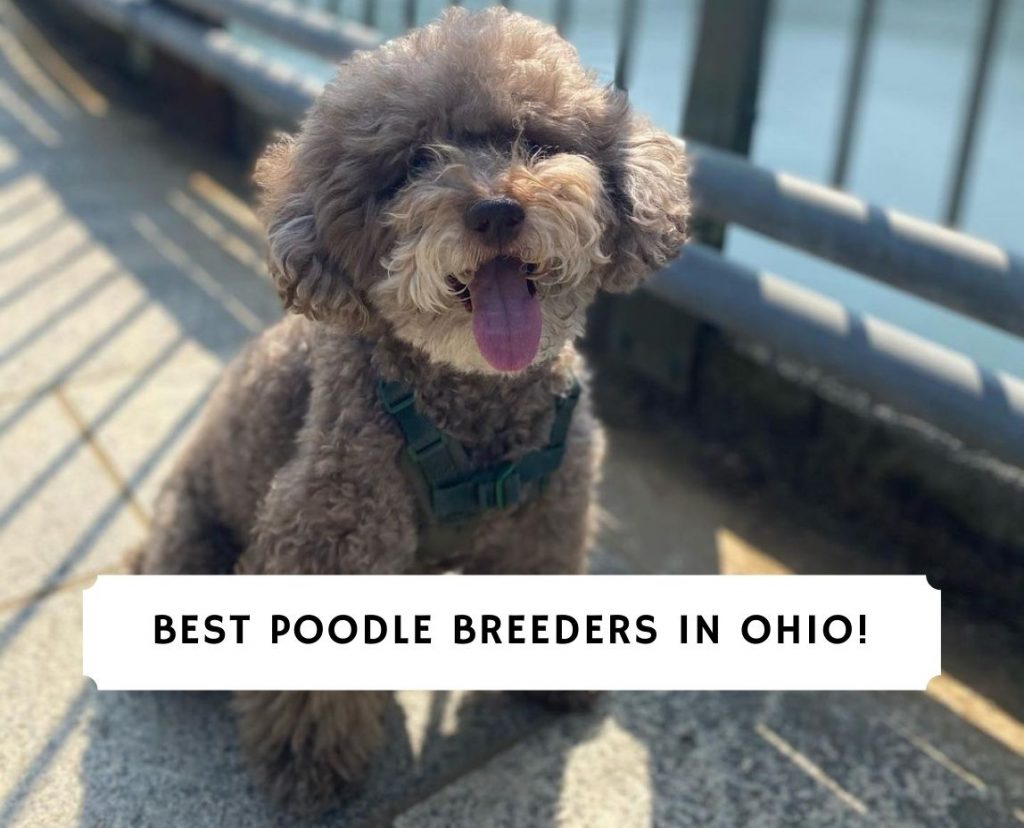 Poodles are some of the most popular dogs in the entire world. In fact, according to the American Kennel Club (AKC), the Poodle is the 7th most popular dog. This is due to their cute looks, hypoallergenic coats, and nonshedding coats.
There are tons of Poodle puppies for sale in Ohio. However, what you will quickly learn is that not all Poodle breeders in Ohio are the same. There are several puppy mills that aren't health testing or genetic testing their parent dogs because they just want to sell them for as cheap as possible. If you buy from a puppy mill or backyard breeder, you may get a Poodle puppy with health and genetic issues later down the line.
We found 7 reputable Poodle breeders in Ohio. You'll also see some Poodle mixed breeders on our list since designer dogs have become extremely popular.
Other articles you will like: Best Dog Food for Poodles and Best Clippers for Poodles.
1. Raspberry Woods Standard Poodles Ohio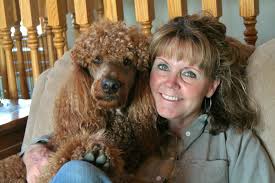 Raspberry Woods is a breeder of Standard Poodles from Middle Point, Ohio, who specializes in red and Apricot coat colors. Raspberry Woods Poodle puppies are raised in their home, right in their family room, and get lots of attention.
Their Poodle puppies in Ohio start learning to go outside for the bathroom at 4 1/2 weeks of age. From 4 to 8 weeks of age, they are bathed at least once weekly and are introduced to clippers through two puppy groomings before going to their adopted home at 8 weeks of age. This helps them adapt to the real-world so they will experience less stress and anxiety.
All their Poodle parents have had genetic testing. Raspberry Woods can offer a health guarantee to cover those genetic diseases that can be genetically tested for.
All their Poodles puppies for sale in Ohio cost $1700 for a limited contract, which means the buyer does not have breeding rights and agrees to have their puppy. Thus, they must spay or neuter their puppies by the time they become an adult.
All Raspberry Woods Standard Poodles puppies will go home with a two-year health guarantee for genetic diseases, their tails are docked, dew claws removed, shots and dewormings, AKC paperwork, and a collar. A nonrefundable deposit of $350 can be made to hold a Poodle puppy.
Poodle Breeder Details
2. Gold Star Family Poodles OH
Gold Star Family Poodles is a breeder with over 15 years of experience and breeding standard Poodles as well as Goldendoodles. They raise their puppies as part of their family by having them socialize with all ranges of people and ages.
With a keen eye for detail, Gold Star breeds their Poodles for health and temperament. Their puppies are raised in a country setting with many acres for the dogs to run, play, and stay healthy.
When adopting a puppy from Gold Star Family Poodles, an adopter is given a 1-year health guarantee for their chosen dog. The dogs also have their first rounds of vaccinations as well as de-wormings. Gold Star Poodle puppies in Ohio also come with all registration papers and records, microchipped, and dog food. Gold Star does offer shipping options as well if you're not local to Ohio.
To reserve a Poodle or Goldendoodle from Gold Star, a $200 deposit is required. Their Poodle puppies for sale do range in price depending on breed, color, and gender. They typically range from $2,000 – $2,500. For more information, contact Gold Star Family Poodles via their email.
Poodle Breeder Details
3. Simons Poodles Ohio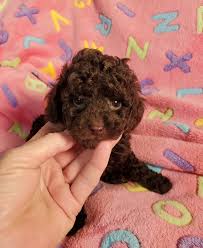 Simons Poodles is an AKC registered breeder of Toy and Mini poodles in Fremont, Ohio, with over 40 years of experience. They were the oldest Poodle breeder in Ohio that we could find.
All their Poodle puppies in Ohio come with a one-year health guarantee, making sure adopters get a healthy dog. In addition, the puppies have their tails docked and dewclaws removed prior to being available for adoption. They also start giving puppy vaccination shots at 7 ½ weeks of age.
The puppies will have a series of three puppy shots. Wormings are also started around two weeks of age and given every couple of weeks. Simons Poodles also has a veterinarian give the rabies shot if the puppy needs to fly and is over 15 weeks of age.
A deposit of $300-$500 is required to reserve one of their Poodle puppies in Ohio. This deposit also goes towards the final price of the dog. They do offer transporting and micro-chipping of dogs for an extra fee.
Breeding rights can also be purchased for an additional charge. Simons Poodles puppies vary in price depending on size, color, and gender. For any additional information, contact Simons Poodles via email or by phone.
Poodle Breeder Details
4. Fourpoints Poodles OH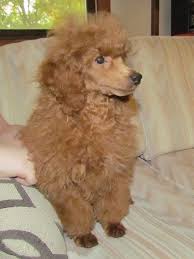 Fourpoints Poodles is a highly regarded breeder of Poodles from Southwestern Ohio. Their Poodles are known for their show quality and health.
Their Poodle puppies are raised in an environment where they are well socialized with people of all ages. All pet puppies are sold on AKC limited registration. They raise Toy, Tiny, and Teacup Poodles puppies in most colors. The weights typically range from 3 lb. to 10 lb.
Prices range from $500 to $2000 depending on size, quality, gender, and color. Fourpoints Poodles Ohio does offer to ship for an additional price of $375.
To reserve a puppy from Fourpoints, a non-refundable deposit of $200 must be paid. All Poodle puppies come with first doses of appropriate vaccinations and dewormings as well as a 72-hour health guarantee. If you're looking for Tiny or Toy Poodles puppies in Ohio, this is a great breeder!
Poodle Breeder Details
5. Heavenly Poodles Ohio
Heavenly Poodles is a breeder of Standard Poodles with over 40 years of breeding experience. They pride themselves in health testing and selecting the proper mate to produce the healthiest puppies. Heavenly Poodles' parent dogs have been tested for all known genetic inherited diseases and genetic traits.
Puppies from Heavenly Poodles are given shots to deworm them at 4, 6, 8 weeks and vaccination shots at 6 weeks, 9 weeks, and 12 weeks if they are still with the breeder. They also microchip their Poodle puppies at 6 weeks of age.
They also get a complete check from a licensed veterinarian at six weeks when they get their first shots. Their Poodle puppies will have their dew claws removed as well.
Heavenly Poodles does offer to ship for their dogs when they are adopted. They use Delta cargo or United cargo. They also frequently travel to Titusville, Florida, and Madison, Wisconsin, and could meet along those routes to save travel and shipping costs for adopters.
To be put on a waiting list for an upcoming litter, Heavenly Poodles requires a $200 deposit. That deposit will also go towards the total price of a puppy. Their Poodle puppies are priced at $2,500.
Poodle Breeder Details
6. Buckeye Doodles and Poodles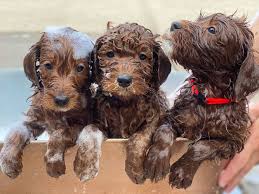 Buckeye Doodles and Poodles is a premium Poodle and Goldendoodle breeder from Ohio whose puppies are health certified and known for their exceptional temperament.
They are a family operated breeder who treats their puppies as part of their home until adoption. This helps their Poodle puppies in Ohio to be properly socialized with people of all ages as well as letting them grow accustomed to the noises of everyday life in a home.
Buckeye Doodles and Poodles start all of their Poodle puppies with basic training commands like sit, potty training, and incorporate leash and crate training as well. They use Puppy Culture to help each of their Poodle puppies get a jump-start on their neurological development and shape their personalities.
All Buckeye Doodles and Poodles dogs used for breeding are DNA Genetic tested through Optimal Select and clear of all diseases. They are also heart, eyes, elbows, patella, and hip OFA certified after 2 years of age.
A deposit to reserve a Buckeye Doodles and Poodles puppy is $200. When a puppy is adopted, they are also accompanied by a blanket and dog toys with their mother's scent for security, health records with age-appropriate vaccinations and dewormer, a certified certificate of health signed by a vet, a puppy guide booklet, a small bag of dog food, 2-year genetic health guarantee, and a lifetime of support from Buckeye.
Buckeye also will take back any puppy if an adopter for any reason can no longer care for their pet with a no questions asked policy. Prices for a puppy from Buckeye Doodles and Poodles depends on size, color, and gender. For full pricing and information on upcoming litters, contact Buckeye directly via phone, email, or their website.
Poodle Breeder Details
7. Standard Poodle Puppies by Raven OH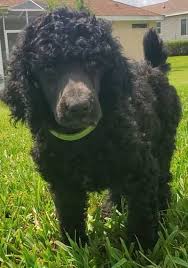 Standard Poodles Puppies by Raven is a breeder from Fredericksburg, Ohio. They are known as responsible, loving, and family Poodle breeder. The parent Poodles are AKC registered and puppies will go to their forever homes with shots, tails docked to standard, perfectly socialized, and with a health guarantee.
Standard Poodle Puppies by Raven is a frequent Facebook user and updates often about the litters that they have bred and are raising. This helps make sure adopters can be comfortable knowing the puppies are being properly raised and cared for prior to adoption. For pricing of a poodle from Standard Poodles Puppies by Raven, a quote must be requested via their website.
Poodle Breeder Details
Conclusion for Poodle Breeders in Ohio
You'll find many different Poodle breeders in Ohio. It's important that you select the right breeder because your Poodle will live for 10+ years. You don't want to purchase a Poodle puppy in Ohio only to find out they have health and genetic issues as they grow older. Always make sure that any potential Poodle breed conducts health and genetic testing. In addition, we always recommend that you visit each breeder in person. We hope you found your next Poodle puppy!
Other articles you will like:
Garrett loves animals and is a huge advocate for all Doodle dog breeds. He owns his own Goldendoodle named Kona. In addition, he volunteers at the Humane Society of Silicon Valley, where he fosters dogs and helps animals. Garrett enjoys writing about Doodles and believes that dogs can teach humans more about how to live than humans can teach a dog.
Why Trust We Love Doodles?
At We Love Doodles, we're a team of writers, veterinarians, and puppy trainers that love dogs. Our team of qualified experts researches and provides reliable information on a wide range of dog topics. Our reviews are based on customer feedback, hands-on testing, and in-depth analysis. We are fully transparent and honest to our community of dog owners and future owners.