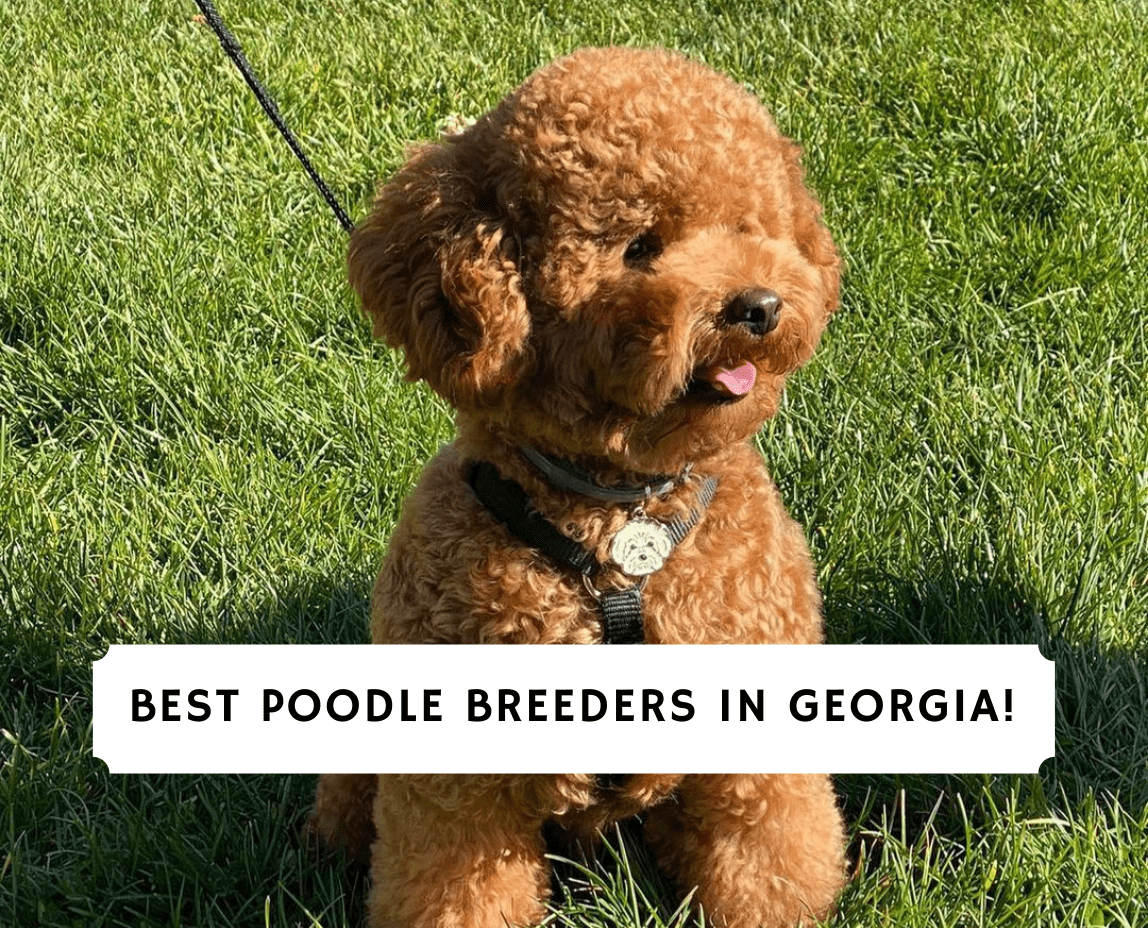 There are tons of Poodle puppies for sale in Georgia. It's important that you purchase a puppy from one of the most reputable Poodle breeders in Georgia to ensure you get a healthy puppy. We saw several puppy mills and backyard breeders that sell Poodles without health and genetic tests. This could possibly mean that you get a Poodle puppy with significant medical bills in the future.
We always recommend that you reach out to any potential Poodle breeder and ask them lots of questions about the personality and temperament of the parent dogs. You need to find someone that you can ultimately trust before you put a deposit down for a puppy. We've done our own independent research to help you find a Poodle breeder in Georgia.
Other articles you will like: Best Dog Food for Poodles and Poodle vs Labradoodle.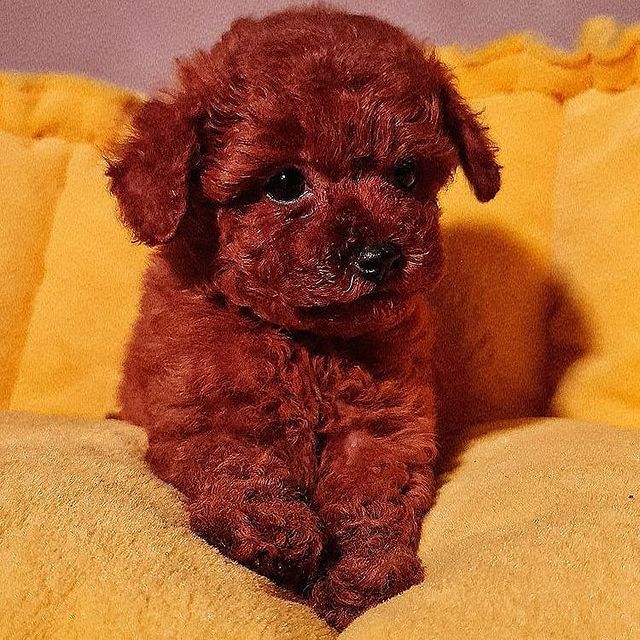 Premier Pups is similar to PuppySpot, but they are significantly cheaper. They are a community of dog lovers who help you spot your favorite puppy from among a wide collection. The downside is that there are fewer dog breeds to choose from and they only sell mini or toy Poodle puppies in Georgia.
Getting a quality Poodle puppy starts with choosing a top-quality Poodle breeder. It can be a challenging task as many breeders are puppy mills or scams. However, with Premier Pups, you can rest assured that they are quality Poodle breeders.
Every puppy you buy comes with a 10-year health guarantee. You will also get cash medical reimbursement for any inherited or congenital health issues under certain conditions.
If you live outside Ohio, where their facility is, you can opt for various delivery packages. They ensure that your Poodle puppy reaches you in the safest way possible. If you're looking for a toy or miniature Poodle puppy in Georgia, we highly recommend that you check them out.
Furthermore, their on-site staff is available 24/7 for any assistance you might need at any point, even after you have completed the adoption process.
Poodle Breeder Information
PuppySpot is a service and a community of passionate individuals that connect Poodle puppy seekers with the best dog breeders in the United States. Over 225,000 families have already met their dream puppies with the help of PuppySpot.
Stringent standards and a rigorous screening process for all Poodle breeders ensure the high quality of both the breeders and the dogs. PuppySpot strongly believes that a healthy and happy puppy begins with the right breeder.
You can order your Poodle puppy from here and leave it to the team to ensure a stress-free trip to Georgia since PuppySpot handles all the logistics and transportation systems. With a Travel Chaperone, your puppy is well cared for during the flight.
From sourcing from a reputable Poodle breeder to ensuring vet checks to delivering safely to your home, PuppySpot shoulders all the responsibilities so that you can enjoy the first snuggle with your puppy worry-free. Additionally, all their Poodle puppies come with a 10-year health guarantee which is the longest any breeder will offer. Their processes are backed by the USDA as well as the AKC.
Poodle Breeder Information
3. Atlanta Doodles and Poodles Georgia
Atlanta Doodles and Poodles is a home-based breeder based out of Metro Atlanta in McDonough, Georgia. The breeder is now accepting reservations for litters available in 2021. First, you will need to apply for the puppy, chose a mom, and put down a deposit. In the fourth week, you will pick which puppy you want. At week 8 you get to take your Poodle puppy home! This breeder has many 5-star reviews and is well known around the state of Georgia. The only downside of this Poodle breeder is that they do not guarantee the gender of dog that you want.
Poodle Breeder Information
4. Stargazer Poodles Georgia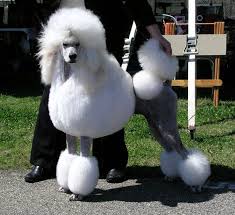 Stargazer Poodles has been breeding Poodle puppies for over 40 years. For what it's worth, they are the oldest Poodle breeder in Georgia that we could find. This breeder typically only has one litter per year so you'll have to get on the waitlist early. According to their website, all of their dogs are genetically tested for OFA hips, sebaceous adenitis, Cerf eye, DNA neonatal encephalopathy, and DNA von Willebrand's. This helps to ensure that you will be getting a healthy Poodle puppy in Georgia.
The puppies at Stargazer Poodles are also sold with a health guarantee. Some of the dogs bred at Stargazer have also won several awards in the show dog world for adhering to the AKC purebred standard. This breeder does not sell to kennels or to people who have an interest in making mixed breed dogs (i.e Goldendoodle or Labradoodle).
Poodle Breeder Information
5. Maggie's Poodles Alpharetta Georgia
Maggie's Poodles Alpharetta breeds mini, toy, miniature Poodle puppies in parti and tuxedo coat colors. Maggie's Poodles are 100% AKC purebred Poodle pedigrees. This breeder's Poodles live in a nice comfortable environment and are well socialized and taken care of. This is a home-based breeder.
Look on the breeder's website to see the available bloodlines.  Their Poodle puppies for sale in Georgia start at $1,500 and go up depending on the size and color. There is also a $100 security deposit to reserve a puppy. Contact the breeder to discuss details and the availability of their dogs.
Poodle Breeder Information
6. Sundance Poodles GA
Sundance Poodles is a poodle breeder located in Stockbridge, Georgia just outside of Atlanta. Sundance Poodles has been breeding Poodles for over 40 years since back to the 1970s. You can view the Poodle breeder's past and present poodles on their website. Contact the breeder for pricing and availability. They health and genetic test all of their adult dogs and will share with you the testing results.
Poodle Breeder Information
Website: Sundance Poodles Georgia
Phone: 770-389-1655
Address: 195 Carriage Circle, Stockbridge, Georgia 30281
Email: stdpoodles@aol.com
7. It's a Poodle Parti GA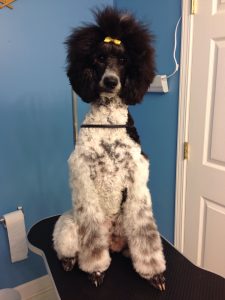 It's a Poodle Parti breeds standard Poodles that are multi-color. They are a home-based breeder located in Monroe, Georgia. Their Poodle puppies in Georgia leave the breeder micro-chipped and up to date with their vaccinations depending on their age.
When you adopt from It's a Poodle Parti, you will receive a puppy gift package with their favorite dog toys, blanket, dog food, a veterinarian health record report, a carrier, and 30 days of free health insurance. Additionally, their Poodle puppies in Georgia have a Continental Kennel Club  Limited registration. There are images and descriptions of the father and mother dogs available on It's a Poodle Parti's website. Contact this breeder for pricing and availability.
Poodle Breeder Information
Website: It's a Poodle Parti Georgia
Phone: 678-718-8108
Address: 710 Bearden Road, Monroe, Georgia 30655
Email: itsapoodleparti@gmail.com
8. Goldendoodles and Poodles in Georgia
Goldendoodles and Poodles in Georgia is a breeder located in Hartwell, Georgia. The website has several testimonials from previous clients but to find out information on availability and pricing you will have to reach out to the breeder. They typically conduct business over Facebook which is where you can contact them for more details regarding their Poodle puppies in Georgia.
Poodle Breeder Information
9. Tuckers Doodles and Poodles GA

Tuckers Doodles and Poodles is a dog breeder located in Augusta, Georgia. This breeder has experience with Goldendoodles, Golden Retrievers, as well as Standard Poodles. The owner of this breeder has bred dogs for decades and can help you select which dog is best for you.
All dogs from this breeder are up to date on vaccinations, microchipped for permanent identification, registered with AKC, and are well socialized.  Contact the Poodle breeder to check the availability of litters.
10. Kinsey Goldendoodles and Poodles Georgia
Kinsey Goldendoodles and Poodles is a breeder located in Colbert, Georgia. This breeder has several 5-star ratings. You can contact the breeder for availability and pricing.
Poodle Breeder Information
Phone: 770-519-3463
Address: 784 Hardman Morris Road, Colbert, Georgia 30628
More Information About Poodle Puppies in Georgia
There are tons of reputable Poodle breeders in Georgia, but there are also tons of puppy mills. You must do your research before selecting a breeder to purchase your puppy from. There are several things that you should keep in mind before buying a dog from a breeder. Here are the top things to be on the lookout for when selecting a Poodle Breeder.
#1) Always meet with the breeder. While this may seem, obviously many people don't visit a potential breeder! Many breeders are home breeders so schedule a visit. Some breeders are not allowing home visits due to Covid but can offer them through Zoom or other video chat platforms. Observe the dogs and their breeders when visiting with them. Ask questions when you are visiting them.  Is the facility clean? How does it smell? How does your breeder act around the different dogs?
#2) Check out your pups' parents.  Poodle Breeders in Georgia that are reputable will have no hesitation showing you the puppy's parents' credentials. You'll also be able to check out their personalities and temperaments.
#3) Watch out for the physical health and temperament of other dogs at the breeder. Are the puppies happy? What do they act like? You want a Poodle puppy that will have good health and easygoing temperament.
#4) How old are the puppies before you can pick them up? Many breeders require that a puppy be a certain age before they hand them over to their fur-ever home. If your breeder is eager to let a puppy go prematurely this can have severe consequences. The minimum recommended age to pick up a Poodle puppy is 8 weeks old.
#5) Get a full medical history. Check out the medical history of the dog's parents and the puppy's health history. Does your breeder offer medical records? Also, check to see if your Poodle breeder has some kind of care package and health package prior to taking the dog home. This is important to note just in case the dog has any health issues later on down the road.
Poodle Puppies in Georgia
Poodles are some of the most popular dogs available to purchase right now, and there are many reasons why people love them! They are some of the most amazing show dogs, have very high IQ's, have a nonshedding coat, and are considered hypoallergenic!
Poodles were recognized starting back in 1887 by the American Kennel Club. They remained in the number one spot for 20 years as the most popular dog breed. Where the Poodle originated is still up for debate as many people believe that poodles came from Germany, while others believe the dog originated in France.
Poodles come in many designer dog forms such as Labradoodle, Goldendoodle, Maltipoo, and many other breeds. Poodle breeders in Georgie usually create 3 size varieties including the standard, mini, and toy sizes.
Standard size poodles are medium to large size. They are the most common type of Poodle available. The standard Poodle's height is about 20 inches or greater. The weight of standard Poodles is 45-75 pounds for males and 45-60 pounds for females.
Miniature Poodles are about 14-15 inches in height. Mini Poodles also weigh about 12- 20 pounds. Toy poodles are 6 to 9 pounds with the average height of toy Poodles being 9-11 inches.
It is important to understand which size Poodle is best for your lifestyle whenever picking out a dog. Additionally, it is also important to understand the temperament and personality of any animal that you are bringing into your home.
Poodles are usually very alert dogs. This means that if a stranger is around your Poodle will try to protect their territory typically by barking loudly! Poodle puppies in Georgia learn tricks and commands quite easily as they are extremely trainable dogs, so you shouldn't have to worry too much about house training them. In addition, they also love to play so before bringing one home make sure that you have enough time (and energy) to take them outside.
Your Poodle puppy in Georgia will also need a moderate amount of activity daily. If your dog does not get the proper amount of playtime they might start getting bored and will cause destruction around your house biting, chewing, and eating everything. This means that the dog needs company and you should try not to leave your Poodle alone for too long. Keep in mind that the different sized poodles do have different temperaments and it also does vary on the dog.
The temperament of Poodle puppies is not the only reason that people are attracted to them. Poodles are hypoallergenic dogs. Hypoallergenic dogs are those who do not shed or shed minimally. This means that they have less fur dander than other dogs and there isn't fur everywhere around your house and clothes. This is great for people who have allergies to dogs. 
Conclusion for Best Poodle Breeders in Georgia
Truly reputable Poodle breeders in Georgia have no issues with helping you with your puppy long after adoption. In fact, many breeders welcome questions with open arms! Make sure that you are picking the best Poodle and breeder for you and not rushing the process! Good luck in finding your next puppy!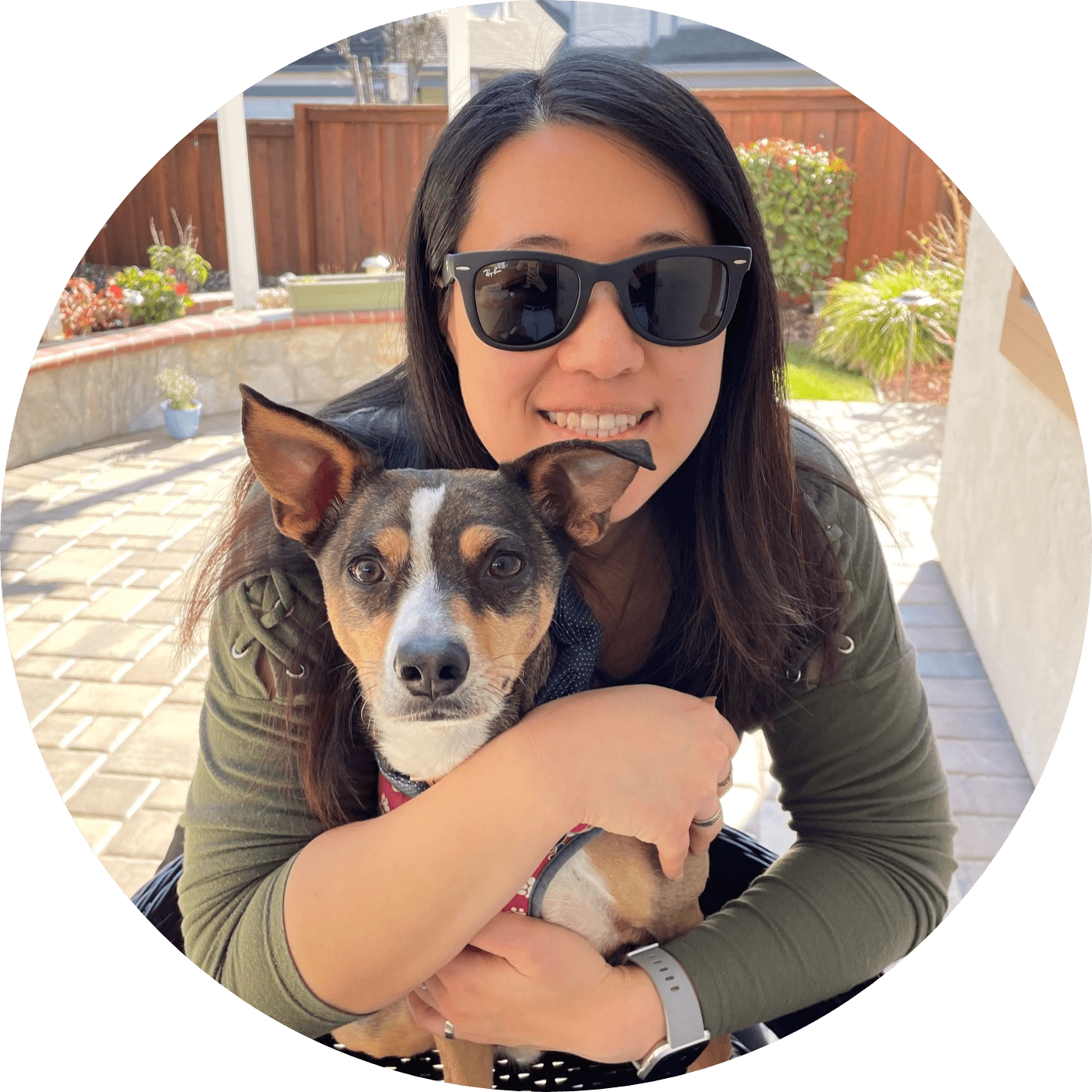 Dr. Sabrina Kong graduated from the Royal Veterinary College in England in 2016 and has been working at a small animal clinic in Northern California since then. She grew up in the Bay Area and got her bachelor's degree from Cal Poly San Luis Obispo. She also became a Certified Canine Rehabilitation Practitioner through a program at the University of Tennessee.
When she isn't in the clinic taking care of her four-legged patients, she enjoys traveling and trying new foods with her friends and her three-legged dog, Apollo. She adopted Apollo from her clinic when he was a puppy with numerous health issues. Dr. Kong truly cares about taking care of animals.