Are you looking for a beautiful companion with curly hair and a great personality? Well, then a Poodle is the perfect choice for you! Poodles come in all sizes, so you are guaranteed to find the right one for your home and your family in Pennsylvania.
Poodle puppies for sale in Pennsylvania have become so popular over the last several years because of their hypoallergenic and nonshedding coats. If you're looking for one of these puppies, then you will have to do lots of research in order to buy from a reputable breeder. Do not a Poodle from a puppy mill because they won't health or genetic test the dogs and you may end up with an unhealthy dog long term.
Below you can find a list of reputable Poodle breeders in Pennsylvania who are more than willing to answer any of your dog-related questions. Regardless of whether you are a first-time Poodle owner or not, these breeders can help you along the way of welcoming a new Poodle into your life.
Other articles you will like: Best Dog Food for Poodles and Best Clippers for Poodles.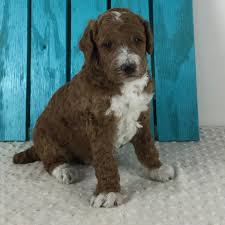 Sunset Valley Poodle Puppies in Pennsylvania is a small home-breeder who takes pride in their Poodle selection of various sizes. With over 14 years of experience, Sunset Valley Puppies is dedicated to maintaining and improving the Poodle breed's beauty, health, and temperament.
Each Poodle puppy at Sunset Valley Puppies is raised in a home environment, so they have lots of exposure to humans of all ages. This exposure creates well-socialized and well-tempered puppies that will be a great family pet for anyone!
On their website, you can view all male and female adult dogs that are used for breeding. These dogs include a photograph so you can have an idea of what your future puppy may look like. At Sunset Valley Puppies, they specialize in Red Poodles, which is the newest and one of the rarest Poodle colors. In addition, they focus on small-sized Poodle puppies like the Moyen, Miniature, and Toy Poodles.
When you receive a puppy from Sunset Valley, you will be given a health guarantee that states that the adopted puppy is free of genetic diseases. For this guarantee to be honored, you must have a licensed veterinarian examine your puppy with 72 hours of adoption.
So, if you are interested in adopting a beautiful Red Poodle puppy from Sunset Valley Poodles, contact them today to pay your deposit and secure your spot on the waiting list for upcoming litters.
Poodle Puppy Information
Size: Moyen, Miniature, and Toy Poodle Puppies
24.96px;">Poodle Breeder Information
Email: sunsetvalleypuppies@gmail.com
Address: Kinzers Pennsylvania 17535, USA
Telephone: (717) 442-0833
Social: Facebook
Lynda's Lil Poos is a breeder located in Riegelsville, Pennsylvania. If you want to adopt a well-socialized and easily trainable Toy or Teacup Poodle, then Lynda's Lil Poos is for you!
The Poodles puppies at Lynda's Lil Poos are easily trainable companions because they have been exposed to humans early. This contact with humans helps the dogs develop respect for their new owners and homes. These Poodle puppies in Pennsylvania are well-socialized so you have no need to worry about your puppy misbehaving when you have guests.
You can find a list of the dams and sires used for breeding by Lynda's Lil Poos on their website. These parent dogs have a photo and a short description of temperament and personality. Knowing the parent dogs' temperament can help you understand your future puppy's personality better. Additionally, you can find each parent dog's measurements which can help you predict the size of your future puppy.
Each of their Poodle puppies for sale in Pennsylvania comes with a genetic health guarantee, vaccinations, and deworming. In addition, you can also get American Kennel Club registration for your puppy upon request. You can find upcoming litters on their website where you can view the parent dogs for each.
Their website also shows you when the expected due date is so you can prepare for your new puppy. If you are interested in an upcoming litter, you can contact them today and get started on welcoming home a little Poodle puppy home! If you're looking for a smaller-sized Poodle, these are one of the best breeders!
Poodle Puppy Information
Poodle Breeder Information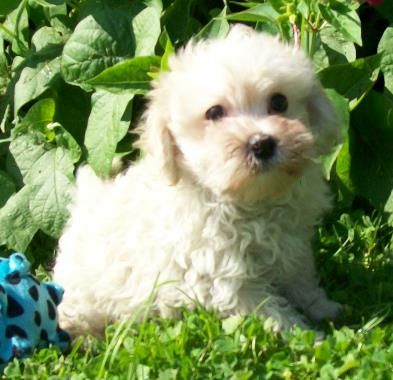 Arndt's Happy Tails is a family-owned Poodle breeder in Pennsylvania that prides themselves on providing each of their customers with a healthy and lovable Poodle companion. With over 30 years of dog breeding experience, they know how to breed the best. They have Poodles of all sizes, so whether you are looking for a large dog or a small dog, Arndt's Happy Tails can help you find your perfect dog.
On their website, you can find a list of each parent dog that Arndt's Happy Tails use for the breeding program which is under the "Our Poodles" tab. Here you can view the name, size, and photo of the parent dogs which will give you a good idea of what size and color your new puppy may be.
Each litter of Poodle puppies at Arndt's Happy Tails is meticulously planned so that all puppies will have the best health, appearance, and temperament possible. If you are interested in adopting one of their Poodle puppies in Pennsylvania then you can put down a $200 non-refundable deposit to hold your spot on a waiting list that guarantees you a new puppy.
Poodle Puppy Information
Size: Standard, Miniature, Toy, and Teacup Poodle Puppies
Poodle Breeder Information
Website: Arndt' Happy Tails PA
Email: happytails17062@yahoo.com
Address: 2364 Arndt Road Millerstown, Pennsylvania, US
Telephone: (717) 438-3682
Social: Facebook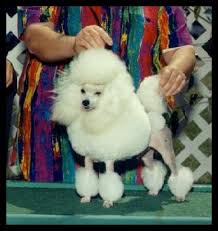 At Callimont Poodle puppies in Pennsylvania, you can find the perfect dog for home or for dog shows. This breeder prides itself on its parent dogs that come from champion pedigrees. If you are looking for a beautiful dog that will dominate in the show ring, Callimont Poodles is the breeder in Pennsylvania for you.
Each parent dog at Callimont Poodles is listed on their website. You can click on each of these parents to view the pedigree information and a photo of the dog. This can give you a good idea about your future puppy's quality and possible appearance.
Each Poodle puppy at Callimont Poodles comes with a health guarantee. This guarantees that the puppy you receive is healthy and absent of any birth or genetic defects. You must have your puppy inspected by a licensed vet within 72 hours of adopting it, or the health guarantee will become void.
All current and expected litters are listed on their website. You can view each litter's parents as well as the awards and championships that those specific dogs have won. Photos of their Poodle puppies in Pennsylvania can be viewed below the parent dogs. If you are interested in adopting a puppy from Callimont Poodles, you can contact them today to start the process.
Whether you want a beautiful Poodle who will be a champion in the show ring, or whether you just want a cuddly new family member for your home, Callimont Poodles will provide you with a well-behaved and loving Poodle companion.
Poodle Puppy Information
Poodle Breeder Information
How to Choose a Poodle Breeder in Pennsylvania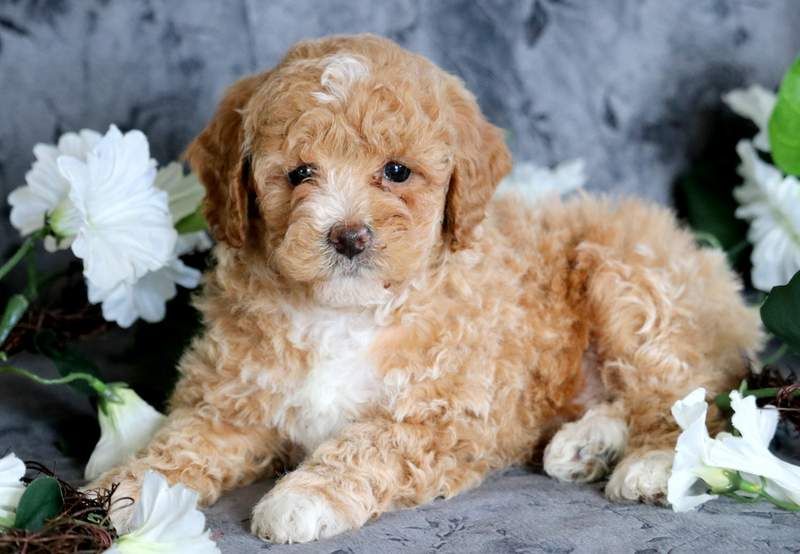 As you can see, many Poodle breeders in Pennsylvania are excited to help you find your new pet. If you feel overwhelmed by all your options, that is okay. There are a couple of things to consider that will help you narrow down what breeder you should use for your new puppy.
First, consider what size Poodle you want. Poodles are a rare breed that comes in all sizes, so deciding what size is right for your home and family is a good first step to narrowing down what breeder to use. Most breeders specialize in one or two different sized Poodles, so knowing what size you are looking for will eliminate many options.
Additionally, it is important to understand the health guarantee that your Poodle breeder in Pennsylvania gives you when you adopt a puppy. Some places have health guarantees that require you to take your puppy to get a veterinary examination within 48 hours of adoption; some allow 72 hours to pass.
Regardless of the amount of time, remember that the health guarantee becomes void once the window is closed. When considering a Poodle breeder, you should ensure that you have plans in place that will allow you to get your puppy vet-checked within the allotted amount of time.
If you think you may need more time than 48 hours before reaching a vet, then a breeder with a longer window of time might be best for you.
Lastly, you need to consider location when choosing a Poodle breeder. Some breeders have strict policies against shipping puppies to their new owners. On the other hand, some Poodle breeders in Pennsylvania are willing to deliver puppies within a certain range. Lastly, some breeders require the adoptive family to come to pick up their puppy in person.
Depending on where you live and your situation, this may affect which breeder you decide to choose. Just remember to have travel plans made in advance, as some breeders charge for extra days that a puppy is in their care. Some breeders will even sell your puppy to the next person on the waiting list if you cannot pick it up yourself.
Conclusions for Poodle Breeders in Pennsylvania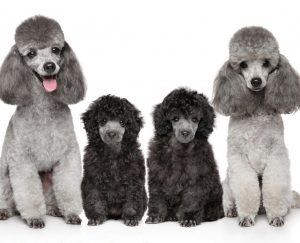 If you live in Pennsylvania and are looking for a loving, beautiful, and well-mannered dog, then a Poodle is for you. These dogs come in all sizes, so you are guaranteed to find the right fit for your home and family. One of the most difficult decisions you will face is finding a reputable Poodle breeder to sell you a healthy and happy puppy.
Please do your best not to support a puppy mill or backyard breeder that sells cheap dogs. They will likely sell you a Poodle puppy with genetic or health issues down the line which will cost you most in medical bills. So, get started by contacting one of the Poodle breeders in Pennsylvania above and begin your journey to welcome home your new best friend!
Other articles to check out:
Garrett loves animals and is a huge advocate for all Doodle dog breeds. He owns his own Goldendoodle named Kona. In addition, he volunteers at the Humane Society of Silicon Valley, where he fosters dogs and helps animals. Garrett enjoys writing about Doodles and believes that dogs can teach humans more about how to live than humans can teach a dog.
Why Trust We Love Doodles?
At We Love Doodles, we're a team of writers, veterinarians, and puppy trainers that love dogs. Our team of qualified experts researches and provides reliable information on a wide range of dog topics. Our reviews are based on customer feedback, hands-on testing, and in-depth analysis. We are fully transparent and honest to our community of dog owners and future owners.