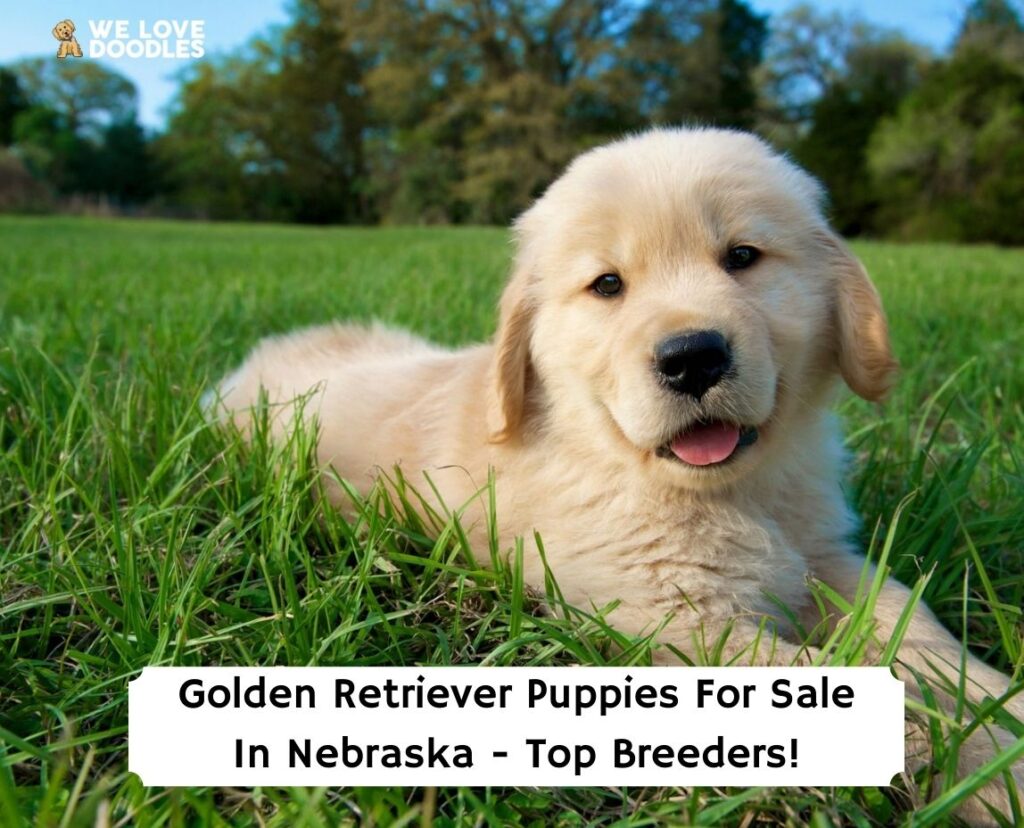 Finding breeders with Golden Retriever puppies in Nebraska for sale can be difficult. We've created a list to help you find the top breeders. Golden Retrievers are one of the most famous dog breeds in the world, and they are so popular that when you think of the word dog, many people see an image of a Golden Retriever in their mind. Due to their beautiful fur color, friendly disposition, and overall durability, many people are looking to welcome one to their family.
Before you scroll down this list of breeders with Golden Retriever puppies in Nebraska for sale, check out these other recommendations from our team at We Love Doodles: Shih Tzu Puppies in North Dakota and Best Dog Breeders in North Dakota.
Golden Retriever Breeders in Nebraska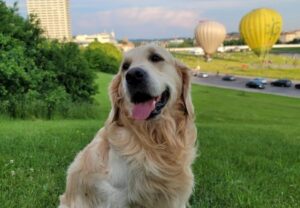 Finding a good Golden retriever breeder can sometimes be a challenge; there's much to investigate, and sometimes it's not clear to see. Luckily, you're in good hands as we've compiled many of the top Golden Retriever breeders in Nebraska in the hopes it can help you find the right one.
Golden Retriever Product Recommendations: Best Quiet Dog Clippers and Best Air-Dried Dog Food.
1. PuppySpot's Golden Retriever For Nebraska
PuppySpot is a company dedicated to helping you find your dream Golden Retriever puppy effortlessly and efficiently. They work as a sort of middleman connecting breeders from all over the country to families looking to get a dog.
So far, their business model has proven to be a success, selling more than 200,000 Golden Retriever puppies. The company has received more than 10,000 5-star reviews for its quality.
Mission
PuppySpot knows the value of a puppy. They are a lifetime companion and will be there for you no matter what happens. So they are committed to breeding happy and healthy puppies and finding ways for you to get your hands on them as simply as possible.
Vision
PuppySpot takes advantage of the technology of the 21st century to create a win-win scenario for everyone involved in the transaction. Thanks to the site, the breeders PuppySpot works with have a wider market, and for the same reason, a customer has plenty more options, all from the comfort of their home.
Breeding Priorities
Quality: PuppySpot is known for its high breeding standard. Breeders interested in working with them must pass a tough and demanding test that includes over 100 points of emphasis. The breeders also follow AKC guidelines. Rest assured, your puppy is in good hands
Health: Every puppy must grow healthy to have the best possible life. Before being sent to you, your Golden Retriever puppy will be checked from nose to tail to ensure they are fit to go with you. Additionally, the puppies have a 10-year health guarantee.
Accessibility: PuppySpot is very simple to use. You need only log in, and with a few clicks, you'll be getting your puppy in no time. The company likes to make the process easy for everyone.
Honesty: Every Golden Retriever puppy on the website has already been born. Therefore, you'll already know exactly what you're getting. PuppySpot is not a mill but an institution that worries about the dog's welfare and does everything possible to ensure the puppies grow in a positive environment.
PuppySpot Details
2. Plum Creek Retrievers
Let's Start our Top Golden Retriever Breeders in Nebraska list with Plum Creek, who do it as well as anyone and have been doing so for over three years. Their main objective is to have healthy, well-trained, and happy puppies by the time you come to adopt them.
It is also important to Plum Creek that the animal be social and a friendly life companion. They take great pride in owning and breeding Labrador Retrievers, and they love sharing them with the world, educating people about them, and protecting, promoting, and bettering the breed.
Regarding how they breed, they pay attention to two main aspects, health, and pedigree. At Plum Creek, they work hard to ensure the puppies are tested to avoid any disease. Once the puppies are born, they'll also receive vaccines, a check-up from a vet, and even get deworming treatment.
Finally, they are an AKC-certified breeder, meaning they offer high-quality products and methods, a testament to their work. Should you be interested, you can contact them through their web page or send them an email or text.
Plum Creek Retrievers Details
3. Golden Standard Retrievers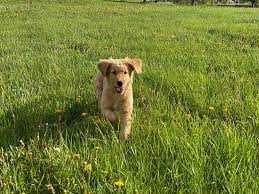 Located in Dix, NE. For the next breeder with a lot of breeding experience and expertise. To be precise, they like to breed pure Golden Retriever from an elite championship-winning bloodline.
This generally gives the dogs they breed health, genetic, and behavioral advantage. Golden Standard's goal is to breed healthy and well-trained puppies who know how to behave and coexist in a peaceful environment with their owner.
To ensure the puppies are healthy, they go to great lengths to test and review them. As for the puppies' education, they follow the "Puppy Culture Method," which consists of early neurological stimulation of everyday sounds and sights.
It also shows the dos and don'ts to the puppy from the moment they are born. Finally, should you be interested in getting your golden retriever with them, they'll also throw in a health guarantee in the case of an unexpected situation.
Golden Standard Retrievers Details
4. Platte River Retrievers
Next on our list comes Platte River Retrievers, a small, family-owned breeding business in Fremont, NE. They have over 25 years of experience breeding, and while it may not sound like much, a person can learn a lot in that time. That is the case with Platte Retrievers, who have gathered much experience and expertise in breeding puppies.
Much like our previous breeders, they also work with particular bloodlines, ensuring the puppies have a biological edge that might set them apart and, in the process, make having them even more enjoyable. All puppies will be healthy, intelligent, well-tempered, friendly, and aesthetically beautiful.
They also come in a manageable size, making life a bit easier for small house owners. Finally, when they breed, their most important priority is to be diligent, to dot the I's and cross the T's. They make sure they will deeply check the puppy's health and training.
This includes getting the puppies tested for diseases and microchipped and vaccinated. Finally, should you be interested, we highly recommend you visit their web page, which is very informative. If you get a dog with them, you'll also receive a health guarantee in the case of an unexpected event.
Platte River Retrievers Details
5. Platte Valley Goldens
The next breeder we will discuss is Platte Valley Goldens, located in Hershey, NE. To Platte Valley, having a golden retriever has brought them immense joy. Their main purpose for breeding is to help share these puppies with the world to protect the breed better and educate people about them.
To Platte Valley, a retriever is a perfect dog due to its versatility, and it can have a very active role and help you hunt. You can also have a domestic dog. Either way, they breed for both purposes. Regarding how they breed, they seek to breed healthy and well-trained puppies that can accompany and help you throughout your day.
Finally, their puppies are raised in a 36-acre ranch environment. They'll have the comfort of being domestically raised, thus being exposed to certain sounds and sights and living comfortably inside the house, but they'll also have a lot of liberty to run around and be dogs. If you want to learn more about them, feel free the check their web page.
Platte Valley Goldens Details
6. Lone Oak Goldens
Located in the outskirts of Columbus, NE, you can find Lone Oak goldens, a small family breeding business committed to breeding very high-quality, intelligent, and healthy puppies that can be a worthy lifelong companions. Lone Oak has been raising puppies for over 30 years.
During that time, they have learned many skills and methods to improve the overall quality of the breeding process. In many ways, one could say they are masters of what they do. They are dedicated to trying and breeding the best possible retriever they can to ensure the puppy is smart, strong, and healthy, and they work day in and day out to make sure it goes that way.
When breeding, their biggest priorities are the puppies' healthy and mental development. All of their puppies come vaccinated and tested. They raise the puppies in a home environment. This allows the puppies to live in a cozy, friendly place where they receive much attention and care daily.
They also get a lot of social time with their siblings, thus helping develop their character and behavioral traits. The puppies also have a lot of nature to play with outside. If interested, you can contact this breeder through their web page or the information here.
Lone Oak Goldens Details
7. Prairie Hills Retrievers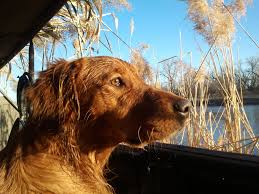 Prairie Hills, a small-scale, family-owned breeding business located in Lexington, NE, is the final breeder we'll look at today for our top breeders with Golden Retriever puppies in Nebraska.
They have been breeding Golden retrievers for over 26 years. During that time, they have learned many details and a lot of information on how to breed dogs, and they have also gained a lot of experience and expertise in how they breed.
They originally started to breed out of love and appreciation for the breed. Their main motivation was to share the puppies that brought happiness to them with the world, so they started a breeding business, and they have now blossomed into what they are.
When it comes to breeding, they breed puppies to raise hunting dogs, but they can also train them to be domesticated. The puppies are bred with a lot of quality and care. They are raised in a domestic environment next to the breeders, thus enjoying attention and care.
The puppies' health is also a big priority, so they take the necessary steps to ensure your future puppy will be healthy, strong, and happy. If you want to get your future puppy with them, you can contact them through their web page.
Prairie Hills Retrievers Details
How to Choose a Golden Retriever Breeder in Nebraska
Choosing the right breeder is a big responsibility as there is plenty to think about. A breeder is responsible for determining the puppy's genetics. Once the puppies are born, the breeder has to raise, educate, train, feed, and take care of them during the first couple of months of their life, which are crucial as they will determine the puppy's character and personality traits.
Like the phrase all roads lead to Rome, every breeder has their breeding style. They have their philosophy and perception as to how they breed. It's not a matter of who's right or wrong as there are plenty of different perspectives.
But it's more a matter of whether the way the breeder chooses to do what they do agrees with you, and that is what you have to look at. Choosing a breeder is complex, but you should always go with a breeder you like, trust and see eye to eye. This will get you to the puppy you've been wanting.
Some Extra Information Regarding Golden Retrievers From Nebraska
Golden Retrievers are the go-to dog breed and are incredibly loved and appreciated in the dog world. Some interesting facts about them are:
They come from Scotland
They are very sporty dogs
They are great therapy dogs
If you feel any of our suggestions are not for you and are thinking of looking elsewhere, you can always go on a road trip outside the state to SD, MO, or KS. If that doesn't work for you, you can also try to find your pet in the online world.
Before making any move, consider if you're up to the challenge of having a pet and all the work that comes with it. Also, before spending any money, go with a breeder you trust, as there might be some people just looking to take advantage. The best way to recognize who to trust is by searching for certification from credible institutions like the AKC.
Conclusion For "Golden Retriever Puppies in Nebraska"
Golden retrievers are great dogs. By thinking of getting one, you're already on the right track towards having a happy pet. But before you can go and enjoy your new puppy, there's a lot of work to be done. When choosing, be sure you go with the one you trust, offer you a quality product, and see eye to eye. After that, go and enjoy your new puppy.
For more guides similar to this list of breeders with Golden Retriever puppies in Nebraska for sale, you can check out:
If you enjoyed this guide for breeders with Golden Retriever puppies in Nebraska for sale, you might want to take a look at the "9 Things You Must Know Before Getting A Golden Retriever" video down below:
Garrett loves animals and is a huge advocate for all Doodle dog breeds. He owns his own Goldendoodle named Kona. In addition, he volunteers at the Humane Society of Silicon Valley, where he fosters dogs and helps animals. Garrett enjoys writing about Doodles and believes that dogs can teach humans more about how to live than humans can teach a dog.
Why Trust We Love Doodles?
At We Love Doodles, we're a team of writers, veterinarians, and puppy trainers that love dogs. Our team of qualified experts researches and provides reliable information on a wide range of dog topics. Our reviews are based on customer feedback, hands-on testing, and in-depth analysis. We are fully transparent and honest to our community of dog owners and future owners.