It's no secret pets' social status and roles in our lives have evolved substantially in the last couple of decades, especially when considering the advancement in veterinary medicine and care. Dogs have nudged their way, quite easily, into family member status throughout millions of households in the United States. As no surprise, dogs dominate the companion animal world as the most commonly adopted or rescued furry pets in the nation.
Having said that, dog owners know the addition of a new furry friend into our home means taking on more responsibility and more decisions. Our pets rely on us and trust us to make the right choices when it comes to everything! Basic lifestyle decisions such as diet, nutrition, activity level, where they go, what they do, do they have a job? While these factors define our pets' lives and set them apart from all the others in their own unique ways, the more difficult decisions come in times of crisis and quality of life scenarios.
It is natural to hope we don't ever have to face a decision when it comes to our pets' health; however, the reality is we do. Dogs may not be able to communicate with us verbally, but they can absolutely show us how they are feeling and their will to live. These are the times that we rely heavily on our trusty veterinarians for our honest input and recommendations based on our experience, and above all, consideration of the quality of life of our patients. Today, we will help answer the question "Should I Euthanize a Paralyzed Dog?" and give our expert veterinarian advice.
Paralyzed Dog Euthanasia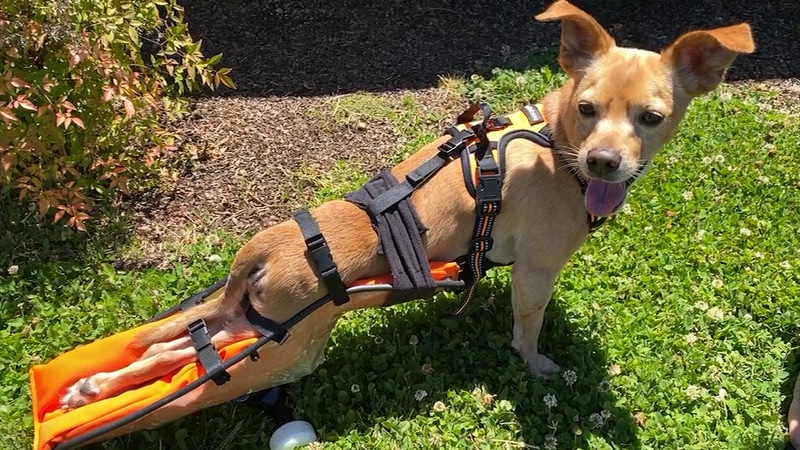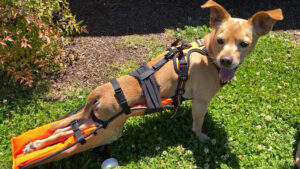 Critical decisions involving our dog's well-being and quality of life can range from surgical considerations, diagnostics, medications, and hospitalizations. Do we pursue surgery? Do we test and treat a condition? The most dreaded decision: do we euthanize a paralyzed dog? If you have a paralyzed dog, I'm sure you have been contemplating this decision because their quality of life has significantly decreased.
Let's start off by acknowledging the privilege of humane euthanasia in veterinary medicine when used appropriately. It is called humane for a reason. End-of-life decisions are reserved for critical and ill cases in which there are no more medical options or the family's ability to repair the patient's quality of life. As veterinarians, we face ethical decisions daily, and we all took an oath to "strive to promote animal health and welfare, relieve animal suffering."
While it is the most difficult part of our committed careers, it can also be very humbling and freeing to know our patients are no longer suffering. Veterinarians take on the burden of grief and loss in order for our pets to be freed of pain. As a medical professional, we highly suggest that you only euthanize your paralyzed dog when there are no other options, they are in a significant amount of pain, and their quality of life has deteriorated to a point where they can longer live adequately. 
What is Paralysis in Dogs?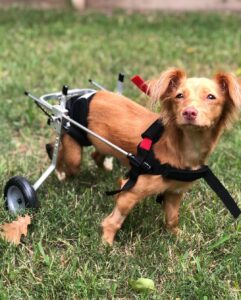 So why are we talking about whether or not euthanasia is a good option for paralyzed dogs? Because paralysis in dogs does not have to be the end of a dog's life. While there is no right or wrong answer when it comes to a deeply personal euthanasia decision with a debilitated patient, just know there are options with our advanced veterinary world that have been able to not only add quantity to dogs' lives but also quality.
As a rehabilitation practitioner, the most common cases I treat are paralyzed or paretic dogs. The most common causes for paralysis or paresis (partial paralysis and weakness) include intervertebral disc disease and rupture, fibrocartilaginous embolism, or FCE (also known as spinal stroke), injury, trauma, congenital defects, or a space-occupying lesion such as a tumor along the spinal cord.
While these conditions are not exclusive, they all have one thing in common: compromise or damage to the spinal cord. The spinal cord is a very vital structure made up of nerve fibers that serve as a "highway" for impulses and signals originating from the brain down into the body and limbs. As long as the spinal cord is healthy and happy, we can walk and move. On the flip side, anytime there is a compromise or compression along the cord, there will be subsequent impairment of neurologic function such as paralysis. This can present itself as mild ataxia or poor coordination to the most extreme possibility of paralysis.
Yes, paralysis is scary, but depending on factors such as pre-existing conditions and the exact cause of the paralysis, there are options for treatments and improving chances of walking again.
Quality of Life for Paralyzed Dogs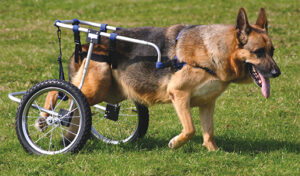 Let us keep in mind every case is unique, and it is best to consult your veterinarian or neurologist for all recommended options for acute paralysis. Options often include surgical intervention such as a disc rupture with follow-up rehabilitation and acupuncture. Other treatments for a paralyzed dog do not require surgery and heavily rely solely on rehabilitation and acupuncture, the most notable being the "spinal stroke."  This condition likes to strike young, healthy dogs. As scary as the initial shock is, please seek full diagnostics and recommendations if you are able to, as spinal stroke dogs FCE patients have a good prognosis for healing and walking again with proper management and therapy.
While so many dogs can be helped to regain mobility depending on their condition, the cases that are not able to regain full mobile function also have a very valid option: a doggy wheelchair or cart.  I have seen carts transform a dog's life instantly. This is a tool for dogs that still have so much vivacity to live – they just need some help getting from point A to B.  This is when we can step in and give them the gift of more time, as they have given us the gift of unconditional love and loyalty.
Related Article: Best Wheel Chairs for Dogs with Mobility Issues
Conclusion for Should I Euthanize a Paralyzed Dog?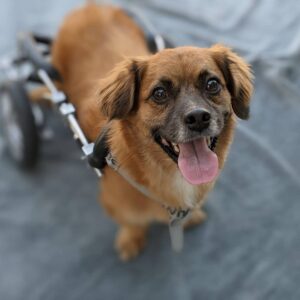 As dog lovers, we know there is nothing quite like the human-animal bond. Our pets come into our lives and are fully committed to our happiness unapologetically. As veterinary medicine continues to evolve and enhance medical care options with advanced diagnostics and continually added specialties and disciplines, such as advanced neurology and rehabilitation/alternative medicine, our loyalty and commitment to our pets as family members become more attainable. This means more quality time with our beloved dogs, even if they are paralyzed.
Whether or not you should euthanize a paralyzed dog is your decision that no one will judge you for. We just ask you consider to consider your dog's pain tolerance, quality of life, and rehabilitation options.
Other articles you might like:
Frequently Asked Questions
Can a dog wag their tail if they are paralyzed?
This highly depends on the spinal cord injury. In some cases, a dog can wag their tag even if its hind legs don't work properly. In other cases, they won't have any control over their tail. If your dog cannot wag their tail when they are paralyzed, don't give up hope. We've seen dogs that are able to wag their tails again after rehabilitation.
Can dogs recover from paralysis?
We've seen some dogs recover from paralysis, but in most cases, they will be paralyzed for life. Depending on the severity of the spinal cord injury, your dog may gain some motor functionality back through rehabilitation. In other cases, your dog will be paralyzed for life, and they will have to rely on a dog wheelchair.
How to help a paralyzed dog urinate?
If your dog is paralyzed near its hind legs, you will need to learn how to express a dog's bladder. To do this, you will need to locate their bladder and put one hand on each side. You will then need to firmly press your hands together, collapsing the bladder of your paralyzed dog. You might notice that the tail raises and the hind legs lift. Next, your paralyzed dog should start urinating. The video below will help provide a better visual.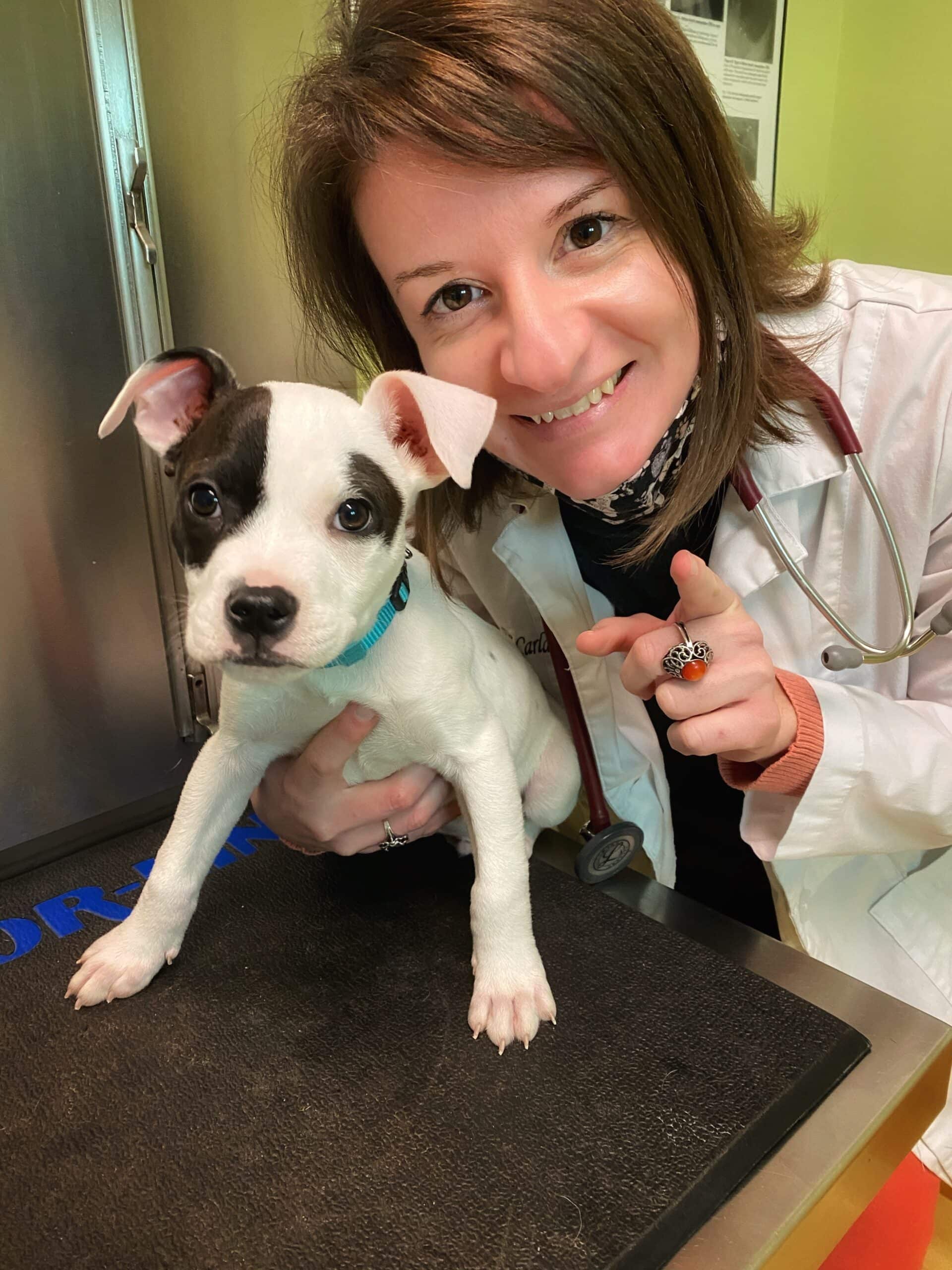 Dr. Carla Rodrigues is the owner of the veterinarian clinic Pawsitive Healing based in Jacksonville, Florida. She graduated from Montclair State University with a Biology degree and did her Doctor of Veterinary Medicine degree at Ross University. Dr. Carla Rodrigues completed her clinical at the University of Minnesota and began practicing in California and North Carolina before founding her own clinic.
Dr. Rodrigues specializes in canine rehabilitation and wants to help all pets recover whether they are a puppy or a senior dog! She practices neurologic recovery, arthritis recovery, and does orthopedic surgery. When Dr. Rodrigues isn't working or traveling, she spends time with her two loyal rescue dogs, Stella and Jackson.
Why Trust We Love Doodles?
At We Love Doodles, we're a team of writers, veterinarians, and puppy trainers that love dogs. Our team of qualified experts researches and provides reliable information on a wide range of dog topics. Our reviews are based on customer feedback, hands-on testing, and in-depth analysis. We are fully transparent and honest to our community of dog owners and future owners.