The biggest factor in a dog's temperament is its training. While Olde English Bulldogs are not known for being an aggressive breed, any dog has the potential to show aggression if it feels scared or threatened. Generally, this breed is known for being docile, friendly, and loyal.
They love to be around their family and are content sitting on the couch or a lap and being petted. If you are thinking about bringing an Olde English Bulldog into your home, there are some things you should do to prepare for the new experience.
Before you read this guide, "Are Olde English Bulldogs Aggressive," check out: Where to Find English Bulldog Puppies for Sale Near Me Under $500? (2023) and Brindle English Bulldog Dog Breed Guide! (2023).
Can Olde English Bulldogs Be Aggressive?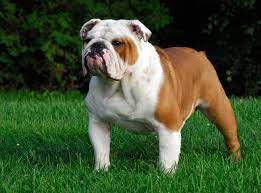 Even though they are friendly with family members, Olde English Bulldogs can be protectors if they feel they are threatened. Still, while this breed is not considered to be overly aggressive, training plays a big part in their temperament.
These dogs are muscular, and if they choose to be aggressive, they could cause a lot of damage. Bulldogs were originally bred to be strong and able to take down much larger animals. In fact, their purpose was to immobilize bulls for farmers and butchers to slaughter them. This aggression has slowly been bred out of Bulldogs as they became more domesticated as pets.
Socializing your dog properly will ensure they aren't scared of people and aren't likely to feel threatened and attack anyone. If you plan on having your Old English Bulldog around children, you will want to make sure they are introduced to them at a young age.
It's best to bring an Olde English bulldog into your family as a puppy, so you know the dog is getting the right training and will form a bond from an early age.
Training also sets boundaries for your dog and makes it clear that you are in charge. Dogs are not likely to challenge authority if they are trained to obey from the start. If you are not able to train your dog, you can find classes. There are also training sessions focused on aggressive behavior specifically.
Growling
Growling is one of the most obvious signs of aggression but not all dogs before they attack. Dogs may also make a very low growling sound that is hard to hear.
When a dog is exposed to a new person or another dog — or is in a situation where it doesn't feel safe or feels the need to protect itself — it may growl as a warning to scare them away. If you notice your dog is growling, you should remove yourself or the dog from the situation.
Biting
When a dog resorts to biting, it has likely already displayed other signs of aggression that were ignored. Dogs aren't likely to bite unless they feel immediately threatened. Bulldogs can clamp down hard when they bite and won't let go easily.
This can be dangerous for small animals and people. If your dog is biting someone or something, try to calm the dog down so it will release, and then remove the dog from the situation if it is safe to do so.
Lunging
Dogs can lunge as a way to show they are serious and don't want a threat around. Dogs may bark or growl when they lunge. A lunge is usually a warning sign and something the dog does to try to scare off the threat. If the lunge itself doesn't work, the dog may resort to biting or nipping while lunging.
Backing Away
Backing away may seem more like a sign of obedience than aggression, but it can quickly turn around. When dogs feel scared or threatened, their first reaction may be to get away.
They may back up as a way to escape without having to take their eyes off the threat. If your dog is backing away, let it do so and help remove it from the situation. If the dog is not able to get away, it may result in more aggressive ways of defense.
How to Prevent or Stop Aggression in Bulldogs
If your dog is aggressive or is having an aggressive episode, there are some things you can do to help. Training can help stop aggressive behavior but if your dog is caught up in aggression and you feel they could be a threat to a person or other animals, you may need to act quickly.
Leash Training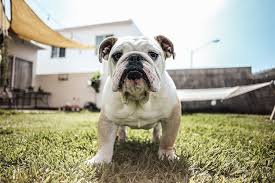 If you are worried your dog could be aggressive you should keep it on a leash. In fact, it's usually a good idea to keep your dog on a leash any time it is not in a fenced yard or in your home. This reduces the chance of it encountering a situation where it needs to be aggressive and makes it easier to control the dog if you need to get it away.
Find a Barrier
If your dog has an altercation with another dog or person, the best thing you can do is move your dog away. If you can find a gate, a wall, or another large object to block your dog's view, this can distract the dog and make it feel that it is not in any danger. It can also give the person or animal a chance to get away safely.
Distract
When your dog is acting aggressively, find a way to distract it from the source of the problem. If it's another animal, turn your dog away from it or talk to the dog so it pays attention to you. If it is another person, do not let your dog approach them, and try to calm and comfort your dog by getting it to focus on you.
Are Old Tyme Bulldogs Protective?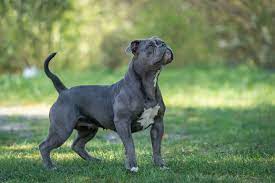 One of the traits that make Old Tyme Bulldogs such great family pets is their loyalty. The breed is known for being very loyal and protective of their family members, other pets, and the home in general.
While this means the dogs are likely to defend their families against harm, it could also mean that they get jealous easily. If your Old Tyme Bulldog is the first dog in the home and you try to introduce another pet, the Bulldog could become jealous and act aggressively toward it.
The Bulldog may eventually get used to the idea of a new pet or may need special training to help it become less aggressive. This is not the case with every Bulldog by any means, and it largely depends on how well the dog has been trained and socialized.
Do Old Tyme Bulldogs Make Good Family Pets?
Old Tyme Bulldogs do make great family pets. Above all, they are loyal, they love to cuddle, and they crave attention. With proper training, they can be obedient. They are not known for being an active breed, but they can handle light exercise and can be playful, especially as puppies.
These dogs are great with kids as long as they are introduced to them at a young age and they are not inherently aggressive towards cats or other animals. They do well with animals that are bigger and smaller than them, but if they get rowdy they can be rough around smaller animals and young kids.
Training your dog ensures it will be a good family pet and won't be overly territorial or aggressive. If you are bringing a dog into a home with small children, it's important to teach your children how to handle and play with the dog properly. This will reduce the risk of injury to a child or the puppy.
What Breed Makes an Old Tyme Bulldog?
An Old Tyme Bulldog looks a lot like an English Bulldog. If you look closely at the breed, you will notice they have big heads and snooty noses that give them a grouchy or even mean look.
They also have a familiar undershot jaw that makes them look less threatening and more adorable. These are very social and intelligent dogs, but they do require a lot of training. They are known for their loyalty, which makes them great family pets. They are also known for having good temperaments.
Are Old Tyme Bulldogs Strong?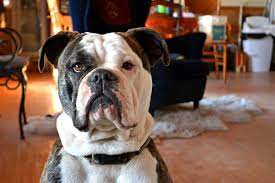 Old Tyme Bulldogs are known for being strong for their size. They are short and stout, and very muscular. This is one of the reasons they were used to immobilize larger animals in the early days of the breed.
Frequently Asked Questions
Do English Bulldogs have a strong bite?
Among common dog breeds, English Bulldogs have one of the strongest bites.
Do English Bulldogs like to cuddle?
While they aren't necessarily ideal for families with young children, Olde English Bulldogs are affectionate dogs who enjoy cuddling with their owners.
Are English Bulldogs territorial?
When it comes to introducing a second dog to your home, your English Bulldog can become territorial. Always supervise the introduction process and take things slow.
Conclusion for "Are Olde English Bulldogs Aggressive"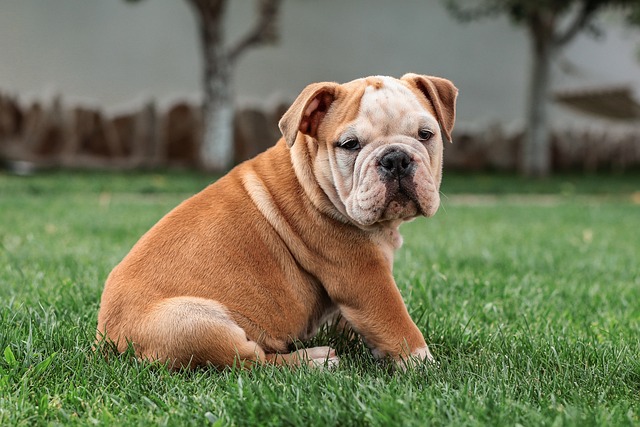 Whether it's an Olde English Bulldog or any other breed, there are warning signs you should watch for if you are worried your dog may become aggressive.
If you think your dog is or could be aggressive — or if the dog is new in your home — then make sure to monitor it closely and never leave it alone with small children or pets. Pay attention to the dog's body language and overall demeanor.
If your dog seems nervous or anxious in a situation, its feelings could lead to aggressive reactions.
If you find this guide, "Are Olde English Bulldogs Aggressive," helpful, check out:
Learn more about the breed by watching "Olde English Bulldogge Vs English Bulldog – Comparison Between Two Bull Dogs" down below:
Garrett loves animals and is a huge advocate for all Doodle dog breeds. He owns his own Goldendoodle named Kona. In addition, he volunteers at the Humane Society of Silicon Valley, where he fosters dogs and helps animals. Garrett enjoys writing about Doodles and believes that dogs can teach humans more about how to live than humans can teach a dog.
Why Trust We Love Doodles?
At We Love Doodles, we're a team of writers, veterinarians, and puppy trainers that love dogs. Our team of qualified experts researches and provides reliable information on a wide range of dog topics. Our reviews are based on customer feedback, hands-on testing, and in-depth analysis. We are fully transparent and honest to our community of dog owners and future owners.