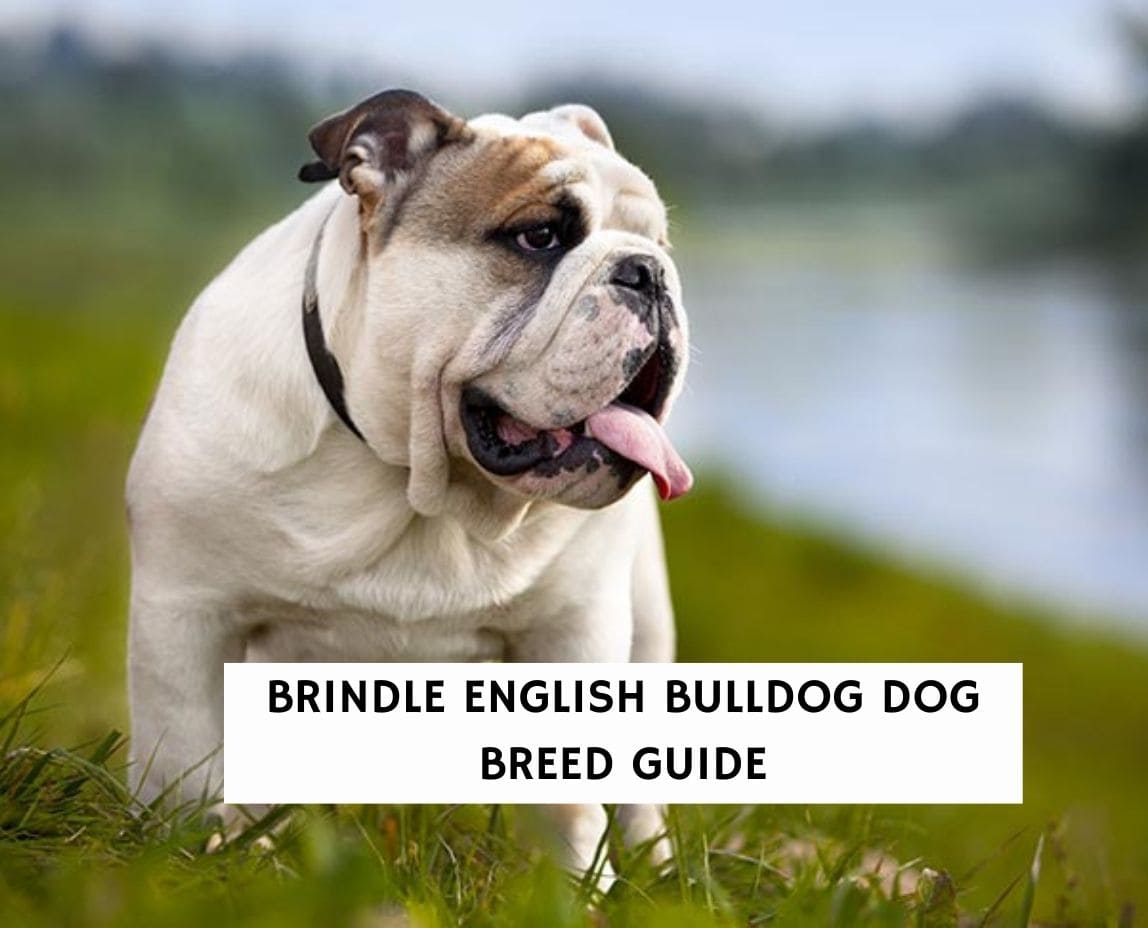 Have you ever wondered what the difference between a Brindle English Bulldog and a regular English Bulldog is? Well, Brindle refers to a coat pattern. Brindle English Bulldogs are just English Bulldogs but with distinct patterns that differentiate them from other Bulldogs. If you are looking to adopt a Brindle English Bulldog, you need to remember they require the same care as a regular English Bulldog.
Before scrolling down this Brindle English Bulldog guide, check out these guides: Boodle Dog Breed Guide and Beagle Aussie Mix Guide.
Coat Appearance
If you find yourself asking, "What exactly does brindle mean?" you have come to the right place. Brindle is a standard coat pattern among many breeds of dogs, especially English Bulldogs. Simply put, Brindle means the dog has streaks of a different color within its primary coat color. Brindle is especially prevalent in English Bulldogs.  Red is the most common brindle color among English Bulldogs; however, you can also get Brindle in other colors such as black, lilac, and fawn.
Characteristics of Brindle English Bulldogs
Breed: Brindle English Bulldog
Temperament: Friendly, Courageous, Calm
Typical Standard Height (Approx.): 14-15 Inches
Typical Standard Weight (Approx.): 50 Pounds (male), 40 Pounds (female)
Life Expectancy: 8-10 Years
Group: Non-Sporting Group
Brindle English Bulldogs have the same temperament and characteristics as regular English Bulldogs; the only thing that differentiates them is their coats' brindle pattern. They typically stand between 14-15 inches and weigh between 40-50lbs depending on their gender. English Bulldogs have an average lifespan of 8-10 years. These dogs are often easy to identify because of their distinct bodies.
They are muscle-clad, low-riders with small ears and hanging jowls. The pushed-in face of English Bulldogs also makes them different from most other breeds. Because of their snout shape, they can be prone to breathing problems, contributing to the little snorts you may hear coming from them. This type of dog is called brachycephalic and can be easily maintained with proper care.
Grooming
Now that we know what Brindle English Bulldogs look like, we can think about maintaining their beautiful coats. You must brush these dogs about 2-3 times a week to keep their fur healthy and shiny. It would be best if you also clipped their nails once every two weeks. A key aspect of grooming any English Bulldog is the maintenance of the skin around their mouths.
Because of their mouths' shape and the wrinkles surrounding them, these dogs can often develop sores. Therefore, you need to regularly check the skin on your Bulldog's face to ensure it is clean and dry. You can clean this area (not near the eyes) with a cotton ball and peroxide and let it dry with the aid of cornstarch; this will ensure your dog remains healthy and happy.
Dog Grooming Guides: Dog Grooming Advice and How Long Dog Grooming Take?
Temperament and Personality
Remember, Brindle English Bulldogs have the same temperament and build as any other English Bulldog; they have a different coat pattern. These dogs have friendly, courageous, and calm demeanors. These dogs make excellent pets for families with kids because of their calm and gentle temperaments.
Exercise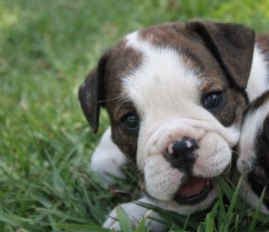 Brindle English Bulldogs are easy-going, so they are happy living in a city or a more rural area. However, many people mistake their easy-going nature for laziness; this can be a dangerous mistake. Although they may seem perfectly content laying around, English Bulldogs still need moderate exercise to prevent health problems. English Bulldogs are prone to obesity, so moderate exercise is essential to maintain a healthy weight.
However, it is necessary to avoid hot temperatures with your English Bulldog. These are brachycephalic breeds meaning they have short snouts. Brachycephalic dogs can have increased difficulty breathing when temperatures are hot, so it is better to leave your dog inside on days like that. Because their mouths' shape and size also have trouble panting, so regulating body heat is tough for them. English Bulldogs should also avoid deep water pools as their legs are very short, and they are not good swimmers.
Exercising Product Recommendations: Best Dog Playpen for Hardwood Floors.
Nutrition
English Bulldogs are prone to weight gain and cannot lose weight quickly because of their health concerns. Therefore, following the proper diet for an English Bulldog is essential to keeping your dog healthy and happy. These dogs should be fed about 1,500 calories a day as puppies and 1,300 calories a day as adults; following this can prevent your dog from becoming overweight.
Remember, you should provide your dog with calories through healthy food, not just any food. High-quality kibble is the most common way of knowing your dog is getting the proper nutrients to stay healthy. Typically the amount of kibble you must feed your dog depends on its size. Specifically, English Bulldogs need kibble high in healthy proteins, which will help support lean muscle growth.
When it comes to feeding an English Bulldog, it is essential never to leave food available at all times; English Bulldogs will make themselves sick by overeating. Additionally, they can have trouble digesting large amounts of food, so splitting meals into smaller portions benefits these dogs greatly. The frequency of meals for an English Bulldog depends on their age. 
0-3 Months: 4 times a day
3-6 Months: 3 times a day
6-12 Months: 2 times a day
1+ Year: 1-2 times a day, depending on your dog
Dog Food Recommendations: Redford Naturals Dog Food and Best Non-Prescription Diabetic Dog Foods.
Training
As with all dogs, training should begin during puppyhood to ensure your dog is well-socialized. Unfortunately, English Bulldogs are a stubborn breed, so teaching them manners early in life is essential. Typical obedience and socialization training can help these dogs become friendly members of your family. An important thing to note about English Bulldogs-whether they are Brindle or not-is that they can be very defensive of their food.
It is imperative to break the habit of resource guarding early in life to avoid aggressive behaviors in the future. English Bulldogs also love to play tug-of-war, regardless of whether the thing they are playing with is a toy or not. An essential command for English Bulldogs to know is "drop it" or "leave it." These commands will prevent you from playing tug-of-war with essential items.
Dog Training Guides: How to Use an E-Collar to Train Your Dog and Best Puppy Potty Training Sprays.
Health
Unfortunately, English Bulldogs suffer from a slew of health problems. Brachycephalic dogs do not pant the same as other dogs, so they have trouble regulating their body temperature. Therefore English Bulldogs can overheat quickly and must be kept out of extreme heat at all times. Heat intolerance is not the only problem these dogs face; they often have skin problems because of their wrinkles. It is essential to clean the skin within the wrinkles regularly to prevent your dog from developing sores. Additionally, English Bulldogs have a very distinct body because of a structural defect called chondrodysplasia.
This defect has been passed down throughout generations because of selective breeding; this is what causes your English Bulldog to look like a classic English Bulldog. However, it causes a lot of health problems. These dogs often develop hip dysplasia and arthritis; it is also common to suffer from joint and ligament injuries. As you can see, there are many health concerns you must consider when adopting an English Bulldog. However, with the proper care, these dogs can live long and happy lives.
Dog Health Guides: Best Dog Foods for Joint Health and Rare Dog Diseases Every Owner Should Know.
Prices
English Bulldogs can range anywhere from $2,500 to $14,000. When breeding English Bulldogs, artificial insemination is often required because of the structure of the dogs. In addition, most births require a C-section because of the shape and size of the puppy's head. Therefore, the necessary procedures to breed these puppies make breeding expensive, resulting in a higher price for the buyer. Often the color determines the price of the dog. Brindle English Bulldogs can come in different colors. The least common colors, such as lilac, black, blue, and chocolate, are the most expensive. Red, fawn, and white are the most common English Bulldog colors and can also come in Brindle; these are the least expensive options.
Conclusion For The "Brindle English Bulldog Dog Breed Guide"
Brindle English Bulldogs are a beautiful variant of a typical English Bulldog. With distinct patterns on their coats, these dogs come in all colors and make lovely companions. Just ensure that you adopt one of these gorgeous dogs to consider all of its unique health needs. In addition, these dogs have gentle, easy-going, and kind temperaments, so once you bring one home, you will have a loving companion for life.
Find an English Bulldog breeder with our recommendations below:
Learn more about the English Bulldog by watching "English Bulldog Review" from Dogumentary TV down below: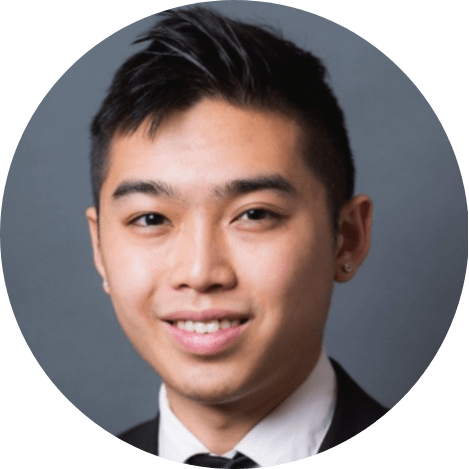 Andy is a full-time animal rescuer and owner of a toy doodle. When he's not saving dogs, Andy is one of our core writers and editors. He has been writing about dogs for over a decade. Andy joined our team because he believes that words are powerful tools that can change a dog's life for the better.
Why Trust We Love Doodles?
At We Love Doodles, we're a team of writers, veterinarians, and puppy trainers that love dogs. Our team of qualified experts researches and provides reliable information on a wide range of dog topics. Our reviews are based on customer feedback, hands-on testing, and in-depth analysis. We are fully transparent and honest to our community of dog owners and future owners.