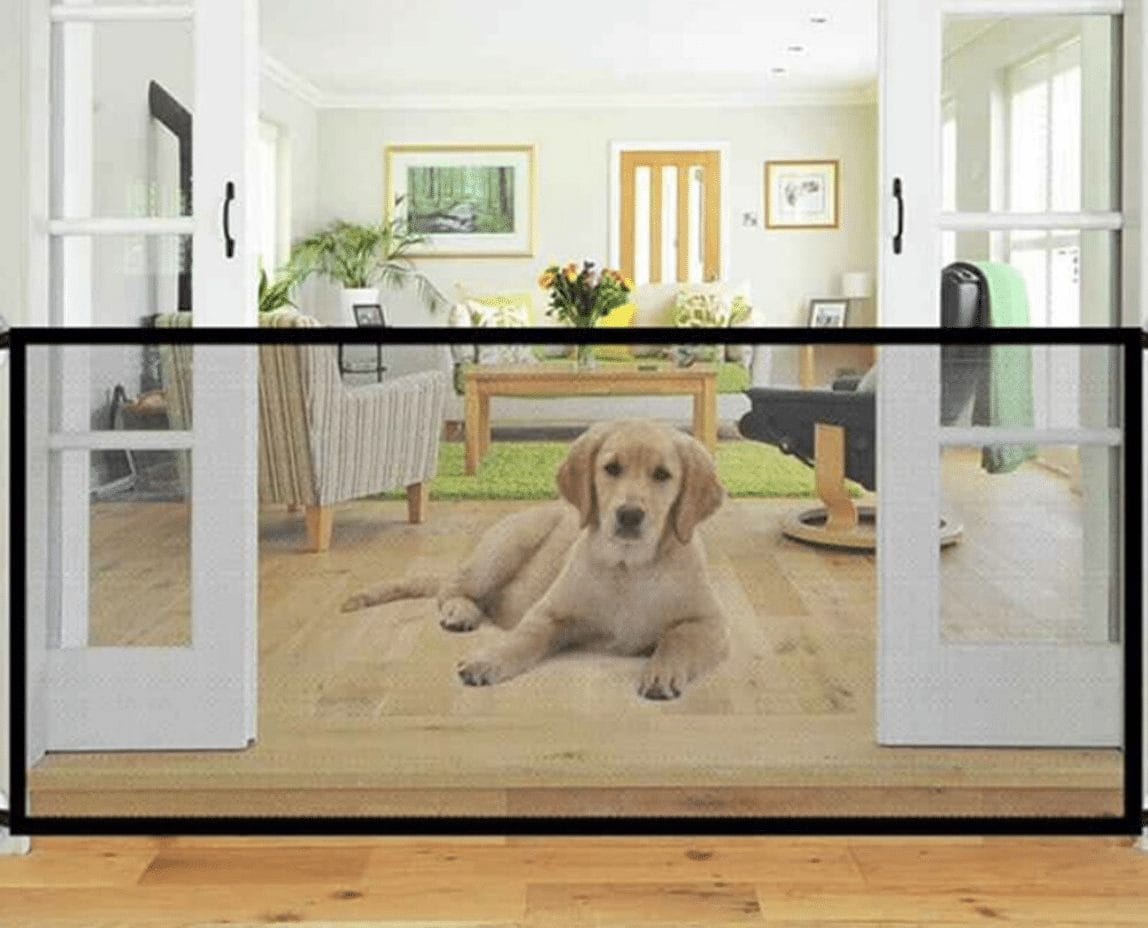 Dog owners know the problem better than anyone: sometimes you need to keep your canine contained to a particular room or space with a gate that isn't permanent and cumbersome. Whether it is segregating your dog from another animal, keeping them away from your children, keeping them from running up the stairs, or temporarily giving them a brake, the solution is to get a retractable dog gate.
Most wood or plastic pet gates are tough to deal with, remove, or step over. They can bar you from entering a space just as much as they block your pet from visiting areas of your home where they aren't allowed. A retractable gate for dogs solves the problem in a way that's safe for you, your pet, and all your children!
Here is our list of the best retractable dog gates that can help you keep your pet from accessing unwanted areas of the house. Many of them are also labeled as great for infants and toddlers–don't worry, they're great for dogs too!
In a rush? Here Are Our Top 3 Picks:
Table could not be displayed.
The Babepai Retractable Dog Gate is a safe and reliable retractable gate that can be used indoors or outdoors. Whether it's blocking off patio steps or limiting your dog's access to a specific doorway, the Babepai gate is an excellent option.
This gate has a maximum adjustable length of 54 inches, so you can use it on a variety of differently sized doorways or entries. In addition, the height of this retractable gate for dogs is 34 inches tall so your dog won't jump over it.
One great benefit of the Babepai retractable dog gate is that it comes with two separate sets of installation hardware, so if you need to alternate where you place the gate or block off different areas at different times, this allows you to do that without the need to make an extra purchase. The installation of this gate that is retractable is also very easy and comes with a drill template. Even if you're not a handy person, the installation will be easy.
The mesh material is another element setting this dog gate that is retractable apart. It's safe for pets and kids because it has no gaps — they can't reach their snouts or paws thorough it. This is honestly one of the best retractable dog gates on the market today.
The Gaterol Retractable Safety Dog Gate is great for use in any area of the house. This includes doors to dog prohibited rooms, hallways, and stairways. This retractable gate for dogs is very sturdy, but should only be used indoors.
If you want to match your decor, the Gaterol gate comes in five different colors, giving you plenty of options to choose from. Also, if you need more than one retractable gate, they sell these in bundles of two for a slight discount. That way, you can protect all your necessary areas from your invading dog with one easy purchase.
This model is 36 inches tall as well, making it ideal for bigger pets because they won't be able to jump over the gate easily. It adjusts up to 55 inches in length so you can easily block off any room or entry. This retractable gate fits all standard doors and entryways.
The Gaterol dog gate lets you easily operate it with one hand, so if you need to pass through while holding something, it's incredibly easy. As an added bonus, a warning sound alerts you if the retractable gate opens unintentionally. This is a great retractable dog gate if you're looking for something sturdy and safe.
If you have an extra-wide entryway in your house that needs a gate, the GMI Sliding Gate is the best retractable dog gate for you. It's easy to open and close with a middle supporting leg and doesn't skid. This dog gate also has a single latch that is quite easy to open if your hands are full.
With the included hardware kit, you can install this retractable gate on any opening up to 108 inches wide. For smaller ones, the minimum size for this gate is 40 inches. The gate retracts to 25.5 inches in width.
The GMI Keepsafe Dog Gate is also made in the United States, so it is a fantastic option if you are looking to purchase from a U.S. manufacturer. We also like this wooden design that is a more sturdy retractable dog gate than the typical mesh.
This is also a no drilling retractable dog gate. You can install it with simple hand tools. This is one of the best retractable dog gates that covers wide entryways.
The BETERTEK retractable gate for dogs is an excellent option if you're looking for a gate for a baby and a dog. It extends up to 54 inches to cover virtually any typical doorway, stairwell, or entryway in your house.
The mesh on this retractable dog gate is scratch-resistant, sturdy, and durable. That's a key factor, especially if your dog tries to scratch on the gate frequently. The mesh prevents large tears in the fabric and stops your pet from knocking over the gate.
BETERTEK's gate is easy to install. This is a no drill retractable dog gate and doesn't require any power tools. Instead, you can fasten it to your entryways with a simple screwdriver and other hand tools without the fuss of charging a drill.
This retractable gate, like a few others on this list, comes with two sets of mounting hardware so you can move the gate from one entryway to another room as needed. If you need to block your pet from the kitchen hallway one day and the living room door the next day, you can easily do so by mounting hardware on either entrance and quickly transferring the gate when needed. This is extremely convenient and saves your money from buying multiple retractable gates.
You can also retract this gate with one hand since it's easy to open and close. It's a quick, easy, intuitive solution if you're in need of a sturdy retractable dog gate.
The Perma Indoor & Outdoor retractable dog gate comes in three heights, all of which extend up to 71 inches, making them some of the most versatile gates available. The heights available are 33, 39, and 41 inches. You can choose the best option based on the size of your pet! A height of 41 inches in the tallest option for a retractable gate on our list.
This one also comes in three colors, though the variety is low. The Perma dog gate comes in grey, white, or black. Still, the ability to choose your preferred color even from limited options is a bonus since you can try to match this to your interior decor.
This gate is ideal for pets 10 to 50 pounds, so exercise caution when buying a gate for a larger pet. However, it is easy to install and operate, requiring only hand tools to mount and only one hand to open. If you're on a budget, this is definitely the best retractable dog gate option for you.
The PRObebi pet retractable gate offers similar benefits to many of the others that appear on this list. This part about this retractable gate for dogs is that the locking mechanism is on the top of the gate. This means that your dog or child won't be able to accidentally unlock the dog gate. This retractable gate is perfect for indoor or outdoor use and will certainly keep your dog separated.
This retractable dog gate easy to open and lock the gate with one hand, making it a simple and effective option for barring your pet from certain areas while you navigate through it with ease. The gate extends up to 59 inches and can extend in any direction you need. PRObebi's gate also comes with two sets of installation mounting hardware so you can transfer it between two entryways or hallways as needed.
This Toddleroo retractable gate for dogs is a bit different in that it doesn't actually retract, but provides an extremely sturdy barrier. If you need a gate that gives you easy access to the cordoned off area but doesn't retract, this may be a great alternate option. This gate can fit most entryways because it can be curved. It essentially has three different components to it that allows it to fit most entryways.
This gate mounts on openings 38 inches to 72 inches wide and has a small door mounted in the center. You can easily swing the door open with one hand, and it automatically closes behind you. If you need to pass through multiple times, you can use the gate's hold-open feature.
Because it doesn't retract, this gate is more ideal for spaces where you'll need it semi-permanently or for extended periods of time. This is the best sturdy dog gate on our list. If you're looking for an alternative to the standard mesh retractable dog gate, this is a great option.
What Are The Benefits of Retractable Dog Gates?
There are a number of reasons you might need a gate for your house, and luckily you can typically make one purchase that applies to every possible use that might arise.
For families, gates are a phenomenal way to keep a large dog from getting too close to a little one who's playing on the ground. If you're training your dog to learn to behave while you're away from the house, a gate can be a great tool to keep your pet sheltered in one room so they don't venture into other areas of the house while you're gone.
In addition, most dog owners will keep a retractable dog gate in front of their stairs to prevent their dog from going upstairs or downstairs. This not only helps you keep track of your dog, but it also helps you separate them from wondering the entire house.  A retractable gate will also prevent your dog from falling down the stairs as they will walk slower when a gate is around.
Sometimes a retractable dog gate, is as simple as keeping your canine away from the kitchen when you're cooking. There are infinite scenarios that may require you to get a gate, so when you do, it's important to choose one that will last and that won't become a permanent (or even temporary) obstacle to the non-canine residents of your household.
Pet gates, quite frankly, can be obstacles to humans just as much as they can to dogs and other pets. Cumbersome plastic and wooden gates may seem really great on first look, but they require a lot of work to navigate and use. In addition, wooden and plastic gates typically require complex drilling into the walls of your house.
Adjustable (but not retractable) gates require you to unfasten and move the entire apparatus to get through to the area you're intending to block off. This allows your pet opportunities to escape to the area you're separating them from. Additionally, if you try to step over a three-foot tall dog gate, you risk injury for yourself, for your pet, and for others, not to mention the possibility of breaking household items.
Retractable gates solve all of these problems and give you one simple solution. Installing a retractable gate makes it easy for you to open up the area whenever you need to, whether it's just for you to pass through or letting your dog explore more areas of the house.
Further, retractable gates let can be operated with one hand for the most part. If you need to access the blocked area of your home quickly, or even while holding something in one hand, you can unfasten the gate with ease and access the area blocked by the gate.
Finally, retractable gates are typically made of mesh, scratch-resistant material. They're sturdy, built for long-term use, and pose little risk to your pet. Other gates have dangerously small openings that could allow your pet to pinch or cut itself. With a retractable mesh gate, this isn't a problem and you can rest assured your pet is safely blocked from entering unwanted rooms of your house.
Conclusion for Best Retractable Dog Gate
Retractable dog gates are a relatively new way to separate your dog from children, other dogs, or stairs. They are considered easier to use than traditional wooden or plastic dog gates, and you won't worry about tripping over your dog gate. The downside of a retractable gate for dogs is that they typically are made from mesh. Dogs who enjoy chewing or scratching may break this gate over time.
Other articles you might like:
Garrett loves animals and is a huge advocate for all Doodle dog breeds. He owns his own Goldendoodle named Kona. In addition, he volunteers at the Humane Society of Silicon Valley, where he fosters dogs and helps animals. Garrett enjoys writing about Doodles and believes that dogs can teach humans more about how to live than humans can teach a dog.
Why Trust We Love Doodles?
At We Love Doodles, we're a team of writers, veterinarians, and puppy trainers that love dogs. Our team of qualified experts researches and provides reliable information on a wide range of dog topics. Our reviews are based on customer feedback, hands-on testing, and in-depth analysis. We are fully transparent and honest to our community of dog owners and future owners.