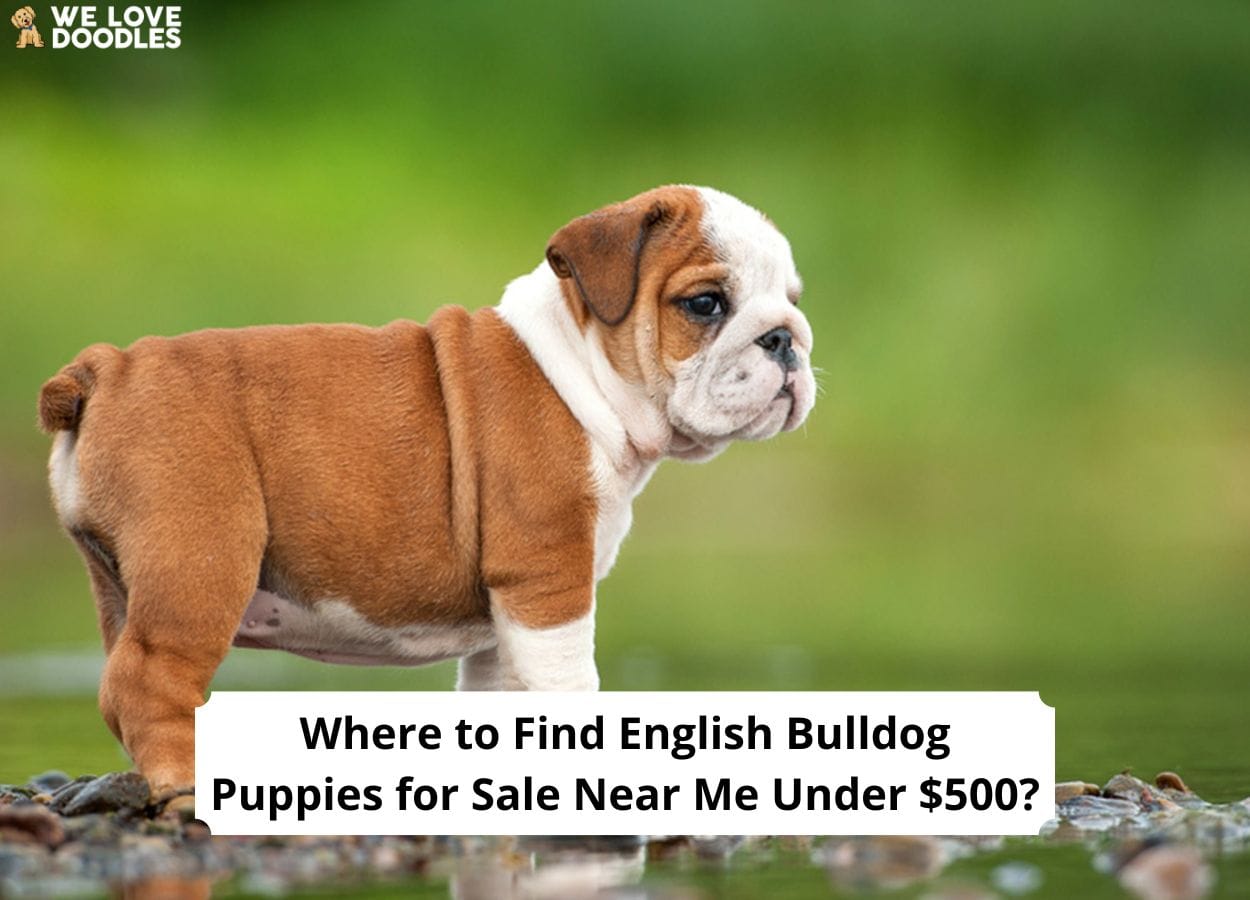 English Bulldogs are little showstoppers and the cost to adopt a puppy reflects that! Are you wondering where to find English Bulldog puppies for sale under $500? Well, it can certainly be done, but it's going to take research.
We've done that research for you, putting together the top spots to go to find English Bulldog puppies for a relatively cheap price. Breeders in your area will set their own prices, so feel free to use this guide as a jumping-off point to find your new puppy.
As always, be sure to select a reputable breeder. Avoid puppy mills by interviewing your breeder and, if possible, visiting the kennel before you adopt a dog. Ready to find your new puppy? Let's get started!
Before you scroll down this list of places with English Bulldog puppies under $500, check out: 5 Best English Bulldog Breeders in the United States! (2023) and 12 Best English Bulldog Rescues in the United States! (2023).
1. Ferry English Bulldog Puppies
Ferry English Bulldog Puppies will ship or deliver puppies nationwide. Contact the team for shipping options. Note that English Bulldogs are a snub-nosed breed, so your dog will only be eligible for air travel at the discretion of the breeder.
Choose a pet-friendly airline and be sure your dog's vet has given him a clean bill of health before flying him to your location.
You can view the available English Bulldogs on the Ferry website — you'll find that many are priced between $500 and $750. Your puppy comes with a health guarantee, and your purchase price helps cover the cost of basic vet care while in the Ferry English Bulldog Puppies kennel.
Ferry English Bulldog Puppies are sold as companions only. That means you'll need to sign a spay or neuter agreement — you won't be permitted to breed your dog. You'll receive registration papers for your dog unless otherwise noted.
Ferry English Bulldog Puppies Details:
2. AKC Marketplace
The AKC Marketplace is an obvious place to check for English Bulldog puppies for sale for under $500. The American Kennel Club, as you may be aware, sets the standards for showing 200 dog breeds. The English Bulldog is one of those breeds, and you'll find many kennels that advertise on the site.
So how does AKC Marketplace work? Well, first, understand that each breeder who posts on the site is a member of the AKC. They've agreed to uphold high standards of breeding and care for their dogs, so you can be sure your puppy will come from a good pedigree and will be as healthy as possible.
To find an English Bulldog puppy for sale under $500 you'll need to click on each individual breeder's bio. Average prices of puppies are listed on the informational page; unfortunately, there's no way to sort by price at present.
Your search results will appear in order of distance from you, but be aware that many breeders will ship so don't limit yourself.
Most AKC Marketplace puppies will come with a health guarantee and registration papers. However, if you're considering breeding your dog you'll need to ask the kennel whether breeding rights are available. Generally speaking, these are purchased at an additional cost above the price of your dog.
AKC Marketplace Details:
3. Facebook
Facebook provides a wonderful free outlet for reputable English Bulldog breeders to advertise. Anyone can create an account, then post puppies that are ready to be rehomed or sold to families that will provide a loving environment for life.
It's important to remember, however, that puppy mills can post as easily as responsible breeders. Take precautions to ensure your puppy is coming from a safe, healthy home before starting the adoption process. You can interview the seller and, in some cases, visit the facility. Use your judgment and trust your instincts when choosing your puppy.
To find English Bulldog puppies under $500, simply enter "English Bulldogs" into Facebook's search bar. You'll be shown pages and groups that you're welcome to follow or join, and you can opt to view posts by individuals in your area too.
The cost of English Bulldog puppies will be set by the breeder, so the cost to adopt a dog will vary. Some puppies will be sold for several hundred dollars while others will be available for just a rehoming fee.
Ask for vet records and registration papers, if available. Always bring your dog to a vet within a few days of purchase to make sure he's healthy and ready to join your family.
Facebook Details:
4. Puppies.com
No matter where you are in the United States, you can find an English Bulldog puppy for sale under $500 on Puppies.com. This website allows breeders from all over the country to post their puppies; you can search by breed and include both purebred and designer-breed dogs.
When you find a dog you're interested in, click his picture. The breeder will have designated whether your dog is available for shipping or not. Information about pricing and the health of your dog will also be displayed in the dog's biography, so get to know your dog's history before you commit.
While a good deal of info on the breeder's practices is listed for you, we recommend that you set up a telephone interview, home visit, or video call with the seller before you buy a dog.
Check vet references, and bring your dog to the vet within a few days of Gotcha Day. Finally, make sure you understand any health guarantee, and that you've read the terms and conditions of the purchase. You may be required to alter your dog, or even feed him a specific brand of food to qualify for the warranty.
Puppies.com Details:
5. Craigslist
Craigslist is next on our list of resources to buy English Bulldog puppies under $500. This is a global classified site, so no matter where you are in the US, you're all but guaranteed to have a local Craigslist.
Visit the site, then select your city. To find your puppy, you can click on the "pets" link in the community category or just search the site. Search results will include English Bulldog puppies in your area, and if none are present you'll also be shown puppies from neighboring cities. Choose the puppy you'd like to adopt, then contact the breeder using their preferred method.
Like Facebook sellers, Craigslist sellers are not screened. You'll want to make a responsible effort to learn all you can about your dog before you exchange any money.
Bring a friend when you pick up your puppy, and schedule an appointment with a veterinarian of your choice — it's best to bring your puppy to the vet before you introduce him into your home.
Craigslist Details:
6. Adopt a Pet
Adopt a Pet offers the opportunity for individuals, breeders, and sellers to list English Bulldog puppies for sale under $500. You can also find cats and other animals on the site, so take your time and browse around. You may find yourself with a new kitten, bird, or ferret in addition to your English Bulldog.
Search by breed, then filter by sex, age, and other characteristics. The private owner, shelter, or breeder listing the dog will provide context for the adoption process along with contact information. Don't hesitate to ask any questions you may have — honest answers and friendly conversation are good signs that your seller is on the up and up.
In almost all cases, you'll receive vet records for your dog, but you'll want to check references, too. Confirm that your animal has been brought current on vaccinations and wormers, and schedule a checkup. Adopt a Pet does not screen sellers, so you'll need to do so yourself.
Adopt a Pet Details:
7. Bullies 2 the Rescue
Bullies 2 the Rescue is just one of many English Bulldogs rescues across America. A quick Google search will bring up others if this rescue isn't convenient. Note that most shelters will not ship or deliver dogs, so it's best to find one close to home.
When you adopt from an English Bulldog rescue, you're getting a dog or a puppy that has a history. In some cases, that history may be unpleasant and your dog may need a little extra TLC and rehabilitation. In other cases, your puppy is coming from a healthy, loving home but just needs a human who can provide more care than their current family can.
Either way, you'll get to know more about your shelter dog when you contact your rescue team. Fill out an application and let the shelter know about your experience with dogs, your physical home, your family and existing pets, and your lifestyle. You'll be in communication with volunteers who will help match you with an English Bulldog that will fit your needs.
English Bulldog rescues are typically not for profit, which means your adoption fee may be tax-deductible. Speak with a financial professional to confirm. The donation will cover, in part, the expenses incurred while your puppy was in shelter care. Dogs will be spayed or neutered before joining their forever home.
Bullies 2 the Rescue Details:
Frequently Asked Questions
What is the cheapest price for an English Bulldog?
You can expect reputable breeders to charge $1,500 or more for an English Bulldog puppy.
Are English Bulldogs easy to train?
English Bulldogs can be stubborn and resistant to training, but with patience, they'll follow your lead.
How long do English Bulldogs live?
The life expectancy of an English Bulldog is eight to 10 years.
Conclusion for "Where to Find English Bulldog Puppies for Sale Near Me Under $500"
English Bulldog puppies are cute, wrinkly, and oh-so-popular. For that reason, you'll sometimes find that the breeders who produce these puppies set prices super high, making the dogs inaccessible to some.
Thankfully, there are plenty of resources available to those of you who would like to find an English Bulldog puppy for under $500. Begin with the breeders and sites on our list, then conduct a local search of your own. Your new dog is just a few phone calls away.
If you find this guide, "Where to Find English Bulldog Puppies for Sale Near Me Under $500," helpful, check out:
Before you bring home an English Bulldog puppy, learn more by watching "10 Things Only English Bulldog Dog Owners Understand" down below:
Garrett loves animals and is a huge advocate for all Doodle dog breeds. He owns his own Goldendoodle named Kona. In addition, he volunteers at the Humane Society of Silicon Valley, where he fosters dogs and helps animals. Garrett enjoys writing about Doodles and believes that dogs can teach humans more about how to live than humans can teach a dog.
Why Trust We Love Doodles?
At We Love Doodles, we're a team of writers, veterinarians, and puppy trainers that love dogs. Our team of qualified experts researches and provides reliable information on a wide range of dog topics. Our reviews are based on customer feedback, hands-on testing, and in-depth analysis. We are fully transparent and honest to our community of dog owners and future owners.