The English Bulldog has a tail, but there are several distinct types and some are more noticeable than others. In essence, there are four different kinds of English Bulldog tails.
Some of them have short tails that dangle low and curve near the bottom of their bodies. Many English Bulldogs have short, straight tails, while others, in rare instances, have longer, wavy tails.
Before you scroll down this guide, "English Bulldog Tail Types: To Dock or Not Dock," check out: Bulldog Underbite – Everything You Need to Know! (2023) and Where to Find English Bulldog Puppies For Sale Under $1,000? (2023).
English Bulldog Tail Types
Below are some of the types of English Bulldog tails.
Straight Tails
Pump-handle tails will be short and low-lying, tapering down to a tip. Bulldogs with this kind of tail are regarded as ideal by the American Kennel Club. This tail style is common among English Bulldogs and is present in all Bulldog breeds.
If the straight tail appears to be rising taller than the tails of other English Bulldogs, don't become alarmed. Contrary to popular belief, these tails are perfectly healthy for your English Bulldog to have and exist alongside other naturally occurring tails in Bulldogs.
Long and Wavy Tails
People frequently ask if the English Bulldog has a long, wavy tail. You wouldn't expect that, but yes. Some English Bulldogs have long tails from birth. Their ancestry may be the cause. The likelihood of getting an English Bulldog with a long tail increases if the crossbreed included a parent dog with one.
Even though they are quite uncommon, pure-breed English Bulldogs with long tails occasionally exist. The English Bulldog will also have wavy tails, which are often seen to be defective by breeders. Dogs can wag their tails more easily and may be healthier with wavy tails than corkscrew tails.
Corkscrew Tails
The English Bulldog breed also has tails that curl downward in the style of a corkscrew. Similar to the straight tail, this form will be common among English Bulldogs. This kind of tail may be flexible in pups. The tail stiffens and takes on the appearance of a bun as the dog ages.
Curly Tails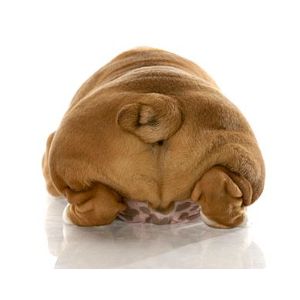 If your English Bulldog has one, it will curl loosely, resembling a pig's tail. Some people believe that it also has a Basenji-like inward bend. This tail type becomes less desirable to breeders. You might not frequently encounter an English Bulldog with this tail type since they won't breed litters with it.
Tailless
An English Bulldog may be tailless for medical purposes, but this is not inherited or transferred to puppies. Some medical disorders may need surgical removal, leaving the dog without a tail.
What Does Tail Docking Mean?
As tail docking is still a hot topic of discussion, it is crucial to understand what it entails. The medical operation known as "tail docking" means either totally removing the dog's tail or shortening it.
Sometimes, this may be done for medicinal reasons, but many individuals do it for aesthetic, which is totally inappropriate. This is why doing it just for aesthetic purposes is prohibited in many nations.
Due to prior overbreeding, English Bulldogs are susceptible to a number of health issues. Their short tails may sometimes be the source of the issue.
A corkscrew tail on an English Bulldog will stiffen up as it gets bigger and take on the form of a bun that rests on the top of their hip. This bun might become infected if it is excessively tight, which could result in ulcers and other skin issues including open sores. Additionally, it may cause your dog overall discomfort.
In this situation, your veterinarian can advise having your dog's tail docked to help shield him or her from any potential health issues and pain in the future. If your dog has medical conditions that can be resolved through this surgery, tail docking is permitted.
Your English Bulldog's tail should never be docked if there are no underlying health problems. This is due to the fact that having your dog's tail docked may be quite unpleasant and distressing for them. Additionally, the operation may have an impact on their equilibrium and general attitude. Even tail docking for medical reasons should be carefully evaluated.
Why Is It Common Practice to Dock Dog Tails?
The first evidence of tail docking goes back to the Ancient Roman era, making it a relatively recent notion. In the past, Shepherds' tails were also sometimes docked to help prevent the transmission of rabies, however, it is not quite clear how people reached this decision.
In more recent times, hunting dogs' tails have occasionally been docked to lessen the risk of injury. Although it makes a little bit more sense than the prior justification, it wasn't essential.
Cosmetic considerations are another reason why individuals in the past decided to dock their dogs' tails. When this happens, the breeder aims to produce a better-looking puppy.
To stop the blood flow, some individuals used to wrap an elastic band around the base of the tail. The tail would eventually die, but the dog would have to go through a painful procedure.
Does Tail Docking Hurt Dogs?
Some individuals contend that puppies' neural systems are not yet fully formed for them to experience the discomfort of the procedure when their tails are docked. Most individuals, however, would disagree.
According to the RSPCA, a dog's neurological system is fully formed at birth, which means puppies and adult dogs are both extremely sensitive to pain. Cuts into muscle, tendons, bone, cartilage, and several delicate nerves are required when a dog's tail is docked.
Puppies are loud during and after this procedure, which indicates they are in pain. The inflammation and pain the dog feels while the wound heals are also part of the healing process. Additionally, tail docking increases the danger of infection and other medical issues and is completely unneeded.
In the end, tail docking may cause unneeded long-term chronic discomfort and misery. The procedure is prone to errors, which can significantly reduce a dog's quality of life. These justifications make tail docking both morally repugnant and illegal in many nations.
UK and US Tail Docking Laws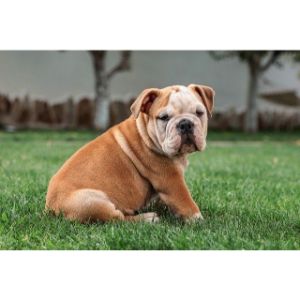 With the exception of several working dog breeds, tail docking is prohibited in the United Kingdom. For aesthetic reasons, docking a dog's tail is prohibited on most breeds of dogs, including English Bulldogs.
What Tail Problems Can English Bulldogs Have?
As we've established, the English Bulldog has a higher propensity to acquire health issues, most often respiratory issues, joint issues, and skin diseases. However, the English Bulldog's tail is one of the most typical health issues it might encounter. They will ultimately become rigid and immobile due to the shortness and curliness of their tails.
English Bulldogs are more likely to get skin-fold infections. Cleaning these spots can be difficult, and this problem might come up repeatedly. Additionally, this breed's anal glands tend to clump tightly, which can cause discomfort and unpleasant odors. A veterinarian may need to treat this in some cases.
The tail pockets, comprising the skin flaps that fold under the tail, are another potential problem area. If this region is not adequately cleansed, dirt and debris can build up and cause an illness.
Screw tails, ingrown tails, dermatitis, and intertrigo are a few more related conditions. The bulk of the issues we've described are brought on by the skin's tight folds, which trap dirt and moisture, resulting in infections and fungus growth. Antiseptic creams are effective in treating illnesses, but they can recur.
What Do Tail Pockets Mean?
The tail pocket is a fold of skin that may be found underneath the tail of some English Bulldogs, however, not all of them will have one. Between the time of their birth and a few months old, these flaps are the most noticeable. The dog will have a tail pocket for the duration of its life.
The tail pocket may accumulate substances like dirt, debris, and dead skin much like any other part of the body. When it comes to cleaning and grooming this breed, this region is frequently overlooked because it is not in the most noticeable location.
This implies that an infection may form, which may result in discomfort and sensitivity. Because of this, it's essential that you keep your dog's tail pocket — if they have one — clean.
Although dogs clean themselves, there's a chance they won't be able to reach this area, so it's up to you to keep it tidy. This may be achieved by cleaning the area once a week with soap and water. Additionally, you must ensure it's fully dry to avoid moisture leading to an infection.
Likewise, you should clean the region behind your dog's tail, particularly if they are unable to do so. If you bring your dog to a groomer for these services, make sure they stay on top of it. You should take your English Bulldog to the clinic for treatment if you suspect that they have a tail pocket infection.
Frequently Asked Questions
What is the standard tail for the English Bulldog?
The American Kennel Club says that an English Bulldog tail should be straight or screwed, but not curly.
Do English Bulldogs naturally have short tails?
The natural length of an English Bulldog's tail is shorter than other dog breeds, but many are still docked or cropped.
What is the difference between an Olde English Bulldogge and an English Bulldog?
Generally, English Bulldogs are smaller and shorter than Olde English Bulldogges.
Conclusion for "English Bulldog Tail Types: To Dock or Not Dock"
With a few rare exceptions, most dogs are born with tails. English Bulldogs have tails from birth. They may not resemble the image of a typical tail, but they nonetheless do have them.
If the dog has health problems later in life, it may be necessary to remove their tail, and that's okay — but solely to help him, never for aesthetic purposes.
If you find this guide, "English Bulldog Tail Types: To Dock or Not Dock," helpful, check out:
Before you dock your English Bulldog's tail, learn more about the pros and cons by watching "What Are The Pros and Cons of Docking a Dog's Tail" down below: