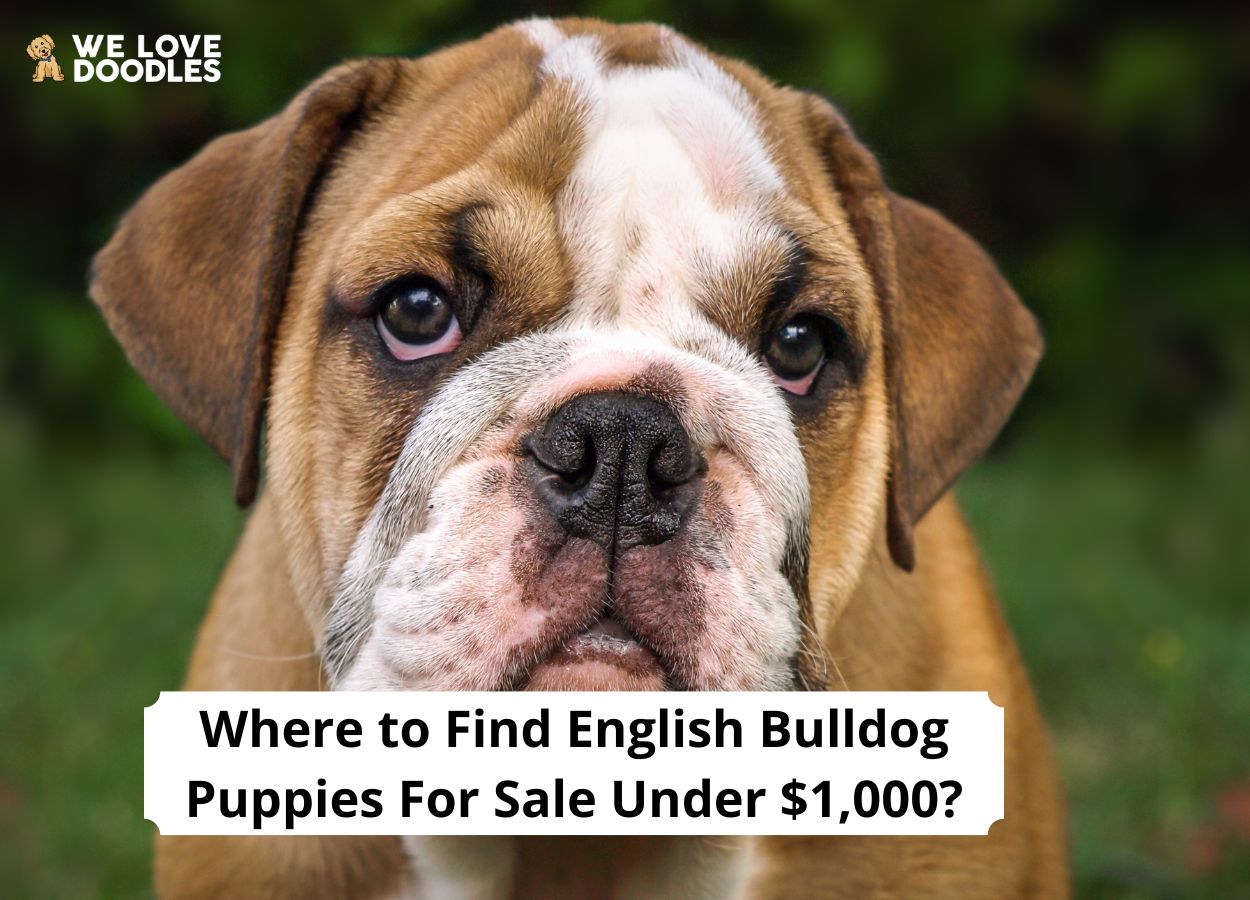 Are you searching for English Bulldog puppies for sale under $1,000? If you are – then you've come to the right place. The English Bulldog is a sweet, people-pleasing breed with a big personality.
They usually get along well with children and even act as companions to seniors, and their intelligence makes them easy to train. Do you need to know where to find English Bulldog puppies for sale under $200? We got you covered.
Before you scroll down this list of places with English Bulldog puppies for sale under $1,000, you can check out these other related articles from our team at We Love Doodles: Best English Bulldog Rescues in the United States For Adoption and Best English Bulldog Breeders in New York.
Find English Bulldog Puppies For Under $1,000
Check out our list. The breeders, kennels, shelters, and websites in our guide are a great place to start in your search for an English Bulldog to call your own. Whether you're searching for a new puppy or a rescued friend, our resources will help get you started.
English Bulldog Product Recommendations: Best Toyota 4Runner Dog Barriers and Best All-Natural Shampoos For Dogs.
1. David's Kennel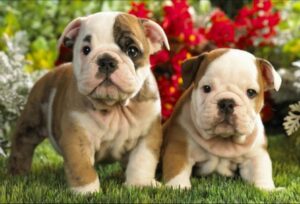 A pastor and his family own David's Kennel, and puppies born at this kennel live on two acres of land where they can explore, play, and learn. David's Kennel produces quality litters of English Bulldogs, Frenchies, golden retrievers, labs, and other breeds.
They're located in Minnesota but will arrange for the shipment of puppies. This breeder offers English Bulldogs under $1,000 – the puppies will generally range in price from $600 to $1,300. Speak with the breeder about which characteristics determine the total cost of your puppy.
If you'd like your dog shipped to you, you will incur an additional charge. Puppies are vet-checked and vaccinated. They will be dewormed, and dewclaws will be removed. A limited AKC registration is available for most dogs.
Your puppy has a three-year health guarantee against hip, elbow, eye, and heart conditions. Note that some puppies are raised by whelping or guardian families. The David's Kennel team has vetted each puppy's home and deemed it a safe, healthy, and loving environment.
David's Kennel Details
2. J Bar T Ranch
J Bar T Ranch is next on our list and is a great place to find English Bulldog puppies under $1,000. The kennel is located in Texas but will ship or deliver puppies anywhere in the United States. Email or call the breeder for more details about transportation options.
In addition to English Bulldogs, J Bar T Ranch breeds Frenchies and Aussies. You can view each available puppy on the kennel's website, then begin the steps to adopting your new dog. Somewhat unique to this breeder is that they also offer stud services and older dogs.
You can purchase an older puppy that has begun training or a retired dog that has acted as a dam or sire. Discounts are available for military personnel and repeat customers. You may also be interested in the financing options offered through J Bar T Ranch.
The kennel accepts payments through PayPal Credit and Lending USA, a third-party financing company. Puppies are home-raised in a family environment, and your dog will have plenty of opportunity to run around and explore the large property. Happy customers rave about how social little J Bar T Ranch English Bulldogs are.
J Bar T Ranch Details
3. Lancaster Puppies
Lancaster Puppies is a Pennsylvania-based organization that connects English Bulldogs with their new owners. They allow listings from breeders across the country to post ads for a small fee, though most breeders are in Pennsylvania, Ohio, Indiana, and surrounding areas.
Search for English Bulldogs using the drop-down menu, then sort by price. You'll find quite a few English Bulldog puppies for sale under $1,000, and you can view dog information by selecting a puppy's picture. You'll also find some information about your dog's personality and pedigree, as well as instructions for contacting the breeder.
Lancaster Puppies doesn't ship puppies; you'll have to make transport arrangements directly with the breeder. Be sure you get these details squared away before you exchange money – it would be a shame to fall in love only to learn that your puppy can't be delivered.
Health guarantees and spay or neuter agreements are in place at the breeder's discretion. In some cases, a health guarantee is required by law; research laws for the state where your puppy is sold. Regardless of the breeder, your puppy will be vaccinated and dewormed appropriately for their age, and many will have been microchipped for safety.
Lancaster Puppies Details
4. Bob English Bulldog Puppies
Bob English Bulldog Puppies sells affordable, AKC-registered English Bulldog puppies under $1,000. They're a family-owned business, and puppies are raised as household members until it's time to go home with you. Speak to the breeder about the availability of transport or shipping to your location.
You can view the puppies directly on the website and read adorable descriptions of each dog's personality. Each puppy's biography also lists whether the dog is expected to show potential. Connect with the kennel about AKC and limited registration if you're interested in showing or breeding your dog.
English Bulldogs come with a health guarantee which is good for two years and protects you should your dog be found to have a genetic condition. Dogs are vaccinated, dewormed, and microchipped before they join their new families. You can also be certain that your puppy has been vet-checked from nose to tail.
Bob English Bulldog Puppies Details
Location: Nationwide shipping
5. Bulldog Rescue Network
If you don't have your heart set on a new English Bulldog puppy, why not check out the rescued dogs ready to find new adoptive families? Bulldog Rescue Network is a nationwide rescue "staffed" solely by volunteers. They're a 501(c)3 non-profit, and your adoption fee may be tax-deductible.
Speak with a financial adviser for more information. You can view the available bulldogs by clicking the appropriate link; puppies will be listed by state. In most cases, you'll be directed to a third-party shelter in your local area. Fill out the application and follow instructions specific to the kennel to begin the adoption process.
The cost to adopt your English Bulldog will vary, but in most cases, you'll pay less than $1,000 for your puppy. Shelter dogs are spayed or neutered and will have been rehabilitated in veterinary care if necessary. Because rescue dogs come from various backgrounds, it's a good idea to learn more about your dog's history before adopting.
Bulldog Rescue Network Details
6. Adopt A Pet
No matter where you are in the country, you can find an English Bulldog near you on Adopt A Pet. This platform allows listings by individuals, breeders, and shelters; you'll find puppies, adult dogs, and seniors on this website. Adoption fees will vary depending on the poster, but Adopt A Pet is a great place to find English Bulldog puppies under $1,000.
Search by zip code and breed, and you'll be presented with a grid of pictures. These available dogs are waiting for you to bring them home, so click the picture of a puppy and learn more about the adoption process. Many puppies and dogs are listed for a nominal rehoming fee, while others are usually listed by breeders and are more expensive.
There is currently no way to sort by price so take your time scrolling through the listings. As best you can, establish a relationship with the seller of your English Bulldog. Because anyone can post puppies, you must do your research to ensure that your dog is coming from a safe and healthy environment.
Ask your seller about the dog's history, vet records, spay or neuter procedures, and applicable health guarantees. If you don't find your new baby right away, be sure to sign up for alerts. Adopt A Pet will notify you when pets that meet your search criteria become available.
Adopt A Pet Details
7. Facebook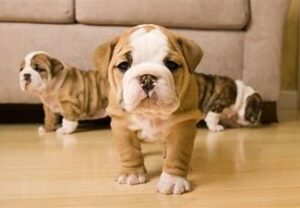 If you can't find a puppy for sale under $1,000 using the resources above, check out Facebook. You're likely already a member of this social media platform, and it's easy to find dogs for sale using a simple search.
You can search "English Bulldogs" on Facebook and instantly connect with English Bulldog enthusiasts and breeders. Once you've found a few groups, you can contact individuals regarding selling English Bulldogs. Remember that anyone can post on Facebook.
It's a good idea to get to know the breeder or seller a little before you exchange money. If you can, visit the breeder in person and bring a friend with you for your safety. Be sure to get vet records from your seller and get any applicable health guarantees in writing.
Facebook Details
Conclusion For "Where to Find English Bulldog Puppies for Sale Under $1,000"
English Bulldogs are affectionate and smart family dogs, one of the most popular breeds in the United States. Because they're so popular, the puppies are also pricey.
If you know where to look, you can find English Bulldog puppies for sale for under $1,000. Our guide's breeders, shelters, and websites will help you find the perfect furry companion on a shoestring budget.
If you find this guide, "Where to Get English Bulldog Puppies Under $1,000," helpful, you can check out these other articles from our team at We Love Doodles:
Before you bring home an English Bulldog companion for $1,000 and under from a breeder, you can learn more about this dog breed by watching "10 Things Only English Bulldog Owners Understand" down below: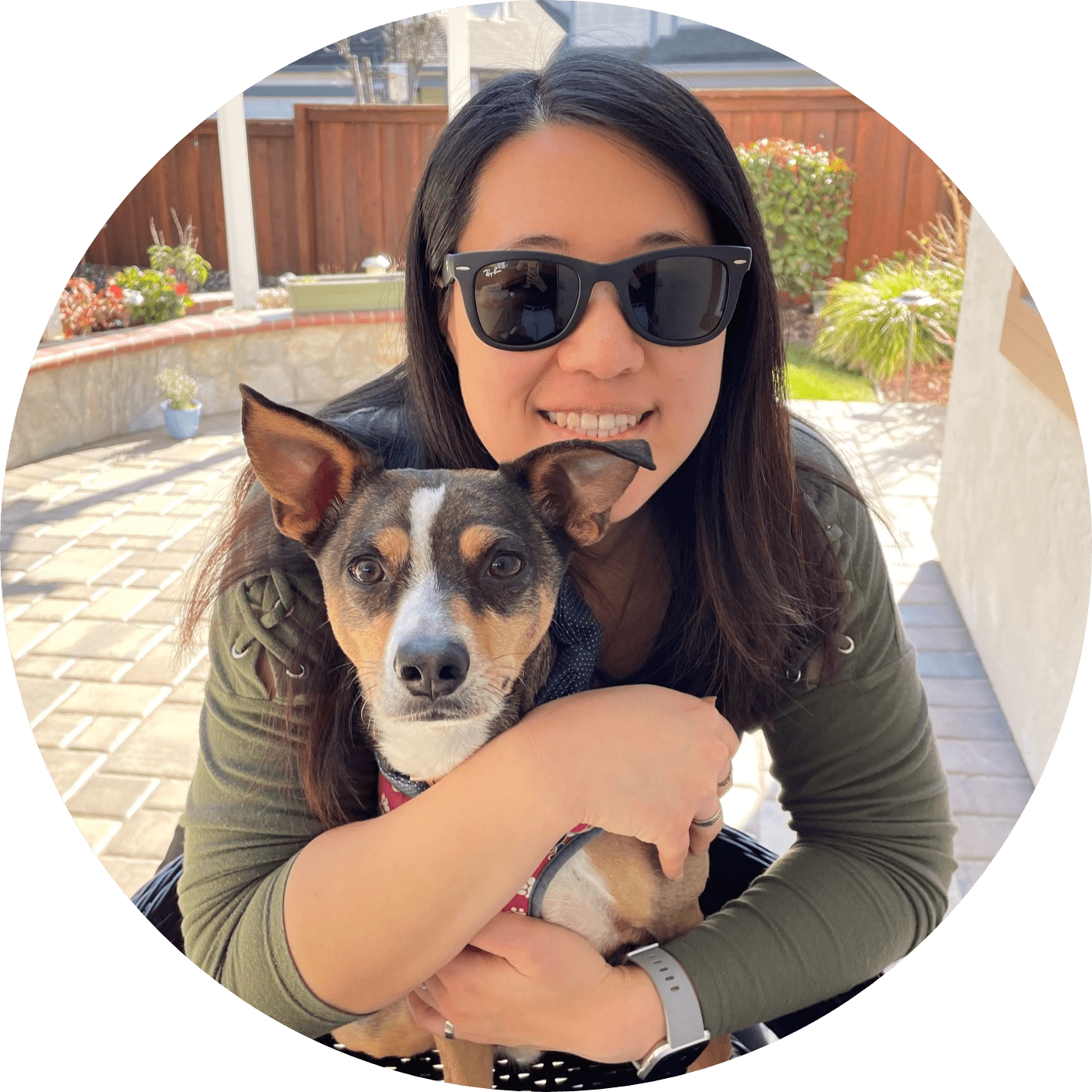 Dr. Sabrina Kong graduated from the Royal Veterinary College in England in 2016 and has been working at a small animal clinic in Northern California since then. She grew up in the Bay Area and got her bachelor's degree from Cal Poly San Luis Obispo. She also became a Certified Canine Rehabilitation Practitioner through a program at the University of Tennessee.
When she isn't in the clinic taking care of her four-legged patients, she enjoys traveling and trying new foods with her friends and her three-legged dog, Apollo. She adopted Apollo from her clinic when he was a puppy with numerous health issues. Dr. Kong truly cares about taking care of animals.