Are you a fan of the English Bulldog? You must be looking for reliable English Bulldog rescues in the United States. English Bulldogs are among the most popular dog breeds in the world, and for a good reason. They're affectionate, playful, and easy to train.
Moreover, they are known for their gentle demeanor and sweet personality, making them great family pets. English Bulldogs are typically tolerant of other animals and people, making them a good choice for those with children or other pets.
Bulldogs are also low-maintenance pets and require little in the way of exercise. If you are searching for trustworthy places to adopt a cheery little English Bulldog pup, check out the most well-reputed rescue organizations in the United States listed below.
Before you scroll down this list of English Bulldog rescues in the United States, you can check out these other dog rescue shelter recommendations from our team at We Love Doodles: Best Dachshund Rescues in the United States and Best Bordoodle Rescues in the United States.
Find an English Bulldog Rescue Shelter Near Me in the United States
Our team at We Love Doodles created and compiled this list of the best English Bulldog rescues in the United States. Check it out and find a compatible English Bulldog companion.
English Bulldog Product Recommendations: Best Luxury Dog Bowls and Best Dog Bells For Potty Training.
1. AdoptaBull English Bulldog Rescue – Illinois
AdoptaBull English Bulldog Rescue is one of the leading nonprofit English Bulldog rescues based in Illinois, Wisconsin, and Northwest Indiana that aims to change how Bulldogs are saved and rehabilitated.
It collaborates closely with the Bulldog Club of America Rescue Network and follows its guidelines to rescue English Bulldogs and help them find new homes. AdoptaBull English Bulldog Rescue has a foster-based program; therefore, they do not have a central facility or kennel.
Every foster family in the AdoptaBull English Bulldog Rescue network is a licensed Bulldog caretaker deeply familiar with the breed. While in foster care, the rescued dogs receive training (if required) and socialization before being placed for adoption.
When you adopt an English Bulldog from AdoptaBull, the dog will have undergone a thorough medical and behavioral examination, vaccinations, spaying or neutering, and microchipping.
Keep in mind that AdoptaBull has established age and geographic requirements for adoption. Adoption is limited to those who live within their service areas because the organization is committed to keeping in touch with the dog even after it has been adopted.
Applications are accepted online, and the review period can last up to four weeks. The adoption fee is between $100 – $500 and is subject to change. You will receive more information once you have completed and submitted the adoption application.
AdoptaBull English Bulldog Rescue Details
2. Lone Star Bulldog Club Rescue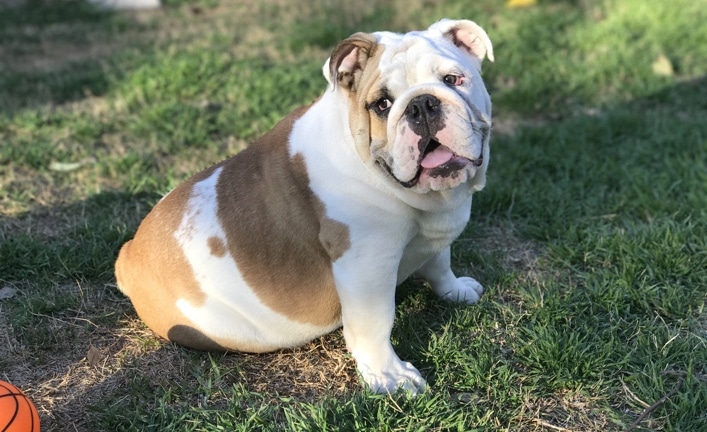 Bulldog popularity is a double-edged sword – as the breed's popularity grows, there are increasing cases of unethical breeding practices. Unethical breeding combined with owner surrenders contributes significantly to English Bulldog abandonment.
Lone Star Bulldog Club Rescue, a nonprofit organization, is working actively to educate communities about responsible ownership to offset this problem. Moreover, saving and placing Bulldogs in new homes is critical to their mission. It willingly accepts Bulldogs from local shelters or other undesirable environments.
At any given time, the organization has approximately 65 dogs. Every Bulldog in the program is placed with a foster family until they find its forever home. Foster parents, coordinators, and prospective adoptive parents oversee the adoption process.
Moreover, unlike some other rescues, they don't force their choice of a dog on you. Adopters can control which dog they bring home. Lone Star Bulldog Club Rescue works with the adopter to choose a suitable dog.
However, remember that the dog you have your eyes on could already be in the process of being adopted by another adopter. If the dog of your choice is unavailable, you can work with the volunteers to choose another.
Because most of their volunteers already live in the North Texas area, they prefer adopters from Northern Texas. However, they may allow out-of-state adoptions on a case-to-case basis. You will be allowed to adopt a dog if:
You are at least 21 years of age
Promise to keep the door indoors
Have a fenced yard
Your existing pets are spayed/neutered
To begin your adoption process, submit the filled adoption application with a $20 fee.
Lone Star Bulldog Club Rescue Details
3. Georgia English Bulldog Rescue – Georgia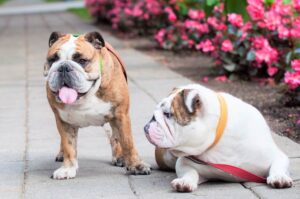 Georgia English Bulldog Rescue's mission is threefold: to rescue abandoned, mistreated, and damaged dogs, rehabilitate them, and find them new homes. They also wish to spread the word so that more people know how to care for this breed properly.
Since its inception in 2009, this all-volunteer organization has assisted over 800 Bulldogs in finding new homes. They use a foster-based rescue program to help rescued dogs recover and socialize until they are ready to be adopted.
To apply for adoption, send the filled adoption applications for English Bulldogs from Georgia. English Bulldog Rescue can send via regular mail. The rescue does not accept applications via fax, email, or express mail.
Once the rescue has your application, a representative will contact you by phone or email for further details. It can take the rescue 1 – 2 weeks to respond.
Georgia English Bulldog Rescue prefers adopters with the following qualifications:
Prior experience with the breed or genuine interest in it.
People who know what it means to own a French Bulldog and provide in-depth answers to related questions in the application form.
All their existing animals should be spayed or neutered, with proof from your veterinarian.
Georgia English Bulldog Rescue's adoption process involves screening the adoption application, checking personal references, conducting a phone interview, and a home visit. If you meet their standards, they work with you to choose a dog suitable for your home.
The adoption fee is $800, and they allow adoptions in Georgia, Florida, Atlanta, Tennessee, South Carolina, and North Carolina. They also accept owner surrenders provided the dogs are English or French Bulldogs with no history of aggression. To surrender your dog, complete the application and submit it online.
Georgia English Bulldog Rescue Details
4. Northern California Bulldog Rescue – California
Many older English Bulldogs are abandoned because their owners can no longer afford to care for them. Northern California Bulldog Rescue works tirelessly to save the lives of stray Bulldogs, particularly the elderly. They have a system of foster homes where the dogs can spend time with families to prepare them for adoption.
A Bulldog must first pass a series of personality tests before being placed for adoption. To begin the adoption process, go to their website and fill out the online form. Afterward, visit the webpage of the dog you're interested in adopting and fill out the inquiry form on the dog's page.
If you and the dog are a suitable match, the rescue will arrange a home visit to inspect the dog's future quarters and make their decision. The rescue strongly advises adopters against making their selection based solely on photographs. They encourage you to read the bios of the dog to find a suitable fit.
Northern California Bulldog Rescue Details
5. Kansas City English Bulldog Rescue – Missouri
The mission of Kansas City English Bulldog Rescue is to improve the lives of all stray English Bulldogs in the Kansas City area. Kansas City English Bulldog Rescue ensures that all dogs in their care receive the highest level of affection and attention from when they are surrendered until they are placed in permanent homes.
They take English Bulldogs from high-kill shelters and place them in foster homes so the dogs can re-acquaint themselves with human contact before being adopted.
While in foster care, all rescued dogs are spayed or neutered to prevent accidental reproduction. Moreover, all dogs have received a head-to-tail medical examination and are trained to be the most obedient and helpful companion dogs for their new families.
The adoption process at Kansas City English Bulldog Rescue is as follows:
The first step is to fill out an online application.
A volunteer will review your application and contact you to confirm your home visit.
They'll examine your current canine companions and determine whether your living situation suits a new dog.
The foster family caring for the rescued dog will be contacted, and a meeting between you and your potential new companion will be scheduled.
This may take some time but know that the Bulldog rescue organization is committed to finding the best match for you and the dog.
Aside from that, you should budget $300 to $700 for adoption expenses. This is not a payment for the rescued Bulldog but rather a donation to help the rescue group continue to save dogs.
Kansas City English Bulldog Rescue Details
6. English Bulldog Rescue Network – Houston, Texas
The English Bulldog Protection Association in Houston, Texas, wishes to preserve as many Bulldogs as possible. Thanks to a dedicated network of fosters in the Houston area, they save hundreds of canine lives each year.
English Bulldog Rescue Network finds an appropriate foster home after assessing the dog and determining its urgent screening needs. The next step is to determine whether the dog is okay with children if it is dog or cat aggressive, if it is food aggressive, or if it requires more attentive foster care.
Adopters must undergo a screening process to ensure they get a dog that is a good fit for their home and lifestyle. If you're interested in adopting one of their Bulldogs, click on the provided link for more information and an application.
A phone interview will be scheduled after English Bulldog Rescue Network has reviewed your application. All dogs have been spayed or neutered and are up to date on vaccinations and heartworm preventative.
They will conduct a reference check and a home visit if they believe you would be a good match for one of the rescue dogs. The adoption fee ranges from $400 to$750, depending on the animal's age, health, and vetting.
English Bulldog Rescue Network Houston, Texas Details
7. St. Louis English Bulldog Rescue, Inc. – Missouri
St. Louis English Bulldog Rescue, Inc. was founded in 2009 to help rescue and rehabilitate owner-surrendered dogs, especially those abused by previous owners. They also rescue dogs from smaller dog and puppy rescues in the United States that can no longer keep the dog due to limited resources.
The dogs in the care of St. Louis English Bulldog Rescue, Inc. are housed in foster homes. Foster parents assess the dog's medical, training, behavioral, and emotional needs and provide the necessary treatment and training. Once the dog is healthy in body and mind, it is put up for adoption.
The foster families are involved in the adoption process and give recommendations based on whom they think is best for the dog in their care. Because each puppy has a unique combination of temperament, energy, and personality traits, it is critical to match the right dog with the right person.
St. Louis English Bulldog Rescue, Inc Details
8. San Diego Bulldog Rescue
San Diego Bulldog Rescue is the next on the list of English Bulldog rescues in the United States. It provides Bulldog rescue and placement services at its San Diego, California facility. San Diego Bulldog Rescue's mission is to place their Bulldogs in homes where they will live happy life permanently.
When you visit San Diego Bulldog Rescue, it is immediately apparent that all the rescued dogs are well-loved. The staff is friendly, knowledgeable, and well-versed in all things dog. They will answer your questions and concerns about a potential new pet with honesty, respect, consideration, and compassion.
To adopt a dog from San Diego Bulldog Rescue, you must visit the facility and spend some time with the dog of your choice. The rescue believes that even a 10-minute walk with the dog can help you decide whether you are the right fit.
Moreover, the rescue encourages adopters to think of the following before choosing a dog:
What kind of Bulldog do you need? – Bulldogs have many personalities and temperaments. Some are energetic, while others prefer to sleep on the couch all day long. Some can be easily trained, while others prove more stubborn, and so on. Choose a Bulldog that compliments your lifestyle and preference.
How old are the family members? What is the age of your household members? Bulldog puppies may be too energetic for a household with babies or elderly family members. But, on the other hand, a gentle adult would be more suitable.
Take a walk – Take a walk with your canine friend and see if you click.
You can only adopt by visiting the kennel personally and meeting the dogs. Adoption fees start from $500 but vary depending on the dog.
San Diego Bulldog Rescue Details
9. Florida English Bulldog Rescue – Florida
Are you in the market for an English Bulldog in the Sunshine State? You can rely on Florida English Bulldog Rescue to help you find a new best friend. Over a thousand rescued Bulldogs have found new homes thanks to this volunteer organization that began work in 2007.
With the assistance of Florida English Bulldog Rescue, dogs that were neglected, mistreated, or abandoned are rehabilitated and adopted into loving homes.
Those who have lost their jobs or have fallen on hard times no longer have to abandon their pets; they can choose to surrender their dogs to this responsible organization.
The rescue will take great care of the dogs and place them in loving homes. If you wish to adopt, check out the organization's website and application form. After you've been accepted, you'll be on a waiting list while they find the best possible match.
Florida English Bulldog Rescue Details
10. Underdog Rescue of Arizona
Underdogs Rescue of Arizona, a nonprofit, no-kill animal rescue organization, focuses on English Bulldogs that have been abandoned, mistreated, or neglected. Their mission is to save the lives of dogs in danger by providing medical care, adoption services, and public education.
Before being adopted, every rescued animal receives complete medical treatment from the team, including up-to-date vaccines, spaying or neutering, and any other care they may require. Animals rescued from situations of abuse or neglect, as well as those surrendered to local shelters, are also accepted by this organization.
Even though dogs are the organization's primary focus, Underdog Rescue will assist any pet or animal in need. The rescued animals may remain in foster care until they find permanent homes.
To adopt a dog from Underdog Rescue, fill out an application, wait five days to a month, and meet your dream dog. During that time, the rescue will contact you for references, interviews, home visits, and more information.
Underdog Rescue of Arizona Details
11. Smoky Mountains Bulldog Club Rescue – Tennessee
The Smoky Mountains Bulldog Club Rescue is a group dedicated to helping stray and abandoned Bulldogs. Since its humble beginnings with a handful of supporters in 1999, the club has grown into a large community with a shared passion for the welfare of English Bulldogs.
This organization organizes events and classes to raise awareness about responsible pet ownership. They are members of the TBCA and have been approved by the American Kennel Club (The Bulldog Club of America).
Rather than physically visit their location, prospective adopters can register their interest by submitting an online application on their website. The rescue will perform the necessary checks before approving the application.
Smoky Mountains Bulldog Club Rescue Details
12. No Borders Bulldog Rescue
The last on the list of English Bulldog rescue in the United States is No Borders Bulldog Rescue. Founded in 2012, No Borders Bulldog Rescue is a nonprofit organization dedicated to finding permanent homes for rescued Bulldogs in Texas.
No Borders Bulldog Rescue works with local animal shelters and police to rescue Bulldogs in distress. They also take in owner surrenders, but they won't accept dogs with a bite history.
Bulldogs in their program receive comprehensive medical, psychological, and behavioral care before being placed in a loving forever home. Before you begin the adoption process, you should consider whether you are truly prepared to own a Bulldog.
Once you are sure you want a Bullie, you can register your interest via an online application that will lead to phone interviews, home inspections, and verification of references. Once approved, the rescue will work with you to match you to a suitable Bullie.
No Borders Bulldog Rescue Details
Choosing an English Bulldog Rescue Shelter in the United States
When contemplating adopting a dog, finding out which pet rescues in the United States suit your requirements is vital. You must consider the organization's size, rescue program, frequency of adoptions, and available fosters.
Similarly, you must also consider whether the English Bulldog is suitable for you – Do you have the financial resources to cope with the expense of keeping an English Bulldog?
Can you spare the time and patience the dog may need to adjust in the family? Consider your personality next. Do you have an active lifestyle and want a dog to accompany you on your adventures?
If so, the English Bulldog is not your dog. It is a low-to-moderate energy dog that is content with a simple walk around the block. So, learn the personality traits of the English Bulldog and match them with yours before adoption.
Finally, make sure the rescued dog is fully vaccinated and immunized. Good rescues ensure that all animals in their care are up to date on vaccines and tested for worms and other parasites, so enquire about this before adopting.
Conclusion For The "Best English Bulldog Rescues in the United States"
What comes to mind when you consider adopting a rescue dog? Most of you think of a happy-go-lucky dog that will be fun to cuddle. While that is part of the charm, it is not the only factor to consider.
When you adopt a rescue English Bulldog, you agree to accept the dog with its past. This includes previous trauma or troubles the dog has had. So, it would be best if you reconsidered adoption unless you are ready to be patient and give the dog time to adjust.
Moreover, consider the dog's age, size, energy levels, personality type, health, and ownership history before bringing it to your home. All these factors will determine whether you and the dog are suitable for each other and impact the longevity of your partnership.
For more guides similar to this list of English Bulldog rescues in the United States, you can check out these other dog rescue shelter recommendations from our team:
Before you adopt an English Bulldog companion from a rescue shelter in the United States, you can learn more about this dog breed by watching "10 Things Only English Bulldog Owners Understand" down below: