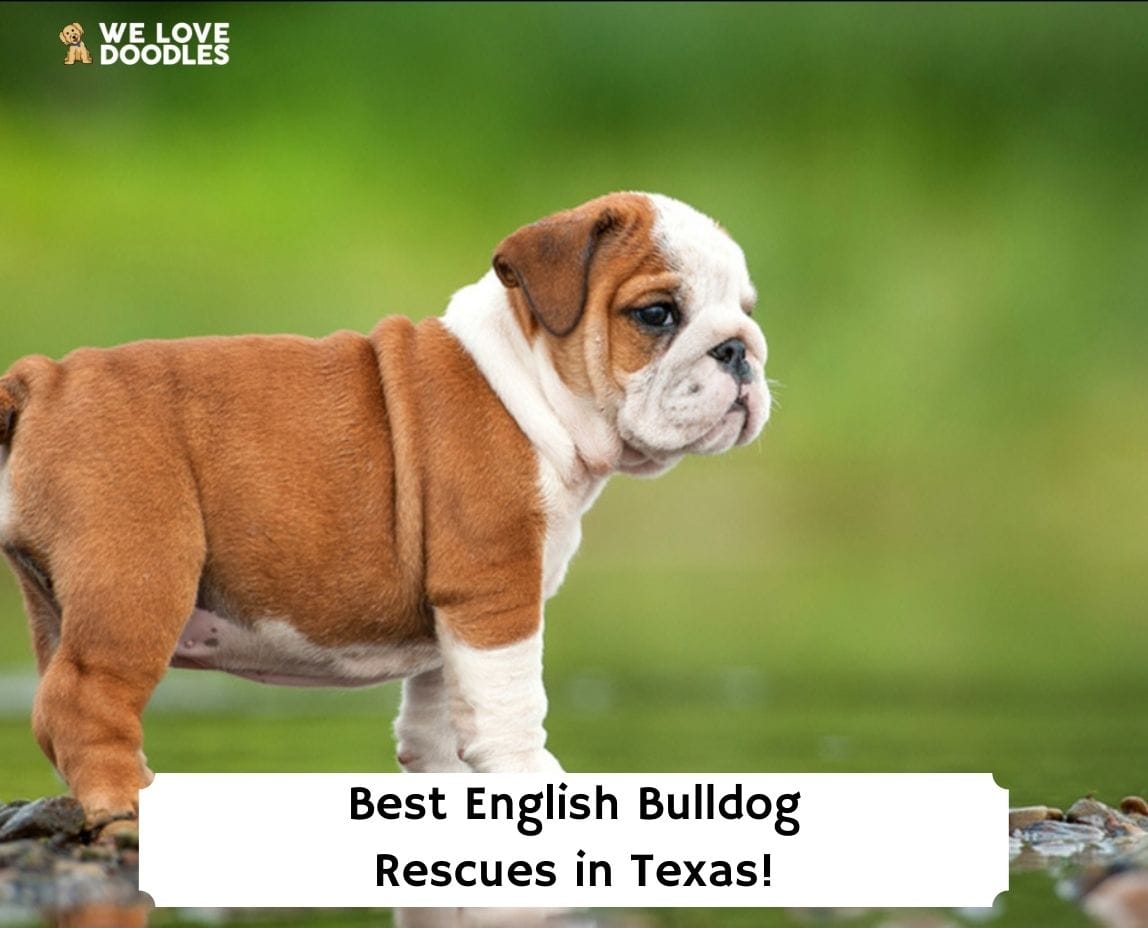 Lone Star State residents who are in search of an English Bulldog will want to source the best and healthiest in the state. There are plenty of responsible breeders, but why not first check out the English Bulldog rescues in Texas? 
When you adopt instead of shop, you'll be bringing a trained, healthy, rehabilitated family member into your home. So check out our list of the best shelters in the state to begin your search for and English Bulldog puppy, adult, or senior today!
Before scrolling down this list of English Bulldog rescues in Texas, check out these other recommendations from our team at We Love Doodles: Best Shih Tzu Rescues in Texas and Best Yorkie Rescues in Texas.
Find an English Bulldog Rescue Near Me in Texas
Following are the best resources to check before you adopt your new English Bulldog companion! These rescues are among the best of the best in Texas, but you'll want to do your own research to ensure that the kennel you choose is right for you. 
English Bulldog Product Recommendations: Best Dog Football Toys and Best Plush Dog Toys.
1. Austin Bulldog Rescue
Austin Bulldog Rescue will consider adoptive families throughout Texas and the surrounding states. This is simply due to logistical reasons and the travel time required of their volunteers. The goal is to find the most suitable match based on the Bulldog's background and your family's needs.
Many characteristics make a Bulldog unique, including personality, temperament, energy, comfort with kids and other animals, and medical requirements. When choosing a "fur-ever" home, this shelter takes all these factors into consideration.  
An ideal candidate for ABR is someone willing to wait for the perfect rescue to be matched to them. Their success rate proves that these precious dogs are well worth the wait. However, if acquiring a dog is a time-sensitive issue for you or your family, rescue may not be the best option as the right connection takes time to make.
Austin Bulldog Rescue Details
2. No Borders Bulldog Rescue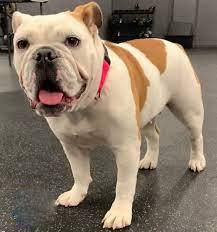 "From homelessness to happiness. No Borders Bulldog Rescue is a 501(c)(3) non-profit organization that saves and places bulldogs in loving homes. Hundreds of Bulldogs are lost, abandoned, abused, surrendered to shelters, or abandoned every year, and this charity seeks to end pet homelessness. No Borders Bulldog Rescue may also adopt bulldogs whose owners cannot keep them.
Additionally, this rescue works with local shelters and animal control officers to rescue Bulldogs from undesirable situations. Bulldogs in their program are given the physical, emotional, and behavioral care they need to begin their new life with an approved adoptive family.
To begin the adoption process, the team will ask that you take time to evaluate your life and determine if you are ready to adopt. Please complete the form on their website. Each question on this form is essential to them.
No Borders Bulldog Rescue Details
3. Lone Star Bulldog Club Rescue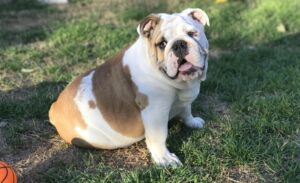 Every year, hundreds of Bulldogs are lost, abandoned, taken to animal shelters, or surrendered to rescue organizations. Unfortunately, those numbers continue to grow due to the breed's popularity and the rise of unreliable and unethical breeders. Lone Star Bulldog Club Rescue is a Dallas/Fort Worth-based nonprofit organization run entirely by volunteers.
Their mission is to save and re-home Bulldogs so they can live healthy, happy lives. A part of the Lone Star Bulldog Club, which has been dedicated to the breed since 1948, LSBC Rescue accepts Bulldogs from owners who can no longer care for them and rescues Bulldogs from shelters and other undesirable situations.
Each Bulldog in the program is lovingly cared for in a foster home until the right forever family is found for it. There are typically 65 dogs in the group's care at any given time. Foster parents, coordinators, and applicants coordinate the adoption process. 
Together, the kennel team will try to find the best home for each specific, unique dog. Perhaps you have a particular dog in mind when you apply. It would help if you understood that the dog might already be in the process of being adopted by an approved family that has been waiting weeks to find the right pet. It is easier for volunteers and the applying families if you, as an adoptive parent, live in North Texas since most of their volunteers live in that area.
Lone Star Bulldog Club Rescue Details
4. English Bulldog Rescue Network Houston, Texas
Last on the list of the best English Bulldog rescues in Texas is English Bulldog Rescue Network. English Bulldog Rescue Network's mission is to save as many bulldogs as possible. With a group of dedicated fosters in the Houston area, they can save many dogs each year.
Unfortunately, some dogs come in with a rough background, and sometimes the shelter team don't know what they've been through before entering their care. The volunteers at EBRN will take time to study each dog to determine the unique needs of the animal. 
First, EBRN evaluates the dog and determines its immediate veterinary needs, followed by finding the right foster home. Next, it will be decided if the dog is good around children, dog or cat aggressive, food aggressive, or needs to be in a foster home with more time and attention to meet its needs.
Adopters go through a process designed to ensure they adopt a well-suited dog to their needs and their families and lifestyles. Please visit the shelter's website and fill out an application if you are interested in adding one of their bulldogs to your family. Following the review of your application, EBRN will contact you for a phone interview.
All dogs are spayed or neutered, current on shots, and receive heartworm prevention. They will do referral checks and a home visit to see if they feel you are a compatible match for one of the dogs currently in rescue. Based on age, condition, and vetting, adoption fees may range from $400.00 to $750.
English Bulldog Rescue Network Houston, Texas Details
English Bulldog Rescues For Texas
Adopting a shelter or rescue dog is a big decision for many reasons. Adopting a canine companion can change lives in many ways, and dogs significantly impact our own lives in countless ways. If you're still not convinced, there are good reasons to adopt a dog from an animal shelter.
First, your actions help reduce pet overpopulation. The irresponsible breeding and sale of intact dogs is unfortunate, as they often end up in the hands of the wrong people. Unfortunately, some dogs end up in shelters because of this very practice.
Sometimes, English Bulldog owners simply decide that their puppy has outgrown its cuteness. As a result, these dogs end up in rescues through no fault of their own – they simply grew older!
Spay and neuter programs ensure that the dogs that land in shelters don't continue to add to the pet overpopulation problem. If you have issues with your adopted buddy, shelter and rescue organizations offer obedience classes, advice, and hands-on help. In addition, they have extensive contacts in all fields of canine expertise that can be very useful to anyone wishing to adopt a dog.
How to Choose an English Bulldog Rescue in Texas
It is essential to research and choose an above-board rescue that meets your dog adoption needs. To feel comfortable with the adoption criteria and requirements, you must review and understand them. Some dog rescue groups and shelters require home visits and references, but not all.
A clear outline of all policies should be available to the public to avoid confusion about the adoption process. Be on the lookout for warning signs. For example, an adoption group or rescue that only has puppies on its website should raise a red flag and could indicate it is a puppy mill.
It's essential to do your research because no oversight or regulatory groups distinguish reputable animal welfare groups from disreputable ones. Lack of price disparities is another sign that the group or shelter may not be looking out for the animals' best interests. A group offering all animals for a high price is probably just using the word 'adoption' as a euphemism for 'retail price.'
Where Do You Find an English Bulldog Rescue in Texas?
All shelters are not the same. Shelters that receive tax dollars are often part of your local government. Shelters may take in abandoned or free-roaming animals from Animal Control Officers or the police. Others are independent and rely on charitable donations.
Some shelters may be affiliated with national groups such as the American Society for the Prevention of Cruelty to Animals, which provides guidelines on operating the shelters and educational materials for new pet owners in their communities. Finally, some may be completely independent non-profit organizations. Check with your local veterinarian for recommendations.
Conclusion For The "Best English Bulldog Rescues in Texas"
What could be better than a lifelong friend? Your rescue dog will become a confidante, a friend, and ultimately a beloved member of your family. Therefore, neither you nor your shelter dog will feel lonely. Instead, you can create a new life together; let your new English Bulldog keep your life full of excitement, fun, and love.
For more guides similar to this list of English Bulldog rescues in Texas, you can check out:
Before you bring home an English Bulldog from, rescue shelter in Texas, you can learn more about the breed by watching "English Bulldog – Traits and Training" down below: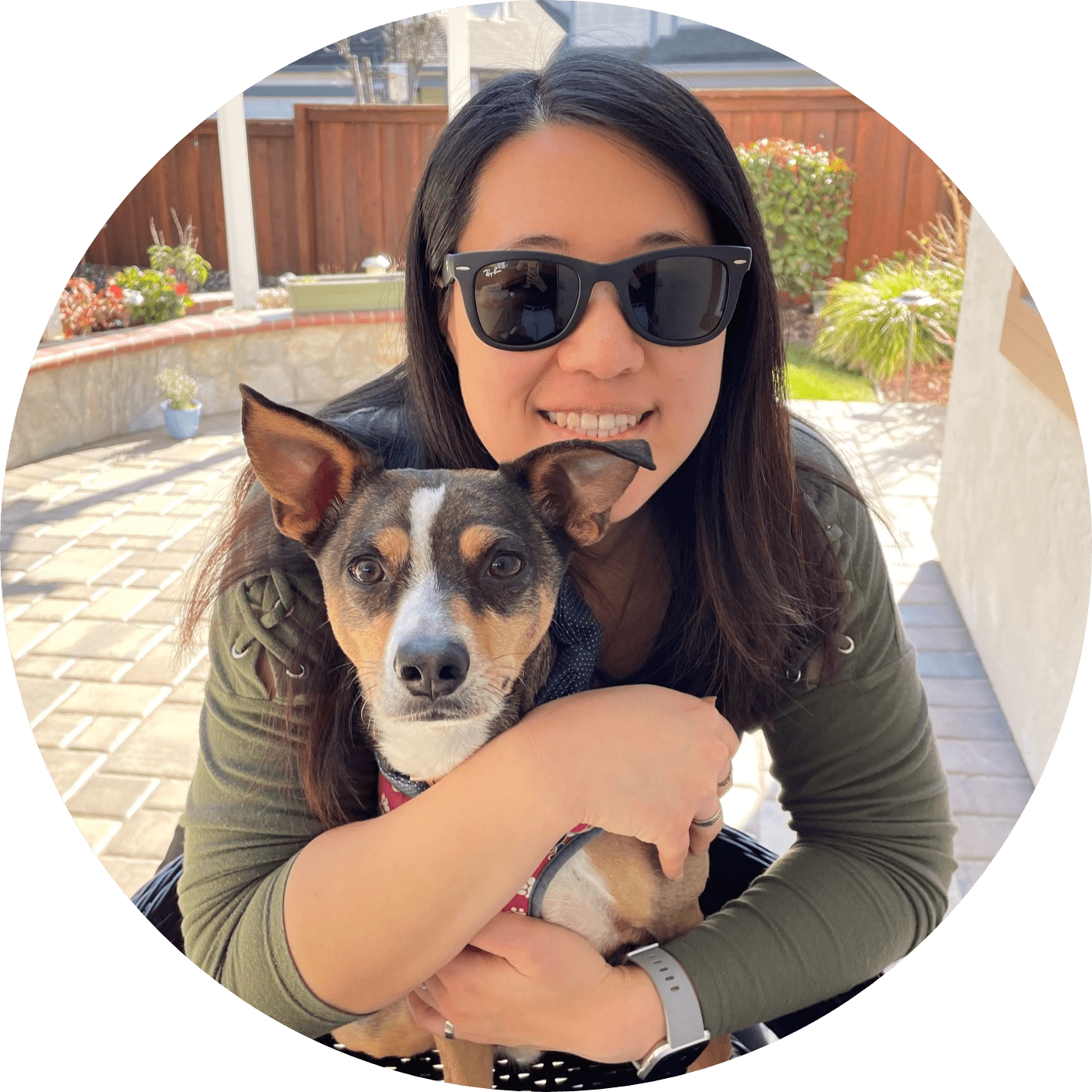 Dr. Sabrina Kong graduated from the Royal Veterinary College in England in 2016 and has been working at a small animal clinic in Northern California since then. She grew up in the Bay Area and got her bachelor's degree from Cal Poly San Luis Obispo. She also became a Certified Canine Rehabilitation Practitioner through a program at the University of Tennessee.
When she isn't in the clinic taking care of her four-legged patients, she enjoys traveling and trying new foods with her friends and her three-legged dog, Apollo. She adopted Apollo from her clinic when he was a puppy with numerous health issues. Dr. Kong truly cares about taking care of animals.