Do you love the English Bulldog's strength, vigor, and tenacity but are unwilling to deal with its health problems? Or are you in the market for a low-shedding dog, but the Poodle isn't your ideal pet? You may want to look into getting an English Boodle – the perfect English Bulldog Poodle mix!
The English Boodle is a new designer crossbreed between the English Bulldog and Miniature Poodle. Adopting an English Boodle comes with a mix of benefits. For example, with healthy Poodle genes, the English Boodle won't fall sick as often as the English Bulldog. It also inherits the Poodle's low-shedding coat.
English Boodles also have a calm, friendly demeanor and easily get along with humans. This detailed guide will explain more about the English Bulldog and Poodle mix – the English Boodle!
Before scrolling down this English Bulldog Poodle Mix guide, learn about these other Poodle mixes from our team at We Love Doodles: Border Collie Poodle Mix and Rottweiler Poodle Mix.
What Do you Call an English Bulldog Poodle Mix?
An English Boodle is a cross of the Poodle and English Bulldog breeds. The result is a smart, poised, and loyal canine with the finest traits from each of its parents. The crossbreed is known by other names like the Boodle, Bulldogdoodle, Bulldogpoo, Bullypoo, and the Bullydoodle.
Breeders often use English and American Bulldogs to crossbreed, but the French Bulldog is also a potential candidate.
Differences in size, appearance, and weight are evident depending on which breed the breeder uses. The American Bulldog, for example, has a longer life, moderate grooming needs, weighs more, and has more exercise and training needs than the English Bulldog. The name of the Bulldog mixed with the Poodle also determines the name of the crossbreed (ex: using an American Bulldog would result in an American Boodle).
History of the English Bulldog Poodle Mix
Because this hybrid is so new, it doesn't have much history yet! So, we can only look at the respective histories of its parent breeds.
History of the English Bulldog
The English Bulldog hails from the British Isles and is a descendant of the Asiatic Mastiff. It was specifically bred for dog sports, including bloody bull-baiting and fights. Its aggressive and ferocious nature even allowed it to take on fully-grown bulls!
These activities were later outlawed in England, where they were deemed cruel actions that converted the English Bulldog into a working breed, which it is not. The modern breed is still aggressive but doesn't exhibit the tenacious temperament of its ancestors.
History of the Poodle
The Poodle is an ancient breed from Germany that was used for hunting waterfowl, a type of duck. Later on, in the 1400s, the French developed their Poodle by breeding small Poodles with even smaller ones. It was here that the Miniature, Toy, and Standard Poodles originated.
The French still used the Standard Poodle for hunting ducks, but the smaller breeds were groomed for other purposes. The Toy was a companion for the wealthy, while the miniature Poodle would sniff out truffles. Poodles were also common in circus shows because they are light, quick to learn tricks, and great swimmers.
Why Crossbreed the English Bulldog With the Poodle?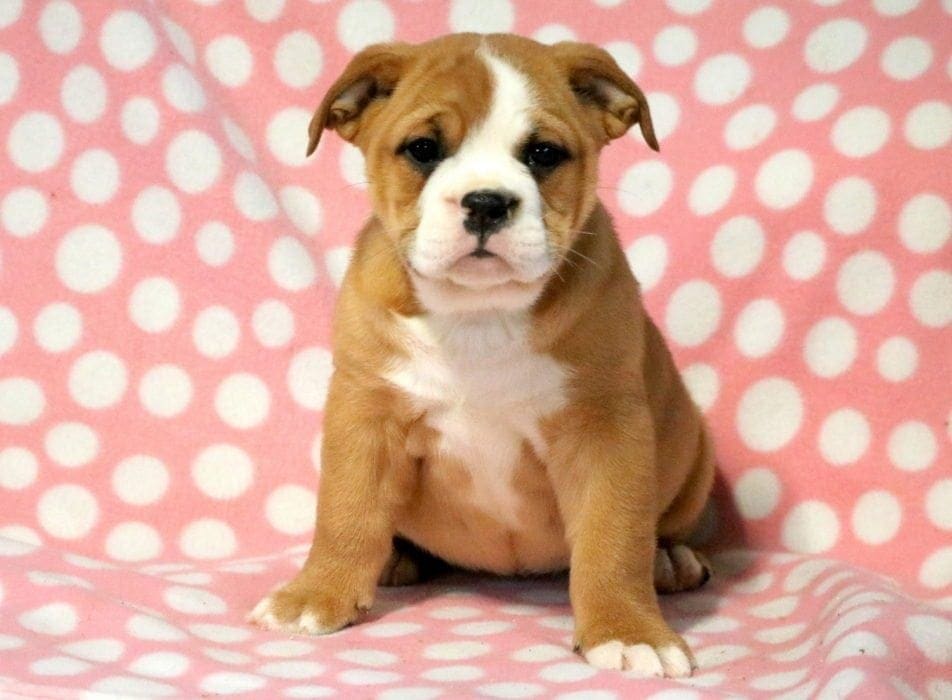 The Poodle is a favorite candidate for crossbreeding due to its vast range of desirable characteristics.
Aesthetics
The Poodle breed is beautiful, and its fluffy coat makes it look adorable. Poodles have been used as artistic muses for a long time.
Size
What makes the Poodle so attractive is the range of sizes available for breeding. Some dog owners prefer large dogs, while others like smaller dogs. Poodles come in three different sizes – Standard, Toy, and Miniature – and each size can be crossbred with a similar-sized breed.
Coat
Another reason Poodles are great candidates for crossbreeding is their low-shedding coats. It makes them ideal for people who are sensitive to pet fur.
Trendy
Poodle mix breeds are extremely popular, and with the trendy designer crossbreeds garnering attention among dog owners, they have become choice candidates for adoption. Additionally, Boodle breeders continue to breed more than just poodles! They also breed other Poodle mixes like Cockapoos, Goldendoodles, and Maltipoos.
English Bulldog Poodle Mix Appearance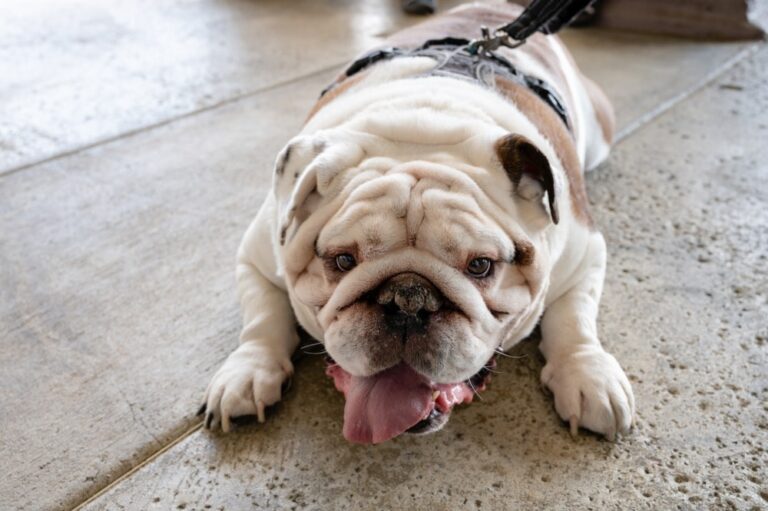 The breed's appearance largely depends on the genes it inherits from its parent breeds. If your Boodle is a crossbreed of a large-bodied Poodle, they'll likely be taller (14-16 inches) and heavier (40-55 pounds). If one parent is a smaller Poodle, your hybrid will likely weigh 15-40 pounds with a height of 12-14 inches.
As for the facial features, your English Bulldog and Poodle mix may inherit a rounder, curlier head or a chubbier, box-shaped one. Most pups have floppy ears and a longer muzzle like the Poodle. They also tend to have darker eyes. The legs could be long and slender or short and puffy, while the tail is typically thin, long, pointed, or curled.
English Boodle Coat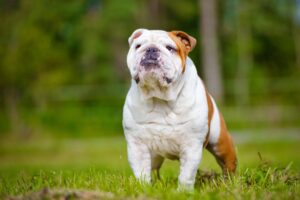 A Boodle's coat color and type also depend on its parents. Typically, Poodles have dense, curly coats that come in a range of solid colors. They're also low shedders, which makes them a favorite pet for people with allergies.
On the other hand, the English Bulldog has a smoother, shorter coat that requires an occasional brushing. Their coats have different colors and markings, with the piebald and brindle patterns being the most popular.
An English Bulldog Poodle mix may favor one breed or result in a combination of the two. Most English Boodles have short to medium-length coats that can be wavy, straight, wiry, or curly. The patterns and colors also vary but tend to be black, red, or white.
English Boodle Temperament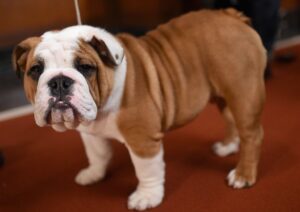 Since both parent breeds have admirable temperaments, the Boodle inherits the most delightful traits of each. It gains intelligence, agility, and trainability from its poodle parent. Ranked among the most intelligent dog breeds, poodles have incredibly high IQs, which makes them easy to train.
On the other hand, the English Bulldog is known for its loyalty, calmness, and loving nature. As a result, a Poodle English Bulldog mix makes the best family dog. Boodles are patient, affectionate toward their humans, and incredibly gentle with kids. They may bark at visitors and come off as protective of their family, but once they warm up to you, they're your best friends.
The Boodle's fondness for human company and desire for attention make them clingy. They dislike being left alone for extended periods and can develop separation anxiety. Socializing them early goes a long way in avoiding this problem. To socialize your Boodle, visit your local dog park so they can interact with other dogs and people.
Although they accept other cats and dogs, you must train Boodles to live with other animals peacefully. They can get aggressive and chase after the small pets at home.
Training Needs
English Boodles are intelligent and eager to please their owners, a trait inherited from the Poodle. As such, they're likely to take to training without much difficulty. Positive training methods that use lots of treats and rewards are the most effective.
Sometimes the dominant parent will be the English Bulldog. If this is the case, it may present a challenge during training. Bulldogs are notorious for their stubborn and aggressive behavior. Once a Bulldog decides not to obey, it takes much persuasion to change its mind.
The best way to deal with them is to introduce obedience training early. Early training nips undesirable traits in the bud and positively conditions a dog's mind and habits. The dog will also become more affectionate, obedient, and family-oriented earlier on.
The English Bulldog and Poodle mix will be extremely rebellious in its teen years, behaving as if it has never been trained. Some dogs may resort to destructive tendencies that you have already addressed. You must remember that this is just a phase. Once your pup fully matures, its stubborn streak will calm down.
We suggest you refrain from using punishment or other negative reinforcement during training, as it only worsens the problem. Instead, be firm and consistent.
Boodle Exercise Requirements
The English bulldog poodle mix is active when young, but its energy levels taper off as it ages. You must incorporate lots of play and walks into your dog's daily routine, especially when it's young. We suggest scheduling an hour of exercise every day, divided into two sessions of 30 minutes each.
Short brisk walks also help, but you must avoid exercising on hot days, especially if your Boodle inherits a flat nose. Its body will overheat during high temperatures, which could cause a heatstroke.
Feeding Requirements for English Bulldog Poodle Mix
Be sure to watch what your dog eats! Three cups of high-quality food (split into 2-3 meals daily) are enough for your Boodle. You can adjust the servings depending on its age, health needs, activity level, and weight. Bulldogs are prone to being overweight, and your Boodle could go down the same path if you're not careful.
You must also be cautious of food content. Bulldogs have food allergies which may be passed on to your English Boodle. Some breeds have food intolerances to animal proteins like pork, beef, and chicken, while others are allergic to milk, corn, and eggs.
A breeder should tell you any such details when you buy your pet. However, if you're adopting from a shelter, your vet should help you identify any allergies.
Grooming Needs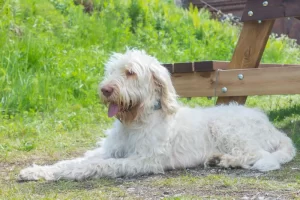 The English Bulldog and Poodle mix has moderate grooming needs because it doesn't shed much. Its coat is soft and requires daily brushing to minimize tangling. However, some Boodles have long, curly coats like the Poodle. If this is the case, an occasional trim goes a long way in keeping its coat neat.
Boodles also need regular baths to prevent their coats from developing a bad odor. Be sure to use cleaning products that don't have perfumes and dyes that may cause skin infections. You should also clean your Boodle's ears weekly and brush its teeth two to three times weekly to reduce the risk of dental and ear infections.
Health Concerns for Boodles
Knowing the inherent health problems of both parent breeds is critical when planning to buy or adopt any crossbreed. Although the Poodle is the healthier breed in an English Bulldog Poodle mix, it is still prone to various health conditions. Canine idiopathic epilepsy is one condition associated with seizures throughout a Poodle's life.
The Standard Poodle is also susceptible to autoimmune diseases like sebaceous adenitis, Addison's disease, and a blood disorder called von Willebrand's disease, especially if they're from inbred genetic lines. Toy and miniature Poodles, on the other hand, develop inherited health conditions like progressive retinal atrophy, a degenerative eye disease.
On the other hand, the English Bulldog is susceptible to a range of health problems that may be passed on to an English Boodle. Lack of genetic diversity and physical features are the main reasons the English Bulldog develops health problems.
The English Bulldog's face, head, legs, and tail make them prone to life-threatening respiratory problems. Flat-nosed Bulldogs are potential candidates for respiratory health conditions as well as eye and dental problems. Moreover, their short legs are prone to hip dysplasia, while their wrinkled faces leave them susceptible to skin infections.
You may wonder if the English Bulldog and Poodle mix is healthy, given parent breeds' vast range of health conditions. Typically, crossbreeds are healthier than purebred dogs due to hybrid vigor.
Genetic diversity means the chances of genetic diseases being passed on to the next generation are significantly lower in mixed breeds than in purebreds. For this reason, the Boodle is also likely to live longer than its purebred parents.
What is the Lifespan of the English Bulldog Poodle Mix?
The English Boodle has a lifespan of 11-12 years. By comparison, they have a life expectancy that is longer than the English Bulldog, which lives for 9-11 years, but shorter than the Poodle's, which is 12-15 years.
Where to Buy an English Boodle
If you are planning to buy an English Bulldog Poodle mix, you have two options:
Buy from a reputable breeder
Adopt from a rescue shelter
Buying From Breeders
Most dog owners prefer buying pure or cross-breed dogs from breeders because they can provide proof of the health of the parent breeds. Breeders also offer a health guarantee for the puppy and its parents, sometimes allowing you to meet them before you buy.
A good breeder also performs health tests for genetic disorders, including physical vet exams and DNA tests. Physical examinations identify health problems, such as issues with the eyes and joints, while DNA tests determine if there are health problems in the parent breed. The breeder must provide the results of such health tests to any potential owners.
Be sure to perform a background check on the breeder and visit their facilities to see if they have been taking the puppies out for walks and visiting the vet. Also, check the puppy's and the parents' health certificates to verify such information.
Pro Tip: Avoid buying your Boodle from an online or retail pet store. These websites typically sell dogs from puppy mills that do not perform proper tests.
Adopting Your Boodle From a Rescue Shelter
You can also adopt a Boodle pup from the rescue shelter. It's an excellent way to save stray pups. You must consult the workers at the local shelter to find out if the breed is available. The English Boodle is a rare breed, so finding it in a shelter may be challenging.
How Much Does and English Boodle Cost?
Since this Poodle English Bulldog mixed breed is rarer than other hybrid breeds, its price varies based on the availability of a breeder within your area. Most English Boodles cost between $1,000 and $2,500. This doesn't include the cost of health certificates, vaccinations, food, vet visits, grooming, and more. Other factors like location, parental lineage, and health conditions also influence price.
Frequently Asked Questions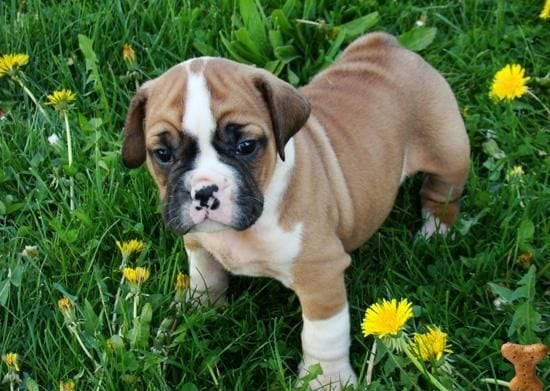 Below are the most frequently asked questions about the English Boodle.
Is there an English Bulldog Poodle mix?
An English Bulldog Bulldog Poodle mix exists. It's a crossbreed of an English Bulldog and a Poodle.
What is a Bulldog Mixed with a Poodle called?
A cross between a Bulldog and a Poodle is called a Boodle, Bulldogdoodle, Bulldogpoo, Bullypoo, or a Bullydoodle. They get the English, American, or French name depending on the breed used for crossbreeding. For example, using an American Bulldog would result in an American Boodle.
Are Boodles good dogs?
Boodles are gentle and always eager to please their masters. The English Boodle is particularly great with families and works well with adults and kids of all ages.
How much does an English Boodle cost?
An English Boodle costs $1,000-$2,500. But this cost may vary by location, parental lineage, and health conditions.
Do English Boodles shed?
English Boodles shed, but not as much as other breeds. Mixing the Poodle and English Bulldog creates a hypoallergenic coat that doesn't shed much or trigger allergies, eczema, or asthma. As such, there's less hair to remove from the furniture.
Ready to Adopt an English Bulldog Poodle Mix!
The English Bulldog Poodle mix, also called the English Boodle, has a great personality, temperament, and demeanor. It makes an excellent family dog if you're thinking about adopting one. Moreover, its hypoallergenic low-shedding coat reduces cleaning, while its moderate exercise requirements make it suitable for novice dog owners.
For more Poodle mix guides from our team at We Love Doodles, you can check out:
If you find the English Bulldog Poodle mix a fascinating Poodle mix, you can learn more about other amazing breeds by watching "18 Poodle Mix Breeds That Will Melt Your Heart – Part 2 | Dog World" down below:
Garrett loves animals and is a huge advocate for all Doodle dog breeds. He owns his own Goldendoodle named Kona. In addition, he volunteers at the Humane Society of Silicon Valley, where he fosters dogs and helps animals. Garrett enjoys writing about Doodles and believes that dogs can teach humans more about how to live than humans can teach a dog.
Why Trust We Love Doodles?
At We Love Doodles, we're a team of writers, veterinarians, and puppy trainers that love dogs. Our team of qualified experts researches and provides reliable information on a wide range of dog topics. Our reviews are based on customer feedback, hands-on testing, and in-depth analysis. We are fully transparent and honest to our community of dog owners and future owners.