There are many Poodle mixes; the one we're covering in this guide is the Basenji Poodle mix. A Basenji Poodle mix is a dog breed that comes from one Basenji parent and one Poodle parent. Basenji Poodle mixes are a new dog breed that takes personality traits from its parent breeds.
Whether you're looking to adopt one or are simply curious about the breed, here's a comprehensive guide about this unique dog breed. Browse everything about Basenji Poodle Mixes below to see their most likely temperament, colors, size, and more.
Before scrolling down this Basenji Poodle mix guide, you can check out these other Poodle mixes from our team at We Love Doodles: Chow Chow Poodle Mix Guide and Chihuahua Poodle Mix Guide.
Basenji Poodle Mix Traits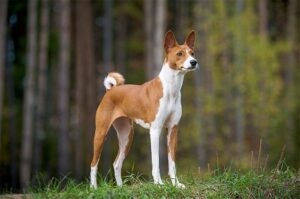 Basenji Poodle mixes have varying personalities. This dog breed comes from one fun-loving parent and one serious parent, so these dogs can often be mild-mannered and happy if a touch stubborn.
This combination of dog breeds is sometimes called a Basenjipoo and usually takes after their Poodle parent's genetics regarding their hair. A Basenji Poodle mix will have a thin coat of slightly curly hair.
This dog breed sometimes has Basenji or Poodle colors, but coat colors vary, depending on the dog and genetics. A Basenji Poodle mix can cost several thousand dollars, averaging around $2,500 to $4,500 per puppy.
The cost can depend on the dogs:
Hair type
Color
Health
Parents
These dogs also need plenty of exercises and can be hard to train. But your Basenji Poodle mix may inherit their Poodle parent's eagerness to please and comply with verbal commands.
Related: Best Medium Non-Shedding Dog Breeds.
Temperament
Basenjis and Poodles are independent and clever dogs, so combining the two makes highly-intelligent puppies who love to experience the world at their own pace. A Basenji Poodle mix enjoys moving to the beat of their drum and doing whatever they feel like in their home. This independence doesn't mean they won't respect their owners.
However, they will show that they need alone time when they've had enough engagement with others. This dog breed will also show mild affection and guard an area against harm. Basenjis are barkless dogs, but Poodles will use their voice as needed. A Basenji Poodle mix may take after either parent but may remain barkless if their larynx is short, like their Basenji parent.
Related: Friendliest Dog Breeds with Images.
Colors
Basenji Poodle mixes can come in many colors and usually take after their Poodle parents. It's rare for this dog breed to be a solid color, but it can happen. Usually, a Basenji Poodle is brown, black, gray, or white – or any combination of these colors. Sometimes, a Basenji Poodle mix has the same color pattern as a Basenji, but this occurrence is rare.
Grooming Needs
Your Basenji Poodle mix may need regular grooming and nail trimming every several weeks. If your Basenji Poodle mix inherits more of their Poodle parent's genetics regarding their coat of hair, they may need more frequent grooming. Poodles typically have curly hair that must be brushed several times a week and cut every two months to ensure they can still see properly and that their coats don't mat.
Your Basenji Poodle mix will likely have less hair than their Poodle parent, but they will still need weekly baths and frequent brushing to ensure their hair doesn't smell bad or tangle. Consider getting them professionally groomed to help keep fleas and ticks away. Use a mild shampoo that won't bother their eyes when you bathe them.
Dog Grooming Questions: Does it Hurt When You Cut The Quick and How Long Should Dog Nails Be?
Exercise
Basenjis usually get their exercise by prowling around the area and strolling around the property. On the other hand, poodles get their energy out by playing with others and running around the backyard. Your Basenji Poodle mix will likely release their energy by engaging in observational and playtime behaviors.
Don't expect a Poodle Basenji mix to play much, though. This dog breed will spend a few minutes at a time playing but will likely get bored after a while. Don't force them to play if they would rather stroll around the property.
Dog Exercise Product Recommendations: Best Weighted Vest For Dogs and Best Dog Water Bottles For Hiking.
Training
Basenjis are indifferent to training as they reach adulthood. However, Poodles are eager to please and love making their owners happy. A Basenji Poodle mix will likely take traits from both parent breeds, meaning that this dog breed will enjoy training to an extent.
This dog breed may get tired of training after a few minutes and do better in small bursts of training time. Consider making a training schedule to help your dog learn without pushing its limits. Occasional treats and positive verbal reinforcement will also go a long way in teaching your puppy new tricks and commands.
Dog Training Guides: Best Puppy Potty Training Sprays and How to Train Your Dog with a Shock Collar.
Lifespan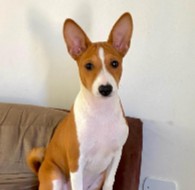 A Basenji and Poodle have similar lifespans, meaning your Basenji Poodle mix will live for 14 to 18 years. When you treat your Basenji Poodle mix with the utmost care, your dog may grow older than 18 years, although unlikely.
Consider engaging in a proper dental care routine to prevent heart disease and gum disease since these can have lasting impacts on a dog's health. Of all household dogs, nearly 80% have periodontal disease, which begins in the gums and can cause severe health issues later in life.
Helpful Guides: Best Dog Dental Wipes and Best Plaque Removers For Dogs.
Common Health Problems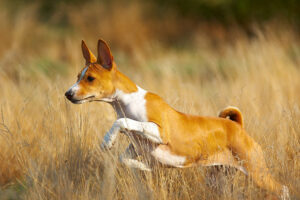 Basenji Poodle mixes aren't known to have any specific health conditions relative to their breed. However, this dog breed may get one of the conditions their parent breeds are prone to developing. For example, hip dysplasia is common with Basenjis and Poodles.
Other health conditions that can affect your Basenji Poodle mix include:
Some cancers
Thyroid conditions
Skin irritations
Gastric torsion
Dogs of all breeds can develop depression, as well. Look for signs like lethargy, disinterest, and a loss of appetite to see if your dog is showing depressive signs.
Are Basenji Poodle Mixes Good With Children?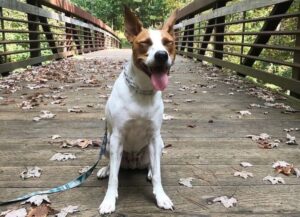 Poodles are notorious for enjoying time spent with young children. Poodles will stroll around, run with children, and play games. Basenjis are less likely to engage in play with young children. However, they get along nicely if those children aren't bothering them.
Basenjis are more likely to spend time alone, prowl the area while searching for threats, and observe what's happening. Your Basenji Poodle mix might have equal parts of each parent dog and may enjoy observing while engaging in play every so often. This dog breed does ideal in homes with mild-mannered children who respect their boundaries.
Similar Questions: Are Labradoodles Good with Kids and Are Pomeranians Good with Kids?
Do Basenji Poodle Mixes Get Along With Other Dogs?
Basenji Poodle mixes get along with other dogs and other pets in a home, especially when owners take time to introduce the animals and ensure they get to know each other. Basenjis and Poodles are independent dog breeds who enjoy spending plenty of time alone.
However, both dogs will enjoy spending time with other dogs who are calm and respect their boundaries. Poodles are more playful than Basenjis are, and Basenji Poodle mixes can take after either parent dog. Your Basenji Poodle mix may be more indifferent to other dogs than outright playful, but there will be times when your dog decides to engage in play.
Where Do You Find a Basenji Poodle Mix For Sale?
Basenji Poodle mixes can be hard to find since they're such an uncommon breed of dog. However, there are some ways to find a Basenji Poodle mix for sale. There are two main ways to get this dog breed, but they may require plenty of time, patience, and investment.
To get a Basenji Poodle, you'll likely need to submit a formal request and pay a down payment to a facility willing to use their resources for this dog breed. You can have your Basenjipoo with patience and time finding the right breeder.
Professional Breeders
Since Basenji Poodles are such a rare breed, it's unlikely you'll find one at a rescue. So official or certified breeders are the best place to get a Basenji Poodle mix. Certified breeders ensure their dogs receive the best healthcare and daily care possible.
Certified breeders usually have access to qualified veterinarians and large plots of land with a home for their dogs to stay. Certified breeders will make their status known and advertise how much their dogs cost and how they care for their dogs.
These facilities have no problem answering inquiries, questions and addressing concerns. Some breeders may be willing to breed specific dog types if they know they will be able to sell them to families.
Amateur Breeders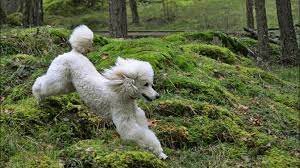 Amateur breeders are also called backyard breeders. While this is a common, legal practice, backyard breeders can have a poorer reputation from a few bad apples. This kind of facility is usually run as a family business and has plenty of dogs in its arsenal to create stunning dog breeds.
Buying from an amateur breeder can have a lower associated cost and help their small business. Always ensure that the backyard breeder you buy from treats their animals well, offers them plenty of space to run and play, and offers high-quality food.
Avoid Puppy Mills
Puppy mills are facilities that mass produce puppies. While this may sound like a dog lover's dream come true, these facilities have been known to house puppies in inhumane conditions that traumatize them. Facilities like these usually have little regard for the mother, the health of the puppies, or care for their emotional well-being.
Many puppies from puppy mills get sold in pet stores, online shops, and peer-to-peer platforms like Craigslist or Facebook Marketplace. Always ask where the puppies are coming from to ensure they don't come from a puppy mill.
Frequently Asked Questions
Below are some frequently asked questions about Basenji Poodle mixes.
Is a Basenji Poodle mix a good beginner dog?
Generally, this mix isn't recommended for first-time dog owners. Because this breed is harder to train and relatively independent, it can be frustrating for people who aren't experienced with dogs.
Are Basenji Poodles mixes friendly with strangers?
While Basenji Poodles won't get aggressive when being introduced to someone new, they won't be overly friendly either. Expect this dog breed to be a little aloof around unfamiliar people.
How big is a Basenji Poodle mix?
Since Poodles come in varying sizes, these mixes do too. Depending on the breeder and your preferences, you can get a large or toy Basenji Poodle.
Conclusion For "Basenji Poodle Mix Information, Facts, and Images"
Basenji Poodles mixes are clever and thoughtful dogs. Although sometimes they can be stubborn and ignore commands they don't want to follow, they're genetically predisposed to enjoy some measure of playtime and training.
Basenjis are notoriously independent and prefer to spend plenty of time alone. On the other hand, Poodles can be overly affectionate and cling to their favorite household member. This mixture can lead to a mild-mannered puppy and moderately affectionate without suffocating its family with hugs and cuddles.
For more Poodle mix guides from our team at We Love Doodles, you can check out:
If you find the Basenjipoo a fascinating Poodle mix, you can learn more about other amazing breeds by watching "15 Poodle Mix Breeds That Will Melt Your Heart" down below: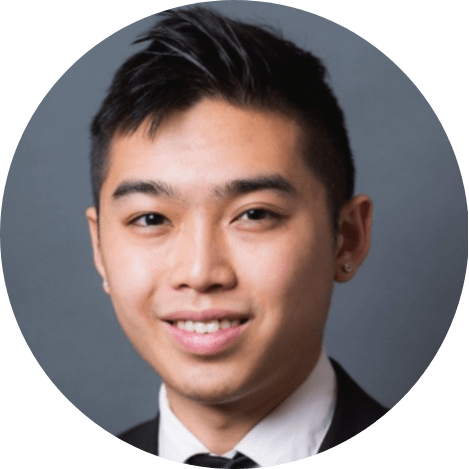 Andy is a full-time animal rescuer and owner of a toy doodle. When he's not saving dogs, Andy is one of our core writers and editors. He has been writing about dogs for over a decade. Andy joined our team because he believes that words are powerful tools that can change a dog's life for the better.
Why Trust We Love Doodles?
At We Love Doodles, we're a team of writers, veterinarians, and puppy trainers that love dogs. Our team of qualified experts researches and provides reliable information on a wide range of dog topics. Our reviews are based on customer feedback, hands-on testing, and in-depth analysis. We are fully transparent and honest to our community of dog owners and future owners.