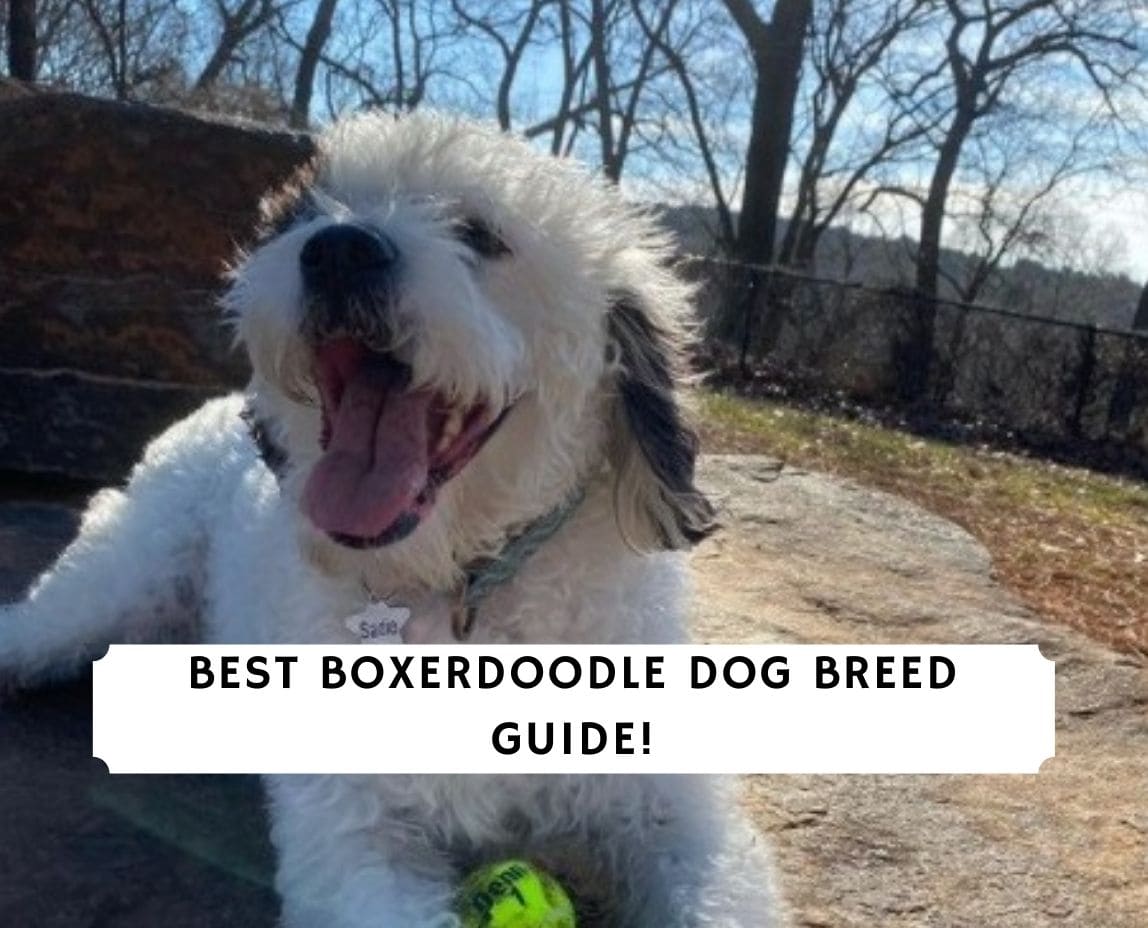 It's not a boxing dog but it's definitely a joyful breed that's small in size, attractive, and filled with positive energy. The Boxerdoodle is crossed between the Poodle and the Boxer, which is a beautiful mix that's perfect for both you and your family. This fluffy looking dog will turn a person's frown upside down.
With the Boxerdoodle, they come in a variety of colors but the most common one comes in the shade of brown. One great thing about being a mixed Poodle is that this dog breed has curly or wavy hypoallergenic coats, which means that they're "non-shedding." Whether you have children or other family pets at home, your Boxerdoodle will adapt well to many living situations.
If you're planning to bring home a Boxerdoodle as your companion whether it's from a rescue or breeder, you're in luck. The Boxerdoodle is easy to train for both beginners and people with experience. If you're planning to bring home this beautiful mix as your companion, then this Boxerdoodle dog breed guide will provide you with all of the information you need.
Other guides you might like: Labradoodle Dog Breed Guide and Goldendoodle Dog Breed Guide.
Origins
Before learning about the Boxerdoodle, we need to learn about the parent breeds of this Doodle mix. The Poodle mixed with Boxer breed.
Boxer Dog Breed: Originated in Germany. the size of a Boxer dog can range between medium to large. With their coat being described as short-haired and smooth, its hair is also tight to its body. They were introduced in the late 19th century from the Bullenbeisser, which is now extinct today. Around the 20th century, the Boxer was then introduced to the United Stakes, which was eventually registered by the American Kennel Club in 1904. Boxers were a great help to many people throughout history. They helped with military work, duck hunting, served as messenger dogs, and guard dogs.
Poodle Dog Breed: Poodles are known to be one of the most intelligent dog breeds. They come in various sizes such as Standard Poodle, Miniature Poodle, and even Toy Poodle. Due to its intelligence, the Poodle including its mixes (Doodle Breeds) has sparked a high level of interest from people from all over the world. The reason for many Poodle breed mix is due to their curly or wavy coats and intelligence. The curly coats from a Poodle help prevent less shedding, which creates less mess and perfect for people with allergies. Poodles have a long history with people and where they originated from is still an ongoing debate today.
With these combinations, you can see why the Boxerdoodle is a trending hybrid dog breed. Since they were created within the last several decades, there isn't much history about this Doodle breed. Since the Boxer dog is considered a strong helpful dog, its mix with the Poodle adds the curly or wavy coats and intelligence making the Boxerdoodle a fantastic dog breed. This is perfect for people with allergies, as they are typically nonshedding, and great with families altogether.
Characteristics of a Boxerdoodle
Breed

: Boxerdoodle (Boxer mixed with Poodle)

Temperament

: Friendly, Active, Smart, Loyal, Affectionate

Typical Standard Height (Approx.)

: 10~25 inches | 25~64 centimeters

Typical Standard Weight (Approx.)

: 12~70 pounds

Life Expectancy

: 10 to 12 years

Nicknames

: Boxerpoos
The Boxerdoodle is Boxer mixed with Poodle. With this mix, this Doodle breed is known to be friendly, active, smart, loyal, and affectionate. Boxerdoodles can grow as tall as 25 inches and weigh up to 70 pounds. The lifespan of this Doodle breed is between 10 to 12 years of age.
While there isn't much information about the Boxerdoodle because this Doodle breed is fairly new, beginners and experts both love this breed. The Boxerdoodle is considered to be hypoallergenic due to its coats, which could help lessen the allergies many people are dealing with. It's also great for people who are looking for a larger sized Doodle dog breed.
Size Information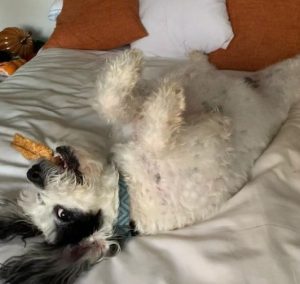 The Boxerdoodle can best be described as a Small Boxerdoodle, Medium Boxerdoodle, and Large Boxerdoodle. Generally, female Boxerdoodles are smaller in size when compared to male Boxerdoodles. Boxerdoodles can grow as high as 25 inches (or 64 centimeters) and weigh up to 70 pounds. There isn't much information about the Boxerdoodle's range of size at the moment due to it being a fairly new breed.
Temperament & Personality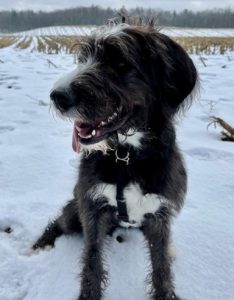 With mixed traits from the Poodle and Boxer dog breeds, the personality of the Boxerdoodle is best described as being kind, friendly, loyal, and will drown you with affection. Due to the Boxerdoodle's temperaments, this dog breed makes the perfect companion and family member.
Whether there are elders, housemates, children, or other pets at home – the Boxerdoodle will likely adapt and learn to get along with everyone. While they're affectionate, the Boxerdoodle is quite the loyal dog and will naturally protect the people they love. They'll bark when something doesn't feel right to them or if they sense any kind of threat.
Nutrition
To maintain good health for your Boxerdoodle, you'll have to feed them proper dog food. Your Boxerdoodle puppy will eventually mature into a medium or large-sized dog, which means you have to feed them between 1,100 to 2,400 calories of high-quality dog food. However much you feed your Boxerdoodle all depends on its activity and age.
Within the first 6 to 8 months, expect your Boxerdoodle to grow at a rapid pace. You can feed your Boxerdoodle raw dog food to help regulate its growth, but keep in mind that young Boxerdoodles are sensitive to elevated protein. Make sure that you choose a food with a reasonable amount of protein and fat levels.
When feeding your Boxerdoodle, we recommend that you don't free feed them (leave food out for them to eat all day). Instead, you want to set a schedule and feed them between two to three times per day. Once the growth of the Boxerdoodle puppy begins to slow down, you can slowly transition your companion's meals into an adult diet.
During the transitioning process, you can feed your Boxerdoodle food with higher protein levels but pay attention to your dog's weight. Feel free to adjust the amount of food per day to ensure a healthy Boxerdoodle and the right appearance. Below, you can find a list of the types of dog food for your Boxerdoodle. There are pros and cons to each one, but it's better to diversify for a balanced diet.
Dry kibble

– One of the most popular Boxerdoodle food or for any dogs, in general, is kibble. Many people feed their dogs' kibble because they're affordable and not as expensive as the other options. Not all kibbles are the same, so make sure to find the right brand for your companion.

Canned food

– Boxerdoodles love canned food. People usually describe this type of dog food as "wet food" since they're mostly 75% water. One of the benefits of feeding your Boxerdoodle canned food is that it can provide the protein your dog needs. Unfortunately, constantly feeding your dog canned food can be expensive.

Semi-moist – This type of dog food is best described as meaty foods such as pork chops or burgers for example. While your Boxerdoodle might love it, keep in mind that this type of food is the least nutritional on this list. If you want to feed your Boxerdoodle with semi-moist food, you could feed them once in a while for their special occasions.
Home-cooked food

– You've probably seen someone feed their dog human food before. Feeding human food is another option for your Boxerdoodle but keep an eye out for certain ingredients. Feeding your Boxerdoodle the wrong ingredients could lead to stomach problems and other unnecessary problems. While Boxerdoodles love this type of food, it can be expensive for a dog owner.

Raw food

– This type of Boxerdoodle food can be raw meat with bones. The reason for bones is because it's a great natural source of calcium for your dog. Feeding your dog raw food works really well for Boxerdoodles since they have really strong stomach acids. Before you transition to a raw diet, make sure to consult with your Boxerdoodle's veterinarian to learn about its risks and benefits.
Grooming
Since the Boxerdoodle has wavy or curly hair, it's important to groom them regularly. By grooming them regularly, it helps their coats free of tangles and mats. The reason why you want to prevent your Boxerdoodle from getting tangles is that when it forms, the hair will continue to pull in more hairs from the coat as it grows.
While Boxerdoodles are sometimes described as "non-shedding" dogs, they do shed. It's because their hairs that shed gets trapped under from its curly or wavy coats. To remove the unnecessary hair, you should invest in a dog brush made specifically for dogs with these types of coats. Before bringing home your newly Boxerdoodle companion, make sure you have a conditioner for dogs, a slicker brush, steel scissors, blow dryer, and bristle brush ready.
While expensive, you could also invest in a dog grooming table with an arm attachment and noose. Once your Boxerdoodle puppy becomes 6 months old, you can bring your companion to a professional groomer once every 3 to 6 weeks. They'll clip your Boxerdoodle's nails, clean anything you've missed, and give your dog the best appearance possible. You can bring your dog to PetSmart or any place that offers professional grooming. The cost for professional grooming is usually less than $100.
Related: Dog Grooming Advice
Exercise
Once your Boxerdoodle reaches its full size, make sure to give them at least 30 minutes to an hour of exercise per day. By giving your Boxerdoodle plenty of exercise, it'll be much healthier, keeps their bones and joints strong, and perfect for weight management. You can have your Boxerdoodle play in your backyard, play with other dogs at a dog park, go for morning walks, and many other activities for them to enjoy.
Without any exercise, your dog could likely release its energy indoors causing a mess and unnecessary problems around the house. When your Boxerdoodle is still at its puppy phase, 5 to 10 minutes of exercise per day is good enough. Every month, you can increase your companion's daily exercise in increments of 5 minutes per month until it's between 30 minutes to an hour of exercise.
Training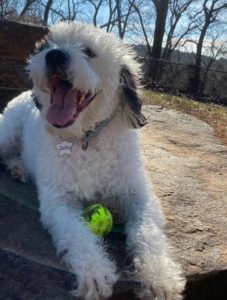 Training your Boxerdoodle is just as important as feeding and exercising them. Your Boxerdoodle at times won't be able to tell the difference between a situation where something could cause harm or not. Other times, your dog could get too excited and run away.
According to the American Humane Association, at least 10,000,000 dogs go missing in the United States every year. Less than 23% of lost dogs are reunited with their families. By properly training your Boxerdoodle, you can avoid being part of the statistics.
You should train your Boxerdoodle while it's still young because they haven't developed any habits yet. Don't wait until your companion is fully-grown because it'll be more difficult to train them. You can focus on agility training and other commands provided below. Here's a list of important or essential commands to teach your Boxerdoodle:
Sit

Watch Me
Down
Stay
Wait
Come
During your Boxerdoodle's training sessions, make sure to reward them for good behaviors with treats. Don't punish your dog for bad behaviors since it's been proven that punishment isn't effective.
Health
Just like every dog breed out there, in life – every living thing is bound to encounter some sort of health problems. For the Boxerdoodle, both of its parents could have serious health problems that can be passed down. If you're purchasing a Boxerdoodle from a breeder, make sure to request for its parents' medical records.
If a Boxerdoodle breeder isn't able to provide any proof or information about its history and medical records, then it's better to avoid it. Since this dog is a mixed breed, any possible health problems from both the Poodle and Boxers is likely possible to the Boxerdoodle.
If you have any suspicions that something is wrong with your dog even in the slightest, schedule an appointment with a veterinarian immediately. Sometimes, the smallest problems without any attention could lead to more health issues. It's better to stay attentive if you notice anything odd about your Boxerdoodle.
Appearance
One of the best things when it comes to appearances for the Boxerdoodle is the type of coat and a wide selection of colors they come in. Almost any coat colors you could imagine, you'll find a Boxerdoodle with your preference. The only problem with this is finding Boxerdoodle breeders and a specific color. One of the most common colors of a Boxerdoodle is different shades of brown. As for their coats, they're best described as wavy or curly. Since they're mixed between the Poodle and Boxer, certain Boxerdoodles can have short to long hair.
Prices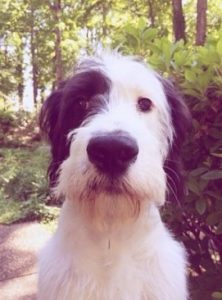 The price of a Boxerdoodle can range between $650 to $1,500. Sometimes, it could cost more depending on colors and genetics. If you find a Boxerdoodle breeder with prices that are too good to be true, make sure to do your due diligence before making any financial decisions. There are many puppy mills out there and we want to do our best to avoid them if possible
They're known to breed dogs in unethical ways and only for profits. Make sure to read about reviews from a trusted source and find the most reputable breeders possible. If you're not looking for a Boxerdoodle puppy, you could adopt one from a shelter. Adopting has many benefits. You're providing a neglected dog a warm home and you're creating space for newer rescued dogs to take over.
Conclusion for Boxerdoodle Dog Breed Guide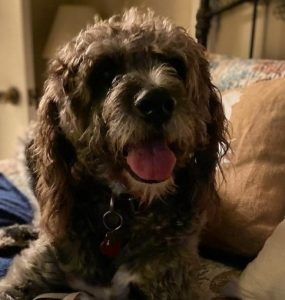 Mixed between Boxers and Poodles, Boxerdoodles are affectionate and people love them. With different sizes, they're great with families, people with allergies, children, and even beginners. The decision to bring home a new companion might seem challenging at first because of all the responsibilities, but it does in fact get easier
While raising a Boxerdoodle seems difficult, the feeling of owning a dog is priceless. You will be creating and cherishing all of the memories once this new chapter of your life begins. Your companion will be the protector of your house and family. When you're at your darkest times, your companion will always be by your side no matter what. 
If you're not sure about bringing home a Boxerdoodle dog, there are other Doodle breeds for you to check out:
To learn more about the Boxerdoodle dog breed, check out this video:
Garrett loves animals and is a huge advocate for all Doodle dog breeds. He owns his own Goldendoodle named Kona. In addition, he volunteers at the Humane Society of Silicon Valley, where he fosters dogs and helps animals. Garrett enjoys writing about Doodles and believes that dogs can teach humans more about how to live than humans can teach a dog.
Why Trust We Love Doodles?
At We Love Doodles, we're a team of writers, veterinarians, and puppy trainers that love dogs. Our team of qualified experts researches and provides reliable information on a wide range of dog topics. Our reviews are based on customer feedback, hands-on testing, and in-depth analysis. We are fully transparent and honest to our community of dog owners and future owners.