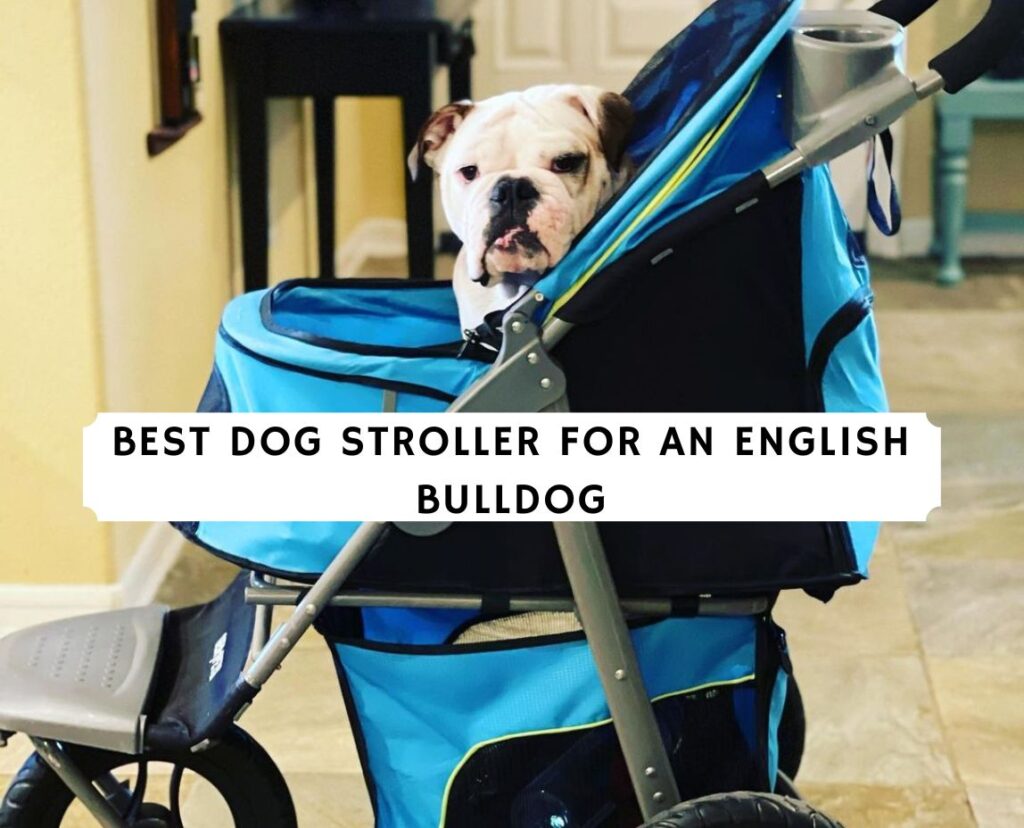 We love our dogs dearly, and many of us think of them as our children. Seeing them growing old and struggling with mobility breaks our hearts. Or perhaps your dog might have had an illness or gone through surgery of some sort. Taking them out to get some fresh air would be an easy task if there were some mechanism to support this tedious job. English Bulldogs are also one dog breed that doesn't like to walk long distances.
A stroller for your English Bulldog will help you through all of these scenarios and much more imaginable. You can spend quality time with your dog without having them move around. Additionally, you can contain them in closed spaces while visiting the mall or going somewhere in taxis is not convenient because of the use of an English bulldog stroller.
It works like any other baby stroller you put the dog inside the seat, zip up the cover for extra precaution, and just like that, you are ready to go. Consider your dog's size and weight before putting them inside a baby stroller. It must comply with the specifications of the product. We will help you find the best dog stroller for an English Bulldog.
In a rush? Here are the top picks!
Product
Best Overall
Pet Gear Dog Stroller
Runner Up
Petique Jogging Stroller
Best Front Entrance Stroller
Double Pet Stroller
Image
Dog Strollers for an English Bulldog
The English bulldog is a medium-sized dog breed. With its muscular build, wrinkled face, and cute little nose pushed a bit inside, all and sundry love them. These dogs are a sweet and gentle breed while simultaneously dependable and predictable. They get along well with families and love to go out strolling in the park or down the street. English bulldogs are widely known for their laziness and moody attitude.
Dog owners sometimes prefer having them put in a stroller. There are strollers precisely designed for English bulldogs, keeping their hefty body and weight in mind. We have compared various strollers to help you pick one of the best strollers for bulldogs. Read on to find what is perfect for your dog.
Nobody likes fussing around with zips and straps while taking out a dog in a stroller. Imagine a stubborn zipper getting stuck in the mesh or its lining, or it has a broken slider. How difficult will it be to get the dog in and out of the stroller? Don't worry, this No-Zip Jogger Pet Stroller has got you covered. The No-Zip features give the stroller an easy locking latch instead of a zipper. With its Velcro closures, there is no wasting time opening or closing the mesh.
It is made of nylon material that looks fresh in its blue, red, and green colors. It supports the weight of your English Bulldog up to 75lbs. No matter which season it is, you can go for a jog with your dog without worrying about getting it wet. The top and front have a black mesh window for cross-ventilation of air.
The 12 inches tires are airless, unlike other brands. No-Zip Pet Jogger Stroller has them filled with gel to aid a smooth and bump-free ride. Its ergonomic design makes it easy to fold even with one free hand. Stash your extras in a large storage basket at the back of the stroller.
The dog sits happily inside, on its seat while you enjoy your jog, and the dog enjoys the sight and sounds around them.
Having a cute little English bulldog in a stroller is something every dog owner loves. NO-Zip Happy Trails Lite Pet Stroller by Pet Gear is a perfect stroller for your puppy or lightweight English bulldog. Your dog will feel safe while sitting securely inside the zipper-less stroller. Its NO-Zip feature saves you from fumbling around with a zipper to get your dog in or out of the stroller. You get easy access to your pet anytime with the Velcro-enforced mesh.
The stroller has a visual appeal to it. Its ergonomic design makes the going-out practice more fun rather than a nuisance. It is easier to assemble. The canopy offers a panoramic view of your surroundings so that the dog can enjoy the whole experience just like you. You can position the canopy at three different angles.
Any spills or accidents inside the stroller can easily wash away because the liner is made of water-proof material. The stroller overall is made from strong nylon material. You can take it out in any weather, be it rain or shine. The back wheels are large to support you through the jog. You can use the rear tray of the stroller to put things there and free your hands.
If your English Bulldog dislikes going out in snow or humid weather, this is a great stroller at an affordable price point. Keep in this dog stroller is only ideal for English Bulldogs under 25lbs.
This cute little stroller for your dog is the perfect combination of creativity and functionality. It is designed for dogs of all ages and supports the weight of your large dogs, up to 60lbs.
The fabric of the stroller is removable and supports easy wash. Its ergonomic design is worthwhile for dog owners as well. The back handle is adjustable at various positions, and EVA foam covers the handle for grip and added comfort.
The mesh around the stroller is durable PVC and lets your pet relish the walk with you without getting out of the stroller. The dog can get inside it through the front or back entrance.
The stroller has large back tires for absorbing shock while traveling. It has one-step dual-wheel brakes to prevent it from going even an extra step. A tire pump comes with this product so that you never have to worry about getting a flat tire while you are out in the park.
You can fold it effortlessly to keep it in your car for easy travel. Two large pockets are located at the stroller's rear to put water or snacks during the trip. This is a great everyday stroller for your English Bulldog.
It is the best choice to purchase this 2-in-1 stroller if you have a bike and love to go on strolls with your dog in a stroller. You can hitch it to your bike to easily maneuver it through the street or park.
The design is attractive and smart. The polyester material and frame make it a great outdoor vehicle for your dog. The structure of this stroller is made from stainless steel that stays durable for a long time.
Your English bulldog fits comfortably inside this spacious stroller and looks out through the fabric window. This window also serves as a bug screen and keeps insects out. The ride is comfortable for your dog with the removable cushion inside it.
The rear tires of this product are sizeable and support comfy rides even on back-breaking terrains. The easy hand-lock brake system keeps the stroller in place. If you plan to go outside during late hours or low light conditions, the safety flag and reflectors keep you visible to prevent mishaps.
Do you want to take multiple pets in your stroller? That is no more a problem at all. This double pet stroller allows you to put as many pets in this stroller until you reach 77lbs. In this way, you can keep your little best friends happy and comfortable simultaneously. The rides, long or short, are enjoyable with this stroller.
The large mesh windows of this stroller make ventilation a breeze. The dog remains comfortably seated inside the spacious buggy. You can fold it up and store it away safely after use due to its easy-fold mechanism.
The ergonomic design on this stroller is designed to keep the dog owners' convenience in mind. The handle is adjustable according to your height. Take it with you on jogging or walks because the front swivel wheels offer extra comfort. The wheels are durable and designed for long distance-travels. You can maneuver your way easily with the help of ultra-lightweight EVA wheels.
The convenient brake system gives you peace of mind when going into heavy traffic or malls. The dog can enter through the front or back entrance that is secured with the help of Velcro. The detachable cup holder on the stroller and its large basket to store things is a bonus.
This cute little stroller is perfect to take out for walks with your English Bulldog. The product is exceptionally well made and comes fully assembled by the manufacturer. You only need to unfold the stroller and pop the wheels back, and you are ready to go.
The stroller is free of any zippers and ties. The Push-button easy-locking technique makes the whole procedure quick and easy. The inside of the carriage is large and comfortable for the dog. It supports a weight of up to 27 pounds.
The 12 inches tires are gel-based, guaranteeing that you will never have a flat tire. The dog remains safe inside this stroller with its quick-lock rear foot brake and an additional interior safety tether.
The large storage basket inside the stroller is super useful. You can put necessities like snacks, water, or keys here. If you're English Bulldog is under 27 pounds, this is a great pick.
Taking your dog to the vet, for a walk, or just to the local mall for shopping has never been easier. Get this comfortable stroller for English Bulldog and enjoy the adventure. The luxury dog stroller provides the luxury of comfortable trips with many additional features.
The inside of the pram is soft and cosy. The interior lining supports the weight of a pet up to 70lbs. The windows of this stroller are made from durable and tear-free mesh fabric. It provides decent ventilation and keeps bugs out.
The handle is adjustable to keep you from staining your back muscles and hurting yourself during long walks. The wheels are large and aid your rides even on difficult-to-manage and rough tracks. The front wheels have a locking mechanism and rotate to an angle of 360 degrees.
It is a suitable choice for you and your dog to spend a good time with each other outdoors, even if they cannot be on a leash.
How to Choose a Dog Stroller for an English Bulldog?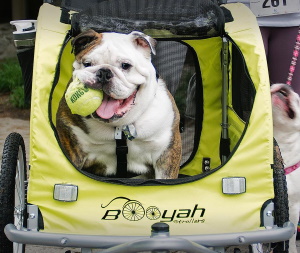 There are countless benefits of having a stroller for your English bulldog. Many are related to your dog's health condition; others benefit the dog owners equally. You must consider many features when looking for a stroller that suits your requirements. We have put down a list to ease you through the process.
Dimensions
The weight-carrying capacity of a stroller is the first thing that comes to mind when cataloging dog strollers. The chosen product must comply with your dog. Too big a stroller will be a waste of space; if it is small, the chance of breakage increases while the dog feels cramped inside the carriage.
Wheels
The wheels of a stroller support its weight and help you get through the journey. The best strollers come with gel-filled tires that do not puncture, and you enjoy a smooth ride even on rough terrains. The wheels also engage the braking system in strollers. Shock absorbing or wheels that offer suspension systems are in significant demand by dog owners because of their practicality.
Handle Design
The handle of a dog stroller is of great importance as well. It supports the weight of the dog owner and must be ergonomically designed to ensure a comfortable experience.  The handle should be adjustable to set it according to your body height.
Comfortable Interior 
The dog should feel comfortable sitting inside the stroller. Most carriages are fitted with light foam padding to provide support and comfort to your friendly little creatures.
Storage Space
Users prefer the stroller if it has additional space to store things during walks or jogging. Mostly this space is available under the stroller. However, some dog stroller designs also have large pockets at the back or trays on their rear side. Dog owners place their water bottles, smart gadgets, and snacks here while on the go.
Conclusion For Best Dog Stroller for an English Bulldog
The best strollers for English Bulldogs are a crucial accessory these days. It is a must-have on your list if your dog doesn't like to walk, is elderly, or is sick. Walks and jogging sessions or visiting the vet will be more pleasurable if the dog is in the stroller. You can easily tag your dog and other things without worrying too much. Spend quality time with your dog, and plan exciting outdoor adventures with your English bulldog stroller!
Garrett loves animals and is a huge advocate for all Doodle dog breeds. He owns his own Goldendoodle named Kona. In addition, he volunteers at the Humane Society of Silicon Valley, where he fosters dogs and helps animals. Garrett enjoys writing about Doodles and believes that dogs can teach humans more about how to live than humans can teach a dog.
Why Trust We Love Doodles?
At We Love Doodles, we're a team of writers, veterinarians, and puppy trainers that love dogs. Our team of qualified experts researches and provides reliable information on a wide range of dog topics. Our reviews are based on customer feedback, hands-on testing, and in-depth analysis. We are fully transparent and honest to our community of dog owners and future owners.