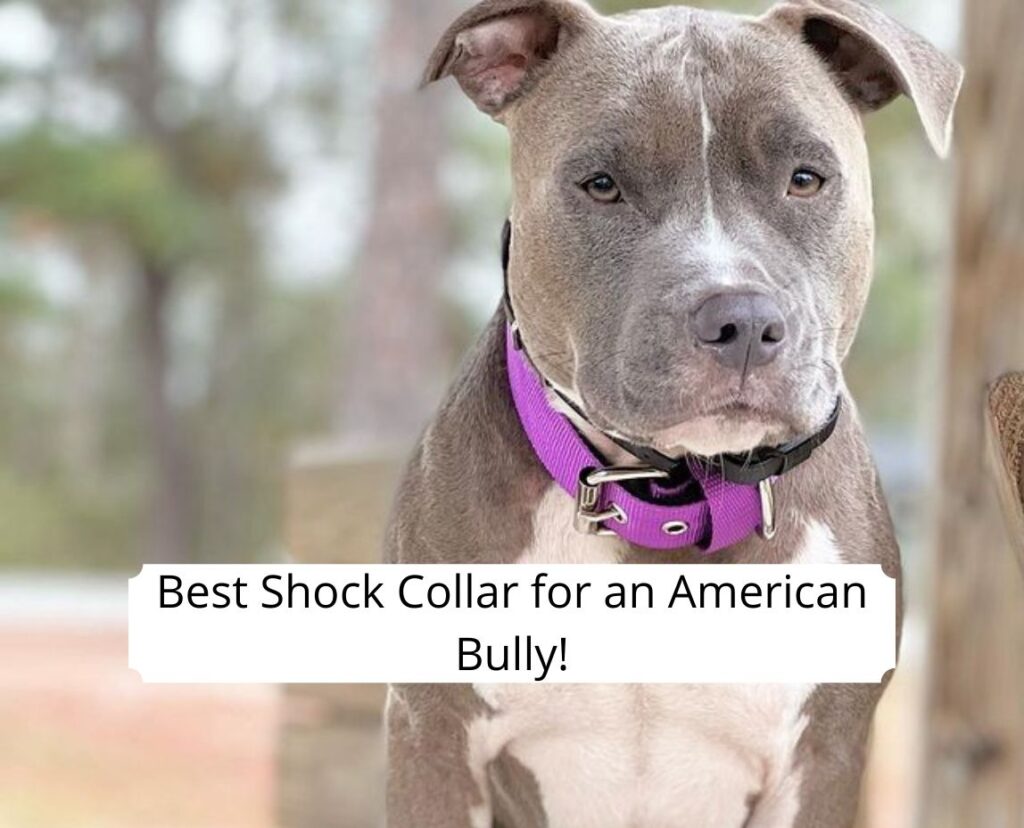 The American Bully is a muscular dog that looks like a cross between a Pitbull and a Bulldog, which are often associated with aggressiveness and stubbornness. They are, however, a different breed altogether and are actually bred to reduce their aggression, making them more of a tubby family dog akin to St. Bernards and other large, gentler breeds. They are very protective and aim to please their owner. 
This brings us to the necessity of training them. Protective breeds can become quite aggressive towards strangers, and the American Bully's energetic nature could turn against them from time to time. 
They are responsive to training but require decent effort to make any lasting effect. Tools like shock collars and a tactical bag of treats are very effective in cementing desired behaviors in bullies and we have for you, a list of five shock collars, handpicked for their usefulness, safety features, and in some cases, simplicity. 
In a rush? Here are the top picks!
Product
Best Overall
Pet Resolve Training Collar
Runner-Up
Mini Educator Shock Collar
Most Features
Dogtra Remote E-Collar
Image
The first collar on the list sets the bar on the feature-to-price ratio. It has all the functions you need to train your bully and one extra in case they have an excessive barking issue.  
Features
Three Training Modes: Shock, Vibration, and Beep

10 Levels of Stimulation

3/4 Mile Maximum Range

Supports up to Three Collars Simultaneously 

Memorizes Each Collar's Shock Level

Automatic Anti-Bark Mode

"Always Awake" 

Receiver LED Light

Splashproof Remote Device, Waterproof Collar

2-Hour Quick Charge Li-On Batteries

Extra Long Detachable Metal Prongs and Plastic Prongs
With good bang-for-buck, we start out strong with the Pet Resolve kit. Like all modern collar kits in this list, it has three training tools to use: Shock, Vibration, and Beep. Primarily, professional trainers and owners will opt first for the irritating shock, but if you can always try using the vibrate first and see if your bully responds. If you do use shock, you have 10 intensity levels to choose from, and it's always good practice to use the lowest level that your bully will respond to. 
The operational range can reach as far as 3/4 miles, but realistically you'll only get about 60-80% of that in common places with plenty of buildings, cars, and all kinds of trees and walls. Still, even 50% of that is still around 500 yards. 
If you happen to have more than one bully or another dog to train, this collar can support up to 3 receivers and switching is as easy as pressing one of the buttons on the remote. It does require you to purchase additional collars in that case. 
One of the unique features this collar has is the anti-bark mode, which turns it into a bark collar.  When in this mode, it listens for your bully's barks then after a few seconds of barking, will let out a warning beep. If the barking continues, it will trigger a shock based on the intensity levels you chose and pause for a minute before listening again. In this mode, the remote won't work so you need to switch it back to training mode to use it again. 
All the receivers on this list have a waterproof design meant to resist even a dive of 25 feet underwater. It's worth noting that the remote is only splashproof. It will resist the heaviest of rains and direct water from a hose, which can be handy if you want to clean the device. 
The battery life depends on how often you use the product, but in general, it will last about 40-60 hours before needing a charge. The kit also does not go into standby mode, or sleep mode so it will have standard power consumption as long as it's on. The benefit: You don't have to keep waking the device up when you're training or doing other activities like hunting. 
When you find yourself outside with your bully, the collar's audible beep and nightlight make it very easy to spot where they are, especially at night or low visibility conditions like a heavy fog. It goes well with the kit's massive range.
Finally, the product comes with extra-long metal prongs. These are meant for longer-haired dogs so in case you have another dog keeping your bully company. It's also nice to have a backup in case you lose the shorter prongs since they will still work on shorter hair dogs anyway. They also come with plastic prongs in case you want it to purely work as a vibration collar, or even just the light and the beep.
The educator series has many variations, all filling a necessary niche in dog training. They all have two things in common: a different and arguably more "blunt" electric stimulation and a compact design. 
Features
Three Training Modes: Shock, Vibration, and Beep

100 Levels of Stimulation

1/2 Mile Maximum Range

"Blunt" Shock Stimulation

Waterproof Remote and Receiver

2-Hour Quick Charge Li-On Batteries
 Compared to our first, this one only has half the features but it doesn't mean it's less of a training collar. It still has the same three training modes you can take advantage of, and be creative with, such as training your dog to approach you when you do three beeps. 
With 100 adjustable levels of stimulation, you can really fine-tune what works for your dog. You can control the levels using the knob on the top of the remote, though it takes some dexterous fingers to get the right in-betweens. 
Speaking of shock, the Educator series advertises their "blunt" shock. This is achieved by sending electricity at a lower frequency. It's essentially a weaker type of stimulation, so adjust the levels accordingly. The aim of shock mode is to get their attention and mildly irritate them, so you must always use the lowest effective stimulation possible. (More on that later)
The operational range is about 1/2 miles in open space. A lot of factors can reduce this range, but it's definitely more than enough to signal your bully even if they start running at top speed for 5 seconds.
The remote and the receiver can take a dive underwater and come out probably just cleaner than before, and despite the compact design, it still has a battery life of about 50-70 hours thanks to Lithium-Ion batteries. 
The contest for the widest shock mode range continues with the Dogtra 280C. The model has a bulkier remote compared to the two, but nonetheless intuitively designed so your fingers perfectly rest on the needed buttons. 
Features
Three Training Modes: Shock, Vibration, and Beep

127 Levels of Stimulation

1/2 Mile Maximum Range

Supports Up To 2 Collars (282C Model)

Waterproof Receiver and Remote

2-Hour Quick Charge Li-On Batteries

 
It also offers the same tried-and-tested training modes for your bully. What sets it slightly apart from the rest of the collars is the extremely wide intensity levels. The dial for the shock level is out of the way and has a lock, so once you've found the correct stimulating control levels, you can lock it in and worry less about accidentally changing it while in your pocket.
With 127 correction levels, you have the advantage of slowly "training" your bully to respond to lower levels. It works by ever so slightly lowering the shock level every two or so days. Eventually, your dog will get the point of the training and learn more naturally.
1/2 miles is a standard range for most collars of this quality. During fieldwork or outdoor activities, expect the range to be dampened by cars, walls, trees, and virtually anything in the way. If you're working at short ranges lower than 200 yards, the remote should always work regardless. 
If you need to use 2 collars for one remote, consider buying the 282C model, which is exactly the same as this one apart from the 2nd collar support and different button mapping. Both remotes are equally waterproof and so are the receivers. 
In terms of battery lifespan, it's the same 50-70 hours up-time or about 1-2 weeks of use per full charge. When it does need charging, it goes from empty to full in just 2 hours.
The next collar on this list might be a bit too pricey, but like all the collars here, also comes with great quality. It's meant to be a hunting collar, allowing it to stand against nearly every weather conditions you can withstand.
Features
Three Training Modes: Shock, Vibration, and Beep

10 Levels of Stimulation

1/2 Mile Maximum Range

Bright OLED Screen

Supports Up To 3 Collars 

Waterproof Receiver and Remote

2-Hour Quick Charge Li-On Batteries
This training kit has three functions you can use in training. Electric stimulation for negative reinforcement, vibration to call their attention, and the beep to signal that they did a good job and deserve a treat. It's up to you how to use them, but what's important is you never use any of the collar's functions for punishment. 
The remote has 10 levels of shock you can choose from. As far as the total "power" the collar has, we can say it's medium stimulation, but there's a lot of factors around it. It would be more efficient to just find the lowest level your bully will respond to. If it seems that the level fluctuates a lot, consider checking if you placed the collar tight enough. 
It has a remote range of 1/2 miles in open fields. On average, you might get around a 500-yard range in a park or less if you're in busier environments. What's important is it can still work even if your bully's on the other end of a football field.
This model already supports up to three dogs with one remote. In addition, since the level adjustment is more digital, it will remember the level for each dog, freeing you from the hassle of turning knobs back and forth. 
Like we stated before, the entire kit is waterproof and weatherproof. The kit will work in virtually any weather, but it's worth noting that the battery may not charge so fast in ice-cold weather. Though at full charge, the collar will last you a good 50 hours, depending on usage.
Our last collar is certainly not the least but looks the least busy in terms of design. You might mistake it for a large digital watch. It has simple features to boot and could be a decent choice if all you're after is training your bully.
Features
Three Training Modes: Shock, Vibration, and Beep

15 Levels of Stimulation

1/4 to 1/2 Mile Maximum Range

Supports Up To 2 Collars 

Waterproof Receiver and Remote

2-Hour Quick Charge Li-On Batteries
 It's as simple as modern collars go. It has the three training functions accessible via the discreet buttons on the remote and the LCD screen will show you the current shock level you're using. 
The kit has 15 total levels of intensity, but it doesn't mean it's powerful. The collar is meant to deliver a gentler charge, so don't be surprised if you end up using higher shock levels for particularly stubborn dogs. 
The basic model has a total range of 1/4 miles, which is ideal for backyard or park training, but if you need more range for outdoor activities, there is a 1/2 mile version. The same goes for multi-collar support. The basic one can only manage 1 collar at a time, but you can pick the 2-collar model that comes with a differently mapped remote control.
Speaking of remote control, the device comes with a nice strap you can use to wear the device on your palm, and it does look like a bulky digital watch if you wear it on your wrist. It's a small touch but needed due to the remote's small form.
Even though the remote is on the small side, it can still provide around 40 hours of total service before needing a recharge. When it does, it only needs 2 hours to charge back to full. 
How to Choose a Shock Collar for an American Bully
Listing them is one thing, but choosing one among the list is another. There's also a matter of the optimal way to use a collar, especially when you're a beginner. Worry not. We will give you general, but hopefully insightful guidelines on how to choose your shock collar, and what to do with it when you get one. 
One thing you should keep in mind is that there's a pretty wide margin of error when using the collars, provided that you follow the #1 Rule.  Never use the shock collar for punishment. As long as you stick with that thing in mind, you'll be fine. We'll elaborate further about it on the tips below.
Have clear training goals first and have them outlined
Training is a long-term commitment if you want results. One such training goal is for your dog to master obedience commands. Learn what you can about the training and do your homework. Once you're happy with what you planned, that's already half the battle. 
Figure out what you want to do with the collar other than training.
Certain collars have various features that are extremely useful for certain situations. Certain collars have nightlights and high ranges that are used for hunting and fieldwork. Those same features are handy on off-leash activities like camping, or simply going on a trip with your dogs. You don't even have to put the collar on as tight if you only need to use the beep and the light. 
Know more about your target collars
Shock collars come in many names like E-collars or Remote Training Collars. This is to help minimize the stigma of these devices from decades ago when they were using very powerful shock enough to almost burn. Modern collars are leagues weaker than those and only every creates an annoying, albeit strong, sensation, enough to get their attention and push them into what they should do. Some collars seem stronger than others, but there are many factors in play that either increase or reduce them, one of them being your bully's resistance. Some American Bullies are deceivingly sensitive that the lowest levels will suffice, while others resist it by sheer force of stubbornness. 
Get a trusted product.
Brands carry weight when it comes to quality, and so do reviews. We can assure you at least that we trust all the products on our list, and even outside our opinion, the quality and quantity of those reviews will speak for themselves. 
Tips for Training An American Bully with a Shock Collar
The ideal training method is Positive Reinforcement and Negative Reinforcement
When we say not using the collar for punishment, we mean don't trigger the shock or the vibration after your dog does an unwanted behavior. For example, not using it when they are already chewing your shoes off, or when they are already digging on your tomato plants. Instead, you only use the sensations when cementing certain behaviors when you command them. 
For example, you're going to train your dog to sit and stay on command. Once your dog already knows the command and does the command about maybe half the time, you can start. State the command, then trigger the shock, usually the continuous stimulation. As soon as they do the command, you stop the sensation. This method is an example of negative reinforcement. 
Positive Reinforcement comes when you then give your dog a reward for doing the command, usually in the form of a treat. It's very important that you have some sort of signal to let your dog know they did a good job. It can be by saying "Good!" or using the shock collar's beep. 
Proper collar tightness, location, and rotation are key
To make sure you always get consistent levels of stimulation, you need first to ensure that the collar is placed tightly enough. The common rule is to check if you can snugly, but comfortably place two fingers between the collar and the neck. If so, then it should be tight enough that the prongs will always make contact.
The collar should ideally be placed high up the neck, with the receiver on the top of their throats, or along that area. The skin there is sensitive enough that even the weakest levels are enough to get a reaction. You can opt to place the collar a bit lower, as long as you dial in the lowest functional shock level.
Finally, you should only keep the collar on your dog for a maximum of 8 hours. If you can, rotate the collar to reposition the receiver to another part of the throat, that way you avoid getting pressure sores and friction wounds. Plus, it maximizes your dog's comfort, which always comes first.
Find the lowest possible stimulation your dog responds to
Before you start training, it's always a good idea to calibrate the lowest shock level your bully will respond to. To do this, place the collar properly on your dog, then set the remote to the lowest shock level. Observe your dog and trigger a momentary stimulation. Watch for the slightest reaction your dog does, like turning their head as if confused, or they stop panting or stop what they are doing. If they do, stick to that level and resume training. If they don't increase the level by 1 (or by 5-10 if you're using kits with 100 or so levels) then try again. If they yelp or show any sign of pain, you're too far. If they do so on the lowest level, switch to vibration instead. 
Do the calibration every 1-2 weeks. This way you can minimize the stimulation needed for training. Ironically, the expected result of shock collar training is minimizing the use of the shock collar until your dog gets the idea of training completely and responds well enough with Positive Reinforcement.
Conclusion for Best Shock Collar for an American Bully
Having a dog is a great responsibility, not just for you but for everyone around you. While we do our best to ensure that they can be the doggiest they can be, we also need to make sure they fit in well in our world. By training them, we sort out the friction between us and them, allowing both of us to have better lives moving forward.
Other articles you would like:
Garrett loves animals and is a huge advocate for all Doodle dog breeds. He owns his own Goldendoodle named Kona. In addition, he volunteers at the Humane Society of Silicon Valley, where he fosters dogs and helps animals. Garrett enjoys writing about Doodles and believes that dogs can teach humans more about how to live than humans can teach a dog.
Why Trust We Love Doodles?
At We Love Doodles, we're a team of writers, veterinarians, and puppy trainers that love dogs. Our team of qualified experts researches and provides reliable information on a wide range of dog topics. Our reviews are based on customer feedback, hands-on testing, and in-depth analysis. We are fully transparent and honest to our community of dog owners and future owners.