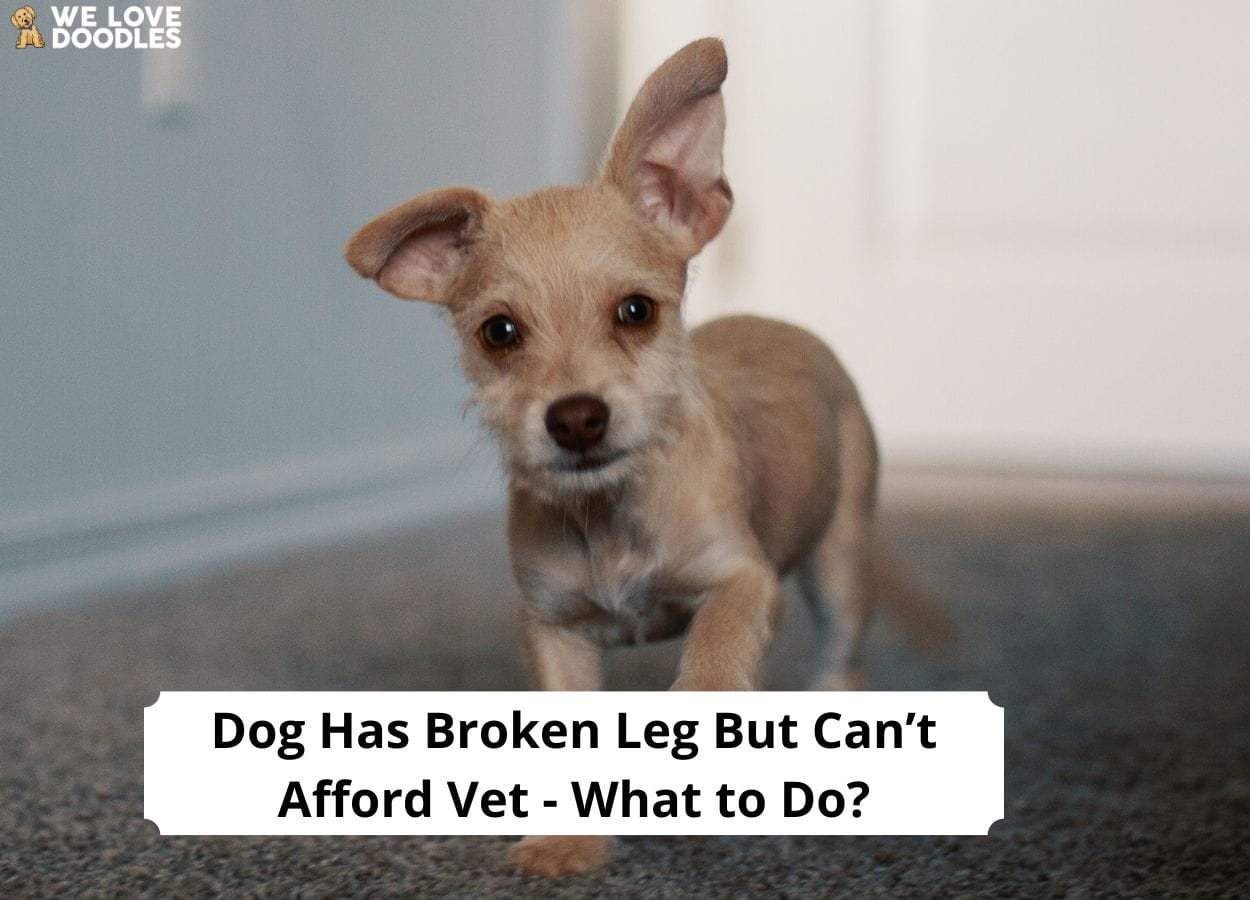 Sometimes, life gets in the way, and this is especially true of finances. Even the most responsible of dog parents fall on hard times. When your dog is facing a drastic emergency, and you can't afford a veterinarian, the first thing you may do is panic. While this is normal, it's crucial to know your options.
If your dog breaks its leg and you cannot afford a visit to a veterinarian, you can attempt to wrap the leg in a tight splint to aid the bone's healing process. We strongly advise you to find a way to have your dog's leg seen by a professional. Many veterinarians offer financing or repayment plan options. You can also look for a free pet clinic to fix your dog's broken leg.
Are you concerned about your dog's broken leg and have no funds to cover a vet visit? This guide will explore your options for fixing a dog's broken leg at home. However, it's important to know that taking a dog to a veterinarian is crucial for this condition.
Before you scroll down to a more in-depth answer to the question, "Dog Has Broken Leg But Can't Afford Vet," you can check out these other dog-related articles covered by our team at We Love Doodles: Why Won't My Dog Eat in the Morning? Vet Advice! and What Should I Do If My Dog Ate Fish Bones?
Do Dogs Easily Get Broken Legs?
Although not a common occurrence, dogs can and do suffer from broken legs. Much like people do, dogs break their legs due to unforeseen situations.
Thanks to evolution, dogs' legs are designed to be highly durable. Still, breaks can happen, especially when there is too much force on the leg, or your dog collides with a hard surface.
Some of the most common dog leg breaks or sprains occur when dogs jump down from high surfaces and land incorrectly. A broken leg is even more likely if a dog jumps off a platform and lands the wrong way on a hard surface, such as brick or cement.
Risk factors for broken legs in dogs increase drastically as a dog reaches their senior years of life. As the leg bones naturally weaken, even small jumps or landings on hard surfaces can trigger a leg bone to break.
Dogs can also suffer broken legs when fighting or roughhousing with other dogs, especially if a dog is a senior.
Though uncommon, dogs can break their legs. When they do, prompt medical attention is crucial to your dog's long-term health.
Can I Fix My Dog's Broken Leg at Home?
Dog has broken leg but can't afford vet? If you are simply unable to afford a vet bill and have exhausted all possible options to secure financing to cover the costs, you can attempt to fix your dog's broken leg at home. However, this is not advisable.
We do not recommend fixing your dog's broken leg at home, as your dog may experience co-occurring symptoms with their broken leg that require treatment. You also won't know the extent of your dog's injury, such as where the break is, its severity, and the best course of action for treatment.
If the leg is broken, and if there is no bone protruding out of the skin (a medical emergency), you can try wrapping the broken leg in a splint.
Step 1: Wrap the Leg in Gauze
Keep your dog calm and apply a muzzle over its mouth if necessary. Thoroughly wrap the affected area in gauze. Make sure you wrap the gauze like a spiral, aiming downward.
Step 2: Find a Sturdy Item of Proper Length to Use as a Splint
Next, you'll need to find a splint. Make sure the item you use is long enough to cover the length of the leg. Something like a tall and sturdy wooden spoon typically works well.
Step 3: Wrap the Splint in Place
Once you have a splint, hold it in place and wrap the gauze around it. Make sure the splint is firmly in place but not too tight, as this will cause your dog pain. This step may require two people.
Step 4: Monitor the Leg for Swelling or Bleeding
Lastly, you will need to monitor your dog. Always keep the gauze dry and help your pup move around as easily and comfortably as possible. You can also train it not to sleep on the side with the splint. Additionally, ensure there is no excessive swelling. If you notice bleeding, find a way to get your dog to a veterinarian as quickly as you can.
What Can I Do if I Cannot Afford a Vet Visit?
Even if you successfully place a splint on your dog's broken leg at home, they will need to see a vet at some point for follow-ups and to ensure their leg heals correctly.
If you cannot afford a vet visit right now, here are some options you can look into to prepare for the future.
Insurance
Although having pet insurance before this accident would be beneficial, having pet insurance at any point is helpful. Pet insurance can typically cover most, if not all, of the costs associated with a vet visit for a broken leg.
Banfield Pet Insurance is great because they have their own nationwide pet hospitals and only accept their own form of monthly pet insurance as payment.
Pet insurance is certainly worth looking into if you successfully treat your dog's broken leg at home and need to get them in for a follow-up at a later date.
Financing
Some vet offices, and many pet hospitals, offer financing options. You can always go to the vet or pet hospital's website and pre-apply with their financing provider beforehand to get approval.
Payment Plans
Many veterinarians understand their customers' financial situations. You can always speak to your vet and explain your circumstances. They may allow you to work out a repayment plan, where you pay off your vet bill over time in agreed-upon installments. If you have been seeing a veterinarian long-term, this is certainly worth asking about.
Local Animal Rescue and Free or Low-Cost Clinics
Another option you have is to find the nearest pet hospital or free clinic in your area. More and more areas are seeing low-cost clinics that help address the rising costs of veterinary services and help people during emergency situations.
Even if your town has no such clinic, chances are a town somewhere in your area does. If the clinic cannot offer free services, there is a strong chance they can accept a payment plan with a modest deposit.
Dog Broken Leg Cost
In terms of dog broken leg cost estimates, the price can range dramatically depending on where you live, the severity of the break, and your veterinarian.
As an example, a clean break with no protruding bone or infection can range from as low as $250 to as high as $1,000 to $2,000.
Broken Paw Cost
Dogs can also experience broken paws. Simple breaks can cost about the same as a broken leg, but other issues, such as compound fractures, can be quite expensive.
How to Prevent Dogs From Getting Broken Legs
The best way to avoid high vet bills from a leg injury is to prevent your dog from breaking its leg in the first place!
Here are some tips to keep in mind:
Limit Jumping Up and Down
Dogs love to sleep with, lie near, and be around their owners. There is no innate harm in this, but jumping up and down from a bed or sofa could cause breaks and sprains.
Consider picking your dog up and helping them down in these instances.
Cushion Jumping Areas
Better yet, ensure that the area your dog lands on is cushioned. You can place a thick comforter on the ground for your dog to land on, or even a thick rug if the jump is not too far.
Buy Dog Steps
Dog steps are extremely helpful, especially for senior dogs or dogs with tiny legs. You can buy steps customized to your dog's size and weight. Typically, dog steps are wide enough to ensure your dog has room to move up and down comfortably.
Monitor Your Dog's Outdoor Activity
Dogs love to play and roughhouse when outdoors. When your dog is outside, consider going outdoors with them. Monitor them as they play and run in the yard. You should also prevent them from climbing onto any high or dangerous surfaces.
Frequently Asked Questions
Can a dog live with a broken leg?
A broken leg won't kill your dog as long as it's properly treated. Complications from a broken leg can result if it is not seen by a professional veterinarian at some point.
Will a dog cry if its leg is broken?
Most dogs will display signs of extreme discomfort if their leg is broken or they're experiencing discomfort. These signs include whining, holding their leg in the air, and avoiding putting pressure on their leg.
What promotes bone healing in dogs?
Calcium promotes strong bone growth in dogs just as it does in humans. You can add calcium to your dog's diet by mixing its dry food with cheese, plain yogurt, or plain cottage cheese.
Dog Has Broken Leg But Can't Afford Vet? Here's What to Do
Being unable to afford a vet visit for a dog's broken leg is something that can and does happen. Even the most responsible of pet parents run into unforeseen hardships. If this happens to you, you can splint your dog's broken leg at home. If the break is minor, this may fix the issue. But getting your dog to a veterinarian is crucial.
If you find this guide, "Dog Has Broken Leg But Can't Afford Vet," helpful, you can check out these other dog-related guides from our team:
If you are not sure if your dog has broken a leg, you can get your answers by watching "How to Tell if Your Dog Has Broken It's Leg" down below:
Garrett loves animals and is a huge advocate for all Doodle dog breeds. He owns his own Goldendoodle named Kona. In addition, he volunteers at the Humane Society of Silicon Valley, where he fosters dogs and helps animals. Garrett enjoys writing about Doodles and believes that dogs can teach humans more about how to live than humans can teach a dog.
Why Trust We Love Doodles?
At We Love Doodles, we're a team of writers, veterinarians, and puppy trainers that love dogs. Our team of qualified experts researches and provides reliable information on a wide range of dog topics. Our reviews are based on customer feedback, hands-on testing, and in-depth analysis. We are fully transparent and honest to our community of dog owners and future owners.