Beagles are a beguiling breed that bay, bark and bolt off against their owner's behest. Part of a dog breed called "Hounds" they fall along the lines of bloodhounds, foxhounds, and greyhounds, which were used for hunting games of all sizes.
Hounds still make great house pets, but you'll quickly find that though you can easily take the Beagle away from the hunt, you'll find it hard to take the hunt out of the Beagle. This is where training comes into play. There are many methods you can use to train your Beagle, but among the training methods, using a shock collar for Beagles may be your most efficient method. So, how do we train a beagle with a shock collar? How does a training shock collar work, and how will a Beagle's behavior affect it? Let us show you how.
Before scrolling down this list, you might like: Best Training Collar for Stubborn Dogs!

Shock Collars: What's the Best Way to Use Shock Collar?
Before we start, it's best to keep your mindset pinned on a certain philosophy: "Shock Collars are not for Punishment". On the surface, it's pretty simple, don't use it to penalize your dog for doing the unwanted behavior. If you see your Beagle digging around your freshly planted hydrangeas, don't just trigger the remote to discourage the bad behavior. There is a proper method to it, one that does not instill fear and will even help you bond with your dog.
The point of the training shock collar is not just the stick in the "carrot and stick" approach. It's a novel way of communicating with your Beagle. With shock collar training, one of your goals is to teach the dog how to turn the static stimulation off, and that's done by following your orders. You have to do your part though by teaching them how to do the right thing.
Related Article: Best Dog Training Collar
Beagle Personality
Since a Beagle is a scent hound, they are bred to detect and follow smells. This makes them easily distracted by any passing scents and gives them extreme motivation to follow said scents. It's not uncommon for a Beagle to stray out into the yard and end up either squeezing under things or digging around.
Since they are also a hunting breed, young Beagles are energetic and noisy, placing all their energy into running, jumping, and making figure eights around your feet when you're walking. They aren't prone to excessive barking, but they are known to do a mix of whining and barking quite often. All in all, this makes them fun dogs to play with and great companions, but it makes them difficult to train.
It's worth noting that as a Beagle gets older, the less active they become. At around 2-3 years, they may be half as active as they once were.
Basic Obedience Training Using Shock Collars
Normally, professional trainers and owners would use shock collars at around 6 months of age, but don't get discouraged, even an old dog can learn new tricks. There are about five to seven commands you should teach your dog, but for a Beagle, there are three you should teach first: Come, Sit/Lay and Stay.
When mastered, these commands can massively help you control your Beagle's behavior, allowing easier housebreaking. These methods can be taught without shock collars, but you will find their stubbornness tough to break, even with good positive reinforcement.
Related: Best Shock Collar for a Hunting Dog
Training a Beagle with a Shock Collar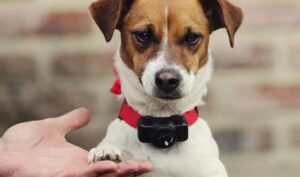 Before you start training, you need to make sure your Beagle is comfortable and you have all the things you need. At this point, you should know everything needed about operating your shock collar, and you've already made them comfortable with it. If it's your first time, consider doing your homework first about how to prepare your dog for shock collar training. Once you're done, prepare your treat pouch for positive reinforcement.
To maximize their comfort, pick a nice open area and stick to that place each time you train. Before you train them, play a small game or take them out for a short walk. This helps them exercise and attribute the training to something good, rather than a chore.
One small thing they should learn first is looking at you when you say their name. Simply call their name, and when they make eye contact with you, say something confirmatory, like a simple "Yes!" then give them a treat. Keep doing this until they consistently look at you. Beagles are easily distracted, so teaching them to pay attention will make training easier.
The goal is for your dog to approach you when called. To do this, prepare a long leash and an open space. If they keep following you, let them relax and stray while on the leash. Once they are at a considerable distance, call their name to get their attention, then quickly say "Come here!" or any command you'd like to say.
Now, lightly tug the long leash and hold down on the remote trigger. As soon as they follow the direction of the tug, or approach you, release the trigger, confirm it with a "Yes!" and praise them. When they deviate or stop, repeat the command and tug as you press the trigger.
When they finally approach you, give plenty of praise and give them a treat to cement it. Feel free to play with them after. Beagles love to play and stitching play in between training does well for their physical and mental health.
Keep repeating this until they master it. It's better to focus on one task until mastery before moving on to the next one.
Getting your Beagle to sit or go prone on command is useful especially on younger dogs. You may find that they won't sit down for very long, but once you get them to sit or lay down, teaching them how to stay won't be that difficult.
There are two stages to this. The first one is teaching them what "sit" is. Physically putting them in a sit position won't work, they have to figure it out on their own. One such method is by putting a treat inside your closed hand, then place your hand near their nose. When they notice the treat, move your hand in an arc over their head. Their natural reaction is to sit down as they look up. When they do, confirm and praise with a treat. We don't say the word "Sit" yet. Do this a couple of rounds, then try it without the treat on your hand. (Give them the treat after they sit.)
When they start getting the hang of the movement, add the command just as you arc the treat, then confirm it when they do. Repeat this with breaks in the middle. If you're lucky, your Beagle will already sit on command, but if not, we can now move to the 2nd stage.
With your shock collar remote at the ready, keep your Beagle's leash short, and walk around with them for a few seconds, then say the "sit" command, then trigger the training collar. They should be familiar with the command at this point, and as soon as they sit, confirm it, release the trigger then praise, preferably with a training treat.
This refines the command, ensuring that when you say sit, they will abandon what they are doing, and sit.
For the "Lay Down" command, it's the same steps but instead of arcing the treat over their head, you do a downward "L" shape by placing the treat close to their nose, then move the treat down to the floor, then away from their nose. They should go prone when doing so, then when they get used to the motion, add in the command for "Lay Down"
These basic obedience steps should be done in order because every lesson teaches a specific mindset for your Beagle to follow. You may find this particular command harder to teach because it goes against what Beagles are bred for, but it's worth the effort.
Decide on a release word, such as "Go!" or "Okay!" and prepare your treats. The first goal is to teach them what the word means, without using the shock collar. We do so by commanding them to sit, then throw a treat a few feet away from him. As soon as your Beagle bolts for the treat, say the release word. Do this a couple of times.
After a small break, do the same thing, except you toss the treat after you say the word. This way your Beagle learns that the release word means to get moving. Do this until your Beagle actively waits for both the treat and command for a second or two. Once that's done, take a break, then we can proceed to teach them the "Stay" command.
This type of training is a bit systematic but as soon as you get a rhythm, your dog will know it too. You start with commanding them to sit, then say your command for "stay". After 1 second, give them a treat, then release them. If they don't try again until they sit still for one second. (Or one "Mississippi" to help you count), then afterward, increase the wait time to two seconds and do it again and again until it's consistent. Once you get a Beagle to stay for 3 seconds, it's time to refine it using the shock collar.
Repeat the process, but if they move after 3 seconds, trigger the training collar and state the "Stay" command. Release when they stop, until they can stay for 4 seconds, then release them for a good praising. For now, keep at 4 seconds. You can go lower if you can't get them to stay, and gradually increase it until they stay for as long as you need them to. Don't forget to always release them.
Related: E-Collar vs Shock Collar
Conclusion How To Train A Beagle With A Shock Collar?
Training them will take a long time. Sometimes, it will take a week or two of well-paced training before they master it completely. What's important here is both you and your Beagle are having fun. What separates training with them and getting professional training is the huge amount of bonding time you'll spend with them, and you can't put a price on that.
You will also like:
Garrett loves animals and is a huge advocate for all Doodle dog breeds. He owns his own Goldendoodle named Kona. In addition, he volunteers at the Humane Society of Silicon Valley, where he fosters dogs and helps animals. Garrett enjoys writing about Doodles and believes that dogs can teach humans more about how to live than humans can teach a dog.
Why Trust We Love Doodles?
At We Love Doodles, we're a team of writers, veterinarians, and puppy trainers that love dogs. Our team of qualified experts researches and provides reliable information on a wide range of dog topics. Our reviews are based on customer feedback, hands-on testing, and in-depth analysis. We are fully transparent and honest to our community of dog owners and future owners.