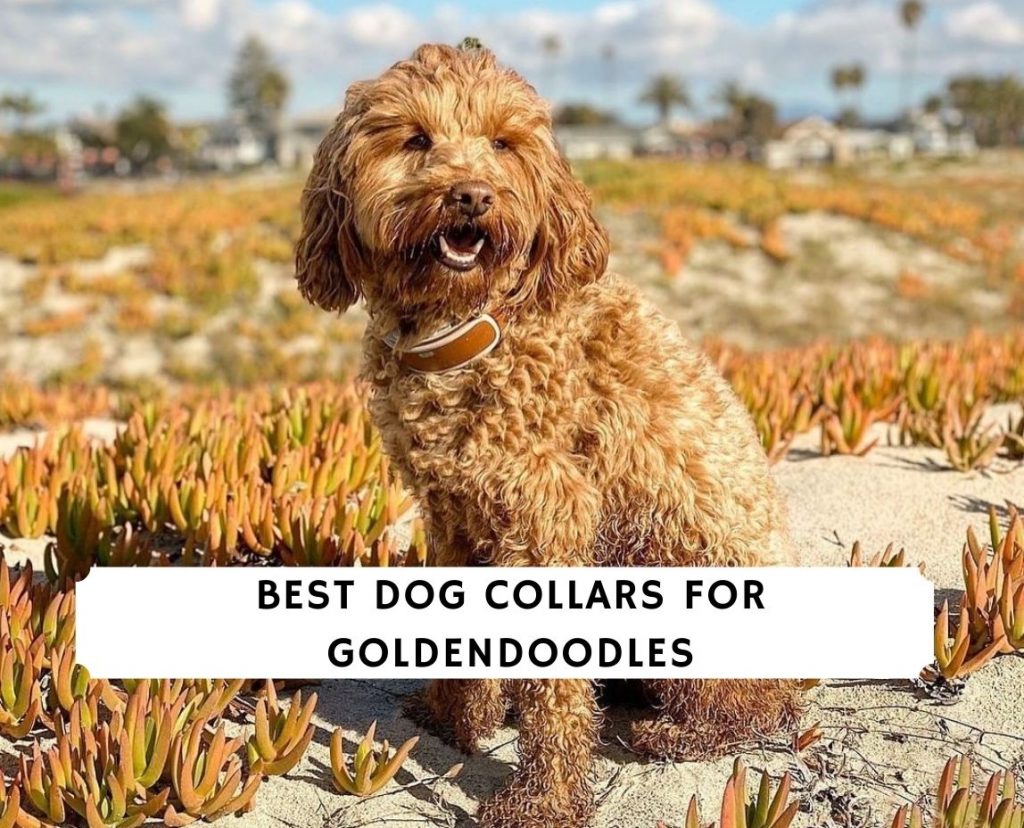 As a dog owner, you always want to choose the very best items for your pet. You want comfort as well as quality and let's face it, sometimes it can be challenging to find both of these qualities in a product.
A dog collar is very important for your Goldendoodle as this is the sign that they are loved and taken care of. The collar shows they have a home and gives you as the pet owner a place to attach a leash if needed.
Choosing a dog collar doesn't mean just buying the cheapest collar out there. While you can certainly find budget-friendly options, you want to consider both quality and comfort when you pick out a dog collar for your Goldendoodle. You need to choose a collar that is suitable for the personality of the dog without rubbing or causing discomfort.
We've searched the market to find some really great dog collars for Goldendoodles. We think you will be quite pleased with the options that we were able to dig up. This can be your one-stop resource for choosing a collar and knowing you are getting a great solution!
In a rush? Here are the top picks!
Product
Best Overall
Link AKC Smart Dog Collar
Image
The 6 Best Dog Collars for Goldendoodles Reviewed
In this section, we will load you up with information about our 6 top picks for the best dog collars for Goldendoodles. We've found a good assortment of options so you have plenty to choose from at all price points!
Let's take a look!
Let's start out with one of the very best smart collars on the market. Your Goldendoodle is worth monitoring and you'll be able to track them should they escape your property or run after a squirrel. Goldendoodles do like to run and play and can sometimes be escape artists so a smart collar is always a great idea!
With the Link AKC Smart collar, you can choose the appropriate size collar for your dog. A standard Goldendoodle will probably need a large collar while a mini Goldendoodle can use a smaller size. From there, you can choose a leather collar or a sport collar. This dog collar is pretty awesome because it has GPS and activity tracker technology as part of the collar so you can always keep an eye on your dog. There is an app compatible with almost all types of phones which enables you to track your dog's activity and location at all times.
This collar is designed to be sturdy and comfortable on your Goldendoodle. It has a low profile and it is form fitting to your puppy. There is a lot of functionality with the GPS and activity monitoring system – this collar can even tell you if your dog is hot or cold. Finally, it has an LED light so you can see them in the dark as well. It's definitely one of the more expensive options on our list, but we think it's worth it for the features it offers.
The Black Rhino dog collar is a heavy-duty collar that is designed for strength and comfort. On the side of your pet's neck, it has an ultra-soft neoprene padding that provides comfort so the collar doesn't rub or hurt your Goldendoodles throat – even when your Goldendoodle plays or pulls on a leash.
The material is heavy-duty so it is durable and lasts a long time. The material on the collar is also reflective so it will stand out in the dark at night. Additionally, this collar is designed to be waterproof so it won't get soaked and develop awful smells when your Goldendoodle plays in the rain or runs in the snow.
You can purchase this collar in various different sizes and colors. It is both heavy-duty and lightweight so it doesn't cause any discomfort for your Goldendoodle. It's adjustable as well so you can tighten it or loosen it some with each size. We really like this dog collar and it's one of the most popular options on Amazon.
This next Goldendoodle collar is pretty neat because you can personalize it. There is room on the collar to add a name and phone number so you don't have to worry about your tags getting lost or snagged. You can just rely on the collar to provide the owner's important information.
These collars are made with a durable nylon material so they are comfortable and strong. The general personalization is to put a name and phone number on the collar. There are 5 different collar colors and 15 embroidery colors that you can choose from when you order.
These collars for Goldendoodles are both comfortable and durable. They use the simple snap to put on so you don't have to mess with a buckle. In addition, they have a metal ring for leash attachment and are able to be adjusted to get just the right sizing for your Goldendoodle as well.
If you just want a simple collar solution that will be comfortable and effective, then this might be the best option for you. It's a very simple dog collar but it is durable and comfortable. This was actually the first collar that we got our Goldendoodle puppy and it worked wonderfully for 6 months or so. It's a budget-friendly option with tons of sizes and colors to choose from.
You can choose from about 22 different color options and be sure to watch the size chart to get the appropriate size for your puppy. These collars are adjustable as well to get the right fit as your dog grows. The collar will not stretch so again be sure to watch the size chart.
This is a nylon fabric that is sturdy and durable. It doesn't have any extra padding but it will not cause any general discomfort for your dog either. It snaps on with a simple buckle and has a metal ring so you can easily attach a leash. This brand is high-quality and is highly-rated across the board for sizing, quality, and durability.
You really can't get much better on design or color than to have an American flag print on your dog collar. It's a cool design and print. This company also has a weathered look collar and a bald eagle design as well. All their collars for dogs are beautiful and they are also affordable, which is always a nice quality.
You can choose from a variety of sizes for this Goldendoodle collar. Just be sure to check the size chart to know you are getting the size your dog really needs. These are made with sturdy polyester material and webbing. This makes the dog collar both durable and comfortable.
This collar also has a quick buckle that is very easy to snap and unsnap as needed so you don't have to wrestle your dog to get a collar on. The logo is reflective to add a little something extra as well if you go on night walks. This collar for Goldendoodles is also fitted with the D-ring so you can easily attach it to a leash and have a secure connection.
This last collar is another USA print collar. This one has a vintage flag design that looks more realistic and is absolutely gorgeous. The collar is high-quality and looks really nice. In addition, this dog collar has all of the important checks and balances and some really unique features as well.
This collar has a unique seatbelt style buckle that is metal and easily clips together and comes apart when needed. It's more secure and more durable than a standard plastic buckle. This collar is made with durable nylon that is comfortable and sturdy for your Goldendoodle.
You can choose from different size options depending on whether you have a mini, medium, or standard Goldendoodle. Be sure to refer to the size chart to know the right size for your Goldendoodle. This collar also comes equipped with a sturdy D-ring so you can attach a leash as needed. It also has an adjustable clip so you can size it appropriately as well.
How to Choose a Dog Collar for a Goldendoodle
Now that we've shared our favorite options for dog collars for a Goldendoodle, let's talk about what makes each one a good collar! As you pick out your dog collar, there are just a few simple things you may want to keep in mind to ensure that you get the right dog collar for your needs.
Don't forget to keep your own needs and preferences in mind as well as you make a selection!
Size & Fit
One of the most important elements to keep in mind is the size and fit of the collar. Goldendoodles can vary in size and you may have a go-to size in mind but we recommend always using the size chart provided.
Not every brand of collar will measure sizes the same way so we recommend you measure your dog's neck and choose a collar that is within the range so you know you are getting the right fit.
The general rule of thumb is that you should be able to stick two fingers between the collar and neck of your Goldendoodle. This is the best way to know that your collar is not too loose and also not too tight so your dog can truly be comfortable.
If your collar is too tight, it's simply not safe for your Goldendoodle to wear. If the collar is too loose then it might not be effective as a collar should be, particularly if you are using a leash or anything that attaches to the collar. If it's too loose, the dog can simply pull its collar off and run away.
Adjustability
It's always a good idea to get a Goldendoodle collar that is adjustable. While you certainly want to stay within the appropriate fit range, just know that you may have to adjust the collar for the proper fit. This means that you should always look for a collar that can be adjusted to fit your dog's neck.
The adjustment piece should be simple to use and adjust and it should stay in place. These will slip at times but they shouldn't need to be adjusted every day. Just check them routinely to be sure they are not coming loose.
Comfort
Finally, you certainly want your Goldendoodle puppy to be comfortable in their collar. Look for materials that are soft and durable at the same time. You want to be sure they are not going to rub and cause discomfort for your pup.
Nylon, polyester, and similar materials tend to be durable and comfortable as well. Look for rough edges and things like that and try to avoid features that could cause itching or rubbing. Goldendoodle puppies love to pull on their collar, so it's important you're keeping them safe.
Conclusion for Best Dog Collars for Goldendoodles
There are several types of dog collars for Goldendoodles on the market today. You'll find smart collars, normal nylon collars, and collars with various buckles and reflective gear. It's important that you simply don't pick the cheapest dog collar on the market because Goldendoodles love to pull and can easily break a cheaper plastic collar. The collars that we recommended will work for all size Goldendoodles including mini, medium, and standards. They are also extremely durable and should last you a long time!
Other articles you will like:
Garrett loves animals and is a huge advocate for all Doodle dog breeds. He owns his own Goldendoodle named Kona. In addition, he volunteers at the Humane Society of Silicon Valley, where he fosters dogs and helps animals. Garrett enjoys writing about Doodles and believes that dogs can teach humans more about how to live than humans can teach a dog.
Why Trust We Love Doodles?
At We Love Doodles, we're a team of writers, veterinarians, and puppy trainers that love dogs. Our team of qualified experts researches and provides reliable information on a wide range of dog topics. Our reviews are based on customer feedback, hands-on testing, and in-depth analysis. We are fully transparent and honest to our community of dog owners and future owners.