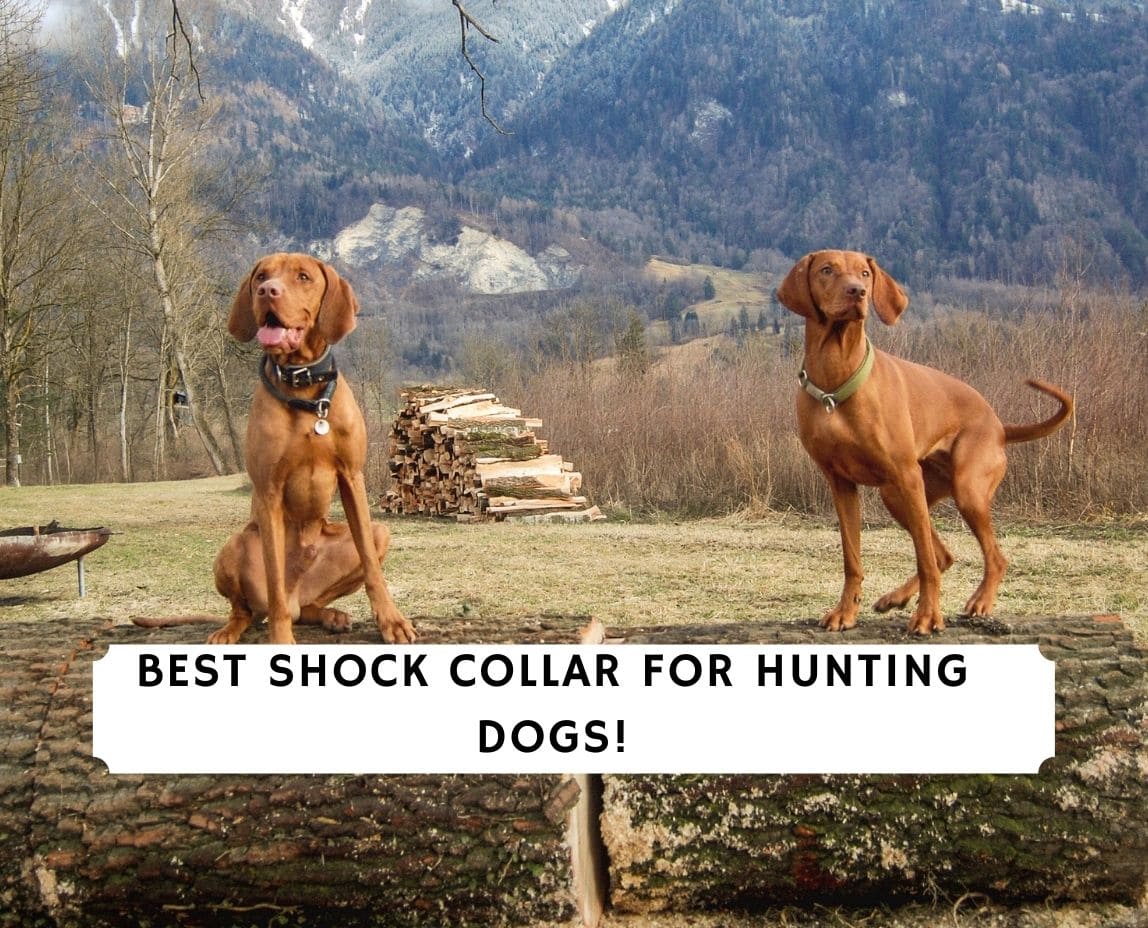 Dog training has come a long way since man first discovered that they could hunt with their dogs. Back then, as long as 10,000 years ago, humans were able to train dogs to drive gazelle into traps. This proved that dogs could be taught specific tasks in high-pressure activities such as hunting.
Back then, it was significantly tougher for humans to train their hunting dogs to cooperate in a hunting strategy. Now we have refined training methods and tools like sonic whistles, scented bumpers, and shock collars. Shock collars, or e-collars, are designed to deliver stimulation to our dog's necks to get their attention. They are never meant to hurt your dog. Shock collars are used mainly for conditioning and letting your dog associate bad behavior with discomfort instead of downright punishment. The best shock collar for hunting dogs will make a significant difference in their training.
Modern shock collars can silently deliver signals over long ranges and have lights and tones that help you find your dog in the wilderness. Today, there are a wide variety of shock collars that can include GPS, long-ranges, and even topography maps specifically designed for hunting dogs.
In a rush? Here are the top picks!
Product
Best Overall
Pet Resolve Collar
Best GPS Collar
Garmin Alpha
Editors Choice
Educator E-Collar
SportDOG FieldTrainer Collar
Image
Our top product on our list is the Pet Resolve Training Shock Collar that comes with a black collar and a remote controller that can support up to 3 dogs. The best part about this shock collar is that it comes with three different metal spoke sizes that can support long or short-haired dogs. Many of the shock collars on the market today don't work well because the metal prongs don't touch your hunting dog's skin if they have medium to long fur. Having a variety of prongs helps to guarantee that the shock collar will always work on your hunting dog.
The collar has a great range of about 1300 yards, or 1200 meters, and is fully waterproof. This is ideal when duck hunting or when hunting during heavy rain. When visibility is low, it comes with a light and tone to help find your dog easily.
Additionally, if you don't want to shock your dog, you can choose to use the vibration mode. This creates twitch-inducing pulses from the collar that are far less stimulating and far less distracting when your dog needs to focus on flushing out hares or deer.
This model is "Always Ready" which means it doesn't go to standby mode after a certain period of time. Some models go to standby mode to save power, but switching from standby to active takes a few seconds, making or breaking a catch. If that makes you worry about battery life, this shock collar model lasts all day when fully charge. That does mean that it will keep on draining the battery, but you can charge it back to full in 2 hours.
This collar came first because it has all the customization options needed for varying breeds and is tough enough to handle all the rigors of a good day's hunt. It is also extremely good value for the price. The only downside is that this collar does not have a GPS locator, but that will cost you significantly more.
The Educator E-Collar comes in several colors and variations for different dogs and high-shock models for more stubborn dogs. It also comes with collars that can fit any dog in the "toy" category, or smaller dogs meant to flush out burrows when hunting. The remote can support 1 collar and is relatively small and easy to handle when hunting.
The shock collar has a total effective range of about 800 yards or 730 meters. Shorter than most modern models, but it makes up for it with a wide array of control. You can set the energy level from 1 to 60 and three buttons for stimulation: one for a single pulse and another for either a stimulation boost or a continuous pulse (depending on the mode settings). They also have a button that is meant for a weaker "tapping" effect. It takes some getting used to, but it allows fine-tuning and several different ways to signal your hunting dog.
One unique feature it has is called the "Pavlovian Tone." When the regular stimulation button is pressed down, the collar emits a sound that lasts about a second then the stimulation occurs shortly after. Eventually, your hunting dog will associate the tone with the sensation and respond to just the tone.
It does come at a slightly higher price than the average, especially if you have a bigger or more stubborn dog, but you do get to fine-tune the stimulation, the fit, and the pulse strength. Overall, it's one of the best dog shock collars for hunting.
The Garmin Delta shock collar set comes with a remote that can support up to 3 additional collars, the black collar itself, the receiver, and all the necessary accessories. It also comes with a short and a long pair of spokes, depending on how thicks your dog's fur is. Like most of the shock collars listed, it has the standard shock, tone, and light functions needed for hunting and training.
This shock collar for hunting dogs has a range of about ¾ miles and has four simple buttons. One for continuous pulsing, one for short pulses, and a pair for tone and light. Unlike some of the other shock collars, it doesn't have a vibrate-only option, but it does make up for it with its design.
The Garmin Delta Sport Pro remote is designed to be used with one hand and without looking. You can use your thumb to adjust the intensity dial, and there are two big buttons you can press with your index and middle finger. This is very useful if you need to focus on your prey while signaling your dog.
The Garmin Delta Sport Pro is higher on the price spectrum, but it has all the functionality you need plus a fantastic design. This shock collar also comes with a scented rubber bumper for retrieval training. It can be used even on blind dogs since they can use both their sense of smell and hearing to retrieve it.
The SportDog 425S shock collar combines most of the features of our collars so far except for the bright colors. The SportDog collars and their variations are both waterproof and weatherproof which are properties all hunting shock collars should have. This model's remote can also support up to three collars should you decide to get more than one dog.
This e-collar for hunting dogs has a total effective range of about 500 yards and has a no-look, one-hand design. The dial can go from one to seven depending on the shock strength needed. It also comes with two pairs of spokes, a short and a long one for dogs with long hair. The collar is quite long, reaching two feet but it doesn't mean it can't fit a smaller dog. It can fit dogs as small as 8 lbs and you can snip the excess collar off if you need to.
This particular model of the SportDog brand has greater intensity compared to the SD-425. The hunting dog collar was created because some dogs can be so focused on what they want to do nad that they ignore your commands. This is a great hunting dog shock collar with a remote that should not hurt your dog when used appropriately. You can test it on your palm at the lowest setting to see how much shock your dog will feel.
The last hunting dog shock collar on the list is widely different from the rest of the collars. It employs GPS technology, a touchscreen display, and a topography map. This is a collar that utilizes our current technology to vastly increase its level of functionalities when hunting and retrieving your dog.
This is one of the best bird dog shock collars with a whopping range of up to 9 miles with a remote that can track and support up to 20 collars. You can basically have a full squad of hunting dogs if you wanted. It's really handy to know where all your dogs are if you own a lot of them. It has up to 18 levels of stimulation, vibration, or tone, and you can save each setting per a specific dog.
Thanks to the preloaded maps and GPS tracking, the collar can determine if your dog has crossed a certain boundary and trigger a stimulation or tone. You can adjust this on the remote itself. Professional hunters train their dogs to come back when they hear or feel a signal from their collar. The display can show you where your dogs are on the map, how far away they are from you, and their direction relative to yours.
The collar and all the similar GPS-equipped models have amazing features, but it comes at a high price point. Higher technology tends to be expensive, but if you need an all-in-one managing system for multiple dogs over a vast range, then this is the hunting dog e-collar for you!
How to Choose the Best Shock Collar for a Hunting Dog
Choosing the best shock collar for a hunting dog really depends on what type of hunting the dog will be doing. If you're looking for the best waterfowl dog collar, you'll make to make sure it's waterproof. If you're looking for the best bird dog shock collar, you'll need to make sure it has adequate range and settings. Keep in mind that there are some features a hunting dog shock collar should always have in various hunting environments.
Good Range
Some hunts are close-boxed scenarios like duck hunting, where you would want your dog close by to retrieve the waterfowl. Other hunts result in a chase, like deer and rabbit, where your dog could suddenly run off far. Collars with high range are useful in this scenario, allowing you to signal your dog back in case you need to regroup.
One more thing to consider is that a denser environment like thick bushes and trees can dampen the remote's signal, so having a hunting dog training collar range of 900 feet and higher is better all around, to compensate for the reduction.
Waterproof
You don't need to worry too much about this one because all collars meant for hunting are often IPX7 or higher, which means the collar can be submerged in water up to 3 feet of water for 30 minutes and remain undamaged. We mention this in case you have an existing dog training collar you'd like to use for hunting because dogs will jump in water, swim, and run through the rain. Waterproofing is crucial for hunting.
Fit
There are two things to consider with the fit of a hunting collar: the size of the neck and the amount of fur your dog has. Thankfully, most collars have plenty of ways to finely adjust the collar fit. Long-haired dogs do need longer prongs to help reach their skin or the shock won't work. Hair is a good insulator, so it can block a shock and your dog won't feel anything.
Ideally, you want your hunting dog collar to be tight. How tight? Tight enough that the metal prongs make constant contact with the dog's skin, but enough for you to slide a finger or two in between the collar itself. Having varying sizes of prongs makes this easy.
The reasoning behind tightness is that if the prongs aren't as close to the skin, a pulse level of 5 could feel like a 2. If the shock collar ever does make deeper contact after some readjusting, your dog might yelp in surprise when they feel that solid level 5 shock.
Price
Pricier is not always better. What you should consider is what you need. Ideally, you'll need an all-around collar that compensates for every scenario you encounter, so consider the features with the price. Some unique features are handy, but having one with all basic bells and whistles is usually more than enough for most hunters.
Of course, when you go for a GPS dog training collar, like our fifth option, make sure the role of that collar is big enough to fill the hole it will punch in your wallet.
Conclusion for the Best Shock Collar for Hunting Dogs
There are several types of shock collars for hunting dogs. Remember to consider what type of hunting you will be doing to gauge what type of collar you will need. A waterfowl shock collar will be much different than a long-range deer hunting collar. Our list has some of the best hunting dog training collars on the market today! It's up to you to decide the capabilities that you need!
Other articles you will like:
Frequently Asked Questions
You might be looking for shock collars for hunting, training, or for general use. Each collar has its own quirks and advantages, but we hope we can help you decide by answering the most asked questions about the collars for those buying one for the first time.
1. Does a shock collar hurt my hunting dog?
You might be surprised to know that even the most responsible, iron-fisted dog owners may find it hard to intentionally harm their pets. After all, a dog is our best friend, so the idea of using "shock" collars may sound cruel. When a shock collar is used appropriately, it will not hurt your dog.
These hunting shock collars don't deliver zapping electricity as an outlet would. It will use electricity to stimulate the muscles where the prongs are, like ab-stimulators delivering a blunt, twitching, sometimes prickly sensation. If you have doubts, test it on your own palm at the lowest setting, then slowly climb it up. You'll find the sensation more uncomfortable the higher you get, and when it feels a little bit painful, make sure you don't use that level on your dog.
Some irresponsible owners abuse these collars. Prolonged, high-level stimulation can flatten a dog and make it yelp in discomfort. Do not do this unless you really have to, like doing it to save your dog's life or keeping them from biting someone.
2. Will shock collars help train my hunting dog?
Shock collars don't work instantly, but they streamline the training process, making it the best, if not one of the most efficient, training tools for a hunting dog. The collars work under the Pavlovian Theory, where the dog will associate a certain stimulus or signal to a proper response. When used correctly, your dog will associate that behavior with the pulse and eventually minimize or downright stop it.
A practical and simple scenario would be a shock collar's anti-bark function. When your furry buddy starts barking loudly at the friendly neighbor passing along, you can call out your dog's name, say "stop barking!" clearly. If they keep on doing it, say the command and press the remote. It's very important to say the command and press the remote as close as possible.
When they stop, it's essential to praise them or reward them, letting them know they did the correct response. The praise and reward are just as important, maybe even more.
3. How old should a hunting dog be before I start using shock collars?
It mostly depends on the dog breed, but on average, you can use a shock collar for hunting dogs around 4-5 months old. When using them for the first time, it's important to let them get used to the collar first. No pulses, just a regular collar they would play and eat with. This way, you avoid letting them think that the shock collar is the "obedience" collar when they put it on.
Since they are pups, it's best to start at the lowest first and only ever adjust if they do not respond to the pulse.
4. How long should I keep using the shock collars?
This depends on the scenario. Shock collars are a great tool for hunting dogs because you can use them to send signals to your dog quietly. Most collars have a vibrate function for that purpose. Some shock collars also have nightlights and beeping tones that help you locate your dog in low visibility.
On uses other than hunting, every owner should always slowly glide to positive reinforcement. A properly conditioned dog will respond to commands without pulses and will naturally refrain from bad behavior. This means praise and rewards are more than enough, even when teaching them new things.
Garrett loves animals and is a huge advocate for all Doodle dog breeds. He owns his own Goldendoodle named Kona. In addition, he volunteers at the Humane Society of Silicon Valley, where he fosters dogs and helps animals. Garrett enjoys writing about Doodles and believes that dogs can teach humans more about how to live than humans can teach a dog.
Why Trust We Love Doodles?
At We Love Doodles, we're a team of writers, veterinarians, and puppy trainers that love dogs. Our team of qualified experts researches and provides reliable information on a wide range of dog topics. Our reviews are based on customer feedback, hands-on testing, and in-depth analysis. We are fully transparent and honest to our community of dog owners and future owners.