As a pet parent, dog trainer, or dog walker you are probably wondering what the controversy is regarding an e-collar vs. shock collar. The word shock often surprises consumers who have their dog's best interest at heart. No pet parent or caring animal lover wants to cause harm to any animal especially not their beloved furry family member. It's important that you learn the differences between a shock collar and an e-collar so you can make the right choice for your dog.
Other articles you would like: Best Shock Collars and Best Shock Collars for Long Hair Dogs.
What's the difference between an e-collar and a shock collar? 
Chances are you probably heard the term e-collar and shock collar used within the same sentence and referring to the same object. E-collar stands for an electronic collar and shock collar is just another way of defining the e-collar.
The term shock collar was publicly used to attempt to deter consumers from using the collar. Animal activists have expressed their concern regarding e-collars and conveniently use the word shock to scare people away from the products. No one wants to shock or physically hard their dog. When an e-collar or shock collar are used correctly, they do not harm your dog.
You might be wondering what is the difference between an electronic collar, e-collar, and shock collar. The truth is that it's virtually all the same product, but it just has different names that are used by different people. However, technically there is no difference between the two terms that are often used interchangeably.
Since there isn't a difference between an e-collar and a shock collar there really is no debate or difference between the two. However, the following information will help you learn more about the e-collar and how it will benefit you and your dog and in a safe way.
History of the E-Collar vs. Shock Collar
Electronic collars were introduced in the 1970s with the intention to use shock treatment as behavior modification for dogs. Today, the e-collars available in the market use electronic stimulation the causes a vibration to alert your dog to correct their behavior, not electrocution.
Basically, the vibration stimulates nerves and sensory receptors that distract your dog from their current behavior and help you use the e-collar as a beneficial and safe training school. As the result, your dog does not experience any pain. However, they do feel an annoyance and discomfort at a humane level.
Are E-Collars safe for dogs?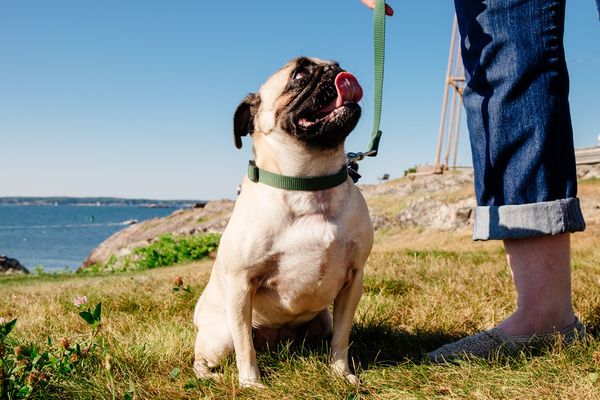 Yes. E-collars are safe to use on dogs when used properly. Electronic and shock collars work by activating then nociceptors also known as skin receptors that detect pain. When an e-collar is in a low or medium setting and is activated your dog perceives the electronic stimulation as if it were a small prick to the skin surface. The prick has been identified to be similar to a flea bite.
However, if an e-collar is misused at higher levels and activated frequently the sensation would no doubt feel harsh but won't cause physical damage to the surface of the skin. It's recommended that you start on the lowest of shock settings and see if your dog reacts to the shock. You can gradually increase the shock of your collar until your dog starts to react.
When looking at the topic from a physical standpoint, e-collars are definitely safe to use on dogs when the pet parent follows directions properly.
Are E-Collars cruel? 
E-collars do inflect the perception of pain and raises ethical concerns with animal activists and some pet parents who are doubting the use of the product. Generally, e-collars are used as a last resort to help train an aggressive dog that has failed to adhere to other training methods. 
E-collar training is a negative reinforcement training technique that requires the pet parent, dog trainer, and other users to use and stick to a moral compass.
Reports have revealed that negative reinforcement training is a proven and effective technique that drives a point across to the dog to help stop the aggressive behavior and prevent it from continuing.
As a parent, it's up to you to determine if the use of an e-collar is ideal for training your dog and their specific behavior.
How to Use an E-Collar to Train Your Dog
As a dog owner, you should always choose to begin training your dog with verbal commands and rewarding good behavior with treats. However, there are very stubborn and difficult dogs to deal with that require additional training techniques that include using an e-collar.
 E-collars are usually used to correct antisocial behavior such as jumping on people, excessive barking, nipping, growling, and chewing household items. Some dogs also express aggressive behavior by lunging at other dogs and humans. 
The following techniques will help you use an e-collar to train your dog and correct their negative behavior:
Allow your dog to get comfortable wearing the e-collar – E-collars are meant for temporary use but it's important that you allow your dog time to become comfortable and familiar with wearing the collar before you put it to use. Allow your dog to wear the collar for up to five days before you begin using it as a training tool.
 Use the lower settings first – Always begin using the lower settings first and gradually increase the settings only if needed. The majority of dogs only need the lowest setting for the caller to be effective and successful. Avoid using higher settings and if it comes to that point you should consult with a professional trainer or veterinarian before doing so.
Avoid letting your dog see you use the remote for the collar – E-collars have a remote that allows you to control your dog's behavior. Since the e-collar causes discomfort and a prick feeling to the surface of the skin you want to avoid letting your dog see that you are the one causing the discomfort. Aggressive dogs that realize their owner is causing the discomfort will often attack to prevent the discomfort from continuing.
Train your dog effectively and safely – E-collars quickly and effectively teach your dog commands even in intense and aggressive situations. Always ignore your dog when they are not following your directions but praise them when they adhere to your commands. A small treat and pat on the head is an excellent way to reward your dog for their good behavior such as stopping there barking, chewing, and other bad habits.
Correcting Uncontrollable Behavior

All dogs learn new behaviors and commands at their own pace. Highly aggressive and uncontrollable behavior may take longer than you expect. As a pet parent or dog trainer, you need to be patient and kind when training your dog. It's essential that you use verbal commands when possible to coincide with activating the e-collar. 
Always use your best judgment when activating the e-collar. For example, if your dog is exhibiting potentially damaging behavior that could harm them such as running out into the middle of a street or chewing on an electrical cord that can cause electrocution or even death make sure you act promptly using the proper setting. A popular method of using the e-collar is a 3 quick push on the remote technique for emergency situations.
This means you would quickly activate the e-collar three times to immediately grab the attention of your dog. This technique is only recommended and extremely deadly and dangerous situations. Otherwise, activating it once is usually all you need to correct your dog's behavior. 
Always avoid misusing the shock collar to ensure your dog remains healthy and happy. Make sure your dog never finds out that you are the one activating the collar because it can cause an aggressive dog to feel more angry, scared, fearful, and distrusting. Basically, it can ruin your close bond with your dog. Always behave in a humane and loving way when using the collar.
Benefits of Using an E-Collar on Your Dog
Using an e-collar on your dog is highly beneficial when done properly. Keep in mind that the shock or electronic collar is a tool used for training purposes and once your dog has learned to correct their behavior the e-collar should not be used any longer.
Surely as a responsible pet parent, you have experienced times when your dog has chewed on the furniture, run out the front door towards the middle of the street, dug holes in the backyard, jumped on visitors when you open the front door, and behaved negatively in a variety of different ways.
Understand that a dog's negative behavior is often learned because they are allowed to continue being this way. As a dog owner, you have to power to help your dog behave in a good way.
Using an e-collar gets the job done that wasn't able to be completed with general dog training techniques. Some highly aggressive dogs are very difficult to stop and some pet parents have reported being bitten or lunged towards by their own dog or the other dog involved in an aggressive situation.
The shock collar is beneficial to dog owners because it prevents you from needing to physically interfere between two aggressive dogs. The e-collar collar is run by remote and can be used without your dog's knowledge in combination with verbal commands. 
Dog owners often report successful endings when using an e-collar for training purposes. In the end, a few moments of discomfort that result in improved behavior and living happily with your dog while maintaining a strong bond is one of the incredible benefits of using an e-collar.
If you have used an e-collar properly for six weeks or more and your dog has not shown improvements in their behavior it's best to contact a professional dog trainer for further guidance. 
Conclusion for E-Collar vs. Shock Collar
There's virtually no difference between an E-collar vs. Shock Collar. It's more of a terminology debate that was bought to light by animal activists who would prefer not to shock their dogs. However, using an e-collar or shock collar correctly doesn't actually hurt your dog. Always start with the lowest shock settings and gradually work your way up. This is a great way to train really stubborn dogs.
Other articles you would like:
Garrett loves animals and is a huge advocate for all Doodle dog breeds. He owns his own Goldendoodle named Kona. In addition, he volunteers at the Humane Society of Silicon Valley, where he fosters dogs and helps animals. Garrett enjoys writing about Doodles and believes that dogs can teach humans more about how to live than humans can teach a dog.
Why Trust We Love Doodles?
At We Love Doodles, we're a team of writers, veterinarians, and puppy trainers that love dogs. Our team of qualified experts researches and provides reliable information on a wide range of dog topics. Our reviews are based on customer feedback, hands-on testing, and in-depth analysis. We are fully transparent and honest to our community of dog owners and future owners.